Event Tickets
for Magento 1
Let store visitors book tickets for different events in a couple of clicks. Easily send reminder emails, track purchased tickets and registered attendees in the admin panel.
Looking for an easy-to-use tool to sell tickets for conferences, exhibitions, trainings and other events? With the Magento event tickets extension you'll be able to create numerous custom event pages and offer different ticket types tailored to the format of the meeting. The feature-rich module will help you track ticket sales and visitor registrations as well as to send email reminders to customers before the event.
NOTE: The extension enables you to create events as simple, downloadable and virtual products.
Flexible tickets creation settings
Different ticket types
With the Magento ticket booking system you can create various ticket types like child, adult, vip, regular and many others for each event and display them on product pages as custom options. Flexible magento booking extension settings allow specifying:
Ticket name for each type
Ticket custom price
The quantity of available tickets for each type
Time interval during which the tickets will be available
The sequence of ticket types display

Custom ticket price
Specify custom price for each ticket type. This price will be automatically added to the base price once a customer adds the corresponding ticket type to cart.
Tickets quantity
Define how many tickets of each type will be available. After the start of sales you'll be able to track the quantity of booked and reserved magento tickets and regulate the prices according to customer demand if necessary.
Email reminders
Fully use all features of Magento ticket booking extension. You can notify customers about upcoming events by sending email reminders. According to your needs you can either set a particular date or specify the number of days before the event to send the email.

Customer registration options
Custom visitor registration fields
Add as many specific registration fields as you need. The Magento ticketing system creates fields of different types:
Text fields
Select fields
Date fields
Choose which of the fields will be required and specify their sort order. Thus, due to flexible Magento booking system settings, the ticket tool will help you easily gather and manage information about event visitors.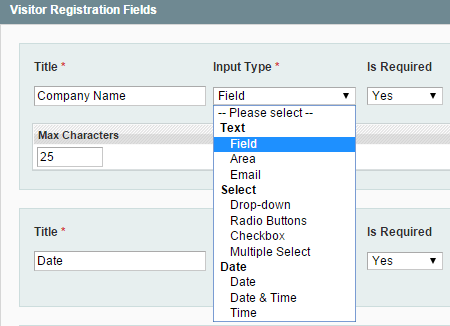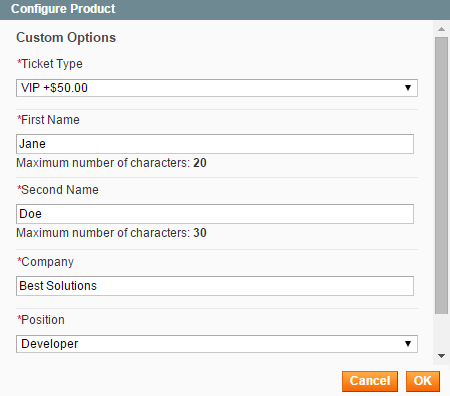 Register customers from the admin panel
With the Magento ticket extension you can easily register event visitors from the admin panel. When adding the 'event' product to order you'll see the popup where you can specify all necessary customer data. The fields in the popup will be identical to those on the frontend registration page.
Track orders
Due to accurate Magento ticketing system grid you can receive real-time information about all invoiced event tickets. Use quick links to order pages to get more details about each particular order.
Track attendees
'Registered Attendees'grid contains visitors data specified by customers on the event registration page. With the ticket system Magento module you can easily export this information into XML or CSV files for further processing.
Other Features
100% Open Source — Easy To Customize
Follows Magento Code Architecture
Separated HTML/CSS/JS
Simple installation via Composer
* The name "Magento" and the logo are the trademarks of Magento, Inc.