Data-driven organizations are 23 times more likely to acquire customers, 6 times more likely to retain customers, and 19 times more likely to generate revenue. 
83% of business leaders have implemented big data projects to gain a competitive advantage.
The average ROI for companies using business intelligence and analytics is 1,300%.
The importance of data is indubitable but integrating your store with Google Analytics is a time-consuming process that requires specific knowledge. Besides, in 2023 Google Analytics is moving to a new version, which means that if you already have GA, you'll have to set it up from scratch. And there is a much simpler way out. 
The Advanced Reports, a Magento statistics extension, allows you to quickly and easily generate a variety of reports (Magento 2 sales report, Magento 2 inventory report, etc.), providing unique functionality on the market. 
Available now in three packages: Lite, Pro, and Premium, this solution is going to make the process of building reports more flexible and convenient, allowing you to choose exactly the functionality you need and save on the features you won't use. Let's get deeper and look at the functionality of each package.
Lite
Advanced Reports Lite is created for those who want to easily get the necessary data without much hassle. And here are its main cons:
20+ ready-made reports for sales analytics
The extension allows you to create detailed statistics, filtered by various aspects of sales activities: 
Sales Overview

Sales Comparison

Orders

Order Items

Quotes

Hour

Week

Country

Country - State

Payment Type

Customer Group

and many more
Ability to create rule-based reports
You can create unique reports for products with specific attributes or a combination of attributes to suit your business needs and here's how:

Navigate to Reports → Advanced Reports Rules or Reports → Advanced Reports → Custom Reports → New Rule and click the Add New Rule button.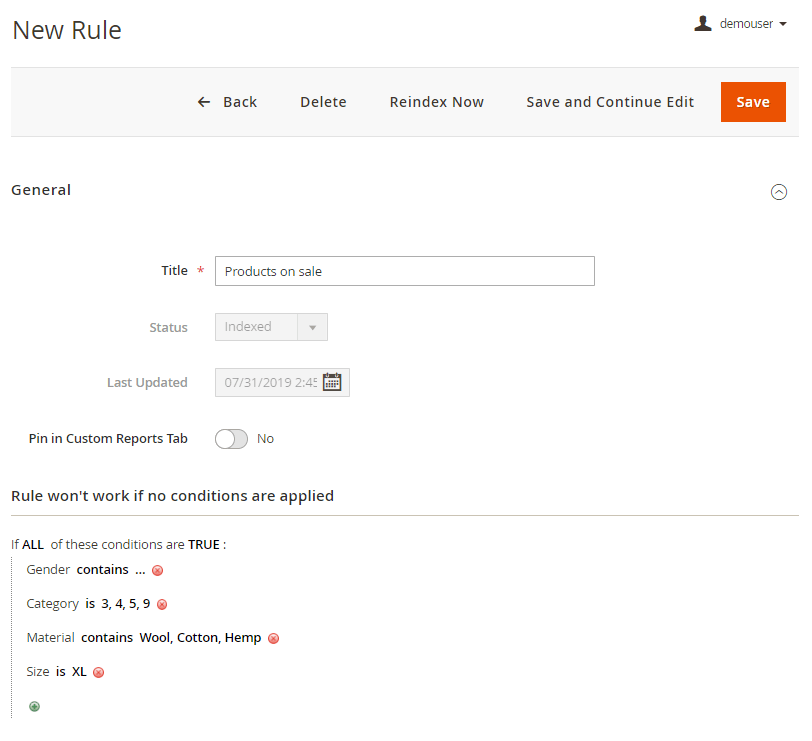 To set up a rule, name it and specify the necessary conditions. Then, you can create custom reports by applying the rule in the By Product report in the Display dropdown:
Pretty easy, try it yourself →
Pro
Pro comes with a wider set of features, opening up new possibilities for data collection and analysis in your store. 
Drag-and-drop builder
This solution comes with a drag-and-drop builder that helps you combine different entities (orders, products, shipments, categories, customers, etc.) for custom Magento 2 reports and configure smart connections between them. This allows you to tailor the reports to the unique needs of your business, improving flexibility (you can easily link different indicators). 
All you need to create them is to go to the Custom Reports section → click the Add New Report button.
After that, specify the Name for your new report and choose the Main Entity based on which the report data will be aggregated. 
Then you will see the grid with the available options:
the dark column is for the main entity

light columns are for the secondary entities

To add any of the

Availableoptions

to the report, simply expand the option blocks and drag the needed options to the

Chosenoptions

tab. If you don't see the needed option, you can use the

Search

field and find the needed option by typing its name in the bar. In the end, click the

Save and View

button to check the created report. 
Check out for yourself how easy it is →
Premium
Premium is suitable for businesses that need advanced analytical capabilities, as the package allows calculating specific indicators to analyze the performance of the store from all possible angles. Here are its main features:
Custom columns
The solution opens up the possibility of creating custom columns to calculate and combine specific indicators (taxes, profits, and others) from other available columns. This way, you can get a Magento profit report in a matter of seconds.
Here's how it works:
A custom column can be added to the report by simply dragging the Custom Column option to the Chosen options tab.
You can expand the custom column to modify it. After expanding the column, you will see a constructor that allows you to select elements with multiple columns and inputs to add to your custom one. All you need is to create a column consisting of all needed entities and expressions and Save the custom column so it's ready to be added to the report:
Custom charts
The premium solution allows you to more conveniently visualize data in your custom reports with several different charts. There are 5 types of charts available: 
linear

simple pie

semi-circle pie

simple column

sorted bar
So you can choose the most fitting chart for all unique cases.
Integrations
Pro and Premium packages include the functionality of the Custom Reports Builder extension, which allows you to collect data from all the extensions that are integrated into your store. 
Both these solutions support quite a few different integrations: 
The more modules you have, the more entities you can include in your reports. We are constantly working on adding new integrations to the module.
Data analysis with Magento reporting tools provides valuable information about the state of the store. This knowledge can and should be used to improve and grow your business.