Advanced Reports
for Magento 2
Exactly know what sells and who's buying with Magento 2 Advanced Reports extension. Analyze key performance indicators of your store and make data-driven strategic decisions using 20+ essential e-commerce reports.
Have all key metrics at hand on the informative dashboard
Track your sales performance from any device
Create custom rule-based reports
Use flexible filters for extra accuracy
Analyze sales trends with interactive charts
Schedule reports emailing
BUILD EFFICIENT SALES STRATEGY WITH ADVANCED REPORTING
Challenge
To run a successful online store and effectively manage time and funds, you need to have constant access to important store statistics and be able to process it quickly and correctly. Only deep analysis of sales-related information will help you thoroughly study customer behavior, see your strong and weak sales points and make prudent business decisions.
Solution
Magento 2 Reports provides you with multiple sales reports based on statistical data. Effectively analyze customers' demands, explore and compare sales performance in various periods, generate custom reports tailored to your specific needs. Get all essential metrics to make accurate business predictions and efficient strategic decisions.
What benefits do you get for your store
Grow your sales exactly knowing customer demands
Build a beneficial sales strategy based on accurate reporting
Save your time running all essential sales metrics in one tool
GET FULL PICTURE OF YOUR STORE PERFORMANCE
The Magento 2 Advanced Reports Extension adds 20+ new report types to native Magento functionality and lets you get all important sales data in real time. Have key metrics at hand, placing widgets with the most significant stats in the reports dashboard. Easily customize the Magento 2 extension dashboard to make it most informative: set time interval to display conversion funnel data, specify a period for sales overview, see current bestseller list and observe the latest orders statistics. Check Today & Live block on the dashboard to see what is going on in your store right now.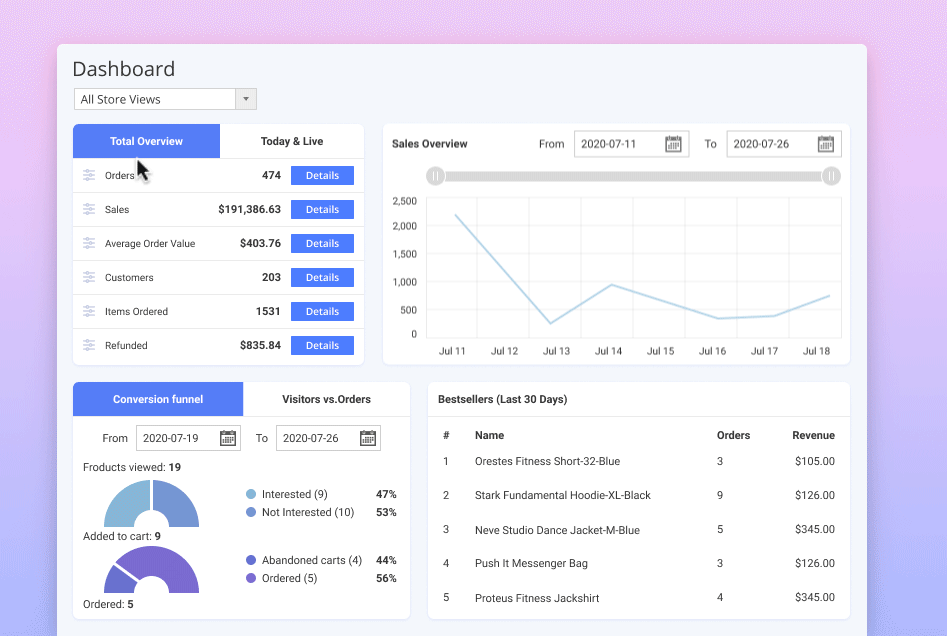 Efficiently analyze all aspects of sales activities
View sales analytics in full-scope with Magento 2 Sales Reports. Get detailed statistics by various aspects of sales activities - by orders and order items, days of week, hour, country, category, customer group, coupons and many more. Compare sales indices for various periods to measure the dynamics of your sales.
Sales Overview
Sales Comparison
Orders Report
Sales By Week
Sales By Country
Sales By Customer Group
Sales By Category
Sales By Cart Price Rules
Sales Overview
Use the Sales Overview section as a detailed financial report. Easily check your income for a certain period, determine your progress and see the total amounts for all sales activities either in a numerical or a percentage value. The report also allows you to see the total values of each column.
Sales Comparison
Analyze sales dynamics comparing different time ranges. Easily make comparisons between two or three periods. For example, the sales this month can be compared to the previous month, the same way like in Google Analytics. Thus you'll see if the change was positive or negative.
Orders Report
Get a full list of orders during a specified period. View stats by the number of sold products or by the total sum paid by customers, evaluate your orders' profit. The extension updates order statuses in real-time so you'll see your revenue accurately calculated. View the Magento reports By Order Items to see the orders split per separate products.
Sales By Week
Figure out which day of the week brings more sales. Apply the required filters to see the dynamics in more detail. You can also view the Sales By Hours report to check the most profitable hours in your store.
Sales By Country
Get access to the sales data by countries and analyze your store international KPI. The report shows stats based either on the number of sold products or on the total sum paid by customers within a specific period. You can also view Country-State report to analyze sales data per state.
Sales By Customer Group
Find out what customer groups are more active. Click the 'Show More' link to view the appropriate Sales by Product report generated over the chosen customer group.
Sales By Category
Discover which product groups are more popular and restock accordingly. Magento 2 Custom Reports extension allows you using convenient graphs to better understand the customers' demands tendencies.
Sales By Cart Price Rules
Easily analyze the effectiveness of your cart price rules in a separate marketing report. See which of the promotions brought more revenue to your store. Track the data by the promotion's name, number of orders, items quantity, total sum, etc.
Keep track of product-related statistics
Efficiently analyze product-related stats data with 5 detailed Magento 2 inventory reports. Get all essential metrics to find out which products enjoy greater popularity in each time period, see what brands are more in demand, compare the performance of different products and explore which product configurations generate more conversions.
Sales By Product
Sales By Product Attributes
Sales By Brands
Product Performance
Bestsellers Report
Sales By Product
Magento 2 Inventory Reports extension enables you to keep track of all product sales data. Set the necessary time period to get a detailed report. Filter your products by Customer Group, SKU, Name, Quantity, Number of Orders, Brands, Total, etc. Apply custom rules to filter products by specific category or attribute.
Sales By Product Attributes
Generate reports based on any product attribute or attribute set. The report allows you to learn which product configurations generate more conversions. Set the time period and select the necessary product attribute in a drop-down to get detailed stats.
Sales By Brands
This kind of report will be especially useful for multi-brand stores. See what brands are the most popular among your customers and manage your marketing strategy with that in mind.
Product Performance
Find out which products generate more revenue. Split total sales by product to see the performance of each particular item. Change the time range to compare product performance in different periods.
Bestsellers Report
Easily get a list of your best-selling products. Find out which products enjoy greater popularity depending on a specific time period (month, year, etc.) Set the time interval you need and filter products by SKU, Name and Total. Track the quantity sold and use the bestseller report to see what Magento 2 products are getting to low stock.
Accurately analyze customer behavior
Get a deep understanding of your customers' behavior with Magento 2 Sales Reports Extension. Take control over the abandonment rate, see the percentage of new and returning customers and analyze the store conversion to optimize your marketing strategy.
Customers Report
New vs Returning Customers
Abandoned Carts
Conversion Rate
Customers Report
Generate accurate customer reports based on a specific time period. Select the necessary time step (day, week, month, year) to tailor the report to your needs. Conveniently filter the data by Period, New Accounts, Orders and Reviews.
New vs Returning Customers
With Magento 2 Reports extension, you can easily see the percentage of new and returning customers. Specify the time period to get a detailed breakdown and understand customer behavior better.
Abandoned Carts
Use this report to identify customers who left your website without checking out. Easily view the cart abandonment rate over time. Track the data by customer's name email address, the number of products in the cart, subtotal, the date, etc. Add
Magento 2 Request A Quote
to instantly offer better deals for abandoned products right from the report page.
Conversion Rate
Magento reporting tool includes a new report option which lets you check the conversion rate of the store, or, in other words, the percentage of customers who find the store suitable enough to place the order. Break the data by custom sales ranges for more details.
Get unique data selection with custom reports
Magento 2 Reports extension allows you to create new custom rule-based reports according to your particular business requirements. Reports can contain any data from your store database. Create new rules to generate as many custom reports as you need in no time.
Create custom reports
Easily add new rules
Manage all the rules in one place
Create custom reports
This report module for Magento provides you with the unique capability to generate an unlimited number of custom rule-based reports. Choose the rule in the display dropdown or easily create a new one, and the report will be generated automatically.
Easily add new rules
With Magento 2 Advanced Reports, you can easily add rules for any type of custom reports. Thus, you'll be able to view the stats on the separate reports based on Magento 2 attributes (low stock, brand, size, category, etc.) or attribute combinations according to your business needs. Once a rule is created, you can choose it in the display dropdown.
Manage all the rules in one place
Conveniently manage all advanced reports rules in one place. Choose needed one to make changes or delete. Create as many rules as required right from the grid.
More Features for Magento 2 Advanced Reports
Analyze you store quotes stats with Magento 2 Request a Quote extension
Quickly export data in CSV or XML format for further processing
Save your Magento 2 reporting charts as images in PNG, JPG, SVG and PDF format
Create an unlimited variety of custom reports
Build custom reports based on any available store data. Analyze each aspect of your store performance with
Magento 2 Custom Reports Builder
and grow your sales exactly understanding customer demands.
Check what business needs can the extension cover in synergy with such solutions as: magento affiliate program and magento 2 rma extension.
Product questions

How to fix 404 error in Magento 2 advanced reporting?

Sometimes, after enabling Magento 2 Advanced Reporting may not work properly. So below is a step-by-step guide on how to overcome this issue.

Read the FULL answer
Other Features
100% Open Source — Easy To Customize
Follows Magento Code Architecture
Separated HTML/CSS/JS
Simple installation via Composer
* The name "Magento" and the logo are the trademarks of Magento, Inc.
So many actionable insights!
Asphalt Kingdom, CEO
We have been able to really understand our business through COVID state closures by using this extension. With the user friendly interface and the ability to build custom reports, information is so easy to get! Anybody selling more than 25 skus needs this extension. So many actionable insights!
Amasty answer
Jun 29, 2020
Natalya Chekanina
/ Head of Sales Team
Thanks, Amie! So great to hear that the extension has been helpful with analytics and decision-making, especially during the COVID pandemic. We'll be happy to see you in our store again!
Best quality, support and price
Amasty offers a wide range of top quality Magento add-ons. They have provided us with the service what we were really looking for.
Finally, a special thanks to a dedicated support team.
the best on the market!
This extension is the best on the market. It provides all key metrics required for every store out of the box. Most of all I love the feature with custom reports. Now I see the performance by items of particular size, color, brand or category, etc.
Easy installation. Great support
It was easy to run. The reports list is rich enough and works as described. There was a minor issue when we tried to filter results by attributes. The support team helped us resolve the issue quickly. And now everything works fine.
Great support and product
We've had tried several Reports extensions. This one is the best. It has intuitive user friendly ui end and bugs free. They have great docs and support service.
Insightful reports helped me increase sales
This module helped me identify the categories that sold badly (two of them was a surprise for me). After improving my strategy with regard to the insights I managed to achieve a steady growth in sales. Now I constantly monitor the state with Amasty reports.
Great. No complaints
The extension delivers what it promises. I didn't have issues with installation or performance. Great work, guys!
Don't regret a single penny spent
I'm that kind of guys that look before they leap. So Amasty reports are exactly what I was searching for to manage sales. I use this extension both to analyze the sales of products by category (especially, to understand which brands sell well and bring more profit). And also I monitor how social and promo activities influence the client base. Good extension recommended to everyone.
Data and analytics in one place
It is much much more convenient to run reports in Magento rather than get data from Magento and slice and dice it another app (like Excel). Now I just pick the report type that I need and hit a couple of buttons. As a result, the data I get is accurate, nothing is lost, the picture is clear, and I can take measures quickly.
Very helpful support
I couldn't run the module myself. Amasty support said that it was due to my server configurations and a conflict with another custom module. Still, they helped me to configure everything right and now the web store works fine and reports run as they should. But check module requirements before you buy.
Good but could be better
In general, a good extension. Many types of reports. Installation doesn't require particular expertise in Magento. BUT dear Amasty, please, test your extension for working with several store views. Now it freezes when I try to switch from one store view to another.
Ping support to get what you need
Right from the start I had problems with CSV export. Though Amasty managed to set things right in a day, I want to pay such money for an extension that works perfectly from day one. This aside, reports are easily configured and informative.
Good job!
I've upgraded the M1 version for a reduced cost and the new one is even better. Now I can run 14 different report types and choose up to 10 columns to be displayed on the grid. Thanks for the update!
Great support and good extension to analyze products
This is a good extension to analyze your pool of products and how they perform. I use sales by category, product and product attribute to understand the trends in customer preferences and react to them. There were some minor bugs after installation, so we had to email support. They were quick to fix everything and even gave some good advice on how to use the extension to get more value. I will purchase more extensions from them and recommend to anyone.

Well designed
This one is really impressive. I've enjoyed the functionality a lot. Really accurate and very well designed extension. Liked an intuitive and user-friendly dashboard as very well tailored for my needs.

Rodrigo
Are you looking to add specific functionality for this extension or want to acquire a reliable development partner altogether? With custom development services by Amasty, you will receive high quality and cost-effective solutions developed by Magento professionals according to industry's best practices.
Magento 2.2, 2.3, 2.4
You can always download the recent version free of charge from your account
Installing an upgrade is easy — check now
My Downloads
Version 1.8.1
Last Update: Nov 25, 2020
Fix we corrected the display of Quotes report in case of a non-empty state of 'Order Status used in Sales Reports' setting
New we designed a scheduled reports functionality: now you can create and receive notifications with chosen reports for a set time interval by cron
New we implemented an integration with Request a Quote extension and added a new report type, which allows you to monitor quotes overview by their status
New now you can evaluate your orders' profit on the Orders report (the default Cost attribute is used for calculations, so please make sure it's filled on products edit pages)
New we added product thumbnail to product reports (Order Items, By Product, Bestsellers) for better visualization
Improvement now the graphs' tooltips are unificated
Version 1.7.0
Last Update: Sep 24, 2020
New we introduced new design for mobile view and corrected the display of elements for better mobile-user experience
Compatibility we enhanced compatibility with Magento 2.4
Fix we resolved the issue with non-considering of discounts in By Product report
Version 1.6.8
Last Update: Aug 03, 2020
Compatibility compatibility with Magento 2.4 was added
Fix we fixed the issue with unused selectors in our less files
Fix we corrected the display and usage of attributes in By Product Attributes report
Improvement the format of data on some charts was improved
Fix we resolved the issue with timezone mismatch
Fix we corrected the calculation of Row Total column in Order Items report
Improvement we slightly reworked one of the Dashboard reports, which shows correlation between unique visitors and placed orders
Fix we resolved the issue with jQuery UI notice
Compatibility compatibility with Magento 2.3.4 was improved
Improvement we implemented minor performance improvement
Improvement we implemented UI enhancements
Improvement 'New vs Returning Customers' report is now taking guests into account
Fix we resolved incorrect behavior of Bestsellers block on Dashboard
New we added an Average Order Value block to Dashboard, which shows the average customer's bill in the store
New we added the 'Country-State' report. Now you can track sales data per state
Improvement we refactored the code according to Magento Standards
Compatibility we added the compatibility with Request A Quote extension. Now you are able to check the abandoned products and instantly offer better deals to your customers for finishing orders right from Abandoned Carts Report page
Fix we solved several issues with reports displaying, sorting and filtering
Version 1.5.2
Last Update: Jul 29, 2019
Fix we fixed minor issues
Fix we resolved the problem with Product Performance Report error
New we added the graphs switching for main reports, so now it's possible to visualize the same reports with different types of diagrams and choose more convenient way to show data trending
New now, the extension includes a new report option which lets you check the conversion rate of the store, or, in other words, the percentage of customers who find the store suitable enough to place the order
New we added a new report section 'Custom Reports' where you can store your custom rule-based reports and have access to them in one click
Improvement we regrouped reports in more logical way
Fix we fixed minor issues, including incompatibility of AmChart 4 with Internet Explorer browser
Version 1.4.0
Last Update: Jul 09, 2019
New now you can check the detailed abandoned carts' statistics in a new 'Abandoned Carts' report
New in our new 'Product Performance' report you can check the whole range of information about each particular product, gained revenue and much more
New we introduced a new 'Today & Live' block on Dashboard which will help to see what is going on in your shop right now
New the new report was added to provide the possibility of splitting orders per separate items and analyze data much deeper
Improvement we implemented several improvements in displaying reports' data to make reports more understandable
Fix minor issues were fixed
Version 1.3.0
Last Update: Jun 25, 2019
New the amCharts library was updated in order to show reports data on more demonstrative, modern and attractive graphs
New we introduced a new design for Sales Overview Dashboard
New the ability to save graphs as images was added
Improvement we reviewed and corrected the displaying of data in tables, axis names and tooltips
Fix minor issues were fixed
Version 1.2.0
Last Update: Jun 07, 2019
New now you can check the use of shopping cart price rules in a new 'Sales by Cart Price Rules' report
New we added a new 'Sales by Brands' report that can be useful for the owner of a multi-brand store
New we introduced a new option that allows you to see the data in percentage format in the 'Sales Overview' report
New now you can also see the total values of the columns in the 'Sales Overview' report
Version 1.1.1
Last Update: May 03, 2019
Fix we resolved the issue with ACL resources
New 'Sales by Attribute Set' report is now available
New we added a new column and filter by customer group to the product report
New we added new columns (qty sold, qty ordered, qty canceled, qty refunded) to the Sales by Product report
New now, using the Sales by Product report, admin can additionally filter / apply a rule by Category, Attribute, Brand to see a sales report from a specific category or certain attribute, e.g. brand
New we introduced an option to configure order statuses that are used in Sales Reports
New now you can compare sales for different time periods, e.g. for March and April like in Google Analytics
Version 1.0.15
Last Update: Sep 14, 2018
Fix we resolved the issue with the simple products data display in the products and bestsellers reports
Fix we corrected the work of the sorting on the 'By Product' page
Fix the issue with QTY in the bestsellers report was resolved
Fix we resolved the issue with qty in a product report
we fixed an issue with the timezones
we fixed an issue with the Sales by Category report
we solved the problem with the date range in the bestsellers report
we resolved the problem with the missing product attributes in the Product Attributes report
we fixed the issue with "Ordered quantity" in "Conversion funnel" changing
we solved the problem with not related to Store View categories in the "Sales by Categories" report
we fixed the issue with the extension freezing after changing store view
we fixed the funnel update issue
we resolved minor problems
we fixed the overview display
CSV export was fixed
we fixed the issue with missing products in reports
we solved the problem with filtering by SKU
we made number of minor fixes and improvements
a number of improvements were made