Pinterest is a great tool for e-commerce (we'll prove it with numbers a little bit further), and we encourage our clients and other merchants to use it for their e-commerce businesses. Today I'll be sharing a list of boards ideas (gifts, jokes, DIY, events, and more) so you can save your time and be even more effective with your marketing efforts.
Why should you be using Pinterest to promote your shop in 2023?
Here we won't chat on Pinterest total annual traffic and number of users, as these numbers are rather impressive, but just knowing that Pinterest users are adding millions of pins every day won't help your sales and revenue at all. Let's stick to more precise numbers.
1. Pinterest shoppers are spending more than those from Twitter and Facebook.
2. Pinterest is the leader among other social networks when it comes to retail conversions.
3. Pinterest users are more likely to buy if compared to other social media users.
4. Pinterest buyers spend more money, more often, on more items than any of the other top 5 social media sites.
Well, if you go through the list of Alexa top 100 Shopping websites, you'll see that they all, or almost all, are using Pinterest, and it looks like an e-commerce shop is more likely to have a Pinterest account than a blog.
In other words, imagine you have a source of traffic and sales, which is proven to be more successful than any other type of social media traffic, that brings you people that are ready to be your customers. Is there a reason to ignore Pinterest? I'll take only lack of time, which is actually the reason this article appeared.
If you want to dig into more numbers, check this awesome collection of e-commerce Pinterest stats. But don't forget to continue reading this article, as we clearly have lots of things to do.
Start with the basics
Now, you've decided you should go at it, let's start with the basics. Here's a short description of boards you need to start with.
I'm not saying you must create all these boards because it really depends on the size of your store, just remember: start with presenting your items. Think of categories you want to promote in the first place. Don't forget to enable Rich Pins on your website.
1. Create boards with products in stock (this works if you sell a relatively small amount of products). The simplest way is to divide them into categories:
brand
price (cheap, luxury)
color
style
product category
season
2. Create a New Arrivals board. Clean it up and add new items each time new items arrive.
3. If you allow pre-order, create a special board for the items.
4. Items on sale/special offers. Also, you can divide them into two boards so that regular discounts are in one board and seasonal/occasional discounts come to the second one.
5. A board for news and blog posts, if you run a Magento 2 blog or a news category.
6. Bestsellers or most popular items. This board will need some care too, you want it to be relevant.
7. A board for products with the best rating or the biggest number of reviews.
A list of Pinterest boards ideas for e-commerce
Done with the basics? Nice. Here's a list of ideas with examples you could use immediately.
1. Gifts
This is a great idea in two different ways. Firstly, you can expose products that are great for gifts, helping your customers with ideas. Secondly, users often create gift wishlists on Pinterest, and they can repin your items to their boards. Thirdly, your gift related items can appear in search results (you have already enabled Rich Pins, haven't you? they are a ranking factor for Pinterest, too). You can also divide them into categories by:
gender/age (male, female, both; babies, college students, dads, and moms, etc)
holidays (Christmas, New Year, birthday, St. Valentine's day, wedding, etc)
hobbies
occupation (for car drivers, photographers, working moms, etc)
price (under $50, luxury, last minute, stocking stuffers)
Have a look at Lowe's gift boards. You can also see people actually commenting and discussing the items:
2. Looks from you or your customers
And by looks I don't mean only fashion or jewelry. Make use of pics that show your products in real life, this can also go to home decor and cosmetics, gadgets, stationery and lots of other product categories.
Search for bloggers or customers that shared pics with your products. Such boards are great in two ways: 1) you give ideas on how to wear or use the items in real life 2) you endorse those who have bought anything from you.
If you can't find anything at all, create looks and share real life pics yourself. You product page will also benefit from a product picture in a natural environment to fetch the studio pics out.
See how Chicwish is collecting looks with their items, pinning bloggers and posts from look sharing websites:
Here's another nice example of Warby Parker; they have a board with their friends' pics:
3. Group boards by interests
Have a sit and figure out topics for boards that can be interesting and engaging for your audience. Create group boards for these topics, clearly state how people can be added to the boards and support their activities by adding more valuable pins, responding, and commenting. Redbubble has several group boards:
4. Top pins
Did your e-commerce Pinterest account gain some attention lately? Great, then share pins or items that deserved the most comments, likes, and repins from your readers. Make sure you update this board once in a while.
Nordstrom has a board of top pins, too:
5. Jokes and fun
If your niche allows it, through in some fun to cheer up your readers. Barnes & Nobles knows book nerds have something in their pocket, too:
 6. How-to's and DIY
Teach your customers to do great things, like Bed, Bath & Beyond does.
7. History/retrospective
This small point can actually generate lots of different boards. Who was the founder of a brand? What was the history of the brand? How did the products look like in the past? Who invented this and that?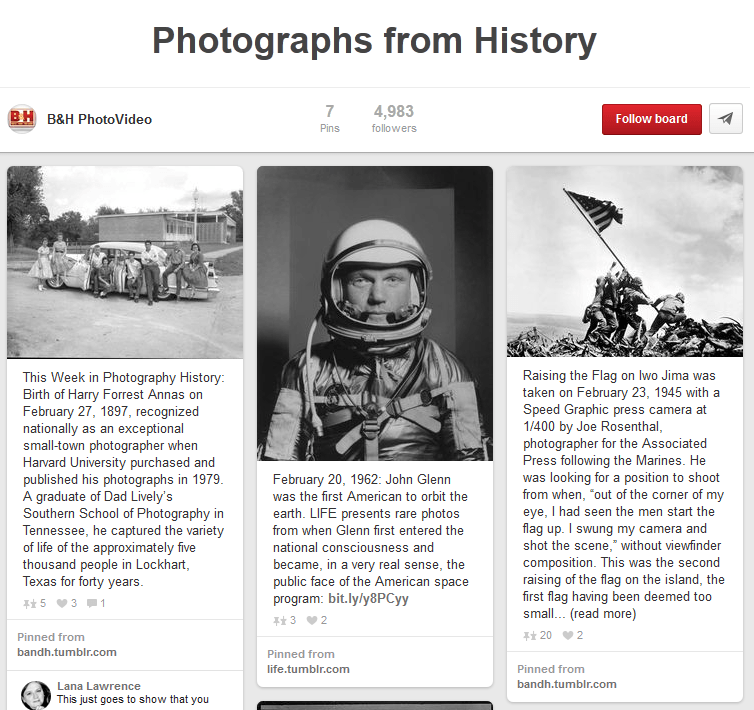 8. Show your shop
Share the pics of your offline shops, your team, or the office you're working in, give customers an insider's look here.
9. Tips
Tips are handy, quick and give immediate results. Pin tips on using or taking care of your products or getting the best result from them. Sephora does good job here:
10. Quotes
Quotes are one of the most traffic-rich sources on Pinterest. But this traffic is too versatile. To get the right one, make sure your quotes are relevant to your target audiences. Pin quotes on things they enjoy, like Sephora does:
11. Editor's picks
Do you have your own recommendations? Want to share insights, talk about products, or discuss brands? Great, because this stuff is perfect for an editor's board. Sephora has one, too: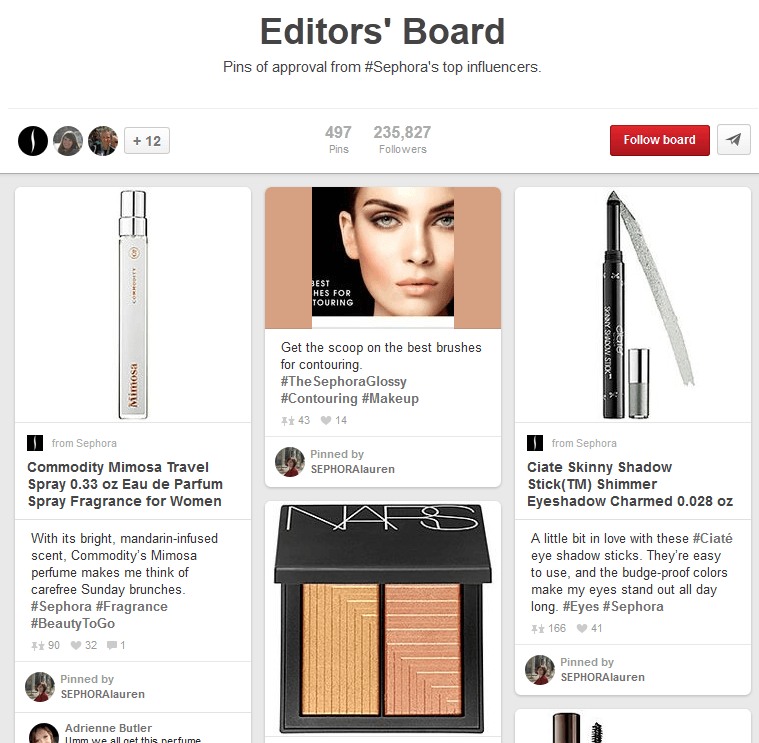 12. Free stuff
Give something away on your e-commerce Pinterest account! Share mobile and desktop wallpapers, printables, checklists and cheat sheets. See how Bed, Bath & Beyond is sharing free holiday printables:
13. Infographics
Always a win. Even iHerb has an infographics board! Make sure you pick quality ones.
14. Recipes
Recipes, you say? How can they be relevant?
I say: yes, they can be relevant. Not for all niches, though. But, believe it or not, your customers are people, and people are used to eating at least once a day.
And recipes are one of the most popular topics on Pinterest, even in the e-commerce field. What's more, if you go through Alexa top 100 Shopping websites (which, in fact, is a collection of biggest e-stores), you'll see that most of them have boards for recipes of some particular category (spare parts buyers will love fast bachelor breakfast ideas more than fitness smoothies). Why? The answer is simple: their audience needs it and likes it.
15. Books/movies/magazines
Share industry books and movies, or go broader and share the stuff your audience is likely to adore. Maybe you'll even write a book review yourself?
16. Feature great people of the industry
E-commerce is about buying and selling things and services, but always remember that people stay behind everything. Feature great industry leaders and their ideas, thoughts, and accomplishments to inspire your customers like BackCountry does:
17. Industry articles and news
Here's another Pinterest board idea for e-commerce: pin valuable news and articles to a separate board. For instance, if you sell smartphones, some of your customers will be interested in news about released and upcoming models, updated technologies, tech reviews, and stuff.
See how Office Depot is sharing helpful articles on business:
18. Events
If there are any events in your industry, you can introduce them to your readers either through your own eyes and pics or with the help of 3rd party publications. See how Sony shared Fashion Week preparations through bloggers' eyes: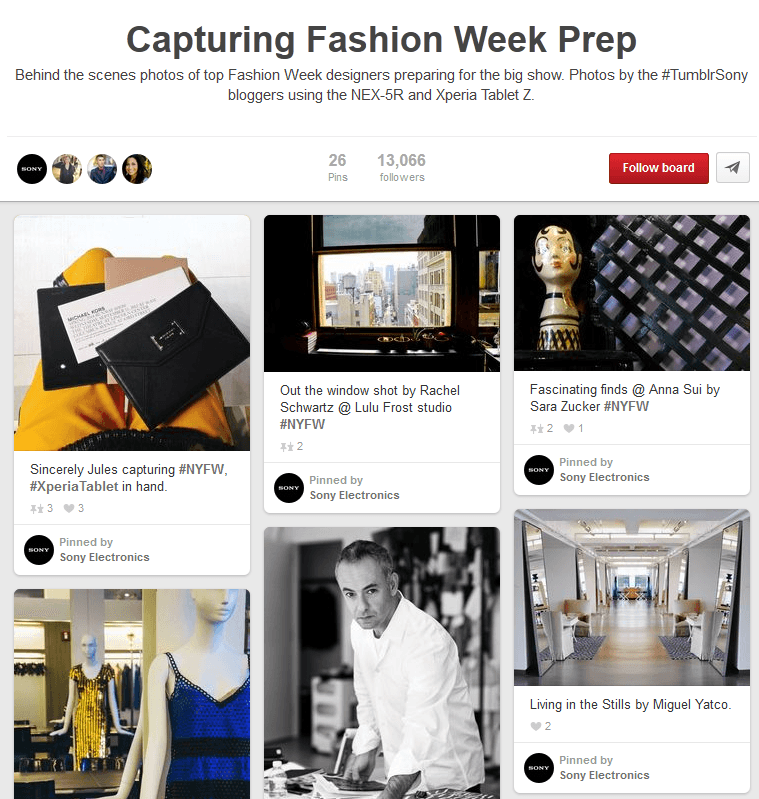 19. Invite guest pinners
Invite experts, bloggers, and people from your niche to create their own boards on your accounts. See how Macy's invited some wedding experts to roll:
How to find more ideas for Pinterest: motivation and inspiration
To get more ideas for your e-commerce Pinterest account, put your clients' shoes on. Ask several questions to yourself:
1. What do they read? Blogs, magazines, niche resources?
Example: I sell beauty products. Some of my customers are nail polish addicts. First, they'd like to know about new collections of famous brands, I'll create a board for them. Secondly, nail polish design is trending now, so I'll create a board with tutorials on various nail designs. Thirdly, I'll create a board pinning wonderful inspirational pics with perfect manicures and amazing designs.
2. What topics related to your niche can be of their interest?
Example: Some of my customers are audiophiles. They love quality music, track new albums of various artists, visit live gigs.
3. What do they want to learn? What can you give them?
Example: I sell orthopaedic mattresses. My customers would like to know more on choosing mattresses for their needs, on healthy sleeping tips, and on back and spine health. I can help them with delivering tips and tricks on health, pinning back and spine health articles plus studies on factors that influence our sleep.
4. What motivates and inspires them?
Example: I sell fitness supplements. My customers are motivated by beautiful fit bodies, by stories of health and fitness success, by powerful and determined people.
That's a wrap for today, guys. I do hope now your e-commerce Pinterest account looks more appealing and brings you more customers!
What are your fav e-commerce Pinterest accounts? Share them in comments.