Help customers easily make purchase decision
It's not a secret that choosing a gift is a hard and rather time consuming process. Customers browse through numerous websites before making their purchase decision. Therefore, there is a high risk that visitors who are not certain about a particular gift may leave your store trying to find 'something better'.
With the Magento Gift Card extension customers will be able to solve the gifting problem once and for all by purchasing specially designed gift certificates and sending them to friends and relatives either via email or via post office. Once the gift certificate is bought, a unique gift code with a greeting message will be sent to the recipient. The module works both for authorized users and guest visitors.
Increase your sales
E-gifting is rightly considered to be one of the most effective sales boosters. According to the Internetretailer.com about 80 percent of costumers say they buy at least one gift certificate during the holiday shopping season. Apart from that, more than 60 percent of gift voucher holders spend more than the amount of their gift card.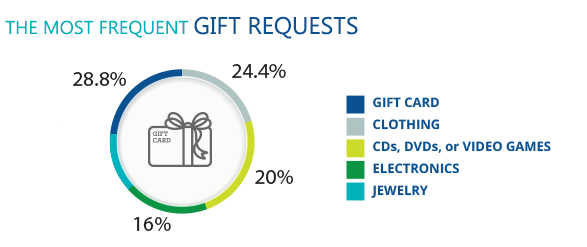 Gift card options for customers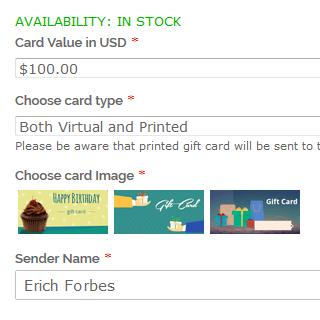 Customizable gift card
Flexible extension navigation allows customers to configure Magento gift cards according to their needs. Before adding the certificate to cart visitors can:
Choose the certificate value or specify their own custom value;
Select the card type: virtual, printed or combined;
Choose the card image;
Write a gift message;
Specify sender and recipient data;
All specified gift card details will be automatically displayed on the shopping cart page.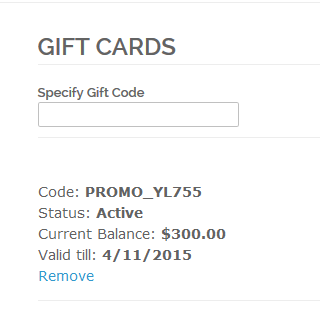 Gift card balance
As soon as a Magento gift voucher recipient gets a gift code via email or post office and inserts it in a special Magento gift card field, the card balance will be available on a customer account page in the Gift Card tab.
Gift card holders will be able to:
Add an unlimited number of gift codes;
Remove already used certificates;
See the current gift card balance;
See the certificate expiration date;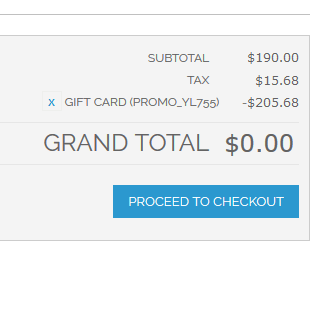 Apply gift code on the shopping cart page
To apply an active Magento gift card code on the shopping cart page customers just need to insert the code in a special field and click on the 'Add gift card' link below. Once the code is applied the new grand total price will be automatically recalculated and displayed.
On the shopping cart page gift card holders can:
Apply gift card code;
Check gift card status;
See gift card balance and expiration date;
Flexible settings for admin users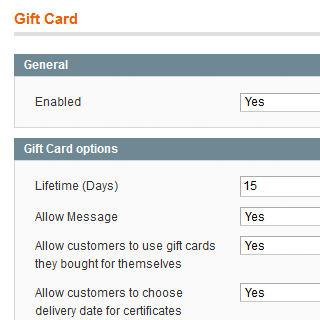 Gift card options
The gift card module offers a whole range of flexible settings to help you effectively manage the dispatch of card emails and notifications. Surprise certificate recipients with catchy gift code emails and timely inform them about the code expiration
Specify product types, which can be bought with gift card;
Set card lifetime (will be applied to all created cards by default, or can be specified for each particular card);
Allow customers to use the gift cards they bought for themselves;
Enable customers to choose the certificate delivery date (for printed gift cards sent via post office);
Enable certificate expiration notifications;
Specify when the expiration notification should be sent;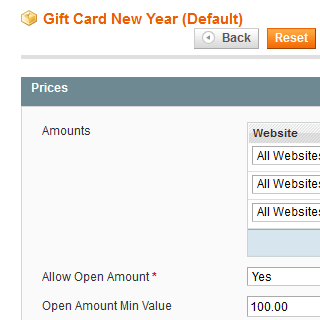 Advanced price options
Create various pricing types for each particular gift card product. You can set either fixed amounts or let customers specify their own custom certificate value. Moreover, flexible extension settings enable you to specify whether the Magento gift certicate price will be equal to the whole cart amount or to a specific percent from the card value.
Flexible price settings allow you to:
Set fixed certificate values;
Enable customers to specify their own value (Open amount);
Set minimal/maximal values if the Open amount feature is on ;
Specify whether the price is equal to the whole card or to a specific percent (set the percent you need);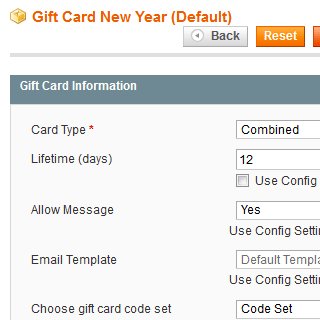 Gift card settings
Magento gift voucher extension enables you to choose from 3 card types: printed (the card will be sent via post office), virtual (the card will be sent via email) or combined type, that includes both printed and virtual variants. You can also easily fine-tune other module settings according to your store specifics and choose which options will be available to customers on the frontend.

On the Gift Card Information page specify:
Card type: printed, virtual or combined (enable either one type or all of them);
Gift code lifetime (to motivate card holders spend it as quickly as possible);
Email template;
Gift card image (to let customers pick the one they need);
Gift card code set;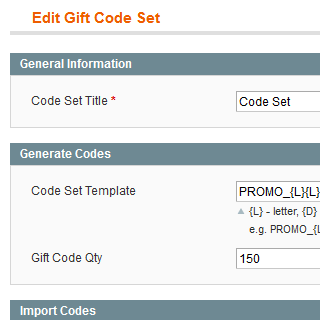 Gift card codes generation
With the Gift Card extension you can generate as many gift codes as you need just in a few clicks. You can also easily import codes in CSV format simply specifying each code in a new line.
To create a new code set specify:
Code set title;
Code set template;
Gift code quantity;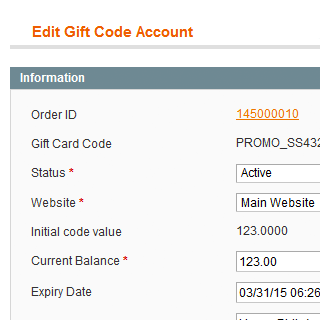 Keep track of purchased codes
The Gift Card Magento module offers an effective codes management tool. All purchased gift codes are carefully placed to a special grid where you can delete unnecessary codes or change any code settings if needed. Here you can also view the history of a code usage that includes: store view where the code was bought, the date of code purchase as well as the information about orders made with a particular code.

Gift card account options allow you to:
Create Magento gift vouchers from the backend;
Apply gift cards to the orders, created from backend;
Activate/deactivate certificates;
Edit current balance;
Edit expiration date;
Write gift card comments;
Resend gift card codes;
View order history of a particular code;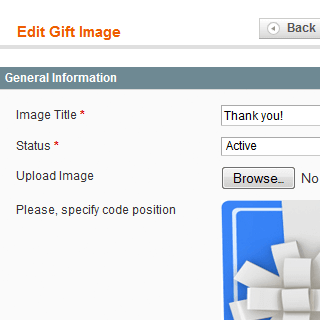 Manage gift card images
Impress store visitors with a rich selection of Magento gift certificates images. Easily upload an unlimited number of gift pictures to your admin panel so that everyone could choose an appropriate image to present it to friends with 'Happy Birthday', 'Merry Christmas' or any other message. Check our free packs of labels and cards to enhance your web store visual presentation.
On the image upload page you can specify:
Image title;
Image status;
Code position (with a drag-and-drop option it's possible to choose where to place the code line);
More Gift Options?
Offer your customers to wrap their gifts them to receivers with greeting cards. Use Magento Gift Wrap to add this feature.
You can also enable your clients to create gift registries for different occasions: birthday, wedding, etc. Use Magento Gift Registry for this.
Other Features
100% Open Source — Easy To Customize
Follows Magento Code Architecture
Separated HTML/CSS/JS
Simple installation via Composer
* The name "Magento" and the logo are the trademarks of Magento, Inc.
Great module
The module is good en very useful. We have some problem with the setup but the support was very fast and fixed the problem.
Fantastic extension!!!
It does what it promises and the support is unbeatable. Thank you!!!
Great module
The module is good en very useful. We have some problem with the setup but the support was very fast and fixed the problem.
ok
Not a big fun of the logic which is used to sell the gift cards, but eventually it works. The purchase process simplification would really help. Nevertheless, it works fine for now. English speaking support is friendly.
Wonderful extension and perfect support
Like other Amasty extension the installation and configuration went fine; I had a small issue caused by our customized checkout but Amasty support immediatly fixed that. Awesome!
I really recommend this extension.

not bad
Great module in case you use everything just out of the box, but if you need to make any changes on the product page where the customer purchase a gift card, you need to know html to display it in the way you like.
Our customers are happy
Our clients were pushing us to implement something like gift cards for quite some time. They just demanded such cards. Now when the module is working, customers comment very positively on both giftcards and the variety of shopping opportunities that such cards allow.
We didn't face any installation issues and the configuration was also pleasant. The number of options and settings is amazing. With this plugin you can create really unique cards and loyalty programs. The only weak spot is that the plugin is not documented too well; you'll have to mess with the module for some time before you can understand how it all works.

Satisfactory tool
Gift Card is a very reliable module and a great business solution. Often customers search for gift cards to present to their family or friends, and shop owners really should provide this option. This plugin from Amasty is one of a few that offers sending cards by post, it turned out to be a valuable feature.
We didn't run into any serious issues during the installation process, we managed to figure all the questions just by reading the docs carefully. I'm giving 4 stars now to save one for later. This module is new and I hope that updates would make it even better.
Very powerful module
We've implemented this module just recently, and I can already see that it's a valuable tool; it's useful and has rich functionalirty. Numerous features of this product actually make it a "must have" for any store. We are selling cosmetics, and I admit we should have implemented gift cards long ago. We noticed that customers purchase cards almost as readily, as actual products.
The plugin is very easy to install and to configure, the code is good. It didn't cause any problems with our custom theme or other extensions. We almost got accustomed that implementing new tools is painful. This time was a pleasant surprise.
Devs there really know what merchants need and how to do it!

Many troubles with installation
Every time I install new extension on my magento store I get really nervous. The modules always seem to be useful when you read what developers say in the description but in real life plugins often conflict with each other, especially if they come from different developer.
That is exactly what happened to me this time. I submitted a ticket to support. They asked me for credentials to my server and did something there on the backend. After 2 days of work the module finally works as expected, I'll see if the outcome would be worth all this trouble. 3 stars 'cause I don't like third party teams messing on my website. And I just really want the tools to work at once, without extra trouble.

Brilliant solution
The extension works just as it should. The possibility to make combined cards is a very nice feature. For us it actually means that customer can easily make purchases either in our webstore or in offline shops, which is good all-round.
The process of creating customized cards (with unique images and messages) is plain simple, and the outcome is really impressive. Such gift cards can really add points to the individuality of your brand.
While the plugin itself is incredibly good, the support is second to none. I needed some expert advice and a small customization. The techs had everything done within just several hours. They are professional, friendly and experienced. This module is absolutely worth every dollar!
Awesome extension with awesome support
First of all thanks Amasty for your support, especially Ivan has given me dedicated support for some bug fixes related with my theme.
The only lack of the extension is, not having VAT seperately. I will be solving this problem by hiring Amasty sources (because it's not described in the demo) but should be added for the next updates.
Thanks again, it works very well.

Works as described
Good extension with nice functionality. We weren't planning to implement this tool but when this vendor released the extensions we decided to tr y. The code is clean, no conflicts with extensions from other providers.
Our suggestion is to add a feature so users can upload their own designs and maybe more predefined designs on more occasions as well. A bit pricey…
highly demamnded features
Gift cards have long been among top requests from my customers and I finally decided to add them. I'm fully happy with the features and see that a lof of people buy gift cards, especially during holidays.
About the extension itself: the installation is ok and settings are intuitive. The only thing I would like to see in the next updates is the ability to upload custom pictures by clients. That would be awesome.
Write Your Own Review
Version 1.2.7
-
March 01, 2018
– Fixed an issues with required fields
Version 1.2.6
-
December 21, 2017
– Compatibility with 3-rd party extension was introduced
Version 1.2.5
-
December 19, 2017
– Minor code improvement was made
Version 1.2.4
-
November 03, 2017
– Amasty Improved Navigation compatibility improved
– Minor fixes
Version 1.2.3
-
April 25, 2017
– Multi currency support
– Translation (i18n) file added
– Compatibility with 3rd party custom themes improved
Version 1.2.2
-
February 01, 2017
– Code syntax fix
Version 1.2.1
-
January 23, 2017
– Added cron job for automatically setting accounts to expired
– Added a local timezone offset
– Few general fixes
Version 1.2.0
-
December 21, 2016
– Possibility to specify default and the only time zone, or which time zones to use generally
– When only one gift card image exists, the field to select gift cart image is hidden
– Price display according to Magento design
– Attempt to automatically create image cache folder will be performed if no exists
– A number of other minor fixes and improvements
Version 1.1.8
-
November 29, 2016
– Possibility to display gift card price either including or excluding tax
– A number of minor improvements and fixes
Version 1.1.7
-
November 25, 2016
– Minor fix for including image into email
Version 1.1.6
-
November 18, 2016
– Added selected gift card image to order information
Version 1.1.5
-
September 29, 2016
– Fixed using gift cards with discount codes / coupons
Version 1.1.4
-
September 16, 2016
– When customer cancel a gift card, the module returns it to previous page
– Right CSS for error messages
Version 1.1.3
-
July 26, 2016
– Fix for calculating gift card price
– Fix for duplicated codes being generated
Version 1.1.2
-
March 10, 2016
– Workflow and compatibility improvements
Version 1.1.1
-
October 19, 2015
– Ability to apply gift cards to backend orders
Version 1.1.0
-
July 01, 2015
– Add tax classes to gift card product
– Add config "Product Types, Which Can Be Bought With Gift Card"
– Add ability create gift card from backend