Every day our specialists get questions about whether Amasty gives the opportunity to test extensions before purchasing them. And we understand the reasoning behind – if the extension doesn't suit you, you have to:
1) get money back into the budget,
2) deal with complex financial reporting,
3) search for another extension that could solve the problem, 
4) while risking making the wrong choice and starting the search all over again.
Unfortunately, the specifics of our product do not allow us to offer each client a trial version in its traditional sense – fill out a form, test the product, subscribe/unsubscribe.
And yet, we thought of this point in advance and today we want to share with you simple options that will help you save time and effort on purchasing extensions and then reimbursing them, in case they didn't fit your needs.
How can you try the Amasty extension before buying it?
1. Demo
On each product page, you will find a product demo. In the product demo you can check out:
the backend section – for specialists, who will directly set it up and work with it;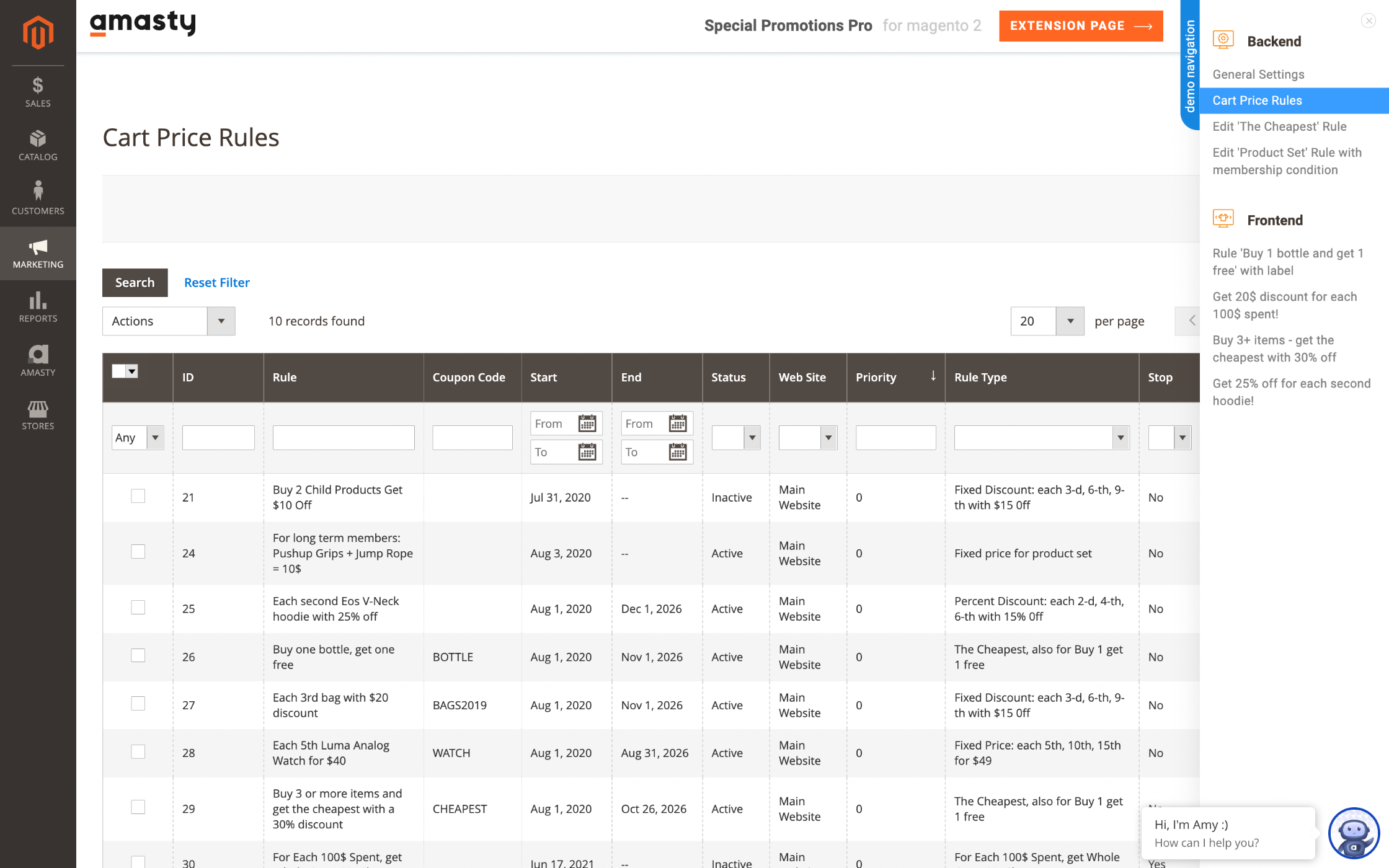 the frontend section – to see how the settings will look in your store and if they meet your expectations. 
Moreover, in each demo, you will find useful tooltips that explain what the module settings are responsible for. In case you need more information, you can always use our live chat to ask a specific question about any product, or read the User Guide that also goes on any product page.
However, we understand that live product demonstrations can be much more useful in terms of saving energy and time – for this purpose we conduct live demos. 
2. Live Demo 
Live demo is hosted by our technical experts, who have been working with the particular product for at least two years and can show you all its features, as well as give complete consultation on the issues that interest you during the session.
During one demo session, our specialists will show you the features of one Amasty solution of your choice and answer all your questions to help you make an informed purchasing decision.
3. Extension testing for Partners
Beyond that, as part of our Partnership Program, we provide a free copy of extensions for the purposes of testing, so that your team can make sure it fits their requirements and expectations. The testing in this case is performed on the staging version of your website. 
Bonus: Training Service
If you realize that the extension suits you, but are worried that you can't cope with its configuration and use, or want to optimize the time spent on team training – we have a service designed to help you.  
You and your team can consider taking a special training session to save time on mastering the settings for the most feature-rich extensions.
Trainings are conducted for the following products:
What does training involve?
A 40-minute online training session

Unlimited number of participants

A recording of the training and materials for internal use
We hope this information will save you time and help you make deliberate purchasing decisions.