Why implement a loyalty program?
At a highly competitive market where customers have thousands of online stores to visit, loyalty programs are an effective tool that increases customer retention and boosts profits. With the Loyalty Program for Magento 2 extension you can easily build a flexible rewarding scheme to provide your clients with numerous relevant deals and targeted discounts. Clearly describe loyalty program conditions and display them right on the customer account page to stimulate shoppers return to your store and purchase more.
Increase an average order value
Significantly boost repeat sales
Attract new customers with minimal effort
Get deep insight into customer behavior
Create highly targeted offers
Build productive relationships with customers
The Magento 2 loyalty extension lets you use flexible conditions based on order and customer attributes as well as on purchase history to reward regular customers with additional discounts. Take advantage of multiple cart price rules actions to easily create hot deals for different loyalty program levels.
Configure settings for loyalty program promotions
Specify information to display on the shopping cart page
Create different loyalty program levels

Display loyalty program steps to customers
Set flexible conditions for each level
Choose one of 16 shopping cart rules actions
Create loyalty programs to meet your specific needs
Create loyalty programs based on customer groups
Add customers to corresponding groups according to their purchase behavior. With the extension you can use the groups as a basement for your loyalty program levels and reward shoppers from each group accordingly.
Reward customers with coupons that can be generated manually or automatically;
Develop unique privileges for each customer group;
Use flexible conditions for different spending levels
Due to condition settings you can effectively motivate customers to spend more in order to achieve a higher loyalty level. The module allows you to create rules based on:
Purchase history;
Orders subselection;
Cart attributes;
Customer attributes;
Loyalty programs based on order subselection
Generate discounts based on customer order amounts to reward shoppers for making purchases in your store. Retain existing clients and attract new ones by creating tempting offers for those who purchase more.
Order subselection includes:
Average order value;
Total sales amount;
Number of placed orders;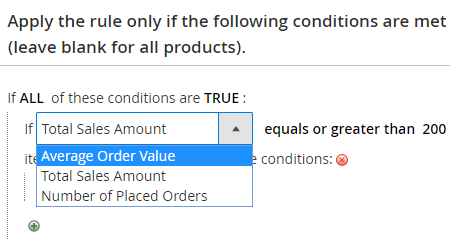 Create individual offers based on customer attributes
To show your attention to the most loyal customers you can easily create individual promotions with personal coupons using such customer attributes as email address, last name, TAX/VAT number etc.
Encourage guest visitors to register
To motivate shoppers get authorized simply limit the access to special offers and discounts for guest visitors. Make the bonuses available only for customers with a long membership history (membership days attribute) to effectively apply 'Best customer' marketing strategies and maximize your ROI.
Offer multiple discount types to reduce promotional costs
With 16 additional cart price rules actions you can easily create a great variety of promo offers for different loyalty program levels. Exploit promo functionality to the full to increase the average order amount with minimum advertising spends.
Make free shipping a part of your loyalty plan
The Magento 2 loyalty system settings let you include a free shipping into any level of the loyalty program as an additional incentive for customers to keep purchasing in your store.
Specify the base price for discount calculation
An admin user can set the price that will be chosen as a base for discount calculation:
Original price;
Special price;
Price after previous discounts;
Clearly inform customers about loyalty program steps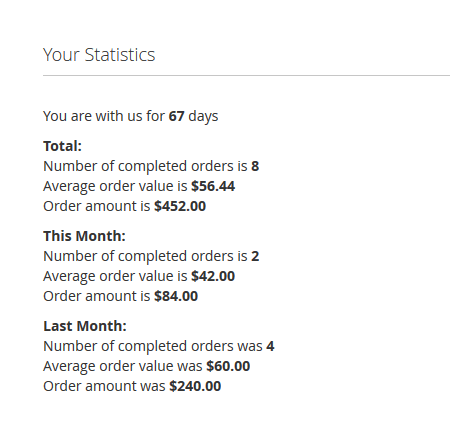 Show loyalty program info in customer accounts
With the magento 2 customer loyalty extension you can display all reward program details right on the customer account page to describe all steps a shopper needs to make to get a discount. Use rich HTML and catchy images to make the scheme easy to perceive.
Display detailed stats on customer's purchases
The Magento 2 loyalty scheme tool shows statistics on customer purchases for previous and current months. Due to the detailed stats data customers will easily keep track of their spends and will see how much they need to purchase in order to get and extra discount or to be moved to a higher loyalty level.
More features
Bundle products support;
Virtual products support;
Exclude items with special price from your loyalty program;
Other Features
100% Open Source — Easy To Customize
Follows Magento Code Architecture
Separated HTML/CSS/JS
Simple installation via Composer
* The name "Magento" and the logo are the trademarks of Magento, Inc.
Good for its price
Good functionality for its price. We have managed to increase our e-commerce conversions rates approximately by 10 % in a couple of months. Recently, we have experienced more engagement from our customers.
Write Your Own Review
Version 2.1.0
-
March 14, 2018
– Improved the 'Product set' action. Now, only SKUs can be used to create a set
– Improved usability by removing the 'Maximum Qty Discount is Applied To' setting from the 'Group of N' action
– Fixed the logic of the 'Product set' and 'Group of N' actions
– FIxed an issue with 'Max Amount of Discount' setting
Version 2.0.5
-
March 02, 2018
– Fixed an issue with installation on Magento 2.2.2
Version 2.0.4
-
January 18, 2018
– Rare issue with extension installation on Magento Enterprise Edition was fixed
– Compatibility with 3rd party extensions was improved
Version 2.0.3
-
January 04, 2018
– 'Each N-th' action behavior was fixed
Version 2.0.2
-
December 14, 2017
– The discount calculation for the "Each Nth" rules was fixed.
Version 2.0.1
-
December 04, 2017
– The installation script was fixed.
Version 2.0.0
-
November 29, 2017
– The configuration of several promo actions was simplified:
The promo actions "Each M-th After X-th" and "All Product after N" were combined in one action - "Each Product After N".
The promo actions "Buy X get N of Y" and "Buy X get Y" were combined in one action - "Buy X get Y".
– The advanced conditions display on Magento Enterprise Edition was changed.
– The issue with promo rule labels display was fixed.
Version 1.3.1
-
October 23, 2017
– Fixed discount display in admin area
Version 1.3.0
-
October 20, 2017
– New: Customer ID can be used as customer condition
– New: Magento Enterprise edition Schedule feature compatibility
– Fixed the rare case of division by zero
Version 1.2.3
-
October 05, 2017
– "Each M-th after X-th" rule logic fixed
– Magento 2.2 compatibility tested and confirmed
Version 1.0.1
-
July 26, 2016
– Fix for compilation mode