SMTP (Simple Mail Transfer Protocol) is a standard for email transmission across the internet. It is used by many e-commerce platforms, including Magento 2, to send transactional emails to customers, such as order confirmations, shipping notifications, and password resets. Usually, Magento stores use third-party modules to enhance available SMTP capabilities, but it might change with the newest platform update.
According to the recent press release, Magento 2.4.6 brings in an ability to specify a custom external SMTP provider, which removes the need to bring in external modules. Or does it? 
Subscribe to our blog newsletter and get the latest e-commerce trends, our extensions updates, and news in your inbox
Ready to advance? Check Amasty SMTP now to manage your reputation, grow customer base and gain revenue.
There are plenty of custom SMTP extensions available for Magento and we've decided to have a deep dive into this question by comparing a free SMTP extension from Mageplaza and our own Amasty SMTP. With this comparison, we aim to elicit what businesses can benefit from custom SMTP modules, why install Mageplaza SMTP extension, and how Amasty's SMTP covers business needs with paid features. Spoiler alert: it's all about advanced customization in a stress-free and automated manner allowing companies to scale and grow. 
Common ground for Amasty and Mageplaza SMTP
Let's start from similarities. When it сomes to basic functionality, both Mageplaza SMTP extension and Amasty SMTP offer several common features for SMTP configuration in Magento 2, including:
Easy installation and configuration

Support for popular email service providers such as Gmail, Yahoo, and Outlook

Custom SMTP host and port settings

Authentication options including username/password and OAuth

Test email sending functionality to verify settings

Error reporting and logging to track email deliverability issues

SSL/TLS encryption for secure email transmission

Custom email sender options

Compatibility with Magento 2.4 and higher versions

Multi-store support to manage email settings for different stores from a single interface

Real-time email queue monitoring to keep track of outgoing emails and prevent email delivery issues
For businesses that only require basic SMTP configuration, Mageplaza SMTP extension may be a sufficient option, as it is free and easy to use. It is a good starting point for smaller-scale stores that are just starting with email marketing and transactional emails. 
Above and beyond with Amasty's SMTP
Moving forward with Amasty SMTP extension, its additional features focus on more granular control over email configuration, advanced email customization and streamlined process management for multi-store businesses.
Email templates
Customizable email templates can be especially useful for businesses that want to improve their branding and provide a consistent customer experience across all email communications. Amasty SMTP allows businesses to customize email templates for different types of emails, such as order confirmation, shipping confirmation, and customer registration.
Multi-store support
It allows businesses to manage email settings for multiple stores from a single interface, making it easier to configure and monitor email settings for larger e-commerce stores with multiple storefronts.
Integration with other Amasty extensions
Amasty's SMTP can be integrated with other Amasty extensions, creating a seamless user experience in sync with additional features and functionality from these extensions. 
For example, if you are using Amasty's Follow Up Email, you can use the SMTP extension to ensure that your follow-up emails are delivered to your customers' inboxes, rather than getting lost in spam folders. Similarly, if you are using Amasty's Abandoned Cart Email extension, the SMTP extension can help ensure that your abandoned cart emails are delivered promptly and reliably, helping to increase conversions and sales.
Granular configuration options
Amasty's SMTP provides more granular configuration options, including the ability to set different SMTP settings for different email types, choose different authentication methods for different email providers, and configure specific email ports for each provider.
Automatic email sending 
Businesses can set up automatic email sending for specific events, such as abandoned cart recovery or follow-up emails after a purchase. This can help stores to improve customer engagement and drive more sales as well as strategize and plan email campaigns in advance. 
Real-time email queue monitoring
Amasty's SMTP allows businesses to monitor email queues in real-time, providing instant visibility into email delivery issues and allowing businesses to quickly address any issues that arise.
Advanced error reporting
Apart from creating error logs with detailed information on email delivery issues, the error reporting functionality in Amasty's SMTP also suggests solutions to fix them. It makes troubleshooting a streamlined process rather than a guessing game. 
Customizable sender options
With this features, stores can customize the sender name and email address for different types of emails, such as transactional emails or marketing emails.  
This level of flexibility and control over the email sender's identity allows businesses to brand their emails in a way that is consistent with their overall marketing and branding efforts as well as to establish a sense of trust and professionalism with their customers.
Additionally, customizable sender options can help businesses comply with regulations and standards around email communication. For example, some industries, such as healthcare and finance, are subject to strict regulations around email communication. This feature allows to follow these regulations by using a consistent email address and name that is recognized by regulatory bodies.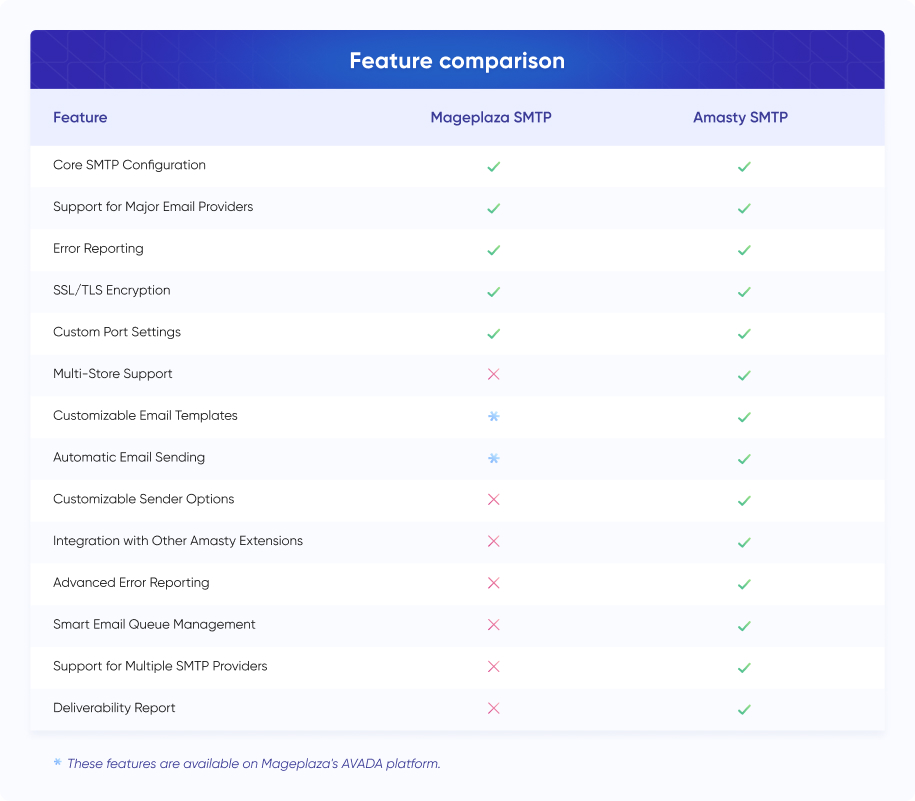 Are external SMTP modules needed after Magento 2.4.6?
In our opinion, the third-party SMTP modules exist to help businesses expand beyond base-level needs. As soon as they have long-term goals that include scaling, there's always a need for advanced tuning, analytics, reporting, and maintenance. 
Additionally, external SMTP modules can offer integrations with other third-party tools, such as CRM software or marketing automation platforms, allowing stores to streamline their email communication efforts and automate their processes while also providing a more personalized experience for their customers. 
The Verdict: Magento 2.4.6 vs. custom SMTP extensions 
In conclusion, we don't believe that the newest Magento 2.4.6 update threatens third-party modules, because they bring in additional value and offer fine-tuned customer outreach. And being in sync with your customers is key to success, so we don't think there's a reason to avoid custom solutions. Speaking of what solutions exactly to opt in for, both Mageplaza SMTP extension and Amasty SMTP offer standard features to cater towards base-level business needs.
Investing into advanced SMTP is a decision for the stores that require more granular control over their email settings, aiming at brand management, streamlined email management processes, as well as quick troubleshooting and email automation.