Follow Up Email
for Magento 2
Generate and send numerous triggered emails based on customer activity to build productive relationships with clients and increase the number of repeated purchases. Customize the templates and effectively manage emails dispatch.
Create notifications for different order statuses
Send emails based on wishlists and previous orders
Generate alerts based on customer activity
Schedule automatic emails dispatch
Collect statistics with Google Analytics

Magento 2 Email extension can create numerous custom email templates based on previous orders, wishlists, newsletter subscriptions, customer birthdays and many other events. Use flexible rules to inform shoppers about hot deals, automatically attach discount coupons and send birthday greetings to bring customers back to your Magento 2 store. Schedule automatic online correspondence dispatch according to your needs and get detailed statistics via Google Analytics.
Send triggered emails based on different events
Wishlist based discounts
Generate promotions based on products which are added to wishlists to send highly targeted follow-up mailings. Magento 2 email module uses the following actions as a start event for notifications dispatch:
Wishlist Created;
Wishlist On sale (the message is sent when products in a wishlist get a special price);
Wishlist Back in stock (the email is sent when a product from a wishlist comes back to stock);
Wishlist is shared
Emails for different order statuses
Thanks to flexible Magento 2 Follow Up module settings, you can generate emails based on different order statuses to help users easily track their orders and shipments. Choose the event to start your email campaign:
Order Created;
Order Shipped;
Order Invoiced;
Order Completed;
Order Cancelled;
Promotions based on previous orders
Be extremely helpful to your shoppers by sending them follow ups based on products they've already purchased. You can generate and send messages suggesting up-selling, related or cross-selling items.
Customer group change notifications
Let your users know when their group is changed. For example, you can inform clients that they have been recently 'moved' to the 'VIP customers' group and from now on they are provided with a 10% discount on any products in your store.
Newsletter subscription notifications
Send a welcome message with special discounts to newly-subscribed customers. Motivate them to return to your online store by providing special offers available only for subscribers.
Winback messages
To return potential customers who haven't logged in to your store for a certain period, send them winback messages with exclusive offers. Thanks to timely sent reminders with tempting deals, you'll increase the number of repeated purchases.
Birthday greetings
Provide visitors with special presents and discounts in birthday greeting messages. With the Magento Email extension, you can create nice-looking greeting card templates with attached coupons and quotes to show your attention to each client and build customer loyalty. Define in what time period your audience will receive a greeting email: specify the number of days before the actual birthday's date and congratulate your clients in advance.
Repeated Purchases = Follow Up Email + Push Notifications
The Follow Up Email extension perfectly works in synergy with
Magento 2 Push Notifications
. Reactivate customers with online correspondence based on wishlists and previous orders and then trigger the returned ones with smart & timely push notifications!
Manage emails dispatch
Send alerts automatically
Use the advanced Magento 2 follow up email tool to generate and send automatically any number of triggered emails.
Set up the schedule with the 'Date' starting event
Plan ultimate follow up notification campaigns in advance and schedule letter dispatch according to your requirements. E.g. use the 'Date' starting event to run a campaign dedicated to a specific holiday.
Integration with discount coupons
Draw customers attention to your products by automatically generating coupons for follow up emails. Simply specify the necessary rule for coupon sending and the module will create a unique promo code with the ability to indicate the coupon lifetime. Choose one of the available coupon types or use a shopping cart rule:
Available coupon types:
Percent of product price discount;
Fixed amount discount;
Fixed amount discount for the whole cart;
With this Magento 2 email module, it's also possible to make the coupon available only to the recipient.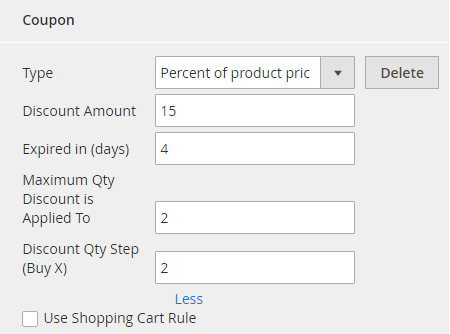 Customize the templates
The Follow Up Email Magento 2 extension offers a list of predefined templates based on orders and reorders, wishlists and customer activity. Use themed email templates to create special notifications for particular events. Additionally, you can create templates for various holidays (Christmas, Thanksgiving day, etc.)
You can easily edit any of the templates according to your specific needs changing their content and CSS.
Advanced templates options
Use advanced template features to thoroughly fine tune their display:
Use format manager to show currency, dates, price and time in the necessary format.
Use URL manager to automatically generate URLs corresponding to Magento requirements.
Use any of the available product list designs according to your taste.
Create an emails blacklist
To prevent sending notifications to unwanted or unsubscribed users you can add their email addresses to a black list. This way you'll keep your database clean and up-to-date and avoid being added to spam.
Preview templates and send test emails
To make sure that everything works correctly always preview templates and send test alerts to the specified email address.

Limit rules application
Split emails between different store views and customer groups to show individual approaches and achieve maximal effect. For example, provide more tempting offers for wholesales and thus motivate customers to buy more.
Automate analytical markups
Use the built-in analytics tool to mark links faster and measure the results of your rules. Add source/medium tags to the links in emails automatically and see how customers interact with your offers right in Google Analytics. Make data-driven decisions and the most of the extension.
Unload your database
Since the extension logs all sent emails, eventually the history becomes overloaded, and it requires extra space on your server. Clean the logs automatically after a certain period and avoid database littering.
Target order-related campaigns
When it comes to the order-related rules, you can segment shoppers by various order conditions, e.g. diversify emails for different subtotals or different shipping countries. Use the Magento condition tree to combine various order aspects and make your offers highly targeted.
More Options for Magento 2 Email extension
Manage follow ups via Cron Tasks List grid;
Moderate correspondence queue;
Specify sender address;
Let customers unsubscribe.
What is Magento 2 newsletter subscription?
Magento 2 newsletter subscription is an option that allows visitors to receive company newsletters to a specified email address. Email subscription helps to increase your target audience. This tool is essential for any email marketing strategy and allows you to remind users of your store using emails with up-to-date offers. A newsletter subscription is a good way to generate traffic to your website.
According to the statistics, the extension can cover each business need in synergy with the following solutions: stripe magento 2, magento 2 cron and magento 2 programmatically orders export.
Magento 2 SMTP email is a simple mail transfer protocol. SMTP is used when an email is delivered from one mail server to another, or when an email is delivered from an email client such as Outlook Express to a mail server. Magento 2 SMTP Extension allows owners to suggest Magento 2 store to the custom SMTP server for message transfer.
Product questions

How to configure newsletter subscription in Magento 2?

Email marketing is one of the most powerful tools in e-commerce. On average, it produces $44 for every $1 spent. But before launching the email campaign, you need to set up a newsletter subscription in your Magento 2. Also we will show how to enable newsletter subscription at Magento 2 checkout. Let's see how to do it.

Read the FULL answer
Other Features
100% Open Source — Easy To Customize
Follows Magento Code Architecture
Separated HTML/CSS/JS
Simple installation via Composer
* The name "Magento" and the logo are the trademarks of Magento, Inc.
Thank you
Works great! Simple in use =)
OK, but had an issue
Everything is ok, there was a problem when sending a test email in order with a deleted quote the error appeared. Thanks for the update, everything is great now
Necessary interaction with customers
Nice extension to keep your customers engaged. You can feed your clients' interest communicating with them with the thematic messages, based on their tastes and wishes. Sometimes it is necessary to have one for a web store.
Are you looking to add specific functionality for this extension or want to acquire a reliable development partner altogether? With custom development services by Amasty, you will receive high quality and cost-effective solutions developed by Magento professionals according to industry's best practices.
2.3.6, 2.3.6-p1, 2.4.0-p1, 2.4.1, 2.4.1-p1, 2.4.2
You can always download the recent version free of charge from your account
Installing an upgrade is easy — check now
My Downloads
Version 1.2.14
Last Update: Jul 28, 2021
Fix we fixed the issue with the emails sent on the wrong date after the order is complete
Fix we resolved the problem with the order items missing in the emails when the corresponding variable is added
Fix we fixed the issue with birthday emails re-sent every 5 minutes
Fix we resolved the problem with order validation by the rule with cancel event
Fix we fixed the issue with the email body displayed in HTML
Compatibility the compatibility with Magento 2.4 was added
Fix we fixed the issue with setting the sender information
Improvement code was refactored according to Magento Marketplace standards
Fix we fixed the error appeared on sending a test email on an order with a deleted quote
Improvement we updated images for default email templates of the extension
Fix we fixed the setting "The Coupon is Available Only for Particular Customer"
Fix we fixed the issue with showing images in emails
Fix we fixed the issue with showing previews for extension email templates
Fix we fixed the issue with sending emails in Magento 2.3.3
Fix we fixed the issue with customers' broken registration emails
Fix we fixed the issue with the email sent to customers when changing customer groups.
Fix we solved the problem with sending emails to multiple recipients
Fix we fixed the 'error 500' issue on registration mail
Fix we fixed the issue with follow up email on a newsletter subscription
New the ability to manage all existing cron tasks on a Cron Tasks List grid in the backend was added. Run cron tasks and generate their schedule by clicking the 'Run Cron' button. Also, delete tasks in bulk, use filtering and sorting options when it is needed
New ability to automatically remove sent emails from history implemented.
Fix issue related to emails not being sent if there are non-existent cross-sell products in the massage body was fixed.
Fix issue with broken newsletter subscription notification was fixed.
Compatibility the compatibility with Magento 2.2.5+ was improved
Fix the issue with order statuses' conditions was fixed
Fix the issue with multi-currency conversion was resolved
Fix the issue with the template's preview was resolved
New the extension now incorporates 6 themed email templates for every Start Event ready to use
New introducing 2 new product list designs: 'table_modern' and 'list_modern'. To switch to a new product list design, open your email template, find product listing handle and change the 'mode' setting to 'table_modern' or 'list_modern'
Version 1.1.4
Last Update: May 14, 2018
Fix the issue with sending test emails on PHP 7.1. was fixed.
Fixed an issue with the schedule not being saved correctly on rule creation
Magento 2.2 compatibility was improved
Fixes for Wishlist actions and Unsubscribe link
The issue when multiple emails were scheduled for the same action instead of one was fixed.
Birthday Offset setting is added to send Birthday emails before the birthday date
Fix for cross-sell products display in emails
Minor display fixes
Version 1.0.2
Last Update: Jan 17, 2017