SMTP Email Settings for Magento 2

|

v1.0.1
Screenshots:
This extension is a tool developed to give you full control over Magento 2 email settings. You can easily configure your own custom SMTP server or use one of the following preset providers:
Flexible Magento 2 email sending settings
Easily configure port and host; define authentication and connection parameters that are mostly suitable for your business. Using the intuitive module interface provided with hints, you can configure mailing parameters in a blink of an eye.
Run debug mode to test all Magento 2 smtp email settings
With this feature you can run a self-test of the extension without sending out any emails. Debug mode emulates the work of Magento 2 email SMTP server and keeps detailed log. If any mistakes occurr you will see them in the log and make just the necessary changes without reconsidering all the settings. When everything works correctly, you can clear the log manually or just wait till it will be done automatically after a certain period of time.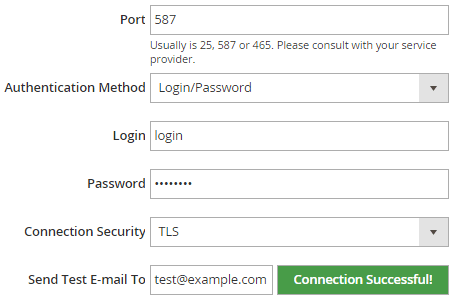 Email logging with detailed view of every letter
This Magento 2 SMTP extension also keeps email log, registering all emails sent from your store. In this list you can see when and to whom the email was sent and what is the current status of the email (pending, in process or failed). You can also view the content of any email to find out exactly how the customer sees it. Just like the debug log, email log can be cleared automatically after a specified time period (in days), or you can clear the log manually whenever needed.
Adjust your Magento 2 SMTP configuration, test the system and preview any message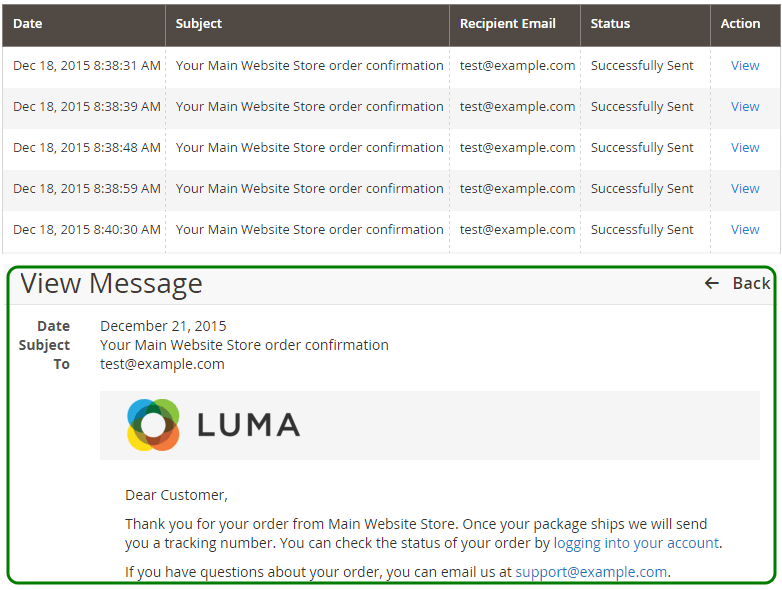 7 reasons to choose
Risk-free Investment
30-day moneyback guarantee for all extensions. No questions asked.
Comprehensive Documentation
There is a detailed user guide with examples even for tiny addons. FAQ section and videos also available.
Solutions Which Work
Careful in-house testing ensures you get robust applications. Multiple stores support. Custom themes compatibility. All included.
Outstanding Support
Our support service is friendly and of high quality. And it is free. Unbelievably. Just check independent reviews at Magento Connect.
Usability and Performance
Nice and easy to use interfaces. Fast algorithms. Save your time and get things done.
Flexible and Easy Licensing
No product or store view or domain limits. No monthly fees. No hidden charges. One extension license for one Magento installation.
Long Term Strategy
We've been in the market for 5+ years. We're proud to be a Bronze partner and are planning to stick to Magento platform for years ahead. We're doing our best to build extensions which maximize effectiveness of your business. We're open to customers' suggestions and constantly update our products to match your needs.
Other Features
100% Open Source — Easy To Customize
Follows Magento Code Architecture
Separated HTML/CSS/JS
W3C Validated Code
* The name "Magento" and the logo are the trademarks of Magento, Inc.
General Questions

How can I pay for Amasty extensions?

What is the license policy? On how many websites can I use Amasty extensions?

How to install Magento extension by Amasty?

Can I test an Amasty extension on a staging site before transferring it to a live one?

Can I get a refund if an extension doesn't suit me?

Will I get any other benefits?
Works as advertised
this extension works like a charm. straightforward installation and configuration. The debug log shows some good information if it is enabled, a sys-admin approved solution.
Write Your Own Review
Version 1.0.1
-
June 16, 2016
– Use specific store settings when creating order or sending order e-mail from the backend