SMTP Email Settings
for Magento 2
Minimize the chance to get into spam with the reliable SMTP server configuration. Use 12+ preset providers to make sure emails will be delivered.
Use ready-made provider settings to decrease email rejection
Comply with Google standarts with the OAuth 2.0 method for Google Accounts
Set your own configuration
View the content of sent emails
Test your emails using debug mode
Log all sent emails
Automatically clean logs
DELIVER YOUR E-MAILS SUCCESSFULY
Challenge
The default Magento settings use the installation server to send emails. But the reputation of such emails is low, and in most cases, they are marked as untrustworthy. As a result, your emails end up in a spam folder, and you waste a lot of time trying to get out.
Solution
Magento 2 SMTP Email extension is a tool that includes the configuration of reliable SMTP servers. The main goal of the module is to help you deliver emails successfully, e.g. connect your store to Gmail to implement the most popular email sending hosting and decrease the rejection level.
NEW: Use OAuth 2.0 Protocol to Comply with Google Standards
Since 2020, Google forbids less secure apps. It means that if your connection is not secure enough, Google won't let you get the access. As a result, email sending becomes much more complicated.
Amasty has a solution! Now SMTP extension supports OAuth 2.0 protocol recommended by Google. Set up a secure Google connection and make sure your emails will reach addressees.
What benefits do you get for your store
Avoid impact on reputation - use trusted email providers with a secured connection
Grow customer base - deliver emails without being marked as a spam
Gain revenue - make your email marketing perform better
How to perform Gmail SMTP setting in Magento 2?
Install and enable the SMTP Email Settings plugin;
Go to Stores → Configuration → SMTP Email Settings →SMTP Configuration;
In the SMTP Provider field, choose Gmail;
Enter Server Address, Port, and choose Authentication Method;
In the Connection Security field, select the needed security protocol;
Enter where toSend Test E-mail and save the changes.
Control the sending of all emails
Deliver all emails of any types successfully. Magento 2 Email Settings handles all the emails that are sent out from your store (welcome, emails, newsletter, order confirmations, invoices, etc).
12 preset SMTP providers
Set your own Magento 2 custom SMTP server configuration or use one of the following preset providers: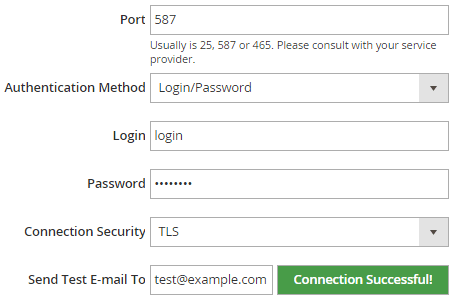 Don't know what to choose? See here.
How to replace an email sender?
Email sender replacing is used to avoid overflowing. Customers will not see the email you usually use as the email sender will be changed. This feature is available in case you have your own SMTP server.
To replace an email sender you need to perform 3 simple operations:
Step 1:Find the SMTP Provider setting and select Other option in the dropdown.
Step 2:Go to the Use another Email Sender setting and switch the value to Yes.
Step 3:Fill in the Sender Email and the Sender Name options with the necessary data. Here you can provide a real email or set a non-existing one.
Debug mode and log of all errors
Debug mode emulates the work of Magento 2 email SMTP server without sending out any emails. If any errors occur you will see them in the log and make fixes without reconsidering all the settings. Clear the log manually or automatically after a certain period of time.
Specify settings for multiple websites and store views
If you manage multiple Magento stores from one backend, it'll be quite useful for you to specify Magento 2 mail sending settings as a server address, a provider and others for each store separately.
If you you need, see how to set multiple stores up here.
Log all emails with Magento 2 SMTP extension
Take control over all sent emails. Magento 2 SMTP module registers and logs all emails that are sent from your store. Apply multiple filters to find the specific ones.
Easily check emails dates, subjects and recipients. You can see what, when and to whom the email was sent.
See relevant email statuses on the grid. Check the current status of the email. Sort out successfully sent, pending or failed emails using filters or grid sort order.
View email content in one click. You can easily preview the frontend layout of any email right in the grid.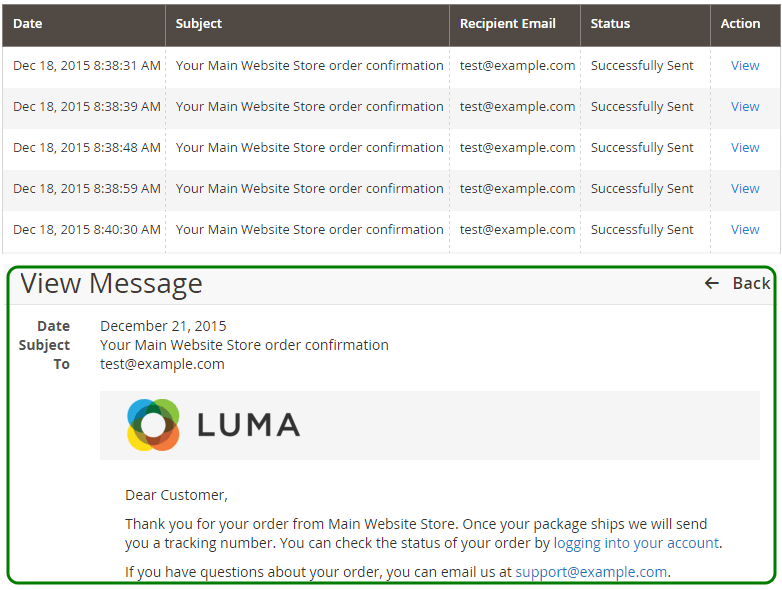 To avoid manual log clearing, you may enable an automatic clearing option. To apply it, just set a particular number of days after with log records will be removed. If you don't want to use the option, just set the number of days to zero.
NEW | Efficiently manage cron tasks
Manage all existing cron tasks on a Cron Tasks List grid from admin panel. Run cron tasks and generate their schedule by clicking the 'Run Cron' button. Delete tasks in bulk, use filtering and sorting options when it is needed.
Advanced options for successful email delivery
For increasing the chance of email delivery, the extension allows you to apply even more enhanced technologies, and SPF Record is one of them. SPF (or Sender Policy Framework) is a special email data validation framework that detects the emails with the fake sender addresses and identifies them as spam. The challenge is to avoid these rejections, and the Magento 2 SMTP module setup can help.
Even though SPF configuration is optional, keep in mind that if you replace an email sender and do not properly configure the SPF record, your emails are likely to end up in a spam folder. To reduce the possibility for your emails of being marked as "suspicious", you may do the following (based on what you prefer to use for email sending):
1. Configure SPF record for your own SMTP server
You may set the configuration for your own email server using your domain. The extension supports both IPv4 and IPv6 addresses. All you need to do is to specify the necessary domain and addresses in the SPF record. Moreover, you can forbid the receiving of emails that are not specified in your record. Check the details of the configuration here.
2. Adjust SPF record for Google Apps
It is also possible to set the same record for Google Apps services, but it will have particular differences. In case you use this service to send emails, you'll need to activate the specific SPF configuration for Google Apps. If you use the service only to receive emails while sending is processed by your own server, the settings will have some peculiar properties as well. And, of course, you can configure the record even though you use Google Apps for both receiving and sending your emails. Click here to find out how exactly the Magento 2 SMTP configuration has to look like.
According to the statistics, the extension can cover each business need in synergy with the following solution: magento 2 refund.
How to configure SMTP in Magento 2?
Install and enable Amasty SMTP Email Settings.
Navigate to Stores > Configuration > SMTP Email Settings and open the SMTP Configuration section.
In the SMTP Provider, choose one of the pre-defined providers and click Autofill.
Enter your Login, Password, and email for testing purposes.
Then click, Save and Check Connection.
Save the configurations.
How to configure email settings in Magento 2?
Log in to the admin panel and go to Stores > Settings > Configuration.
In the Customers tab, choose the Newsletter option.
Open the Subscription Options section.
Choose the email template and sender for default emails.
Enable the double opt-in and allow guest subscription if needed.
Save the changes.
How to make Magento 2 SMTP setup?
Install the extension.
Navigate to Stores > Configuration > General Settings.
Choose Yes in the Enable SMTP For E-mail dropdown.
If No is set, then this setting will turn off all features of the module.
Set Yes in the next section to Log Outgoing Mail sent from Magento.
After that choose whether to Enable Debug Mode and Disable E-mail Delivery.
Product questions

I'm getting connection refused or connection timed out error in debug log. What should I check?

If you're connecting from behind the firewall, make sure the firewall rules allow you to connect the specified mail server.

I'm getting AUTHORIZATION FAILED 534 5.7.14 error in the debug log but my credentials is 100% correct. What should I do?

The extension can't use mail server to send anything due to mismatching login credentials. If you are sure provided credentials are 100% correct please proceed with READ the Full answer link.

What should I do if emails are not being sent out via Amasty SMTP extension?

Having troubles with sending emails? Try disabling the extension in main module configuration page and check if you're getting the same result with Magento default PHP sendmail. Please proceed to READ the Full answer link to get further instructions.

Read the FULL answer
Other Features
100% Open Source — Easy To Customize
Follows Magento Code Architecture
Separated HTML/CSS/JS
Simple installation via Composer
* The name "Magento" and the logo are the trademarks of Magento, Inc.
Stunning SMTP for Magento 2
Green Aqua, owner
We're using SMTP extension for 2 years now. I do remember when I researched an SMPT solution for Magento 2 in the past. One of the reasons why we selected this one is the stunning log where you can monitor all outgoing emails. This helped us since then so many times with password reminders and others too. We're using a lot of other extensions from Amasty and their quality is just excellent. Frequent updates, almost zero compatibility issues. If you're looking for an SMPT solution do not look further.
Amasty answer
Mar 19, 2021
Alena Hamolka
/ Product Team Lead
Dear Viktor, thanks for your kind feedback and for choosing our SMTP extension 2 years ago. It's wonderful to hear that you find the log helpful. We truly appreciate your trust, and we're happy to have you as our loyal customer! Please don't hesitate to contact us whenever you need additional functionality for your store, we'll be happy to help
works with Exchange 2019
We use this app to process emails from an offsite web server through to relay using on-premises exchange 2019 server.
Amasty answer
Oct 19, 2020
Alena Hamolka
/ Product Team Lead
Hi Lee, thank you for your feedback! It's so great to see that you find the extension helpful, and we'll look forward to seeing you in our store again.
Fantastic!
This mod is critical to benefit of the highest deliverability rate of all the transaction emails and all the possible system notification alerts and messages!
Mails delivered finally
Emails from my store finally get to my contacts. Before I just got error emails and only after 1 week or more. I set it up all by myself, user book is very clear, with good relevant pics. I especially like the debug mode to see if mail went or not and results are always clear email sent/ failure. Recommend for use.
Rich features
When my store was on Magento 2.0 had no problems at all. I especially liked testing option and debug log. And also it is very clear how to set SPF. I thought It'll work like that always. But I upgraded to Magento 2.2. and the module suddenly turned bad. It doesn't always work and many times it just logged me out. Hope support guys do something about it.
Real helper
I run lots of campaigns an' promos, I have to notify people. So I took the purchase seriously. I studied top 5 modules of this kind, even some free ones. But some lacked clear guides and steady support and some did not have enough functions, like they supported only most popular SMTP servers. So I chose this one by Amasty and didn't regret. Only I worried about possible email overflowing but it never did happen.
Thanks
I've managed to make all the SMTP configurations in a shake. Besides, the preset providers are more than enough. Thanks!
Not so easy setting up
In general, it's a good product. But the setting up was killing me. It's really too hard. I broke when I reached spf something. So I contacted the company and they set it straight in no time! all works correctly, and most of all I like that I can see the email layout before sending and test it. So i can make some final improvements to deliver best version. Also it's easy to manage campaigns. I save campaign-related emails and check if all users I wanted to involved were mailed.
I like it
I should say the module's met all my expectations. It allows for additional security and extends email marketing management possibilities a lot. Special thanks for the chance to test emails with the debug mode.
Hard to make it work without support
I like the functionality, but something is wrong with smtp providers. Seems like I can only add from the list, but I have another preferable company. We tried a lot to make it work, tests (very useful feature) returned negative results. Finally we reported to team and they explained how to fix. now it's ok. But we spent so much time trying to figure out what's wrong. they could put it in guide more specifically.
Worked straight away
Very good, worth the money. I was hesitant at first, partly because of the lack of reviews, but it is perfect. The Magento mail sending and SMTP settings just aren't up to scratch out of the box and manually overriding them is not simple. So using this instead and with Mandrill works well. Worked the very first time which I didn't expect. If you need to use SMTP, use this.
Very good module
This module works pretty well and it is very easy to install and configure. I recommend it.
Works as advertised
this extension works like a charm. straightforward installation and configuration. The debug log shows some good information if it is enabled, a sys-admin approved solution.
Are you looking to add specific functionality for this extension or want to acquire a reliable development partner altogether? With custom development services by Amasty, you will receive high quality and cost-effective solutions developed by Magento professionals according to industry's best practices.
2.3.6, 2.3.6-p1, 2.4.0-p1, 2.4.1, 2.4.1-p1, 2.4.2
You can always download the recent version free of charge from your account
Installing an upgrade is easy — check now
My Downloads
Version 1.2.0
Last Update: Feb 03, 2021
New we added new authentication methods OAuth 2.0 for Google Accounts to comply with Google standards for secure apps
Version 1.1.14
Last Update: Dec 11, 2020
Fix we fixed the issue with getting sender data for test emails
Compatibility the compatibility with Magento 2.4 was added
Fix we fixed the issue with sending a test email
Fix we fixed getting of configuration data by store ID
Fix we fixed getting of current store during cron job
Fix we solved the problem with emails sending in Magento 2.2.х
Fix we solved the problem with incorrect email headers with utf-8 chars
Improvement we reviewed and enhanced the code
Fix we solved the problem with order placing from admin
Fix we solved the problem with sending email using Amazon SES SMTP
Fix we solved the problem with incorrect email text in email logs
Fix we solved the problem with sending of emails that contained umlaut and other utf-8 symbols in the body.
Fix we solved the problem with emails sending in Magento 2.3.3
Fix we fixed a search problem on the Sent Emails Log page.
Improvement we reviewed and enhanced the code
Improvement we added the possibility to use symbols like "ö", "ä", etc for the sender name
Fix we fixed the issue with the ' Save and Check Connection' action
Fix we fixed the issue with sending emails from the default config sender
Fix the issue with the website scope on the 'Save and Check Connection' action was resolved
Fix the issue when using the default sender email and configuration instead of the ones from the Store VIew configuration was resolved
New the ability to manage all existing cron tasks on a Cron Tasks List grid in backend was added. Run cron tasks and generate their schedule by clicking the 'Run Cron' button. Also, delete tasks in bulk, use filtering and sorting options when it is needed
Fix smtp setting issues related to scopes were fixed.
Fix Magento 2.3 compatibility issue was resolved.
Improvement now, you can see the full list of recipients in the history of sent emails
Compatibility the compatibility with Magento 2.2.5 was improved
Fix the issue with sending emails from the admin panel was resolved
New the ability to replace email sender was added
Improvement the code was enhanced
Version 1.0.4
Last Update: Sep 19, 2017
Magento 2.2 compatibility improved
Magento 2.2 compatibility introduced
Compatibility improvements
Use specific store settings when creating order or sending order e-mail from the backend