The e-commerce industry is ever-changing. You have to learn constantly to keep up with the latest market trends and stay ahead of your competitors.  
A quality blog will provide you with a wealth of market insights and trends helping you to stay ahead of the competition. We've compiled a list of the 15 best e-commerce blogs to follow this year. So, let's get started.
Best blogs for 2022
A Better Lemonade Stand blog provides comprehensive and reliable advice, resources and tools, and a supportive community to help build, launch and grow your e-commerce business. Over 250,000 monthly readers leave no doubt about the value of the blog. 
One of the most comprehensive e-commerce blogs on the market. The Shopify blog can help you find guides, ideas, or strategies on how to create and manage an online store. With advice from industry professionals, you will be able to build your store based on their experience without making mistakes. 
Entrepreneur is an American magazine and website that publishes news about entrepreneurship, small business management, and business. And now it has a separate section where you can find the latest news, videos, and insights about e-commerce.  
HubSpot's Blog will help you on your way to building and running an online store. The blog features the following sections to help you on the way of building your business:
Marketing
World-renowned marketing content to help grow your audience.
Sales
Best practices and examples of how to sell smarter.
Service
Expert tips on how to build a customer-first organization.
Website
Tips and tutorials on how to build better websites.
The Oberlo blog shares tips on doing business online and the latest e-commerce trends. Here you will find all the necessary information for running an online store: SEO, marketing, SMM, and more. 
E-commerce insights, the latest market trends, tips from professionals, and news from industry giants – you'll find it all on TechCrunch e-commerce.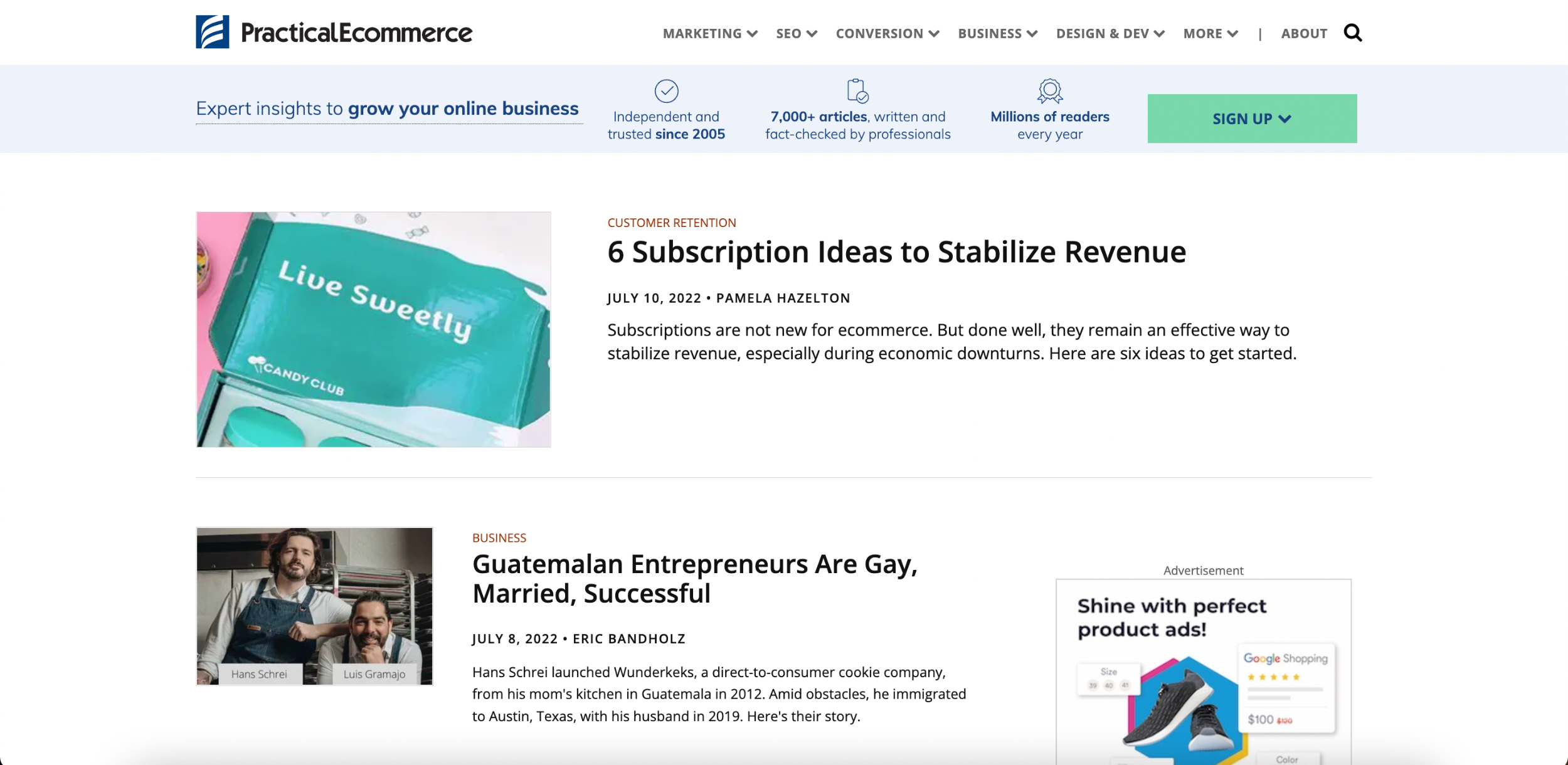 "The mission of Practical Ecommerce is to help merchants improve their online businesses."
You can find helpful expert articles, commentary, guides, webinars, and podcasts on this source. What's more, this blog is not affiliated with any e-commerce platform, so you can rest assured that the information is fair.
"InternetRetailing is the leading title for professionals in multichannel retail and ecommerce across the UK & Europe, providing insight, analysis, in-depth research and events, focused on driving performance in our dynamic sector."
"Digital Commerce 360 is a leading research and media organization that delivers objective news and competitive data across retail and B2B ecommerce."
You can find expertise on a wide range of products and services on their source, including analytical reports, newsletters, webinars, and more.
This is one of those cases where the name is deceptive - looking at it, you can't tell there's anything here about e-commerce. But in fact, the Printful blog contains marketing tips, guides to e-commerce platforms, and customer success stories, so you can easily find useful content to help you run or build the business. 
Anyone who is used to seeing only reviews on Trustpilot is now puzzled. But yes, Trustpilot runs a blog where they share tips, guides, and other stuff about how reviews can help your e-commerce business get new audiences, improve your site's SEO metrics and get to the top of Google. The information is truly valuable because they're experts in this business. 
The ecommerceCEO is the place to go for tips on running an e-commerce business. Here you'll find helpful guides on just about everything you might need to create or run an online business. 
Need information about e-commerce? Neil Patel's blog is one of those places where you can find answers to almost all your questions about marketing, SEO, and other things you will need while running a business online.
If there's anything you can do to increase the conversion rate of your landing page or website as a whole, you'll probably find all the information about it here. Social media marketing and industry news can also be found on the site.
The Next Scoop is an ​​e-commerce marketing blog featuring a valuable and diverse source of information about digital and more! Data security, Lead Generation, SEO, and SMM are just some topics you can find on this blog. 
Blogs are a great way to keep up with trends that can emerge as quickly as they disappear. Thousands of sites write about e-commerce, but it's impossible to check them all. That's why we took on the challenge of creating this top. Hope you found everything you need in our list of the best e-commerce blogs.