PWA for Blog Pro (Add-On)
for Magento 2
Apply the PWA add-on for Blog Pro to provide outstanding mobile browsing experience and strengthen the engagement in your business. Empower your content marketing strategy and drive more target audience with the mobile-friendly blog pages.
Implement ready-to-use solution for PWA Studio storefront
Enlarge your customer base with the highly-responsive blog
Gain loyalty due to stable performance on any device
Stand out of competitors with Magento Venia theme
Use only as an add-on for Magento 2 Blog Pro extension and with PWA theme installed
What are PWA and PWA Studio?
Progressive Web Applications
PWA are specific web applications that have been created to provide an experience that looks like a native mobile application, but with additional features.
PWA Studio
Magento PWA Studio includes all needed tools which are necessary for creating and maintaining a PWA storefront on Magento 2.
Challenge
The mobile traffic is increasing rapidly: according to the latest statistics, close to 50% of visitors come from mobile devices. As for blog pages, this percentage is even more: shoppers are used to reading articles from mobiles in their free time. Thus, mobile-friendly content is essential for attracting new users and providing them with the needed info.
Solution
With the PWA-ready blog, you can seamlessly engage potential customers and make them attached to your brand. The technology makes your blog pages look like a native mobile application, but without the expensive development. Handy navigation and responsive design will boost retention across all devices and turn occasional visitors into regular customers.
What benefits do you get for your store
Get new leads and enlarge your audience with the mobile-optimized blog
Reduce expenses by implementing a ready-to-use PWA solution
Increase customer retention rate due to flawless mobile performance
IMPROVE MOBILE ACQUISITION STRATEGY WITH PWA BLOG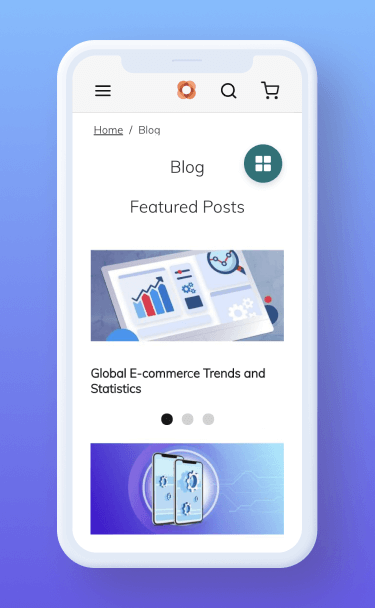 Full compatibility with Magento Venia
To simplify your PWA setup and minimize the implementation time, the PWA add-on for Blog Pro is fully compatible with the Venia PWA storefront. Venia is also functioning on top of an existing Magento 2 backend, which excludes the overriding of the database. As it has been developed by Magento, the amount of compatibility issues with your website environment is close to zero.
Minimize PWA setup costs
Due to the ready-to-use PWA component, the progressive web blog app can be implemented in a split second. As a result, store admins get a stable and mobile-friendly blog interface without extra costs and custom development. The PWA Blog add-on is designed according to the best PWA Studio storefront practices, which means a much more smooth project delivery from your development team, and significantly reduces time spent on bug fixing.
Provide flawless blog performance
Make your blog extremely appealing for visitors on any screen resolution. The PWA technology is developed to increase the mobile loading speed and boost the traffic to your store pages. It is fully compatible with the most popular browsers used by online shoppers, including Chrome, Safari, Firefox. Thus, you create a highly-responsive blog that is similar to a specifically designed mobile app and works on any device and any browser.
Attract users with the rich and well-structured blog
All core Blog Pro functionality is included in the add-on and can be configured for a mobile view. The PWA-optimized features allow you to create complex and media-rich content. Flexible navigation is designed to lead visitors directly to what they are searching for: add handy tags, filtering by authors and 'Related Posts' block to involve shoppers into your content activity. Moreover, you can build a community around your brand by letting users leave comments and enlarge the customer base with the help of social media sharing.
Improve SEO rating and search results positions
With the PWA Blog, it is possible to level up search engine positions due to multiple factors. First of all, page speed matters. PWA is developed to provide extremely fast mobile browsing, and Google takes page speed into account while rendering. Secondly, the Blog Pro extension includes advanced SEO features, which are also available for mobile optimization. Get to the top of the search results page and convert new traffic into revenue.
Turn new visitors into customers
When you've managed to grow your traffic flow, the next step is to monetize it and navigate shoppers to your store. With the synergy of the extension and the add-on, the blog and the webstore are placed side by side within a single application, due to which you can easily transform visitors into active buyers without extra 3rd-party frameworks integration. Adjust the blog layout and menu navigation to make surfing the store even more convenient.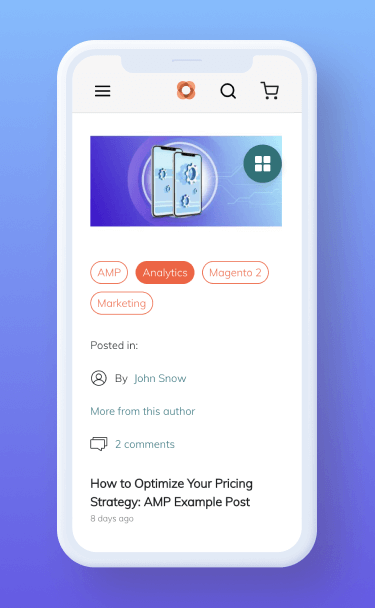 Enhance your promotional efforts with marketing solution
The add-on works only with Magento 2
Blog Pro
extension. Easily generate and organize valuable content and drive more traffic to your store without extra development.
Also, keep in mind that you need to have
PWA theme installed
to apply the add-on.
Other Features
100% Open Source — Easy To Customize
Follows Magento Code Architecture
Separated HTML/CSS/JS
Simple installation via Composer
* The name "Magento" and the logo are the trademarks of Magento, Inc.
sad but true
I use several extensions from amastу, usually there r no questions about their ext-n but this time I ran into a problem. I contacted support and I must say that they answered too long …
Very good!
works well ty! Easy to use and bounce rate decreased due to faster blog loading
Are you looking to add specific functionality for this extension or want to acquire a reliable development partner altogether? With custom development services by Amasty, you will receive high quality and cost-effective solutions developed by Magento professionals according to industry's best practices.
Magento 2.3, 2.4
You can always download the recent version free of charge from your account
Installing an upgrade is easy — check now
My Downloads
Version 1.1.2
Last Update: Apr 26, 2021
Compatibility  now the extension supports PWA Studio 10.0.0 (Please, kindly note: since the system is under development the lower versions of PWA Studio are no more supported!)
Compatibility now the extension supports PWA Studio 9.0.0 (Please, kindly note: since the system is under development the lower versions of PWA Studio are no more supported!)
Improvement we implemented modifications into plugin architecture to make its installation and usage more convenient and to meet the extension standards of PWA Studio
Improvement we performed the code refactoring and optimized the plugin
Compatibility now the extension supports PWA Studio 8.0.0 (Please, kindly note: since the system is under development the lower versions of PWA Studio are no more supported!)