Auto Invoice and Shipment by Webiators
for Magento 2
Partner Product
Save time on manual transaction processing by automatically performing invoice and shipment generation with Magento 2 Auto Invoice and Shipment Extension. Enhance customer experience and strengthen their trust by offering quick and convenient confirmation of payment documents.
Create invoice automatically as soon as an order created
Configure automatic shipment generation
Keep customers updated with e-mail notifications
Enable for particular payment methods
Easily configure from admin panel
Challenge
Default Magento does not allow store administrators to automatically generate invoices, thus they need to do it manually. As the business grows and the number of orders constantly increases this routine task requires more manual effort and therefore might lead to more human errors hence greatly affecting customer satisfaction level.
Solution
Magento 2 Auto Invoice and Shipment extension allows you to automate the invoice and shipment generation process within 1 step configuration. Decrease time on manual tasks and complete orders faster thus providing a better customer experience. Provide invoices automatically and keep customers informed with notifications.
What benefits you get for your store
Save time and resources with automatic invoices and shipments creation
Minimize human errors and delays by reducing the number of manual tasks
Enhance customer experience with accelerated orders processing
Improve customer experience with automated order processing
Automatically create invoices
Fully automate the invoices creating process with Magento 2 Auto Invoice and Shipping extension. The module will instantly create the invoice as soon as an order is created if all the conditions configured in the backend are met.
Select specific payment methods
In the extension general configuration, the store administrator can easily enable the auto invoice and shipment for all payment methods or just for the selected ones. Conveniently choose the option most suitable for your needs.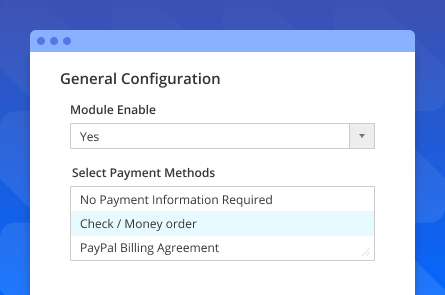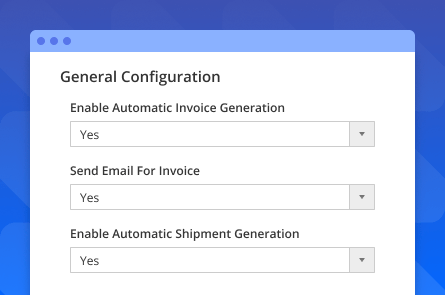 Configure automatic shipment generation
The extension will also help you to overcome the issue of manually generating shipments for the orders as it allows the admin to enable/disable automatic shipment generation for Magento 2 stores in a click.
Timely inform buyers with email notifications
The module provides you with the functionality to auto send default invoice emails both to customers and admins. These emails will be automatically sent upon successful completion of the order and payment.
Speed up the whole shopping process with fast checkout
Enhance customer satisfaction with convenient and user-friendly
One Step Checkout
extension. Let customers edit product options on the checkout, display delivery date and time options, enable order comments and many more.
Other Features
100% Open Source — Easy To Customize
Follows Magento Code Architecture
Separated HTML/CSS/JS
Simple installation via Composer
* The name "Magento" and the logo are the trademarks of Magento, Inc.
Be the first to review this product
Auto Invoice and Shipment by Webiators for Magento 2
Are you looking to add specific functionality for this extension or want to acquire a reliable development partner altogether? With custom development services by Amasty, you will receive high quality and cost-effective solutions developed by Magento professionals according to industry's best practices.
Magento 2.4
You can always download the recent version free of charge from your account
Installing an upgrade is easy — check now
My Downloads
This extension has no updates yet