Whether you're an e-commerce merchant running your store on Magento or you're a Magento developer, you understand the value of high-quality modules to extend the core functions of the platform.
When IronPlane was looking to build out our Colibri e-commerce foundation for Magento, we chose several Amasty modules as essential components.
In this post, we'll:
describe why and how we use Amasty extensions
discuss the main features of Amasty extensions we implement for our clients
explain how each extension has added value to our Magento services offerings for our B2B and B2C clients
Why and how IronPlane uses Amasty extensions
Amasty is one of the most well-established names in Magento module development and has long been a favorite of IronPlane. As a full-service Magento development agency, we encounter our fair share of e-commerce companies with unique requirements. Amasty's range and quality of extensions continues to impress us and our clients, so much so that we've incorporated six of them into our open-source Magento e-commerce foundation — Colibri.
With the Colibri foundation, we offer a rapid Magento deployment with a more comprehensive e-commerce environment. With the suite of included modules, clients benefit from enhanced functionality and a coding environment that is stable, fast, and designed for future coding efficiency.
The 6 Amasty extensions we prioritize
1. Payment Restrictions
Payment Restrictions is a popular Amasty extension for B2B clients who offer different pricing and payment terms to their customers.
For example, some customers might be allowed to pay with multiple methods, while others may be restricted to just one payment method. Some of our clients allow customers with one set of characteristics to pay via Check, Credit Card, or PayPal, while customers with different attributes have a more limited selection of payment options.
This extension can be further configured to set free shipping, or purchase order conditions based on a product the customer chooses or the amount they are going to spend. We find Amasty's Payment Restrictions module most useful for B2B clients who want to give specific accounts more flexible payment options.
IronPlane has always focused on quality of code. Working with a high-quality payment restrictions extension like Amasty's was essential to mitigate long-term risks and costs of an upgrade, patch, or customization.
2. Shipping Restrictions
Our clients care deeply about their customers' shipping and delivery experience. Some want to reward high-spending customers with free or discounted shipping, whereas others want to offer their customers in-store pickup. The Shipping Restrictions extension is quite versatile, enabling our clients to easily add or edit conditions.
A few of our clients have close to 10 different shipping rates for each category of customer. Some of those rates are determined by the customer's role — such as a wholesaler — or their cart value. For greater convenience, this module can be configured to enable in-store pickup.
Amasty's Shipping Restrictions extension is most common among clients with big-ticket, hard-to-ship items. It is especially helpful for our clients who ship their products internationally and want to use the most economical choice for each location.
3. Shipping Rules
Amasty's Shipping Rules extension goes hand-in-hand with Shipping Restrictions, but affects the shipping rates rather than the methods.
Shipping Rules can be highly customized. As you can see in the screenshots below, we can specify a base rate, fixed rate:
surcharge, handling charge:
and even add rate minimums and maximums to align with clients' requirements:
This extension is great for customers who often run promotions for free or rush shipping, or automatically give shipping discounts to their partners.
It can also be used to determine whether items will be mailed directly to a customer or to enforce in-store pickup at a nearby warehouse. One of our clients uses this rule to notify customers close to a retail location that the store will process their payment upon arrival.
We find that Shipping Rules is an ideal extension for customers with very specific fulfillment requirements that they need to enforce for subsets of their customer base.
4. Gift Cards
Our Magento Open Source clients greatly benefit from the Gift Card Amasty extension. Many of our clients want to offer physical gift cards: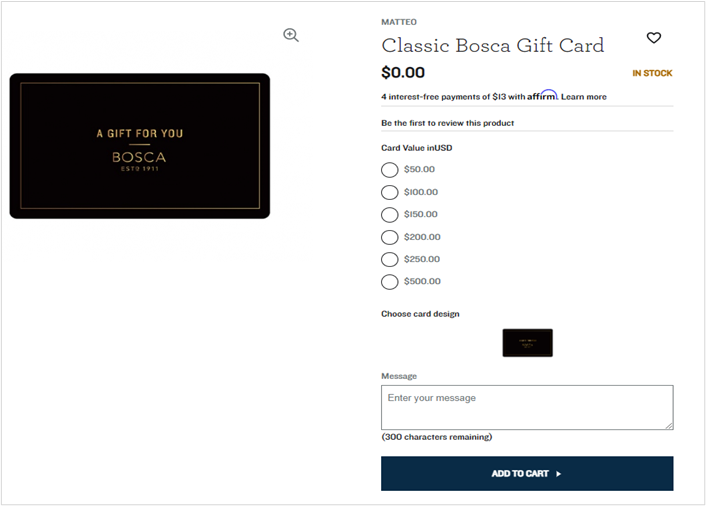 and virtual, which are challenging to configure in Magento:
With the Amasty extension, clients like Bosca can specify certain gift card values, upload branded gift card designs, and allow their customers to leave recipients personalized messages — no matter whether the gift card is being emailed or mailed directly.
5. Store Locator
Customers often want to interact with a product in person — particularly if it's a large, expensive purchase. The Amasty Store Locator extension makes it easy for customers to find a store near them based on their zip code.
Our client, Barbeques Galore, recently set up the Store Locator extension on their site:
Not only can users find a store near them and call the store to ask a question about a product or their inventory, they can also set a home store so that future purchases can be shipped to that location over their home address if they prefer.
6. Google Rich Snippets
Our B2C clients rely heavily on SEO and SEM for lead generation, which makes the Google Rich Snippets Amasty extension so valuable. Google Rich Snippets prepares clients' raw data for search results, highlighting relevant products, optimizing breadcrumbs, spotlighting company ratings, and more:
For instance, Bosca wanted to bring customers' attention to their leather wallets, bags, and accessories, as seen in the image above.
The extension is extremely easy to use — our developers simply enable it and decide what data elements should be boosted in search.
Extensions to the rescue
At IronPlane, we've seen first-hand how Amasty's extensions save us precious time in our Magento implementations. We can tell the Amasty team has an eye for what is up-and-coming in the e-commerce space, designs their extensions thoughtfully, and tests them extensively.
If you'd like to learn more about the Colibri foundation that includes these Amasty extensions, you can find it here.