Payment Restrictions
for Magento 2
Effectively manage payments in your store. Feel free to restrict payment methods by shipping address, customer groups, store view or product attributes in Magento 2. Restrict cash on delivery, check/money order etc.
Improve productivity of your payment process
Use shipping info to restrict payment methods
Create restrictions based on product info
Disable certain methods based on customer data
Multiply business opportunities and decrease risks
Enjoy compatibility with Jet Theme by Amasty
SAFE PAYMENT PROCESS IN MAGENTO
It is very important to properly organize the payment process in your store because receiving payments for products – is the core of every business. With the help of the Payment Restrictions module you can create various rules to effectively manage access to payment methods in your store as well as create flexible conditions for certain customers or limit by products.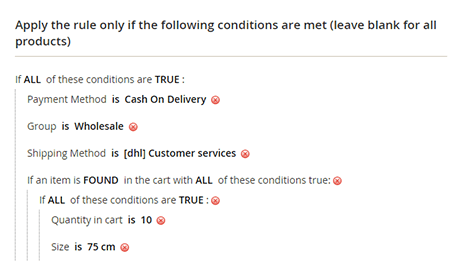 Flexible restriction mode settings
The magento payment module allows you to create flexible payment rules with various options. For example, you can restrict access to some Magento 2 payment methods for the customers from certain countries and give more options to the trusted clients. In other situation, you can allow bank transfer for the wholesale customers, who order a big amount of goods. Thus, with the extension you'll be able to fine tune your payment system to maximize its productivity.
Adjustable functionality for effective PAYMENT RESTRICTIONS
Create restrictions based on product attributes
Use product attributes to create Magento 2 product based payment methods restrictions with our module. For example, you can disable 'check/money order' method for cheap items or for products of a certain material.
Use customer groups to limit Magento 2 payment methods
With the help of the extension it is possible to provide privileged groups of customers with additional payment options such as 'cash on delivery' or 'check/money order'. At the same time you can disable offline payments for not logged in store users.
Use shipping info to create magento 2 partial payment limitations
You can use different shipping parameters (e.g. country, city, state, zip code etc.) as the base for the restriction in your store. Say, restrict 'cash on delivery' method for the regions where your couriers don't deliver goods.
Set certain day and time when a payment method should be restricted
Payment rule options allow setting certain day and time when the method will be restricted. Let's say your online shop doesn't work on Sundays, so you can restrict all the methods for this day.
Set up payment conditions using customer attributes
Use customer attributes to create Magento 2 payment method rules with special conditions for individual buyers. Various attributes such as shipping address, date of registration, customer group, gender and many others are at your disposal to filter payments.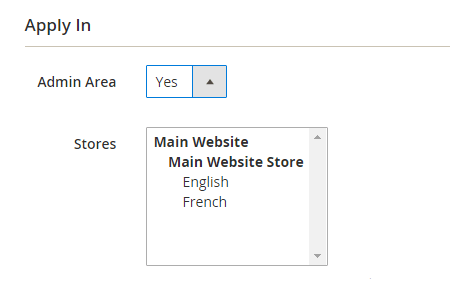 Payment restrictions can be applied both on front end and in admin panel
To avoid cases when admin forgets that certain magento payment gateways can't be used for some customers or situations, you can set the restrictions to apply in admin panel as well.
Use store view and website to restrict methods in Magento 2
This option can be very useful in case you have several websites in different countries or for different customer groups.
Specify the products to which the rule should be applied
You can split payment restrictions between all products, backorders only or 'non backorders' - the products that are in stock and can be ordered right now.
Collect order info to know your customers better
Add an unlimited number of extra fields to your checkout page to easily collect and process additional order related data with the magento 2 order extension attributes. Display all created order attributes on a handy backend grid to keep necessary information at hand.
According to the statistics, the extension can cover each business need in synergy with the following solutions: magento 2 order comments and magento 2 restrict shipping country.
Other Features
100% Open Source — Easy To Customize
Follows Magento Code Architecture
Separated HTML/CSS/JS
Simple installation via Composer
* The name "Magento" and the logo are the trademarks of Magento, Inc.
This extension is perfect
Group A Engineering, Web Developer
There is no issue with this extension, and I like it as it works as what they said. It helps to assign customer to the right payment method, and I would recommend to someone who have run Magento ecommerce store and have more customers which they want to use a different payment method. This extension is perfect.
Amasty answer
Feb 23, 2021
Alena Hamolka
/ Product Team Lead
Hi Kimlieng, thanks for telling us about your experience and for highlighting the task that the module has helped you perform. We're happy to know that now your customers are assigned to the relevant payment methods with the help of our extension, and we'll look forward to seeing you in our Amasty store again!
Helped us to correctly configure prepayment settings
VTV s.r.o. , Owner
The module helped us to correctly configure prepayment settings for certain types of goods. The extension is easy to use and the support team answered my questions quickly.
Amasty answer
Feb 10, 2021
Alena Hamolka
/ Product Team Lead
Hi Vladimir, thank you so much for your feedback. We are glad to hear that everything goes smoothly and that the plugin has helped you to configure prepayment settings according to your needs. We'll look forward to seeing you in our store again!
Good and flexible module
We needed to limit the operativity of a given off-line payment method when in the cart there were products of a given type. Thanks to this flexible module, we were able to quickly implement this requirement.
Amasty answer
Dec 04, 2018
Natalya Chekanina
/ Head of Sales Team
Dear Davide, thank you for your review! We would be happy to see you in our store again!
Quality extension
I often have to customize extensions that guys in my team buy for our store. Many people still code poorly for magento 2. This was the first extension we bought from amasty and it really was a pleasant surprise. The code is good and our store team likes the functionality. So, definitely recommended.
Useful extension
I was looking for a module to limit payment options based on customer groups. This one worked great! It was easy to configure and start using it. Also, amasty added purchase history to conditions so now you can create more favorable experience for loyal customers. This is quite helpful. Thanks, guys!
Well done, as always
We've already used amasty plugins for magento1 shops and they worked pretty well. So, when our client decided to migrate to m2, without hesitations we collected the same list of amasty tools as we used for m1 version (except for some plugins they don't have for m2).

To my surprise the app refused working on magento 2.1.3 version. But a helpful amasty team almost instantly improved the compatibility and after some tweaking, the app runs great. Would I recommend this plugin and this developer? Definitely yes.
Worthy module
Bought it together with the Shipping restrictions app. Both apps meet all our requirements and all described options perform greatly. Yep, I had to spend a couple of hours trying to set up all features, but now our payment system works like a charm.
Are you looking to add specific functionality for this extension or want to acquire a reliable development partner altogether? With custom development services by Amasty, you will receive high quality and cost-effective solutions developed by Magento professionals according to industry's best practices.
2.4.2-p1, 2.3.7, 2.4.2, 2.4.1-p1, 2.3.6-p1
You can always download the recent version free of charge from your account
Installing an upgrade is easy — check now
My Downloads
Version 2.3.11
Last Update: Oct 13, 2020
Improvement MFTF tests were moved to additional packages particular for Magento 2.3.5+ and Magento 2.4.0+
Compatibility with Magento 2.3.5 was tested and confirmed
Fix we solved the problem with extensions installing
Fix we solved the problem conditions based on product attributes
Fix we solved the problem with conditions for virtual products
Improvement MFTF-tests were updated.
Improvement we implemented a stability enhancement for MFTF tests
Fix the issue with filtering restriction rules on grid by id was resolved
Improvement now extension covered by Magento Functional Testing Framework tests
Fix the issue with conditions validation was resolved
Fix the issue with error while rule creating was resolved
Fix the issue with compilation failing was resolved
Fix the issue with saving rules for admin with restricted websites scope was fixed
Fix the issue with validation configurable products was resolved
Version 2.2.6
Last Update: Dec 18, 2018
Fix installation error caused by incompatibility with php7.2 was fixed.
Fix the issue with conditions saving was resolved
Fix the issue with upgrading extension was fixed
Improvement the ability to use several coupon codes for the cart price rules was added
Fix the issue with multi-currency conversion was resolved
Fix the issue with loading checkout page was resolved
New now, the extension incorporates the Advanced Conditions
Version 2.1.1
Last Update: Jun 05, 2018
New Information section is added. Now you can see the version of installed extension, available updates, User Guide link, conflicts and other useful data right on the module Configuration page
New PayPal Express payment method support implemented.
Localization updated.
Version 2.0.7
Last Update: Apr 20, 2018
Improved compatibility with Amasty Gift Card extension
Fix for system module Common Rules, no changes in Payment Restrictions logic
Fixed an issue with orders-related conditions
Compatibility with Magento 2.2.2 was improved
Compatibility with Amasty Gift Card was improved
Fixed the issue with rules that were not worked correctly when the customer groups condition was applied.
The ACL issue was fixed.
The missing advanced conditions were fixed.
Improved Magento 2.2 compatibility and migration from older versions
New Subtotal condition can be set up to include Tax and Discounts
New Purchase History can now be used in Conditions
Extension architecture changes
Version 1.0.3
Last Update: Oct 06, 2017
Magento 2.2 compatibility introduced
Compatibility for Magento 2.1.3 and Enterprise Edition improved