Shipping Restrictions
for Magento 2
Restrict shipping methods using various product, cart and customer parameters. Make the transportation process of your products both legal and cost-effective.
Block certain methods of the shipping carrier
Create restrictions based on customer's shipping data
Restrict shipping by various product attributes and order info
Use customer groups and store views as a restriction base
Disable or allow delivery with coupon
Compatible with the Jet Theme by Amasty
Adapt your shipping process to your business needs
Limit certain shipping methods of the carrier
Magento 2 Shipping Restrictions is the extension to build a cost-effective delivery strategy. Usually, carrier companies propose several delivering methods to customers such as land, air, sea shipments, etc. The module enables to restrict only unnecessary transportation methods of the carrier instead of blocking all of them. For example, you can restrict ground mail methods for the short-life products as it usually takes about a week to deliver them.
The extension enables you to set or cancel restrictions right from the grid for each particular case. Additionally, we recommend to have a look at our dhl magento 2 extension which helps to make an accurate volume and weight estimations.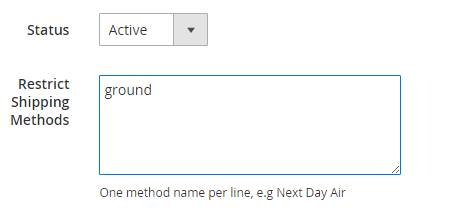 Make your store shipping legal and cost-effective
Sometimes you need to restrict products by countries or forbid some Magento delivery methods for legal reasons. In this case the module will become a perfect solution for your business needs. The extension lets you create a big amount of transportation rules using various limitation criteria based on customers, cart and product attributes. For example, some items are prohibited from being shipped internationally due to exporting country, importing country or transportation regulations. Default Magento functionality allows you to restrict conveyance methods only for the whole catalog, but it can badly affect your business. Thanks to the module you can put international restrictions only by products that cannot be shipped.

Flexible restrictions setup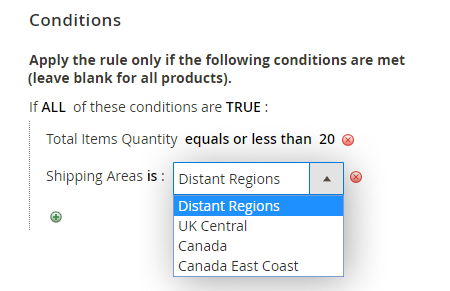 Efficient management with shipping areas
Arrange delivery destinations into shipping areas and apply restriction rules to the whole area at once. The technology stack allows you to include or exclude from the area different countries, states, regions, cities, zip codes, etc. For example, you can easily block delivery for the distant regions by creating the appropriate area that includes such destinations.
Restrict shipping by a postcode
With the Magento 2 shipping locations restriction feature, it is possible to set a postcode as a delivery restrictions rules base, for example you can restrict zip codes that start from '123' or ends with 'XYZ' in order to provide validation.
Apply discounts and taxes to the order subtotal
Use this method to limit certain customer's facilities. For example, you set your shop to automatically give free delivery when someone's subtotal is over $149, but if a customer uses a coupon that drops the order value below $149, free delivery option wouldn't be applied due to the discounted subtotal.
Use customer attributes as the rule base
Create Magento 2 shipping restrictions using customer attributes such as date of birth, customer group, gender etc. You can also create special conveyance conditions for certain customers using this option.
Set shipping restrictions for Magento 2 based on product attributes
Restrictions can be made based on any product attribute. For example, you can exclude ground mail from delivery methods in case the order contains some premium brands.
Set restrictions on particular days
This option can be very useful if you don't deliver goods on particular days, e.g. limit conveyance on weekends or on holidays to stop shoppers right during the checkout.
Enable shipping methods for a particular customer group
Magento Shipping Restrictions extension enables you to restrict delivering methods for particular customer groups, for example you can give access to Magento 2 free delivery method only to wholesale users.
Disable shipping methods for a certain store view
The module enables you to choose delivery methods for a particular store view or a website. This function is very useful if you're working worldwide and have several online shops.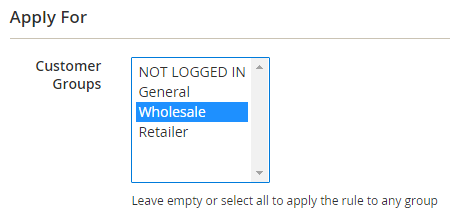 Restrict or allow shipping with coupon
For example, you provide customers with Magento 2 free shipping in your store, and you have launched an advertising campaign with discount coupons. In this case you can remove free delivery option if the customer uses a coupon or offer free shipping as a bonus to the coupon discount.
Restrictions for back-ordered items
It happens from time to time that the item is temporarily out of stock. In this case it makes sense to remove next day delivery method for such items. You can easily do it with the help of the module.
NEW | The latest release lets you ship an order to multiple addresses due to the extension compatibility with Multi Address Checkout.
Choose the solution most suitable for your business needs
Key Features
Shipping Table Rates

create

Shipping Rules

modify

Shipping Restrictions

limit

Shipping Suite

All-in-one

Create custom shipping methods
Create custom shipping rates
Make method available to specific stores and customer groups
Restrict or hide the existing carriers and methods
Assign shipping rates to specific products and product groups
Surcharge, discount and replace the existing rates
Create complex conditions for extension rules and restrictions
Add free shipping for particular shipping types
Activate or deactivate extension rules by coupon
Create rules based on customer's data
Country, Region, City, Postcode (including alphanumeric) support
Import an unlimited amount of rates
Advanced Conditions module included
* Can affect only methods the module created

$209

add to cart

$209

add to cart

$159

add to cart

$499

add to cart
Learn how Amasty Shipping Extensions help to solve real customers' cases
In our
Shipping Guide
we explain Magento shipping functionality in Amasty modules and discuss real cases from our support experience.
Collect order info to know your customers better
Add an unlimited number of extra fields to your checkout page to easily collect and process additional order related data with the magento 2 order extension attributes. Display all created order attributes on a handy backend grid to keep necessary information at hand.
How to restrict shipping to a specific country in Magento 2?
Install and enable the extension.
Go to Sales > Shipping Restrictions > Add Rule.
Fill in the Restriction name and choose all the trasportation methods that will be restricted for this country.
Enter a Restriction message.
In the Conditions section, configure the Shipping Country is condition.
If needed, set up the Coupons and discounts, Stores & Customer Groups, Days and Time sections.
Save the rule.
According to the statistics, the extension can cover each business need in synergy with the following solution: magento 2 order comments.
Other Features
100% Open Source — Easy To Customize
Follows Magento Code Architecture
Separated HTML/CSS/JS
Simple installation via Composer
* The name "Magento" and the logo are the trademarks of Magento, Inc.
This plugin enables you to handle any product type restrictionses and comply with any restrictions
When handling multiple brands, international there are certain brand and product type restrictions that apply.This plugin enables you to handle these and comply with any restrictions. I can assign the simplicity and ease of use. We use it for about 2 years.
Customer satisfaction improved
US Logo, Inc., Front End Developer / SEO
Whatever our clients think of that we can't do, well Amasty can! Our clients usually always want to change something in the stock Magento sites that it normally won't do. But Amasty can make it happen. Support is awesome. We've been using Amasty for 3 years and we are very happy with their kind / quick repsonds...
Amasty answer
Mar 06, 2019
Natalya Chekanina
/ Head of Sales Team
Dear Douglas, thank you for your review! We would be happy to see you in our store again!
Valuable features for reasonable price
Helps me make shipping options look and be relevant to shoppers. This is good to avoid any possible mess. Useful for shipping to regions with different legislation. I paid the installation fee and they helped me run the module in about an hour. So no issues or conflicts.
So detailed conditions, cool
We expanded outside our country, so shipping became a big deal. With this extension I haven't missed any order date. The team support was manageable. Now I can use mass actions for several rules, no need to waste time. But most of all I like that they added purchase history to conditions now there's another motivation for clients to buy more for free shipping.
Good module
We used this module for m1 and didn't hesitate to buy it after migration to m2. We work with food products and for this reason have many shipping restrictions related to storing terms and conditions. This extension helps us a lot.
great solution for shipping management
I'm fully and totally satisfied with the extension! This exactly what we've been looking for as we work with fragile items which can't be delivered to particular locations. Due to detailed instructions we've managed to install the extension without any assistance.
Do you have any questions?
Schedule a demo and get all the answers you're looking for!
book a live demo
Frontend
See how the rule 'For Canada only' works
Are you looking to add specific functionality for this extension or want to acquire a reliable development partner altogether? With custom development services by Amasty, you will receive high quality and cost-effective solutions developed by Magento professionals according to industry's best practices.
2.4.2-p1, 2.3.7, 2.4.2, 2.4.1-p1, 2.3.6-p1
You can always download the recent version free of charge from your account
Installing an upgrade is easy — check now
My Downloads
Version 2.5.7
Last Update: Feb 10, 2021
Fix we solved the problem with rule data saving after mass action from grid
Fix we solved the problem with ability to choose restricted shipping method on checkout
Fix we solved the problem with extension install
Improvement MFTF tests were moved to additional packages particular for Magento 2.3.5+ and Magento 2.4.0+
Improvement MFTF-tests were updated.
Improvement we implemented a stability enhancement for MFTF tests on Magento 2.3.3
Improvement now extension covered by Magento Functional Testing Framework tests
Improvement compatibility with 3rd party extensions were improved
Fix the issue with error message on cart and checkout pages was resolved
Fix console errors while restricting shipping methods on cart page were fixed
Fix the issue with displaying selected shipping methods on shipping restrictions rules grid was resolved
Improvement extension was covered by unit tests
Improvement code was refactored according to Magento Standards
Version 2.4.5
Last Update: May 15, 2019
Fix the issue with validation condition "is not" for shipping areas was resolved
Fix the issue with role permissions was resolved
Fix the issue with validation for All Store View option was resolved
Fix the issue with validation configurable products was resolved
Improvement "Сustom options SKU" condition option for products was added
Fix the issue with saving rules for admin with restricted websites scope was fixed
Improvement UI components in rules grid was enhanced
Improvement notification after applying Coupon Code on Checkout page was removed
New Shipping Areas feature was added. Create your custom Shipping Areas to get more geo flexibility when setting your shipping restrictions.
Version 2.3.1
Last Update: Jan 16, 2019
Fix the issue after reordering was resolved
Improvement overall usability improved.
Improvement new hints and tooltips added.
Improvement UI components introduced.
Version 2.2.5
Last Update: Nov 19, 2018
Fix the issue with subtotal calculation in admin area was resolved
Fix the issue with upgrading extension was fixed
Improvement the ability to use several coupon codes for the cart price rules was added
Improvement the usability for the shipment restriction was enhanced
Fix the issue with multi-currency conversion was resolved
Fix the issue with loading checkout page was resolved
New now, the extension incorporates the Advanced Conditions
Version 2.1.1
Last Update: Jun 05, 2018
New Information section is added. Now you can see the version of installed extension, available updates, User Guide link, conflicts and other useful data right on the module Configuration page
Version 2.0.7
Last Update: Apr 20, 2018
Improved compatibility with Amasty Gift Card extension
Fix for system module Common Rules, no changes in Shipping Restrictions logic
Fixed an issue with orders-related conditions
Amasty Gift Card compatibility improved
Magento 2.2.2 compatibility improved
The missing advanced conditions were fixed.
The issue when multiple rules were not applied at the same time was fixed.
Improved Magento 2.2 compatibility and migration from older versions
New the option 'Coupons' was updated: now it's possible to use coupons from multiple rules
New Purchase History can now be used in Conditions
Extension architecture changes
Version 1.0.7
Last Update: Oct 05, 2017
Magento 2.2 compatibility introduced
Error handling improvement.
Internal update. New template added to minimize conflicts
Code is organized according to the new Magento standards
Now compatible with Magento 2.1
Fixed City and Street conditions
Fixed rules by customer's shipping address
Fixed merge of .css files
Added translation file