Adapt your shipping process to your business needs
Limit certain shipping methods of the carrier
Usually carrier companies propose several shipping methods to its customers such as land, air, sea shipments, etc. The module enables to restrict only unnecessary shipping methods of the carrier instead of blocking all of them. For example, you can restrict ground mail methods for the short-life products as it usually takes about a week to deliver them. Magento 2 admin panel is now enriched with shipping restrictions functionality. It enables you to set or cancel restrictions right from the grid for each particular case.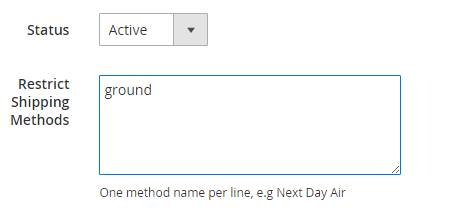 Make your store shipping legal and cost-effective
Sometimes you need to restrict some shipping methods for legal reasons. In this case the module will become a perfect solution for your business needs. The extension lets you create a big amount of shipping rules using various limitation criteria based on customers, cart and product attributes. For example, some items are prohibited from being shipped internationally due to exporting country, importing country or transportation regulations. Default Magento functionality allows you to restrict shipping methods only for the whole catalog, but it can badly affect your business. Thanks to the module you can put restrictions only for the products that cannot be shipped.
Flexible restrictions setup Restrict delivery of the non-standard goods or to distant regions
You risk to lose money when shipping very small or very heavy orders so it makes sense to block delivery for such products as well as delivery for the distant regions like Alaska or Hawaii.
Set shipping restrictions for Magento 2 based on product attributes
Shipping methods restrictions can be made based on any product attribute. For example, you can exclude ground mail from delivery methods in case the order contains some premium brands.
Apply discounts and taxes to the order subtotal
Use this method to limit some certain customer's facilities. For example, you have set your shop to automatically give Magento 2 free shipping when someone's subtotal is over $149, but if a customer uses a coupon that drops the order value below $149, free shipping wouldn't be applied due to the discounted subtotal.
Use customer attributes as the rule base
Create Magento 2 shipping restrictions using customer attributes such as date of birth, customer group, gender etc. You can also create special shipping conditions for certain customers using this option.
Restrictions for back-ordered items
It happens from time to time that the item is temporarily out of stock. In this case it makes sense to remove next day delivery shipping method for such items. You can easily do it with the help of the module.
Set restrictions on particular days
This option can be very useful if you don't deliver goods on weekends or on holidays.
Enable shipping methods for a particular customer group
The module enables you to restrict shipping methods in Magento 2 for particular customer groups, for example you can give access to Magento 2 free shipping method only to wholesale users.
Disable shipping methods for a certain store view
The module enables to choose shipping methods for a particular store view or a website. This function is very useful if you're working worldwide and have several online shops.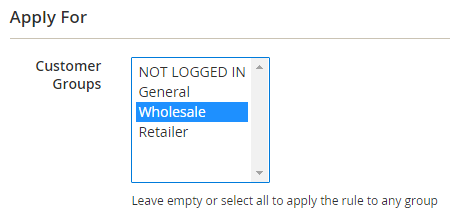 Restrict shipping by a postcode
Use this module feature to set a postcode as a restriction rule base, for example you can apply the restriction to the zip code that starts from '123' or ends with 'XYZ'.
Restrict or allow shipping with coupon
You can apply restrictions when a customer uses a coupon. For example, you provide your customers with Magento 2 free shipping in your store, and you have launched an advertising campaign with discount coupons. In this case it is possible to:
remove free shipping if the customer uses a coupon;
offer free shipping as a bonus to the coupon discount.
Limit particular shipping methods of the carrier
Let's say you are working with DHL carrier and want to restrict only 'DHL ground' shipping method. You can easily do it via module admin panel by setting rule condition as dhl::ground.
Create regions with certain shipping settings
Create custom regions of several countries and make shipping rules for the whole region. This feature saves your time and makes store management a lot more efficient.
Other Features
100% Open Source — Easy To Customize
Follows Magento Code Architecture
Separated HTML/CSS/JS
Simple installation via Composer
* The name "Magento" and the logo are the trademarks of Magento, Inc.
great solution for shipping management
I'm fully and totally satisfied with the extension! This exactly what we've been looking for as we work with fragile items which can't be delivered to particular locations. Due to detailed instructions we've managed to install the extension without any assistance.
Write Your Own Review
Frontend
Add any product to cart and proceed to checkout. Specify any country of delivery except for Canada to see the way the rule 'For Canada only' works
Version 2.0.4
-
March 14, 2018
– Fixed an issue with orders-related conditions
Version 2.0.3
-
February 08, 2018
– Amasty Gift Card compatibility improved
– Magento 2.2.2 compatibility improved
Version 2.0.2
-
December 01, 2017
– The missing advanced conditions were fixed.
– The issue when multiple rules were not applied at the same time was fixed.
Version 2.0.1
-
November 23, 2017
– Improved Magento 2.2 compatibility and migration from older versions
Version 2.0.0
-
November 16, 2017
– New: the option 'Coupons' was updated: now it's possible to use coupons from multiple rules
– New: Purchase History can now be used in Conditions
– Extension architecture changes
Version 1.0.7
-
October 05, 2017
– Magento 2.2 compatibility introduced
Version 1.0.6
-
August 09, 2017
– Error handling improvement.
Version 1.0.5
-
January 13, 2017
– Internal update. New template added to minimize conflicts
Version 1.0.4
-
September 28, 2016
– Code is organized according to the new Magento standards
Version 1.0.3
-
September 26, 2016
– Now compatible with Magento 2.1
Version 1.0.2
-
July 15, 2016
– Fixed City and Street conditions
Version 1.0.1
-
July 06, 2016
– Fixed rules by customer's shipping address
– Fixed merge of .css files
– Added translation file