Configurable Products in Bundles
for Magento 2
Partner Product
Magento 2 Bundle Product extension will help you create bundles with configurable products to offer customers what they really need and increase average check.
Combine configurable and simple products in one bundle
Create custom options for products in a bundle or use a preset
Display bundle as a single product or split it in the cart
Assign custom price for products in a bundle
Add thumbnails to display product images in a bundle list
Use various option types to display product options in bundles
c
Challenge
There is a typical situation in an e-commerce store when some products sell poorly and merchants need to find new ways to increase sales. Creating bundles is a great way to combine matching products and build comprehensive sets targeted to increase sales and average checks. Нowever, native Magento doesn't provide tools to add configurable products into a bundle product which limits merchants in such offers creation.
Solution
Bundle configurable and simple products to create new offers for your customers to increase sales and customer satisfaction with Configurable Products in Bundles. This solution provides a win-win situation both for buyers and store owners: you get the opportunity to upsell/cross-sell products while your customers can purchase a set of suitable products in one click.
What benefits you get for your store
Increase average order value
Get an extra opportunity to promote products
Improve customer experience
Take full advantage of products in bundles
Increase average order value by bundling relevant products
Instead of offering customers to search products one by one, you can give them a set of related products as a combo package at a bargain price. Using Magento bundle product extension, you can:
create a variety of new bundle offers from configurable and simple products
set up custom pricing for such bundles to motivate the purchase
specify custom product options that will be available for configuration within the bundle for the end user
First, determine which products will sell best in a set and create appropriate bundles. Second, analyze sales and orders, then get useful insights about your business and improve your selling strategy. Create special offers and promotions for bundled products and stimulate customers to buy more products at once.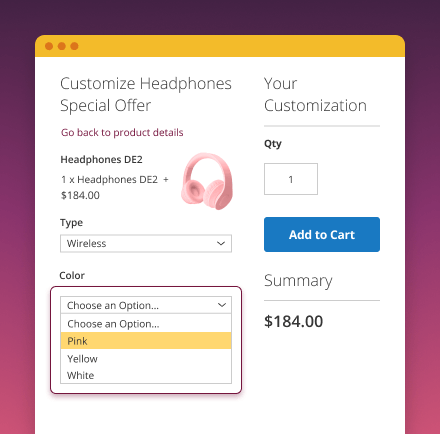 Improve customer experience and motivation for a purchase
Now your customers don't have to search which shirt matches specific shorts. You can easily increase customer satisfaction and purchase motivation by offering a good-fit set of products in a bundle on one page. Moreover, customers can configure options and quantities of products in a bundle to get the package they really need. The lower price for a bundle of products makes the deal look even more profitable and desired.

Thumbnail-image visualization of the product as well as a number of interactive fields that customers can navigate while configuring the bundle increase customer engagement and positively influence the user experience and conversion rates.
Easily manage bundles and customize products' options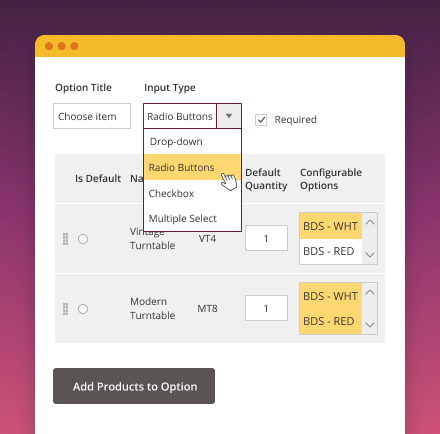 Customize options with Magento 2 bundle product
Use this Magento bundle extension to define which product options in bundles will be available to your customers. Choose the products' options in a bundle that will be displayed at the storefront as well as product quantity. The admin can configure what options of configurable products should be available for customers to choose from and what will be fixed. Furthermore, the admin can assign a fixed quantity of products in a bundle if needed or give customers the freedom to choose relevant quantities.
Use different types of display options
Create an intuitive presentation of products' in bundle options using flexible display options settings. You can choose one of three display methods that suits your needs better: Radio Button, Checkbox, or Drop-down and allow buyers to make their own custom set from bundled products. You can also use the Multiple choice option for a convenient selection of simple products in a bundle.
Other Features
100% Open Source — Easy To Customize
Follows Magento Code Architecture
Separated HTML/CSS/JS
Simple installation via Composer
* The name "Magento" and the logo are the trademarks of Magento, Inc.
Be the first to review this product
Configurable Products in Bundles for Magento 2
Are you looking to add specific functionality for this extension or want to acquire a reliable development partner altogether? With custom development services by Amasty, you will receive high quality and cost-effective solutions developed by Magento professionals according to industry's best practices.
2.4.2-p1, 2.3.7, 2.4.2, 2.4.1-p1, 2.3.6-p1
You can always download the recent version free of charge from your account
Installing an upgrade is easy — check now
My Downloads
This extension has no updates yet