Adding unlimited number of vendors
Marketplace landing page
Vendor management settings
Product management settings
Order management
Transactions and payouts management
Flexible commission rates
Adding unlimited number of vendors
Ensure rapid multi-vendor store growth by expanding the seller list. With the Magento 2 Marketplace Platinum extension, the administrator can add vendors one by one, accept submission requests or add vendors in bulk via mass action.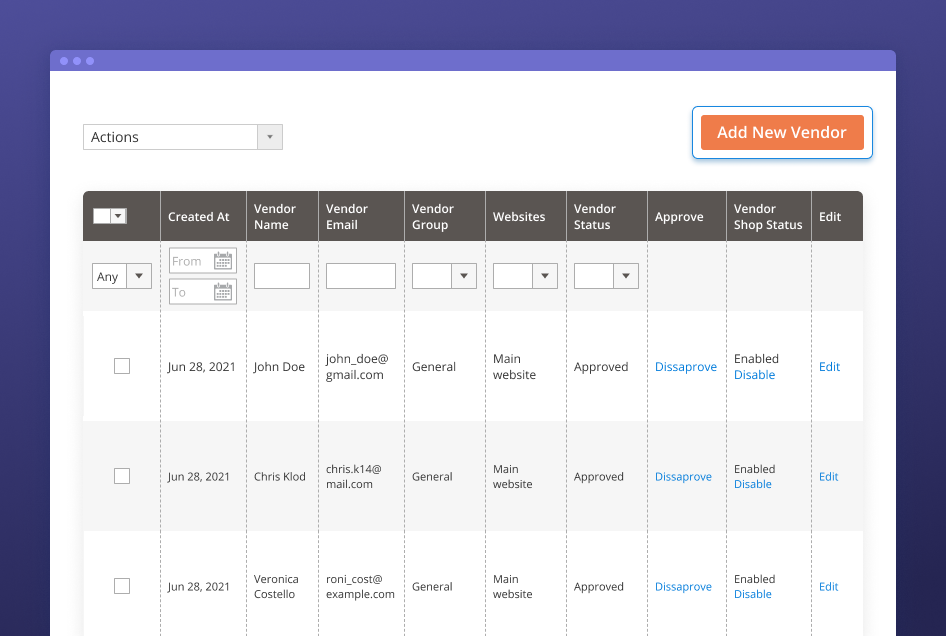 Marketplace landing page
Create a detailed presentation of your marketplace with a full-fledged landing page to attract new vendors. Multi seller Magento extension contains a built-in tool for a fast landing page creation with ready-made CMS blocks and customizable template of the registration form.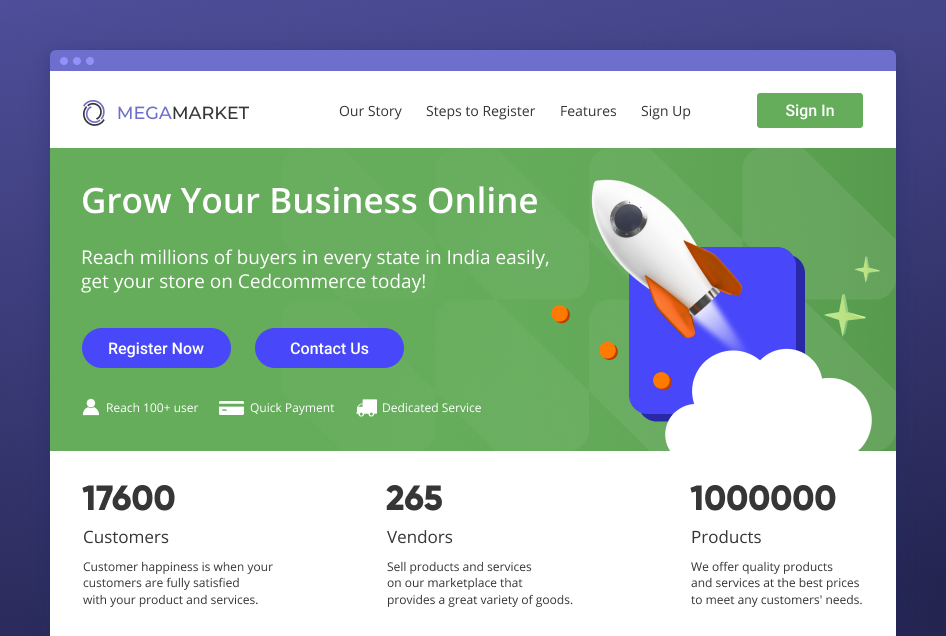 Vendor management settings
A large number of vendors require advanced settings for management. This solution for Magento multi vendor store provides an efficient vendor administration via a well-organized dashboard with all the required settings.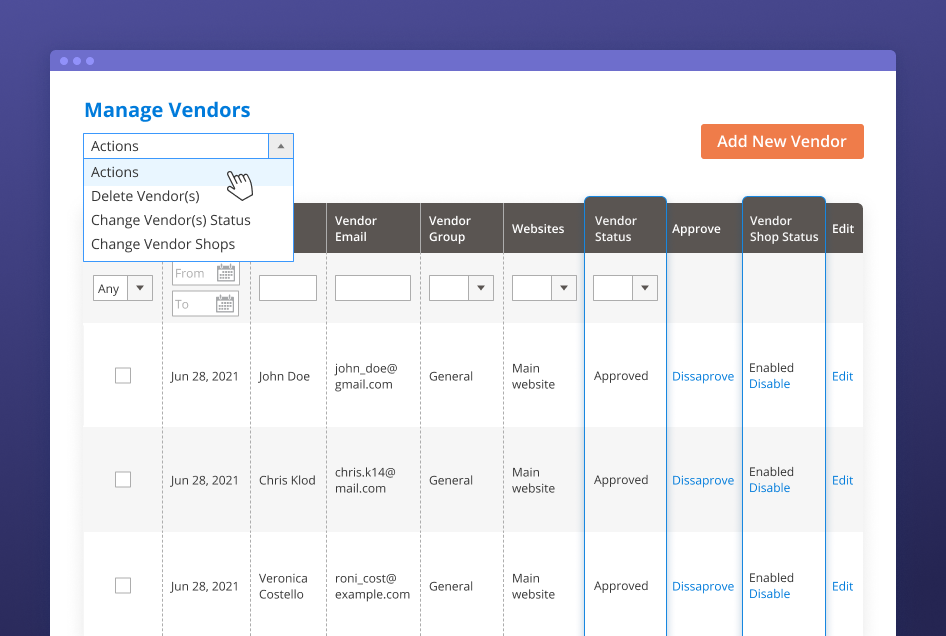 Product management settings
The administrator can approve or disapprove any vendor product, restrict or allow product categories, create custom attributes for vendors' products, set various allowed formats for downloadable products, set a limit for the number of vendors' products. Also, you can assign any product to another vendor or delete it if needed via a handy grid.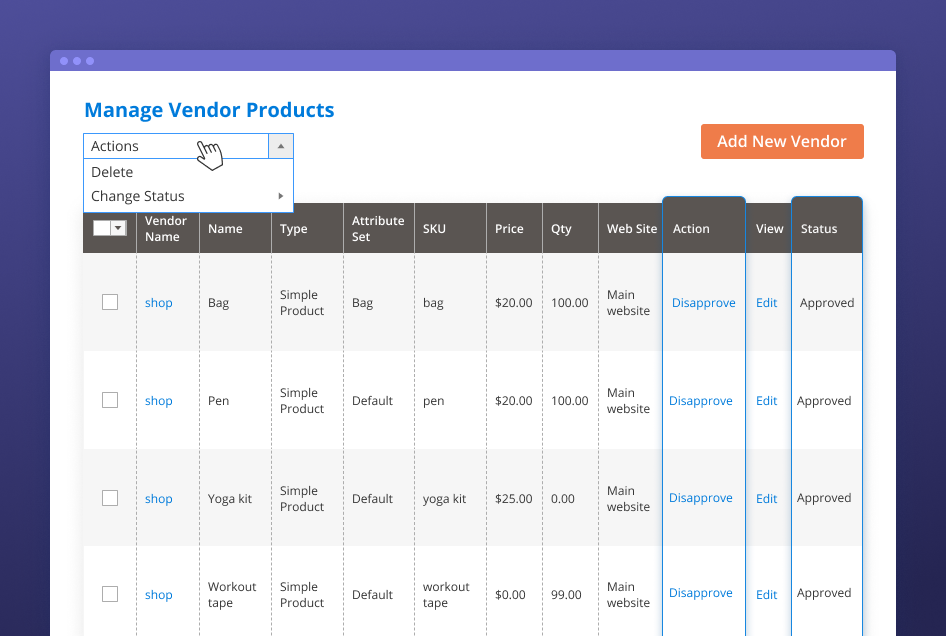 Order management
The Magento multi vendor plugin provides the administrator with a complete overview of vendors' orders. The administrator can manage vendor orders on his own or allow vendors to do so, thereby reducing the cost of order management. Also, the administrator has the right to allow vendor to create shipment, invoices, and credit memo.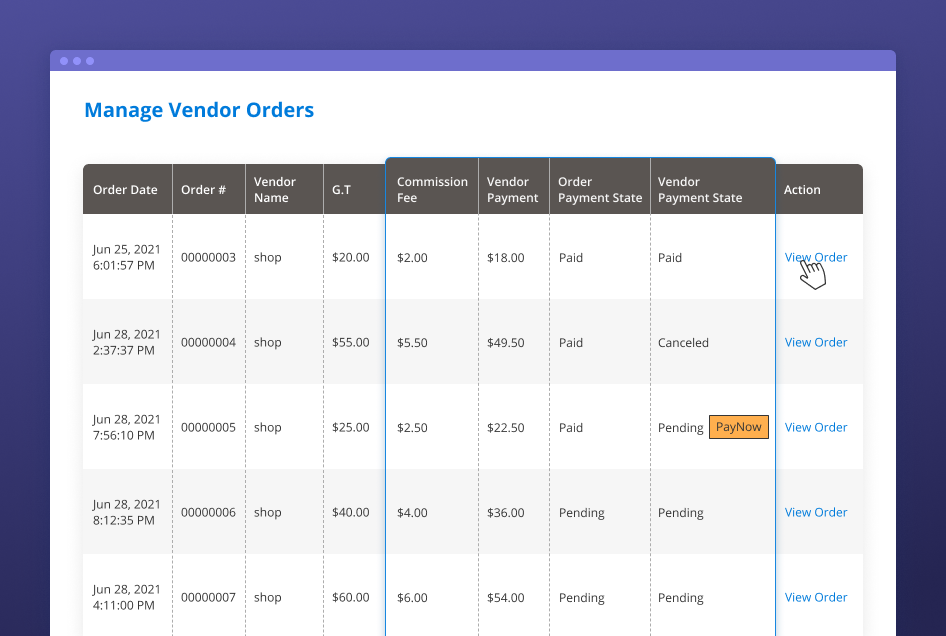 Transactions and payouts management
The administrator can view all vendor transactions including the vendor's name, an order number, the status of the transaction, the paid amount, payout amount, and other important details. The administrator can also generate payments to the vendor based on the report and completed purchases of vendor products either one by one or in bulk for the chosen period.
Flexible commission rates
Marketplace Platinum extension provides different commission fee options for your multi-vendor store. The administrator can define and assign an additional amount of commission charged based on product type or category. Also, you can set fixed and percentage rates for every transaction or create a special commission rate for a chosen vendor.