Personalized Products
for Magento 2
Partner Product
Make your products customizable to meet the interests of a wider audience. Customers design and purchase the product that suits them with Magento Product Customization extension - you get your conversion rates driven higher.
Let shoppers add custom text, images, and clipart to design their product
Allow them to choose text formatting like alignment, font size, effects, type, font color, text effects, etc.
Show specific design messages on customizable products to make users aware of this option
Allow customers to preview and download the design files directly from their accounts
Challenge
To engage new audiences, store owners need to constantly improve the service provided and add features relevant to their users' current choice. The owners, however, should meet the unique needs of the user without transforming their catalog into a niche product. How to do this?
Solution
The nature of the human being lies in their desire to stand out, to express their uniqueness through clothes and objects that surround them. Allow users to create custom product designs with this Personalized Products extension. Provide users with a broad set of Magento designer tools to create unique products.
What benefits you get for your store
Increase revenue by offering buyers to create special designs
Improve customer service with personalization
Engage new audiences with unique products
The true value lies in personalization
Make your clients feel unique
Attract a wider audience to your store and boost sales using the Personalized Products extension. Let users customize a Magento product like a professional designer with special tools. Allow them to add unique images, clipart, texts, format these texts - align, choose the font size, effects, type, font color, text background color, text effects.
Give users wide customization options
This Personalized Products extension for Magento 2 allows users to view and design the product from several sides, add any of their images and other objects, placing them as they like, as well as preview the design they have created. Let your customers create a favorite product and encourage them to come back.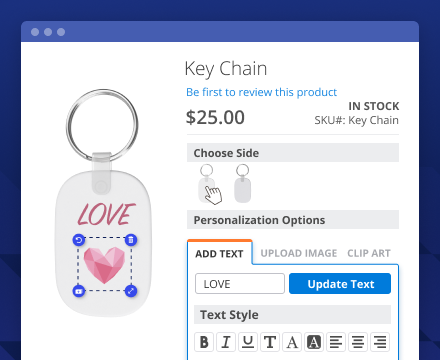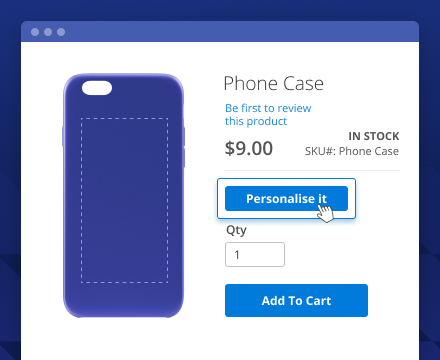 Make users aware of this personalization option
Place special action buttons on the product pages to showcase that these T-shirts, cups, doormats, etc. are available for customization. Change the text of these buttons to make them appealing for your users. "Design me" or any other button text that comes to your mind.
Create design templates with customizable areas
Establish limited areas of product customization for customers and take full control of the design process. With this feature, users won't be able to place design elements beyond the limited area. Also, you can set a limit on the number of entered symbols, text objects, and downloaded images.
Manage the whole process from the admin panel
With the help of this Magento 2 product customizer, you can enable or disable the usage of the following design tools: text, images, clipart, text colors, fonts, text background colors. Moreover, you can switch the customization mode to "product page" or "popup". This Product Design Tool will load according to the selected option.
Suitable for global online stores
This product designer extension supports Magento 2 multi-currency and multi-language features, plus, it's mobile-friendly. It will suit everyone, whether an English-speaking client or a Spanish-speaking one, allowing this extension to be used globally.
Other Features
100% Open Source — Easy To Customize
Follows Magento Code Architecture
Separated HTML/CSS/JS
Simple installation via Composer
* The name "Magento" and the logo are the trademarks of Magento, Inc.
Be the first to review this product
Personalized Products for Magento 2
Are you looking to add specific functionality for this extension or want to acquire a reliable development partner altogether? With custom development services by Amasty, you will receive high quality and cost-effective solutions developed by Magento professionals according to industry's best practices.
2.4.2-p1, 2.3.7, 2.4.2, 2.4.1-p1, 2.3.6-p1
You can always download the recent version free of charge from your account
Installing an upgrade is easy — check now
My Downloads
This extension has no updates yet