Screenshots:
As soon as Google takes into account clear code structure for web ranking, it's vital to keep all JavaScript and CSS files over total control. At the same time the site performance is very important not only for Google, but for user experience as well. According to Kissmetrics research about 40% of users will likely to leave your store if the page load time is more than 3 seconds. Therefore, page response optimization will not only improve customer experience, but bring you more conversions.
NOTE Сheck your website score with the Google PageSpeed Insights tool to see that you need improvements. With the module you'll make your code structure as clear as possible and will definitely see positive results for your desktop version.
Use CSS and JavaScript minification options. Optimize your product images, add timestamp to URLs of all CSS/JS files, move JavaScript to footer for better page performance and use an advanced debug feature to detect and remove all code errors.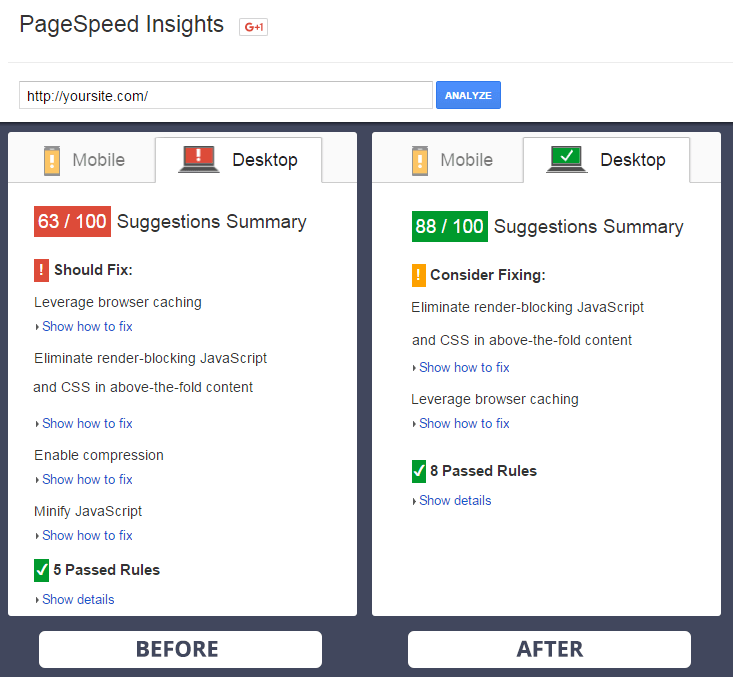 Advanced options for page speed optimization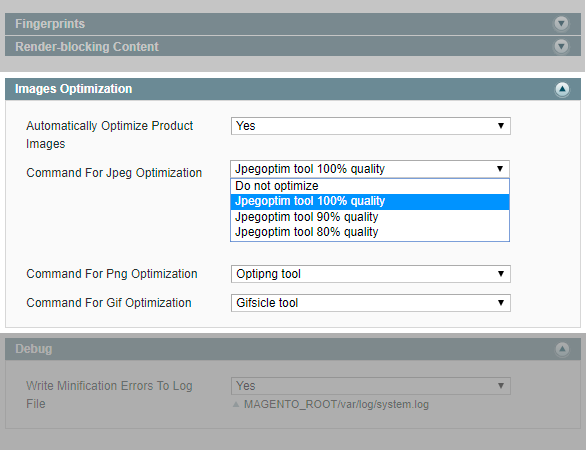 Automatically optimize images
Choose the level for JavaScript minification
Use CSS minification tool
Add timestamp to automatically flush page cache
Move JavaScript to footer for proper page rendering
Add minification errors to log
Optimize images in Magento
Due to the speed optimization tool you can automatically compress all product images (jpeg, png, gif) generated by Magento without quality loss. Use CLI (command line interface) to compress pictures placed in media and skin directories. During the Magento image optimization process all product pictures are being backed up.
NOTE: To optimize images via the command line interface you should possess the rights to modify media and skin files.
CSS minification
The CSS minification option enables you to automatically remove all unnecessary characters like new lines or comments without affecting your source code.
Advanced debug mode
With the debug option all possible minification errors will be accurately logged.
Enable JavaScript minification
Use this feature to make your JavaSript code as clear as possible and increase Magento page speed. Select one of three compilation levels starting from removing white spaces and ending with advanced code transformations:
White spaces removal
Simple code optimization
Advanced code optimization
Add Timestamp to URLs of all CSS/JS files
The option makes browser automatically clear page cache when one of cached CSS or JavaScript files is changed. This way customers will always see up-to-date content.
Move JavaScript to page footer
To make your site pages render properly the Magento Google page speed extension automatically places JavaScript to footer, thus letting useful content load much faster.
7 reasons to choose
Risk-free Investment
30-day moneyback guarantee for all extensions. No questions asked.
Comprehensive Documentation
There is a detailed user guide with examples even for tiny addons. FAQ section and videos also available.
Solutions Which Work
Careful in-house testing ensures you get robust applications. Multiple stores support. Custom themes compatibility. All included.
Outstanding Support
Our support service is friendly and of high quality. And it is free. Unbelievably. Just check independent reviews at Magento Connect.
Usability and Performance
Nice and easy to use interfaces. Fast algorithms. Save your time and get things done.
Flexible and Easy Licensing
No product or store view or domain limits. No monthly fees. No hidden charges. One extension license for one Magento installation.
Long Term Strategy
We've been in the market for 5+ years. We're proud to be a Bronze partner and are planning to stick to Magento platform for years ahead. We're doing our best to build extensions which maximize effectiveness of your business. We're open to customers' suggestions and constantly update our products to match your needs.
Other Features
100% Open Source — Easy To Customize
Follows Magento Code Architecture
Separated HTML/CSS/JS
W3C Validated Code
Online Extension User Guide
* The name "Magento" and the logo are the trademarks of Magento, Inc.
General Questions

How can I pay for Amasty extensions?

What is the license policy? On how many websites can I use Amasty extensions?

How to install Magento extension by Amasty?

Can I test an Amasty extension on a staging site before transferring it to a live one?

Can I get a refund if an extension doesn't suit me?

Will I get any other benefits?

Product questions

Does the extension require any manual adjustments?
combine with FPC
Good results, the score has really increased. I would like to have this extension combined with your FPC as they can beneficially complement each other.
Great extension with great support
I am very pleased with this extension. It works exactly as expected. Recommended.
Does what it promises
I should admit - the app really does its job! Despite some settings configuration pitfalls, I'm fully satisfied with it. Soon after running the app I checked my score in google page speed tool and was surprised as the score had increased by 25 points. Hope this will have a positive impact on my positions in SERP.
Write Your Own Review
Version 1.0.4
-
September 26, 2016
– Ignore list for feature "Move Javascript to Footer"
Version 1.0.3
-
August 30, 2016
– New feature: HTML minification
Version 1.0.2
-
June 15, 2016
– Skip minification of already minified scripts
Version 1.0.1
-
June 07, 2016
– Possibility to optimise GIF images
– General performance improved
– JPEG compression set to higher level by default