Google Page Speed Optimizer
for Magento 1
Mobile page speed is an official Google ranking factor since July 2018.
Make your store much more Google and user-friendly by optimizing your code structure with Magento Speed Optimization extension. Use advanced options to automatically improve your website performance and get a higher score in Google PageSpeed Insights.
Improve your website pages performance
Make your code structure as clear as possible
Get high score in Google PageSpeed Insights
Automatically optimize product images
Use CSS and JS Minification option
Make your store more Google- and user-friendly
Challenge
According to Kissmetrics research about 40% of users will likely leave your store if the page load time is more than 3 seconds. Try checking your website score with the Google PageSpeed Insights tool to see if you need any improvements.
Solution
With the Magento product page speed optimization module, you'll make your code structure as clear as possible and thus result in better customer experience, which consequently brings more conversions.
Use CSS and JavaScript minification options. Optimize your product images, add timestamp to URLs of all CSS/JS files, move JavaScript to footer for better page performance with improved Magento pagespeed and use an advanced debug feature to detect and remove all code errors. See mobile optimization insights for you Magento store as well.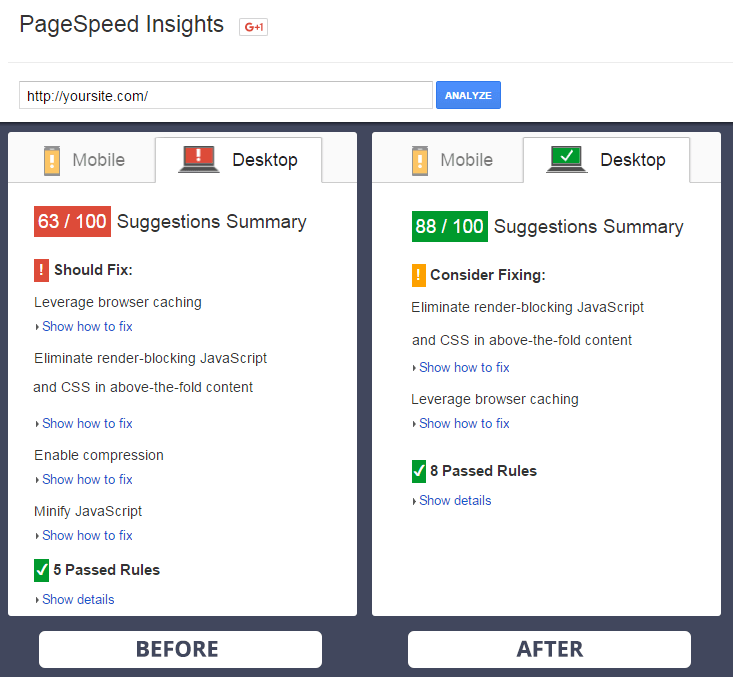 Magento Page Speed Optimization extension: advanced options
Automatically optimize images
Choose the level for JavaScript minification
Use CSS minification tool
Add timestamp to automatically flush page cache
Move JavaScript to footer for proper page rendering
Add minification errors to log
Optimize images in Magento
Due to the Magento page speed optimization tool you can automatically compress all product images (jpeg, png, gif) generated by Magento without quality loss. Use CLI (command line interface) to compress pictures placed in media and skin directories.
CSS minification
The CSS minification option enables you to automatically remove all unnecessary characters like new lines or comments without affecting your source code.
Enable JavaScript minification
Use this feature to make your JavaSript code as clear as possible and increase Magento page speed. Select one of three compilation levels starting from removing white spaces and ending with advanced code transformations:
White spaces removal
Simple code optimization
Advanced code optimization
More features for Magento Speed Optimization
Advanced debug mode
With the debug option all possible minification errors will be accurately logged by Magento speed module.
Add Timestamp to URLs of all CSS/JS files
The option makes browser automatically clear page cache when one of cached CSS or JavaScript files is changed. This way customers will always see up-to-date content.
Select a file URL as a minification source
To avoid probable issues with the file content encoding, you can specify URL as a minification source.
Move JavaScript to page footer
To make your site pages render properly the Magento Google page speed optimizer automatically places JavaScript to footer, thus letting useful content load much faster.
Product questions

Does the extension require any manual adjustments?

After the module installation change all the required options to 'Yes'. Then the extension starts working automatically optimizing product images, minifying CSS and JS, which makes your pages faster. Besdies, you can edit the image commands depending on your server.
Other Features
100% Open Source — Easy To Customize
Follows Magento Code Architecture
Separated HTML/CSS/JS
Simple installation via Composer
* The name "Magento" and the logo are the trademarks of Magento, Inc.
Helped to improve website performance
Tintigroup S.r.l., E-commerce Manager
With this extension, we have greatly improved our website performance. Special thanks to the support team! They rapidly helped us with configuration questions.
Amasty answer
Feb 11, 2021
Kira Pomaleyko
/ Lead Support Manager
Hi Luka, many thanks for your feedback! It is great to hear that the plugin has helped you to improve your web pages performance. Also, we are happy to know that you are satisfied with the level of support provided. Our team always does their best to be as fast and helpful as possible!
Consistent and usefull app
Chief
This extension really help in fast charge your pages and solve some problems of my site's code. Now My site is 20% more fast, so it does not the miracle as it seems, but work properly and for me is enough for this price! thank you Amasty
Amasty answer
Mar 24, 2020
Natalya Chekanina
/ Head of Sales Team
Hi Guido! Thank you for your kind review of our Google Page Speed Optimizer. We would be happy to see you in our store again!
Best speed
The extension have a lot of features to make the store faster and it is important for Google, Thank you, Amasty
Improved speed score and loading time was improved on pages
Right Deals UK, Online Sales Manager
We recently bought and used the Amasty Speed Optimization extension for Magento. This drastically improved our site speed, we had to contact Amasty to help with some issues and settings, their developers quickly identified the problems and resolved these without any hassle. After implementing the Amasty speed optimizer extension we saw an improved speed score and loading time was improved on pages. We are confident this will help with our bounce rate going forward. Support from Amasty is fast and efficient. They will always respond to you within no more than 24 hours. If there is any delay in resolving a problem they will keep you updated which goes a long way. Support is what I would want, expect and then more. 5 stars here.
Amasty answer
Jan 25, 2019
Natalya Chekanina
/ Head of Sales Team
Dear Adam, thank you for your review! We would be happy to see you in our store again!
Compresses after support help
The good module. But long I tried compress my images but they didn't compress. I was angry with it and wrote to support. They fixed it in 2 weeks only. Now it works. Say thanks to a support, though it could be made faster.

Great support
I installed the extension and ran through all the steps to configure it. Seemd, that everything was ok. But when I checked the results – nothing's changed, the speed was the same. I was very disappointed an' nervous. I turned to support with it. And then they did magic! I don't now what they did, but now the module works nice and does its job.
Good performance and support
Many features to improve website performance. I totally recommend. As for the minuses, recently I've had an issue with HTML minification. Support team fixed it very qucckly, so these guys indeed work hard not to lose face.
Cool results!
The module is very easy to use – u just switch it on and wait for results. Except image optimization – this thing is a bit tricky. Results btw are quite promising as ranking keeps improving. Though this improvement can be also the result of other activities that we do, the module definitely does its job well.
Must-have
We were surfing for some tools to improve the SEO on our site. And this module was the choice. It took big efforts to install an' tune up it (not without the help of a support manager). But we managed all the difficulties and now enjoy the results. Good job, Amasty.
High quality extension
When I came across the extension, I thought it was an advanced and super complicated one. But the description made me think about the speed of my website and… I decided to try it. Everything went ok, I've installed it and then configured - it's much easier than I thought. And now I see the difference in page download, it's really faster. Thank you, guys, for a good quality product.

Nice job.
We're using this extension for 3 months. Well, it does take time to understand how to configure it. But it works!
We compared the results in the Google PageSpeed Insights. It's awesome!

combine with FPC
Good results, the score has really increased. I would like to have this extension combined with your FPC as they can beneficially complement each other.
Great extension with great support
I am very pleased with this extension. It works exactly as expected. Recommended.
Does what it promises
I should admit - the app really does its job! Despite some settings configuration pitfalls, I'm fully satisfied with it. Soon after running the app I checked my score in google page speed tool and was surprised as the score had increased by 25 points. Hope this will have a positive impact on my positions in SERP.
Are you looking to add specific functionality for this extension or want to acquire a reliable development partner altogether? With custom development services by Amasty, you will receive high quality and cost-effective solutions developed by Magento professionals according to industry's best practices.
CE 1.4.x - 1.9.x, EE 1.8.x - 1.14.x
You can always download the recent version free of charge from your account
Installing an upgrade is easy — check now
My Downloads
Version 1.2.13
Last Update: May 15, 2019
New we have added the option to set the level of JPG image optimization. Now it is possible to make the right choice between image quality and image weight
Improvement we have changed the image optimization text fields in the extension's settings to dropdown-type settings. Thus the security of the extension was enhanced.
Fix an issue with large CSS files was resolved
Fix the issue with minifying css with svg images was resolved
Fix the issue with minification css files was fixed
Improvement the option to move JavaScript to footer for proper page rendering was enhanced
Improvement the image optimization was enhanced
Fix the issue with jpeg file type optimization was fixed
Fix the issue with broken image urls in the css files was resolved
Fix the issue with the fingerprint assigned to CSS changes each time the page refreshes was resolved
Improvement the functionality to minify custom javascript was added
Improvement code refactoring was made
Fix the issue with permissions for button was resolved
Fix the issue with file in queue does not exist was resolved
Fix the issue with the undefined jscomp was fixed
New Allows to minify Java Script from the Debug tab right on the module Configuration page
Added compatibility with CDN
Information tab is added. Now you can see the version of installed extension, available updates, User Guide link, conflicts and other useful info in backend
Fixed an issue when selector in two lines
Version 1.1.7
Last Update: Mar 19, 2018
Fixed an issue with the minification
Fixed an issue for multiple stores with URLs, which were included in CSS
Fixed an issue with the closure compiler cannot convert ES5 into ES6
Minor improvement: removed the outdated dependency
Allows to select the source (file Url or the Js code) to be sent to the Google for the Javascript Minification
Fixed the configuration settings visibility issue for the website scope
Fixed the problem with the file encoding
Issue with double slashes in URL was fixed
Allows to add regular expressions to the ignore list
Added the setting to disable the javascript movement to the footer on certain pages
Version 1.0.5
Last Update: Dec 13, 2016
Compatibility with older Magento versions
Ignore list for feature "Move Javascript to Footer"
New feature: HTML minification
Skip minification of already minified scripts
Possibility to optimise GIF images
General performance improved
JPEG compression set to higher level by default