Merge and Disable Customers
for Magento 1
Easily merge multiple client accounts together to keep all customer information in one place. Automatically transfer customer and order related data to the main account and disable unnecessary profiles.
Merge multiple customer accounts
Transfer orders and order-related data
Accurately shift delivery addresses
Transfer reviews, ratings and wishlists
Deactivate unnecessary and merged accounts
Effective customer accounts management
Keep your Customers grid clean and up-to-date by merging customer profiles together for those clients who run multiple accounts at the same time. Once the information from selected accounts is transferred to the main one, all irrelevant profiles will be automatically deactivated. Apart from that, you can manually disable or delete any customer accounts in Magento to take client profiles over total control.
Merge accounts in one click
Easily merge customer accounts in your Magento store to get rid of unnecessary ones. To transfer data from several profiles to one simply tick the profiles on a Customers grid, select the corresponding action in the dropdown and specify the main account.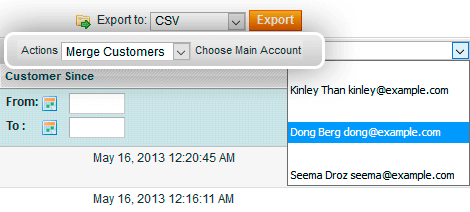 Transfer data to the main account
During the merge process the following information is transferred to the main account:
All orders and order related data;
Delivery addresses;
Reviews, ratings and wishlists.
Show main accounts in merged profiles
The Merge and Disable Customers extension for Magento displays information about the main customer account in all merged profiles to help store administrators keep track of all merge episodes.
Disable customer accounts
When the accounts are merged all irrelevant profiles are automatically deactivated. Besides, a store admin can disable any customer account manually. Once the profile is disabled, customers won't be able to use it for making purchases. But keep in mind that deactivated Magento customer account are not deleted completely. It's also possible to activate any disabled account again if necessary.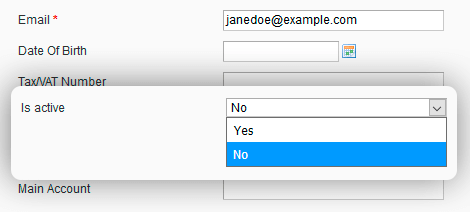 Carefully merge accounts
Be extremely careful while merging customer accounts as all transferred data will be permanently removed from deactivated profiles and the products will be deleted from Magento purchasing history.
Other Features
100% Open Source — Easy To Customize
Follows Magento Code Architecture
Separated HTML/CSS/JS
Simple installation via Composer
* The name "Magento" and the logo are the trademarks of Magento, Inc.