Minify JS-CSS-HTML
for Magento 1
Growing competition makes e-commerce store owners look for new ways to win the higher positions in the Google search ranking. Magento Minify extension is among the most simple yet effective solutions to achieve a better score in Google PageSpeed Insights and get the corresponding benefits for the whole business.
Optimize the website code structure
Minify JS in Magento 1 to boost store performance
Improve CSS structure
Compress product images
Rank higher in Google
Clear code structure is one of the most important factors for the new Google search engine
ranking algorithm
. In other words, the signal is clear — the e-commerce store pages should be well optimized to perform better and stand out from dozens of competitors. Also, this has a direct dependency on conversion, profit, and other valuable business metrics. Hence, there is never enough optimization to improve Magento store perspectives.
Benefit from Magento Minify extension capabilities
Magento Minify JS-CSS-HTML extension provides store owners with the essential set of tools to bring better code structure to site pages.
JavaScript Minification
Minify Magento JavaScript code to speed up your store and boost the page loading speed. The tool provides three different compilation levels for advanced code transformation. These are: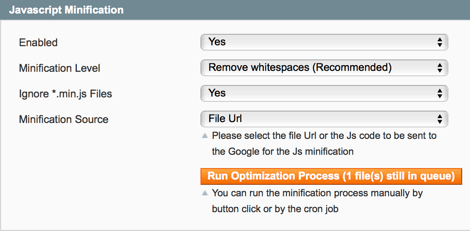 CSS Minification
The next optimization option provided by the module is minify CSS in Magento. Using smart algorithms, the extension automatically checks the code structure and than removes the unnecessary characters and lines with zero harmful effect on your source code.

JavaScript in page footer
Apart from minifying Magento javascripts, to improve the page rendering speed it is recommended to place JavaScript to footer. This simple action lets the useful content to load faster and enhances the overall user experience.
Timestamp for JS/CSS file URLs
To make sure that store visitors always get the up-to-date content, store admins can utilize one of the useful extension features. The timestamp functionality allows browsers to automatically clear page cache when any JavaScript or CSS files were changed.
Advanced optimization options
Minify HTML CSS JS for Magento allows store administrators to log all possible issues occurred during the minification process with the help of debug mode. On top of that, there is a special option to prevent any problems using an individual URL as a minification source.
Image compression
Many e-commerce stores are facing a dilemma: better user experience requires more product images that, in turn, slow the page loading speed. The solution is to optimize images and find a balance between the quality and image size. With this Magento Minify extension, store admins can quickly compress product images in JPEG, PNG, and GIF formats.

How to check the minification result?
When using the Minify JS-CSS-HTML extension for Magento, you certainly expect greater good for the store. Here is how you can make sure that the positive effect is achieved:
Check your website with the Google PageSpeed Insights tool;
Then, utilize the Magento Minify module to optimize those areas that require attention;
Check the Magento store again to see the new higher score and benefit from the code optimization.
And if you need more optimization tools you can try our Magento 2 speed optimization extension.
Other Features
100% Open Source — Easy To Customize
Follows Magento Code Architecture
Separated HTML/CSS/JS
Simple installation via Composer
* The name "Magento" and the logo are the trademarks of Magento, Inc.
Right what I needed
I was looking for such a tool that increases the google page speed insights results and finally managed to find this extension. Thank you Amasty! Only few clicks and such a great result, I'm really delighted.
Even more useful than described
Maybe this in not the main functionality of this tool but it is really nice to have one. I mean image compression without the quality losses. As a result, I get images with the less size yet almost the same quality. This is really useful!

Does only the part of the job
The plugin doesn't actually speed up the store but it optimizes the code structure. It makes the code more clear and suitable for Google. Hence, you can win some positions in search results but for real loading speed improvements you should think about other solutions or hiring an in-house SEO specialist.
great result
this optimization tool showed great results! with its help, we improved the code and made it significantly clearer. right what expected!
Frightening name and fantastic result
This module helps me to promote my Magento store in Google. I've managed to win several positions and that increases the number of visitors. So, if you are looking for the visitors booster, than I can recommend this extension.
Good
I have a multi-store installation and had a problem when URLs were added to CSS. Supporters quickly helped me fix this bug and now everything works fine. In sum, a good module for speed optimization that goes for both working with code and images.
Pretty good extension and very good support
Though this module is meant for minification, I had an issue exactly with this feature. Yes, support is cool and they fixed it. Now its fine but I wish everything worked as it should on the first try
Good module, reliable vendor
I hate all this configuration stuff so I bought this module with installation. Vendor is very responsive, eager to help and really thinks about their products and customers. After optimization, google page speed tool showed a much better score for my webstore. Also, I used it to optimize images (and I have many of them). Now my web store looks as good as it did before but works better.
does its job well
A good extension and works with native Magento JS/CSS merge. Despite it was a tough job to configure it, the results that I got exceeded my expectations. Website works faster and ranks higher now. Thanks!
Great results
I checked my store with google page speed insights and saw with my own eyes how code optimization helped my store get higher. Will I recommend it? Yes, of course.
Are you looking to add specific functionality for this extension or want to acquire a reliable development partner altogether? With custom development services by Amasty, you will receive high quality and cost-effective solutions developed by Magento professionals according to industry's best practices.
CE 1.4.x - 1.9.x, EE 1.8.x - 1.14.x
You can always download the recent version free of charge from your account
Installing an upgrade is easy — check now
My Downloads
Version 1.2.13
Last Update: May 15, 2019
New we have added the option to set the level of JPG image optimization. Now it is possible to make the right choice between image quality and image weight
Improvement we have changed the image optimization text fields in the extension's settings to dropdown-type settings. Thus the security of the extension was enhanced.
Fix an issue with large CSS files was resolved
Fix the issue with minifying css with svg images was resolved
Fix the issue with minification css files was fixed
Improvement the option to move JavaScript to footer for proper page rendering was enhanced
Improvement the image optimization was enhanced
Fix the issue with jpeg file type optimization was fixed
Fix the issue with broken image urls in the css files was resolved
Fix the issue with the fingerprint assigned to CSS changes each time the page refreshes was resolved
Improvement the functionality to minify custom javascript was added
Improvement code refactoring was made
Fix the issue with permissions for button was resolved
Fix the issue with file in queue does not exist was resolved
Fix the issue with the undefined jscomp was fixed
New Allows to minify Java Script from the Debug tab right on the module Configuration page
Added compatibility with CDN
Information tab is added. Now you can see the version of installed extension, available updates, User Guide link, conflicts and other useful info in backend
Fixed an issue when selector in two lines
Version 1.1.7
Last Update: Mar 19, 2018
Fixed an issue with the minification
Fixed an issue for multiple stores with URLs, which were included in CSS
Fixed an issue with the closure compiler cannot convert ES5 into ES6
Minor improvement: removed the outdated dependency
Allows to select the source (file Url or the Js code) to be sent to the Google for the Javascript Minification
Fixed the configuration settings visibility issue for the website scope
Fixed the problem with the file encoding
Issue with double slashes in URL was fixed
Allows to add regular expressions to the ignore list
Added the setting to disable the javascript movement to the footer on certain pages
Version 1.0.5
Last Update: Dec 13, 2016
Compatibility with older Magento versions
Ignore list for feature "Move Javascript to Footer"
New feature: HTML minification
Skip minification of already minified scripts
Possibility to optimise GIF images
General performance improved
JPEG compression set to higher level by default