Marketing & Sales Suite by MageWorx
for Magento 2
Partner Product
Add Magento 2 Marketing Automation Suite by MageWorx to equip your store with a set of automated marketing & sales tools. Streamline and personalize your marketing efforts to boost your sales and retention.
Display customer reviews and social-proof notifications
Auto collect feedback with popups and email reminders
Offer reward points for specific activities
Give personal discounts to particular customers
Show products stock status and recent sales
Place countdown timers on pages with limited-time offers
Challenge
No matter the size, business owners face the same problems when it comes to marketing. In order to bring tangible results, started once, all the marketing activities should be performed on a regular basis. Of course, it could be quite a complicated and time-consuming task. Moreover, it prevents you from focusing on innovative ideas and other higher-order tasks.
Solution
Magento 2 Marketing and Sales Suite offers a solution helping you to automate a set of regular marketing and sales activities, saving your time and resources for new ideas and creativity. Strengthen product credibility with an advanced rating system, automate feedback collecting and show smart reminders, enhance buyers' loyalty with personalized offers.
What benefits you get for your store
Save costs by automating routine sales and marketing activities
Enhance products credibility with reviews and social proof
Build customer loyalty offering rewards and personal discounts
Gain more credibility with an advanced
product rating system in Magento
Display Magento product ratings and reviews
Strengthen trustworthiness and increase conversions allowing customers to share their opinion about products at your store. According to statistics, more than 81% of shoppers are likely to make a purchase only after reading reviews. Programmatically get rating stars for Magento 2 products and display the block with summary ratings at the top of all reviews. Make customers even more engaged by enabling them to specify product pros and cons, vote for helpful reviews, recommend products and attach images.
Automatically collect customers' feedback
Motivate customers to leave more product reviews by setting smart reminders. Magento 2 Marketing & Sales Suite by MageWorx provides you with the option to automate emails sending or showing engaging pop-up review reminders on your website pages. Set appropriate conditions for these notifications in order to specify when they should be sent or displayed. Make your review reminders more appealing for shoppers using 6 pre-configured design templates.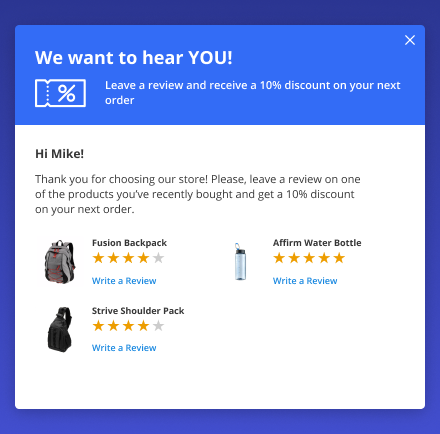 Add more trustworthiness to your product pages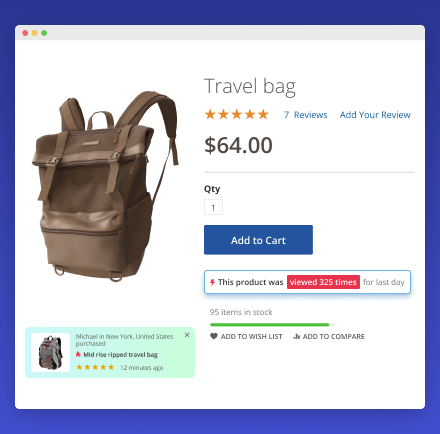 Show social-proof notifications
According to the Optinmonster stats, 88% of customers are looking for recommendations or some kind of proof before making a purchase. Magento Marketing Automation suite provides you with such functionality by displaying social-proof notifications on your website pages. Either as a pop-up or HTML text, you can show them on all or just particular website pages. Choose the popups position and set advanced conditions for their display. This extension comes with 40+ pre-designed notification templates.
Demonstrate products popularity
Apart from getting rating stars for Magento 2 products programmatically, you can showcase product popularity and build a positive impression by displaying recent sales notifications. How does it work? With a catchy popup or text notification, you can inform your site visitors about what products have been just sold. Display notifications on product, category, and CMS pages. Show them only to particular customer groups. Create notifications using ready-made templates or customize any existing one. Show notifications on specific products using particular conditions and configure the priority of their display.
Motivate more sales by creating a sense of urgency
Display products stock status
Inform your customers about the stock level for the products at your store. It is quite convenient for shoppers as this way they can understand what quantity of items is available. And besides, it can be an effective psychological tool that creates a sense of urgency. With the Magento 2 Marketing extension, you can add a special progress bar to display product stock status. In the admin panel, you can indicate a minimum stock level to trigger a corresponding status message ('Low stock' or 'In-stock'). You can also add a particular message for products that are about to be sold out.
Add product countdown timers
Customers are often likely to make a purchase when they see that the time is running out and they can miss a good deal. Trigger impulse purchases and generate more sales by displaying countdown timers for the limited-time offers. With the Marketing and Sales Suite for Magento 2, you may place an unlimited quantity of countdown timers on your website pages. Make timers visible for specific store views and customer groups. Flexibly configure start/end dates for product special price or for catalog price rules. Add custom text above or below the timer to make it more informative.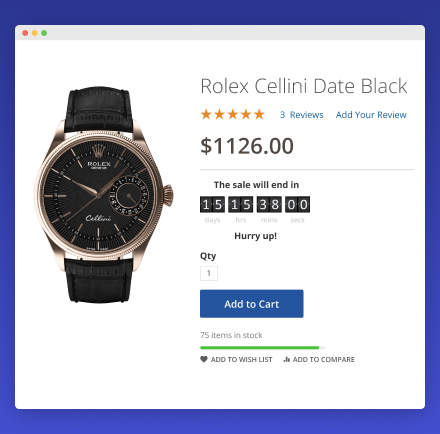 Improve customer loyalty and retention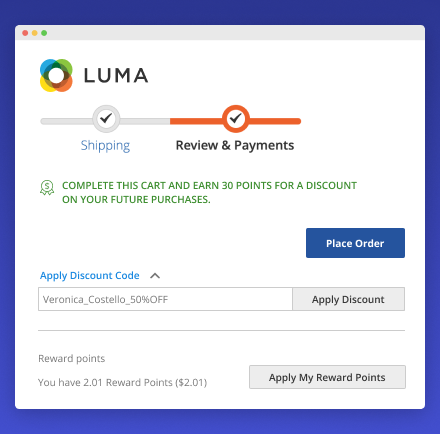 Provide personal discounts
With Magento Marketing Automation you can use the information you have about customers to make unique personalized offers. Provide shoppers with personal discounts and coupon codes based on their on-site activity and purchase history. Make special offers based on the total amount of money buyers spent at your store during a certain period. Create cart price rules and discounts predicated on products a customer has purchased for the entire purchase history at your store.
Build rewards system
According to statistics, existing customers are likely to spend 31% more at your store than new ones. For this reason, customer retention is a top priority nowadays. Magento 2 Marketing Suite equips your store with the functionality to build an effective rewards program, motivating your customers to make more repetitive sales. Assign reward points to special occasions or reward shoppers for particular actions on your website (like leaving a review, placing an order, etc.).
Other Features
100% Open Source — Easy To Customize
Follows Magento Code Architecture
Separated HTML/CSS/JS
Simple installation via Composer
* The name "Magento" and the logo are the trademarks of Magento, Inc.
Be the first to review this product
Marketing & Sales Suite by MageWorx for Magento 2
Frontend Example
Create a sense of urgency by displaying stock statuses, countdown timers, recent sales notifications
Are you looking to add specific functionality for this extension or want to acquire a reliable development partner altogether? With custom development services by Amasty, you will receive high quality and cost-effective solutions developed by Magento professionals according to industry's best practices.
Magento 2.3.1 - 2.4.x
You can always download the recent version free of charge from your account
Installing an upgrade is easy — check now
My Downloads
Version 1.4.2
Last Update: Mar 10, 2021
Fixes the problem with displaying 'Earn x points' messages on the front-end for customers on Magento 2 Commerce edition
Fixes the problem with applying personal discounts to specific customers (the discount rule was applied to the entire customer group instead of the specific customers)
Fixes the wrong confirmation text when removing the review reminders in the back-end
Fixes the missing radio-button element to select the design templates in specific cases
Fixes the problem with the "After timer" & "Before timer" texts display in some cases on the front-end
Version 1.3.0
Last Update: Jan 18, 2021
Compatibility we added compatibility with Amasty Jet theme, Amasty checkout, Amasty Google Page Speed Optimizer
Fix we made minor bug fixes
Version 1.2.2
Last Update: Nov 13, 2020
Fix we fixed minor issues with composer installation on Magento 2.4
Improvement now it is possible to include HTML in prefix and suffix for countdown timers
Compatibility we added Magento 2.4 compatibility
Version 1.1.3
Last Update: Jun 01, 2020
Improvement we added "customer.region" variable for FOMO templates
Fix we made minor fixes in product grid
Improvement we fixed minor issues with reviews
Version 1.0.0
Last Update: May 25, 2020