Custom Button
for Magento 2
Wrap links in customizable buttons to smoothly embed them into your website. Proactively interact with your site visitors by simple yet efficient UX enhancement.
Create custom buttons of any color and size
Locate buttons anywhere on your store
Specify custom text for your buttons to use them for multiple purposes
Set up catchy animation on hover to motivate more clicks
Redirect shoppers to any page by linking buttons with specific URLs
Challenge
It is a well known fact, that Vanilla Magento settings do not provide enough flexibility in the creation of custom Magento buttons. Most often, admin users configure buttons only if they are already integrated into some other custom blocks or extensions, otherwise, it takes time on designing a custom one whenever needed.
Solution
Save time by using a ready-made customizable button for multiple purposes. Create custom Magento 2 buttons like 'By Now', 'Download', 'Add to cart', 'Submit form', 'Subscribe' and any other type of buttons in a few clicks to convert visitors into leads. Adjust the button's visualization, text, size, color and locate it at any place of your store via widget.
Why is having a custom button convenient?
Pick up any location for the button depending on your needs
Create unique design of your button to match your store style
Convert visitors into leads with various types of buttons
Get more opportunities in UX customization
Place a button at any page of your store
Design shopping experience of your customers in the most profitable way for your store. Embed custom buttons into the places that you think will bring these buttons more views. Set up catchy animation on hover to motivate more clicks.
Add custom text for a button
Flexibly change content for your buttons so they can meet your business goals. Show alternative content on button hover. Specify catchy call-to-actions or neutral tips on what's behind it, like 'Download a file'.
Adjust button design for your site style
Let the buttons mimic in line with your store's design. Pick up the right colors for the button's border, text, and background. You can also round the button angles by specifying a border radius.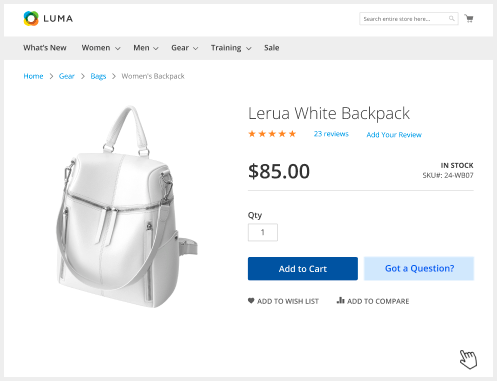 Tips on how to use a custom Magento button
Attach custom forms and surveys
With the Magento 2 Custom Button extension you can use the button for gathering more info about your customers. If you practice the creation of custom survey forms with third-party services, like Google Forms, you can use a custom button to link a Google Form with your website.
Offer to download additional product info
Provide customers with some extra media files or .pdf documents about some useful info about your products or services. Just link a custom button to the relevant file source in order to provide this file downloading. Locate the 'Download' button on CMS or product pages.
Let buyers negotiate on price
Some products may need a special approach regarding the pricing strategy. If you feel that there's a space for making sales more efficient for certain products or special offers, then try replacing the 'Add to cart' button with the 'Request a Quote' button, linked with some third-party form.
Motivate to subscribe to a newsletter
Apart from the classic newsletter subscription block in the footer, with custom buttons you have an extra opportunity to convert store visitors into loyal returning customers. Embed the button in some extra places that you think will be more visible for the site guests.
Make highly personalized purchasing offers
Make your interaction with clients requesting quotes even more automated and efficient, with the installation of the specialized
Request a Quote
extension. Easily communicate with customers regarding new best prices for products.
Create custom forms that are fully integrated with your website
Use
Magento 2 Form Builder
to create web questionnaires of various types and effectively collect customer info. Enjoy a handy constructor to generate multiple forms in no time and customize each to meet your needs.
Other Features
100% Open Source — Easy To Customize
Follows Magento Code Architecture
Separated HTML/CSS/JS
Simple installation via Composer
* The name "Magento" and the logo are the trademarks of Magento, Inc.
Be the first to review this product
Custom Button for Magento 2
Are you looking to add specific functionality for this extension or want to acquire a reliable development partner altogether? With custom development services by Amasty, you will receive high quality and cost-effective solutions developed by Magento professionals according to industry's best practices.
2.4.2-p1, 2.3.7, 2.4.2, 2.4.1-p1, 2.3.6-p1
You can always download the recent version free of charge from your account
Installing an upgrade is easy — check now
My Downloads
This extension has no updates yet