Zoom Pro
for Magento 1
Get the chance to improve visual presentation of your products greatly. Let your customers see all product details to leave no doubt their choice is right.
Attractive zoom both for main and thumbnail images
Carousel for thumbnails with ability to change its position
Customers can zoom product images at category pages
Lightbox for product large images with thumbnails
Very many options for zoom and lightbox configuration
Customers who are happy with their purchases are loyal customers.
Another tool to convince customers to purchase
Often people don't trust e-shopping just because they have no possibility to examine a product in details or touch it. For that reason it's very important to keep product presentation at a high level. Let customers zoom magento images both on product and category pages and use highly adjustable lightbox to let customers feel like they are shopping in a real store.
Inspire customers to stay longer on your site with Magento zoom extension
With elegant lightbox and detailed Magento product zoom view your site looks alive, so customers will really enjoy it and spend more time investigating the product range. The number of purchases will increase.
Make product pages visually attractive
Improve product presentation with zoom feature
Customers see the texture and all the details of a product with zoom tool, which is available on both product and category pages. You can also check out Color Swatches Pro extension which takes configurable products presentation to a new level.
Inside and outside Magento product zoom for main images
According to your store design and usability goals you can choose whether to use inside zoom or an outside one. Moreover, for outside zoom further adjustments are available:
Place it to the right or left of the main product image.
Define width and height for the zoom window.
Choose whether to use tint effect or not.
Show product title or hide it.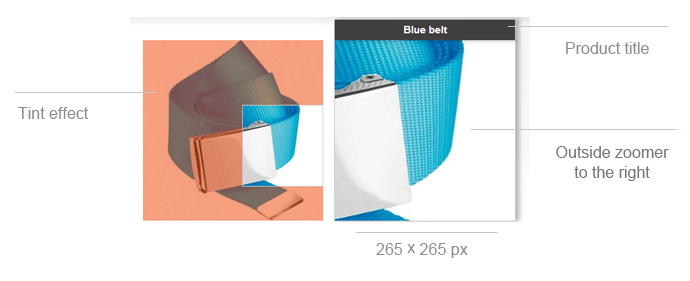 Settings for thumbnails
One picture for a product can be enough, yet in most cases you have to show the product from different angles. Now you can adjust the thumbnails of all product images the way you need.
Use zoom for them.
Enable 'carousel' feature.
Choose the number of items in carousel.
Place thumbnails under the main image horizontally or to the left of it vertically.

Change image on mouse hover or a click
Decide whether to change the main product image when the mouse hovers over thumbnails or when customers click them.
More usability enhancements
Zoom on category pages
Nobody would argue that finding the right product in the store quite often turns into a hard and time-consuming task. Now you have the power to help customers spend much less efforts to find the products they actually need. How? With Magento magic zoom on category page you provide your potential customers with the possibility to see all product details right at the category grid. No need to open each product page for large image – extra credit to your site usability!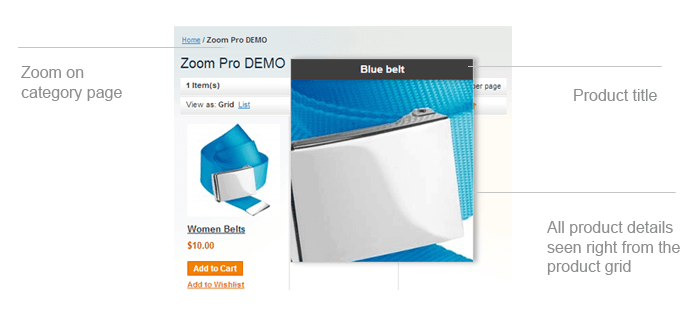 For this feature you can configure zoom window position (place it to the left or right of main image), specify zoom window width and height and choose whether to show product name or not.
Magento lightbox extension
Lightbox option provides a nice view of full-size images and user-friendly picture display. You can configure several options:
Use circular lightbox so images are shown in a loop.
Choose the position of product title (float, inside, outside and over options are available).
Use effect of motion or disappearance for image change.
Thumbnail helper, which lets customers 'lightbox' images in any order without closing lightbox window.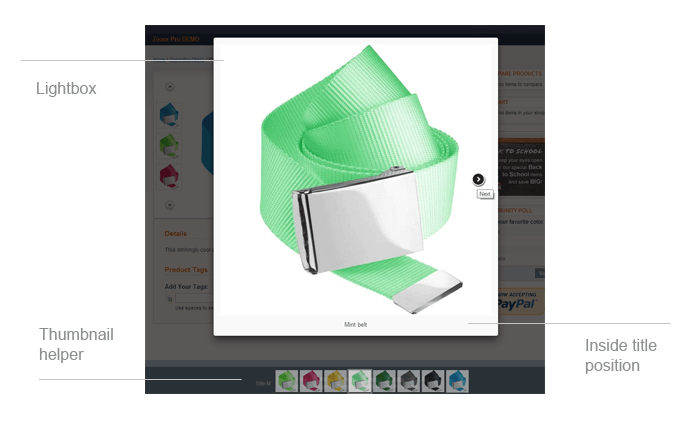 Make your customers plunge into the world of quality product images and user-friendly interface!
Other Features
100% Open Source — Easy To Customize
Follows Magento Code Architecture
Separated HTML/CSS/JS
Simple installation via Composer
* The name "Magento" and the logo are the trademarks of Magento, Inc.
Excellent
We are very happy with this. It works perfectly. Only it is a pity that it does not work on our home page, since this is CMS based instead of category based. If this would work also, it would be perfect. We asked Amasty about this, but it would require additional payment to have this possibility.
Great extension which just does all I need.
Nice extension, which has many features included. It can do all imaginable options for zoom. Very fast, easy to use and even works in IE :) Really good extension! Thanks!

andy_thr
Magento Connect
Awasome Catefory Zoom
Awesome Zoom, both for categories and product pages. It is true that customers love to see images in details, especially if you sell products which have colorful images with lots of details. Now customers should go to the product page to see all details. All is possible to do on the category page.

Buena
2 zooms in one extension
It is the best Zoom for Magento at the market. In one extension we have both Product page Zoom and Category Page Zoom. Customers can see all details of the products.

Carl
Feature-rich extension
Without any doubts it is the most powerful Zoom extension among all that have existed on the market. A very feature-rich extension Zoom Pro helps us to show all details of our products both on the category page and product page.

Anita
Zoom on Category Page
Zoom on category page was the most important feature for our store. We sell products which include a big amount of small details which are not invisible with out zoom. And lots of customers didn't go to product page previously to see all details. And our store losing customers every day.

After analyzing several solutions we bought Zoom Pro by Amasty (as it has the biggest amount of features) and we weren't upset. Zoom Pro works perfect and now customers can see all details right on the category page.

Shon
We made our images sell products
We were looking for zoom for our category pages and found that extension. Without any doubts it is pro extension. Our sales depend on product images. Customers should see each product's detail. Customers were happy to meet such innovation at our web store.
In addition I can say, that the extension has good lightbox feature.

Larry

Like zoom from category page functionality.
The salt of this module is the feature of zoom from category page. It works great and only Amasty offers it in zoom extension. Thanks.
Fast working extension! The best I found for zoom.
It was so easy to install it took only 2 minutes! Working really fast, and extension does everything I was looking for! Really nice work!
Are you looking to add specific functionality for this extension or want to acquire a reliable development partner altogether? With custom development services by Amasty, you will receive high quality and cost-effective solutions developed by Magento professionals according to industry's best practices.
CE 1.4.x - 1.9.x, EE 1.8.x - 1.14.x
You can always download the recent version free of charge from your account
Installing an upgrade is easy — check now
My Downloads
Version 2.1.5
Last Update: Apr 11, 2019
Improvement javascript jQuery library was updated
Fix the issue with double popup on configurable product when using the lightbox was resolved
New information section was added. Now, you can see the version of installed extension, available updates, the user guide link, conflicts and other useful information right on the module configuration page
Fix minor js error on product view page was resolved
Fix the issue with Fadeln Effect for Lens on Magento 1.9.3.8 was resolved
New Support of the fancyBox 3 is added. However, it still allows to select the fancyBox 2 or the fancyBox version from the custom theme
Version 2.0.6
Last Update: Jan 22, 2018
Improved the compatibility with Amasty Ajax Scroll extension
Compatibility for mobile devices improved
Code refactoring: performance and compatibility improved
Version 1.0.5
Last Update: Aug 11, 2014
Minor bugfix for zoom templates
JS files rebased
Performance bug fix for loading product images.
Better compatibility with Product Labels.