Color Swatches Pro

|

v3.13.2
Screenshots:
Note:
Color Swatches Pro is a new name for popular Image-Based Dynamic Configurable Products extension.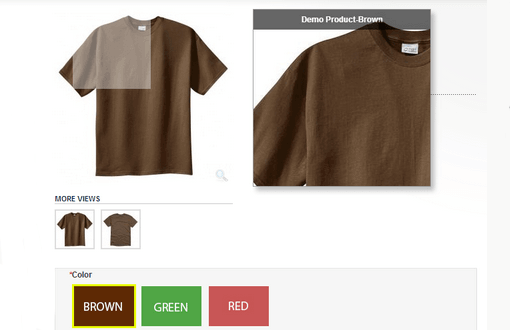 With the Color Swatches Pro extension you can easily upload clear images for numerous product options and display them on product, category and search results pages. Let customers view products in details with the lightbox and zoom tools.
Happy customers

See the examples of Magento color switcher usage in different stores and get inspiration!


Improve product presentation to win customers' trust
Let your customers see the final version of the product they are buying to reduce the returns resulting from customer frustration.
With this Magento configurable product image switcher customers can select image attributes as many times as they want to see different variants of the product, zoom images and eventually choose what they like.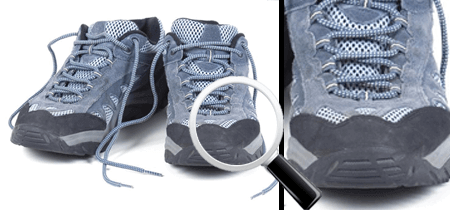 Automatically use price of associated simple products
By default in Magento you have to specify price difference for options of configurable products. E.g. color green +$10. No need to do this annoying thing anymore – now price of the simple products will be used automatically. So if you import a few thousand of associated products with updated prices, you will not need to spend a couple days updating price difference for configurable products.
Display prices of simple products in drop-downs
Now you can display prices of simple options associated with configurable products in drop-downs. It's possible to choose whether to show actual price or the price difference.
Prove to customers that your products are of the highest quality
In what way? - Give your customers a great view of the product. Using our Magento color picker extension, clients can zoom and see every detail of the product.
Master one more segment of users, who don't believe Internet is a place for shopping
With this configurable swatches for Magento you can convince your customers you are the one they should deal with by showing them products in detail without hiding anything.
Show prices of simple items as a swatch label
Adjust the display of simple product prices to your needs. With the extension you can show them right under size swatches as swatch labels. This handy option will make your product pages much more visually attractive and improve customer shopping experience.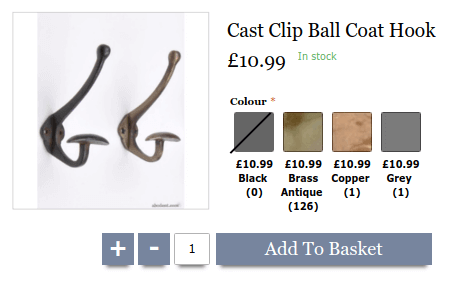 Use images instead of plain text
Apply images as options for configurable products and make your store intuitive for customers
Upload images for all attribute sets for configurable products and then use the images for selection of configurable product options.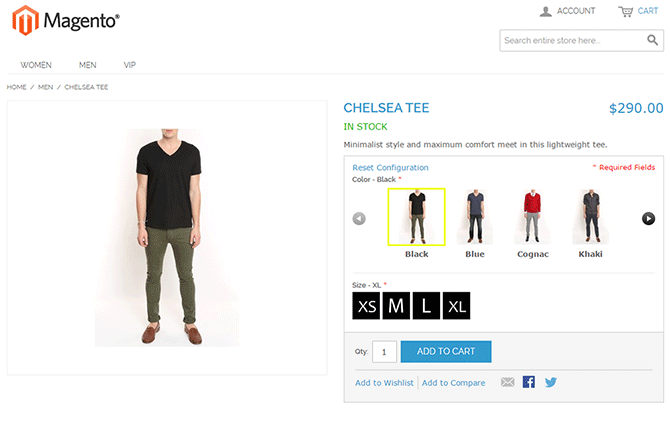 Set product colors using Color Picker
In case you need a solid color for any product attribute you can use our Color Picker option with a color palette. Moreover, it will take you only a few seconds to set a product color thanks to using CSS files.
Use images of associated products for swatches of one attribute, e.g. color
You can save some time by using resized images of associated simple products for swatches of one of the attributes, e.g. color. Also this enables you to have unique Magento color swatches for each configurable product. All you need to do is select the attribute for which the feature should be activated. It can be selected individually for each product.
Images are easier to understand
In fact they are multi-language means of communication, which don't need to be translated. It will be a lot simpler and quicker for customers to select the right options.
Additional usability features
With lightbox and product zoom options you make the process of image viewing a lot more user-friendly. Alternatively you can use images together with text.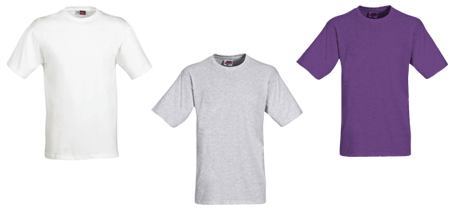 Set a default placeholder image for each attribute
Upload a dummy image that will be used if no image is set for the attribute.
Limit the number of visible swatches on category pages
To keep your category pages clean you can manage the number of swatches displayed under the main product image. In case the number of visible swatches is limited customers will see a link like "More Colors Available".
Cross out the swatches of out of stock products
Due to the Out of Stock Option you can indicate which products of particular color or size are out of stock. This will help customers faster make their choice as they will immediately notice which product configurations are not available at the moment.
Add captions for zoomed images
Display text labels together with zoomed product images. Customize label's display by specifying its position, background and text colors.
Enable selection of configurable products on category and search results pages to get more sales
Display attribute icons on category pages.
Let your customers select options and add configurable products to cart right from the category page.
You can show icons for all attributes of configurable products, so customers will be able to select all product options on the category pages.
Enhance display of configurable products on category and search results pages by reloading Magento configurable product images when some configuration is selected.
Use these features to make configurable products easy to buy and get more orders.
Display Color Swatches with AJAX mode to speed up category pages download (in comparison to "default" extension settings).
Enable Reindex option to improve category pages performance.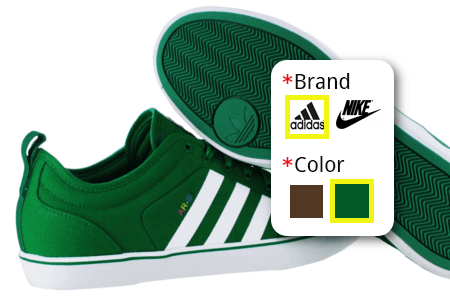 Optimized content presentation
Update product images and description according to customer input (with ajax).
The module can automatically load images and descriptions of the associated simple products chosen by customers. Let's say a customer chooses nike brand and green color - the extension will show the images and descriptions of the simple product which stands behind these selections. This configurable product images change will let you present products in an attractive way.
Visual effects
Zoom and Lightbox effects work both for default configurable product images and for images loaded based on customer selections.
Automatic selection of attributes if only one option is available
The extension will automatically select value for the attributes which have only one option available. For example, there is a cap which has three colors to choose from. When a customer chooses a color swatch with only one size available, the extension will automatically select the size.
Default image for configurable products with no images
If you haven't uploaded images for some options of configurable products, now you can use default image for such options.
Product image features
Full size images and zoom of particular details.
Change thumbnail image size to adapt them to the style of your store and make the thumbnails looks as an integral part of your site design.
Lightbox option provides a good view of full-size images and user-friendly picture display.
Zoom effect offers to closely examine all the product details.
Ability to reset chosen product configurations.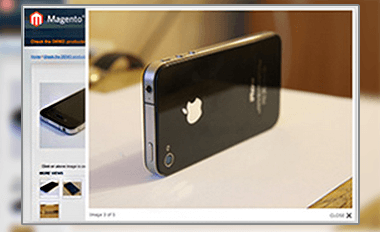 Attribute image features
Unlimited number of image attributes, which is especially handy when you sell products of high complexity.
Ability to specify dimensions of attribute images on product and category pages.
Ability to set up parameters for tooltip display.
Zoom effect for color swatches on mouse over.
Attribute images are added by simply dragging & dropping them into place.
Multiple configuration options
Ability to upload images for all configurable product attributes
Full control over visual effects and content update features
Share URLs with set product options
Now when you set different product attributes, product page URL is changing. New URL parameters are added to the current URL via # symbol. So it's possible to share URLs with predefined product options.
Possibility to display price for configurable products as "From X.YY"
Thanks to the extension you can show the price of configurable products in the "From X.YY" format. For example, if simple products have a difference in the price and the cheapest is equal to $12.50, you can display the price of configurable item as "From $12.50".
You can also consider using the solutions below to enhance product presentation:
Clearly inform customers about stock situation with Custom Stock Status extension. Create unlimited number of custom stock statuses, accompany them with nice icons, assign statuses to products manually or automatically and benefit from automatic quantity-based statuses. Let your customers upload images for products with Customer Product Images extension. They will provide real-life examples of product usage and motivate other customers to place orders faster.
7 reasons to choose
Risk-free Investment
30-day moneyback guarantee for all extensions. No questions asked.
Comprehensive Documentation
There is a detailed user guide with examples even for tiny addons. FAQ section and videos also available.
Solutions Which Work
Careful in-house testing ensures you get robust applications. Multiple stores support. Custom themes compatibility. All included.
Outstanding Support
Our support service is friendly and of high quality. And it is free. Unbelievably. Just check independent reviews at Magento Connect.
Usability and Performance
Nice and easy to use interfaces. Fast algorithms. Save your time and get things done.
Flexible and Easy Licensing
No product or store view or domain limits. No monthly fees. No hidden charges. One extension license for one Magento installation.
Long Term Strategy
We've been in the market for 5+ years. We're proud to be a Bronze partner and are planning to stick to Magento platform for years ahead. We're doing our best to build extensions which maximize effectiveness of your business. We're open to customers' suggestions and constantly update our products to match your needs.
Other Features
100% Open Source — Easy To Customize
Follows Magento Code Architecture
Separated HTML/CSS/JS
W3C Validated Code
Online Extension User Guide
* The name "Magento" and the logo are the trademarks of Magento, Inc.
General Questions

How can I pay for Amasty extensions?

What is the license policy? On how many websites can I use Amasty extensions?

How to install Magento extension by Amasty?

Can I test an Amasty extension on a staging site before transferring it to a live one?

Can I get a refund if an extension doesn't suit me?

Will I get any other benefits?

Product questions

Does your extension support PNG images?

Does Color Swatch extension support multiple product attributes?

Does Color Swatches Pro work for bundle products?

Can the main image be changed when only one attribute out of two is clicked?

Can a particular option be preselected?

Can I create attributes different than color and use them in the same fashion?

Cam I use Color Swatches extension with custom options for product?

Can I use multiple images for one simple product added to the configurable one?

Can SKU on a configurable product be dynamically changed when an option is chosen using Color Swatches Pro?

How are out of stock products displayed?

My site uses jQuery. Will there be any conflicts?

Can I use zoom and lightbox from my store theme?

Can all the attributes be visible on loading a page for the first time?
Very useful
This is a very useful extension for any kind of configurable product that you wish to present as a not plain vanilla 0815 product. The customer support is helpful, friendly and truly professional.
Good extension and excellent support!
The Amasty team did a great job adjusting the extension to our template. It does exactly what it says.
Excellent!
Excellent! Excellent! Excellent!
Ultimate color sempler
The guys really rock! The swatches module is the base for apparel sellers. It's intuitive backend is amazing. This is the first time I managed to finetune all options by myself and averything works. I do hope that other amasty modules are of the same quality. Keep on codin'.
Excellent!
Excellent! Excellent! Excellent!
Excellent Extension & Professional Support & Development
Best swatch extension out there. Love that this extension not only changes the images but also the price & descriptions. Had an issue with description not updating due to my custom theme, not only did support fix it but they also provided the updated files. Great Support!
One of Amasty's best extensions
This extension has revolutionised parts of my store. So many options and fantastic after sales support as usual.

Thanks !!
Everything works fine!
The extension works fine, even when I needed some modifications due to needs of my ecommerce, the Amasty team did all I needed. Also, their support always solved my issues.
Color Swatches Pro - must have!
Sehr gut gemacht! Sehr nützlich! Lockt Kunden und erleichtert auswahl!
Außer Farb, Große usw. gibt es auch Zoom Funktion, das ist das Beste! Dokumentation ist sehr ausführlich, kann man damit sehr gut einrichten und sogar ohne Techkentnisse!

Excellent Extension & Support
Excellent support department. They took care of my questions and helped us install and make small minor tweaks when needed!
Great Support
Although the instruction manual could use a little cleaning up, the support once I installed this module was fantastic. The module itself is great -- but it's the support that keeps me coming back to Amasty.
Features, integrity, speed
Great features, great integrity with Improved Navigation. Made possible to associate standard colors in navigation filters to the number of related swatches from different products on the product list page. So when certain color is selected in filter, you get all the products who's options include the swatches of that color range. The configurable products show up with selected color in place of main image in the list page.
The speed! It makes whole difference. My 3k swatches in db run as fest as just few in original Magento swatches did. Btw, when i tried Magento swatches feature with that number of swatches, i got nothing but time outs. Original Magento does not index swatches in db.
Support. Well, I wish support for America relocate to Caribbean islands (f.i. Guanaja). It would help to intensify
interaction with customers.
Also i expected to get a coupon to the local cinema as a bonus. Well, maybe with next extension.
fantastic extension
optimum extension.
support is fantastic !!!
I had some problems initially for my custom theme.
but support has been sorted out.
The best colour swatch extension I've found
I am using magento 1.9.1 with built in swatch functionality but this swatch extension provides that extra features that you see on those large multinational websites. For the price you pay its worth buying this instead of using the built in magento version. You have alot more flexibility choose display options and a lot more functionality you may have thought would be in magento 1.9.1. This solved my problem in ensuring all images shown on a simple product is shown on the configurable page. Support was also outstanding.
Brilliant extension and very helpful!
Very good extension for managing colour swatches on our website selling shoes.
We had to get the developer to change one setting for us and they sorted it without any issues.
Would highly recommend.

Great extension and great support
We had bought several extensions for color swatches and none of them were working.
The Amasty color swatches pro does exactly what we want, greatly improving the experience of our customers.
Customer and technical service are great, striving to solve some problems we had due to a large number of extensions we have on our shop.
Thank you for your extension and time Amasty!
Perfect Plugin + Perfect Support
This is mandatory for all online store.
Much better than I thought. Easy to customise where needed. Brilliant support; helped fix a few issues I had, and desired changes I wanted. Thanks!
Great extension, excellent support
Very useful extension for not only color attributes, but also for different sizes of the same product, or different package (e.g. dropper bottle or spray bottle). Allows customer to select the most important option right on the category page with visual feedback. Works great with Amasty Ajax Shopping Cart for quick ordering directly from the category page. Support is superb for implementation and for further customization.
Support is excellent
Excellent support department. They took care of my questions fast
Happy with the extension
I've been using this extension for some time already and completely happy with it.

The thing I like most is the ability to display the lowest price of a configurable product in a catalog. And of course, presentation of product options is great. It took some time to understand and configure the settings, most of them are quite easy to understand but there are many of them which can be confusing.

There was a minor problem when I upgraded to Magento 1.9. Amasty support fixed it quickly and now it works great again.

I like it
I really liked this swatch module initially (at first sight). Now I've been using it for 2 weeks already, and I love it. The set up process wasn't smooth. It conflicted with another extension, and everything was fixed in the shortest terms.
Actually with these guys help is always just one email away. That is one of the reasons I like Amasty; their products and post-sale service are both second to none.
I only would like to see some exclusive features in this module; it should do more than all the equivalent products.
4 stars for now but you are on the right track.
Very good plugin
This module is a must-have for all stores with lots of configurable products. We sell clothing and accessories, so we just have to allow our customers pick different colors for the items they choose.
The plugin does exactly what we wanted. Set up process was a bit tricky, and support manager cleared it all for us. Very good!
It covers all the 'must-have' features
Good tool to enrich the functionality of your store. It covers all the 'must-have' features and a bit more. The module come with very detailed instructions so you installing and configuring it doesn't give headaches.
Didn't run out of the box
If the store specifics presupposes the display of product samples - this is one of the best plugins for you. I'm more than happy to have amasty swatches installed. It's very easy to upload all necessary pics for different attributes. Of course not everything was so sweet and sunny about the app. Right after the installation I found out I refused working with my custom theme. It took tech support guys about 3 days to reply to my call for urgent help, so the help appeared no so urgent as I expected. Averall, now I'm absolutely satisfied with this module and highly recommend to others.
Fully satisfied with it
Good tool to enrich the functionality of your store. It covers all the 'must-have' features and a bit more. The module comes with very detailed instructions so you installing and configuring it doesn't cause any troubles.I'm satisfied in general, but I kind of expected something more from Amasty, so that's why just 4 stars.
Can't wait for updates!

Brilliant
User-friendly, helpful and quite fast, I had no trouble understanding the settings. What else can I say? Brilliant!
At the end everything works perfectly
This was my first purchase from Amasty and it was not flawless. At first I had some conflicts which were fixed by the support team. A few days later something broke again and I wrote 3 emails to Amasty and received no answer. I cancelled the order and asked for money back.
As it turned out, the emails were not sent somehow and Amasty never received them. Once it was cleared out and all the issues were fixed, the extension works perfectly so I don't need to cancel the order anymore.
Superb!
There are no suitable words that could describe my feelings about this plugin. Finally after 3 poorly run tools I've found this one. Yes, I do recommend everyone to get it installed, yes it will work with third party mods and custom themes.

I was skeptical about the extension due to the previous sad experience with similar extensions. But this one works as it promises. Thank you Amasty!
Better that default Magento color swatch
This is one of the main extensions in my store.
I've been using it for 2 years already. When I upgraded magento to 1.9 I thought that its color swatch would be similar and I won't need Amasty extension anymore. I tried it but soon understood that the extension is much more flexible than the default Magento color swatch. Good job, Amasty.
Helpful support, great extension
The best support ever! Being a newbie in Magento, I can't imagine how extensions and the system itself works. I have the extension installed and configured by Amasty support (special thanks to Alexey for his patience). Now the extension works as described on this page. So what can I add? I'm happy!
Excellent Product and Support
After suffering with a different extension from another developer , having this one from Amasty is a major improvement. Extension functions and when we needed any support at all of any type they always helped. For the launch of our new egjewelry.com site we will be using nothing but amasty extensions.
Good but not perfect
Good but not perfect. There could have been more options especially if to consider that starting from 1.9 Magento has color swatch by default.
Makes your store better!
Solid and reliable module that makes your store better. It would be good if getting it to work and configuring didn't take us quite as long. Otherwise it works exactly as described. If you are searching for a plugin with such functionality, you should stick to this one. It's definitely better than the others we've tried so far.
Works as promised
Usually a have a hard time dealing with technical matters, but I managed to install the addon myself (lucky me!). Well, to be honest, I've sent just one ticket requesting some clarifications, but other than that the addon is very user-friendly, almost intuitive. And it looks beautiful on the frontend, just as expected. Superb!
You Can't Go Wrong With Amasty Extensions
We are using swatch pro for years now. Not only has it worked great, but Amasty support is great. We have recently updated the extension after upgrading Magento CE, they help us with all of our questions and reguests not only in a timely manner but accomplished what we are looking for.
We highly recommend to use Amasty's extensions.they will make it work for you and help you with anything extension related.
Ivan from support is great!
Great extension by even greater developers
Before we bought Color Swatches Pro we spent some time configuring RWD configurable swatches but there just wasn't enough of options.
After we bought Color Swatches Pro we had some problem with theme intergration. Even though those weren't bugs, they were more like extension modifications, Amesty support team helped to solve them.
If you are looking for attribute selector extension with images for sizes/colors/... instead of dropdowns, this is the extension for you.

Great extension & great support
It is working as expected.
Great improvement. The build in function from magento 1.9.1 doesn't really help.
Great support.

Takes Configurable products to the next level
Have used a number of extensions made by Amasty and have always received great support.
The Color Swatch Pro just takes the configurable products function to the next level as there is so much you can do with it to give the customer a more visual look and ability to select products easier.
Easy to install, and work with, but if you do have difficulty Amasty is there to help quite quickly.
Does what it says on the box.
Best extension and fast support!
Very multifunctional module! Best support! Very good work!
If you thought the Extension was good...
Not only does this extension give you loads of fantastic options to sell you products with colour block, images etc, it also changes the images once selected and the price and the title and the description!
It's brilliant just for the changing as any other website does (no in Magento) but to have the colours too is great.
But hang on, if only that was the end of my review. The support is out of this world. I have purchased a number of extensions from Amasty and whenever I have needed help or even tweaks, they step up and help. No, sorry that will cost you $£$£, no moaning, just happy to help and very knowledgable.
We trust these people so much we have purchased the bulk of all our extensions from them. Fantastic extensions and even more fantastic support! 5* all round!
fittings4shops
Magento Connect
A must - have for a clothes store.
When you sell clothes and each piece has different colors, this extension is a must-have. We also have some products that are available with different textiles, so each option has its price. Amasty extension handles this perfectly as it automatically shows the price of the simple product that is currently chosen by customer.
Hey Amasty, thanks for that extension, it's great regardless of all the bugs we found!

Alexander_De,
Magento Connect
Good Extention
The best extention
Best Decision I've made with Magento Extensions!
Amasty has provided me amazing support in modifying and fixing the issues I have had with Color Swatches. I needed a lot of customization and they were able to make everything work!
I even had extra extensions added that color swatches has been integrated into.
I highly recommend this extension to anyone looking to bring great attribute images to your products.
It goes really well with their layered navigation as well!!!
Take a look at our website and see the great work they have helped to make!
http://tugasunwear.com
Is a nice module
Is a nice module and when i had one problem they solved.
best colorswatch
good and light color swatch module i found in magento market! and great support from amasty
Works perfectly
Easy to install, works as described, had one problem with my version of magento (compatibility with the extension) contacted support and they fixed the problem.
Amazing support.
Perfect - Just what I had been looking for!!
Easy to install, and exactly what I had been looking for, a way for potential customers to easily select a configurable product by the use of simple images.
Support is 1st class, I had one minor issue with a feature and the support team fixed it within 30 minutes of my support ticket, you can't get much better than that.
I would have no hesitation in buying any Amasty product.
Well done guys!!
Great extension, excellent support!
This extension is really helpful when you have configurable products in various colors. I experienced some compatibility issues with my custom Magento theme, but Amasty support managed to solve the issue. Support was fast and dedicated. Thank you!
The best in its niche
This is one of the best color selector modules in the market. It's east configuration and numerous options have visibly facilitated the process of configurable items selection.
Works great with my custom theme
This is the only of the extensions I tried which started to work with my custom theme out of the box. That's really great, as I did not spend any time with my developer to make it compatible.
Great extension! New zoom is amazing!
The new zoom component is amazing! We've been using this extension for almost a year, and it becomes better and better with each update! Thanks Amasty!
dev support is unmatched
I don't know why anyone would by extensions from any other developer.

You don't want to be woken up at 2am because there is a problem with an extension. These guys write excellent code and support it too.

complicated install on a custom theme and they went above and beyond to get it working.
I have my entire extension budget earmarked to spend with these guys.
I cannot speak highly of them enough.

It looks like you are looking for a swatch solution and probably have evaluated 5 or so competitors. I did the same thing.In fact, I went in detail looking through all the features and ranking them to finally come up with amasty as the winner. save yourself all that hassle and buy this now. set and forget and go back to the fun reasons you started a store!

good luck
Does not play well with Enterprise
Although I really like this plugin, I have to give it only 2 stars as I spent an entire day debugging it due to the fact that it conflicts with Magento's built-in Enterprise zoom. The Jqzoom that comes with Enterprise has an older version of Jquery and that prevents this plugin from working correctly. After deleting that older version I was able to get this to work but it was a lot of trial-and-error before figuring that out. Please include this in the directions so others don't have to spend that time.
Best color swatch / Configurable product extension of them all
We had tried two other colour extensions for Magento, but both of them lacked features and development was either very slow or non existent. Amasty on the other hand is a company that never fails to keep things up to date and is always improving their extensions. Color Swatches Pro is not just a perfect colour managment system it is also a greatly simplifies the managment of configurable products in Magento with Ajax.
Best extension company ever!
Very good working extension with good configuration options. The support answers quick and is very helpful...

HolDenWagenHarry , MagentoConnect
It worked for me!
After installing the extension customers stopped asking so many questions about appearance of goods (I'm selling shoes). It's much easier to work now. Great extension and functionality.

Draumy, MagentoConnect
Fantastic - Don't go elsewhere for your color swatch extension!!!
Firstly, the support from these guys is first class - they respond quickly and actually give you good news instead of bad. Their code is excellent also.

These guys are the best, they helped me to integrate the plugin to my custom template - something which was a bit difficult. But to them, they just did I think out of the love for programming and solving problems :)

They have free plugins and obv paid ones, I am now using two of their fantastic plugins and will no doubt be looking to buy some more of them.

DON'T BUY YOUR SWATCHES PLUGIN FROM ANYWHERE ELSE - this is the best one by far. Trust me on this, this one has the most functionality and ease of use. The fact that I can let cusotmers buy from the catalog pages is obviously going to increase conversion rates.

DO INVEST IN THIS IF YOU WANT TO HAVE A BETTER CATALOGUE THAN THE COMPETITION - it's ease of use for customers will pay itself off in only a few sales.
Works great for Configurable products
When using this with configurable products the name, price, product image and description changes when the option image is clicked. This lets the customer see exactly what they are buying. Really great extension.
Can confirm it works with 1.7.2 and custom theme
I installed the plugin but it didn't work first try, this was quickly rectified by Amasty team.

I'm using a custom theme with Wordpress integration and quite a bit of custom code - the plug-in still works really well.
Great Customer Service
I had some problems to customize this extension, but the support helped me a lot. thank you
very good
I am always looking for a color swatch that can use the simple products thumbnail as color option. Now I found it.
Awesome support, great plugin!
Easy install process. But we use an own theme, and the support team helped us really quickly. We got of every question an answer and all little problems would solved. Now we have a better user experience for our guest, like it should be. 5 stars!
The developer support is fast and excellent
the support helps me everytime to find a fast and optimal solution. Thank you!
Write Your Own Review
Version 3.13.2
-
November 18, 2016
– Compatibility with Magento 1.9.3.1
Version 3.13.1
-
October 28, 2016
– Compatibility with Magento 1.9.3.0
Version 3.13.0
-
September 21, 2016
– New feature: Show simple price in swatch label
Version 3.12.3
-
August 11, 2016
– Update elevateZoom library
Version 3.12.2
-
August 09, 2016
– Option to add captions for zoomed images
Version 3.12.1
-
July 21, 2016
– Possibility to specify CSS selectors for attributes in the backend (improves usability and compatibility with custom themes)
Version 3.12.0
-
July 19, 2016
– Possibility to limit a number of swatches (images) visible. When set to certain amount, a link like "More Colors Available" will be displayed.
Version 3.11.8
-
April 01, 2016
– Added abilty to display price of simple products in drop-downs
Version 3.11.7
-
February 19, 2016
– Minor optimisations for price display
Version 3.11.6
-
December 04, 2015
– Image upload block on attribute edit page is now split by pages to optimize upload workflow
– Performance optimization for loading product price
Version 3.11.5
-
September 24, 2015
– Block cache for category pages added to improve load speed
Version 3.11.4
-
September 16, 2015
– Performance and compatibility improvements
Version 3.11.3
-
June 19, 2015
– Performance increased on large catalogs
– Better compatibility with 3-rd party JS libraries
Version 3.11.2
-
June 05, 2015
– Minor improvements
Version 3.11.1
-
April 16, 2015
– Minor improvements for color picker and layout
Version 3.11.0
-
March 20, 2015
– JS slider added for swatch images on product view page
– Now it's possible to upload a default placeholder image for each attribute
– Product page URL is modified (with #) when changing product attributes, so it's possible to share URL to specific configuration
– Settings block modified to improve usability
Version 3.10.1
-
March 02, 2015
– HTML5 file upload and drag and drop features added
– Color picker added: it's now possible to use either uploaded image or selected color
Version 3.9.12
-
February 11, 2015
– Optimisation of settings block
Version 3.9.11
-
January 22, 2015
– Possibility to display price for configurable products in "From X.YY" to comply to law in some countries requiring to display price variation
Version 3.9.6
-
October 27, 2014
– Indexing implemented to improve speed on category pages
– Minor improvements
Version 3.9.2
-
August 20, 2014
– Cross out unavailable items with white line
Version 3.9.0
-
August 07, 2014
– Swatch settings moved to attribute edit page (separate settings for each configurable attribute)
– New tooltips for swatch mouse over
– Possibility to display zoomed image on mouse over
Version 3.8.8
-
June 26, 2014
– Tested with latest Magento CE 1.9 release.
Version 3.8.7
-
April 11, 2014
– Code refactoring and optimization
Version 3.8.6
-
February 20, 2014
– Minor bugfix for zoom component.
Version 3.8.5
-
January 31, 2014
– Speed improvements
– Product thumbnail size setting for category page
– Minor bugfix
Version 3.8.4
-
December 02, 2013
– Better compatibility with 3-rd party extensions
– Minor bugfix
Version 3.8.3
-
November 24, 2013
– Code refactoring and performance optimization
– Database optimization
Version 3.8.2
-
October 29, 2013
– Fix for incorrect special price when reloading product
– Minor CSS fix for zoom component
Version 3.8.1
-
October 17, 2013
– Compatibility with 3-rd party zoom plugins improved
– Now it's possible to enable zoom for all types of products
– Incorrect installation script file deleted
Version 3.8.0
-
October 16, 2013
– Zoom component replaced with more efficient and powerful
– Zoom functionality totally refactored
– Zoom now supports mobile devices
– Bug fix for category page compatibility
– Better compatibility with 3-rd party extensions
Version 3.7.7
-
September 30, 2013
– Code optimization.
Version 3.7.6
-
July 04, 2013
– Bugfix of price processing.
Version 3.7.4
-
July 04, 2013
– Speed improvement and code refactoring.
Version 3.7.1
-
June 25, 2013
– "Title" and "alt" attributes added to image elements.
Version 3.6.2
-
June 04, 2013
Version 3.6.1
-
May 24, 2013
– Ability to take price of associated simple products for options of configurable products.
– Automatic selection of attributes if only one option is available + setting.
Version 3.5.7
-
May 08, 2013
– Empty upload fields are now disabled to avoid limit overhead.
Version 3.5.5
-
April 12, 2013
– Translation fix.
Version 3.5.4
-
March 06, 2013
– Bugfix for titles.
Version 3.5.3
-
February 21, 2013
– Fix for incorrect table name.
– Fix for reloading images with 3 or more attributes.
Version 3.4.2
-
February 12, 2013
– Code optimization and improved compatibility with 3-party extensions and design themes.
Version 3.3.0
-
February 05, 2013
– Ability to use images from simple products for swatches.
Version 3.2.2
-
January 10, 2013
– Bugfix of reload of images when first attribute selected.
– Fix for lightbox/zoom in IE7/8.
Version 3.2.0
-
November 05, 2012
– Effects for image changes.
– Bugfix for IE.
– Minor design modifications.
Version 3.0.2
-
October 31, 2012
– Display of attribute icons on category pages.
– Ability to select options and add configurable products to cart right from the category page.
– Product images on category pages are reloaded when some configuration is selected.
Version 2.0.2
-
October 09, 2012
– Fix of compatibility issue with Product Labels.