Customer Group Catalog
for Magento 1
Manage visibility of specific categories and products by customer groups. Configure product price visibility on product and category pages.
Set access to catalog pages based on your business needs
Hide price block and 'add to cart' button
Use a cms-block instead of price
Redirect to a CMS page or show 404 error for products
Remove product and category links
Manage catalog display according to your needs
Hide categories and products from customers depending on their customer groups
It often happens that you need to show several products to certain visitors of your store and hide them from other ones. How to manage private sales quickly and efficiently? The answer is in this extension. Easily restrict display of products and categories for different customer groups, specify restriction actions, like redirect to 404 page, some CMS page, replace Add to cart button with Magento Call for price message etc.
Achieve your business goals
You may need to restrict access for some customer groups to certain products or categories for business or legal reasons. Use the extension to show relevant Magento 1 customer groups prices for each particular customer segment, sell more and benefit from it. Avoid legal problems. Also that is a nice way to manage wholesalers and retailers you deal with.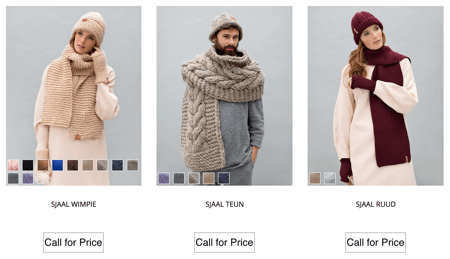 Hide the price to boost your sales
Let's say you have a sophisticated product which really requires a live contact with customers to be sold. To hide price in Magento and stimulate customers to contact you directly you can add to Magento the call for price block. The call for price feature is also efficient when you organize presales.
Redirect certain customers from product pages to a CMS-page or 404 page
When a customer comes to the page restricted for him, you can redirect him to 404 page or CMS page. You can leave explanations on the issue on these pages, e.g. "These items are available only for registered customers. Please register to have full access to this catalog" or "This category is available only for wholesalers. Partner with us to get access to these items". By telling customers that certain categories are for certain customer groups only, you motivate them to take the actions you need (i.e. to register).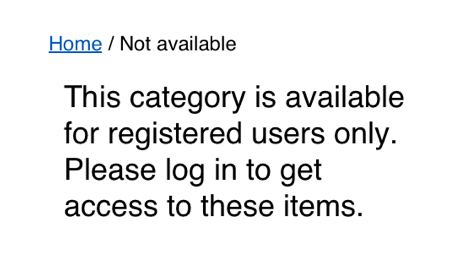 Use custom variables in CMS-blocks
Since now you can inject any custom variable you need into a cms static block, e.g. you can display the store url or an address, indicate sales representative contact name or email as well as add hyperlinks to product images and categories.
Use a wide range of filters
In addition to standart Magento Enterprise functionality that enables filtering by product category, Customer Group Catalog extension allows you to apply filters in all possible lists of products such as: search results, related products, cross-sells, up-sells, category filtering, as well as custom blocks with products lists.
Configure the actions restricted for certain Magento 1 customer groups
Highly adjustable actions to serve your needs:
Hide price in Magento as well as the 'Add to cart' button
Replace the price with CMS block on product view and/or category pages
Hide category and product links
Hide products from category pages with possibility to give direct product links to customers
Ability to redirect customers, who have no category permissions
You can show 404 page or a special CMS page to customers who try open product or category pages restricted for their customer group.
There are several solutions you may also be interested in
With Shipping & Payment by Customer Groups extension you can set access to payment and shipping methods by customer groups. Fulfill your business goals easily.

Custom options for customer groups module allows to offer individual custom options for each group and set individual prices for each group.

With Sales Reps and Dealers extension you get great chance to control your managers efficiently by assigning customers to sales reps and dealers, so they can manage only their customers and create orders for them.
Product questions

Can I set up customer group restrictions by category, product and pricing?

Yes, you can set up customer group restrictions and create rules to restrict particular customer groups from seeing certain products, categories or prices/"Add to Cart" button.

Can a custom block be shown instead of the price?

Yes, you can create a Magento custom price block using default Magento functionality and put instead of the price.

Can a restricted product/category be accessed via a direct link?

The extension allows for hiding and showing product and category links. You can give direct product links while hiding products from category pages. See the screenshot to make all the settings correctly.

Will the restrict category be hidden on the navigation menu/category filter?

Yes, sure. The extension allows you to hide a category. You can also hide all empty categories. The link to the restricted category will be shown neither on the navigation menu not on category filter.

Is it possible to find restricted products via site search?

The extension helps you to hide products from search. Thus, restricted products are not shown in the search results.

What if a product belongs to two categories and one of them is restricted?

In such a scenario a product won't be visible in both categories even if one of them is not restricted.

Can this extension change the price depending on the customer group a user belongs to?

No, the module does not have such functionality. However, the extension allows for creating a customer group discount, a 'call for price' block instead of showing the price, as well as removing the 'Add to Cart' button.
Other Features
100% Open Source — Easy To Customize
Follows Magento Code Architecture
Separated HTML/CSS/JS
Simple installation via Composer
* The name "Magento" and the logo are the trademarks of Magento, Inc.
Not brilliant but works
You don't have any way of controlling what rules affect new products added after the rules are created. Apart from that it works fine and useful you have a CMS page to redirect to as well.
Amasty answer
Sep 17, 2018
Natalya Chekanina
/ Head of Sales Team
Hi there! Thank you for your review! We would be happy to see you in our store again!
3 modules in one pack
This module is a real catch for vendors like me. We run our store for both wholesale and retail customers, so the option to regulate prices for different customer groups was like a breath of fresh air. Apart from that the ability to hide price appeared to be very useful as well.

The support team did their best and assisted in the module configuration. We are happy with the purchase!
I'm totally satisfied
The module is ok, but the support is even better! They never hide their heads in the sand and are ready to acknowledge their slips and immediately eliminate them, unlike many other developers who seem to forget about you once you paid for their extension. So, they are very serious guys whom you can trust.
Higher than average
I was really surprised when the app stared working right out of the box. It ideally suited my custom theme and ran flawlessly without any issues. But when I updated Magento version up to 1.9.1 and changed my current theme, the app refused working properly.

Fortunately, the support appeared to be very helpful and fixed everything within a couple of hours. Anyway, you never know whether the app will work for this or that custom theme on not - it's like a lottery game. That's why I give this app only 4 stars.
Great deal
While others purchase call for price or hide price plugins, we simply enjoy using all these and other features in this plugin. I think the price is absolutely reasonable for its quality. We've been running the plugin for 3 months and it works like a charm! Keep on working guys, we do love your plugins ;)
Does what is says and more!!!
The extension is simple to configure and works as documented... When we required some tweaking due to our custom theme the developers bent over backwards to get things working just the way we wanted...
Great extension, great support!!!
gartlans
Magento Connect

Handy tool for reasonable price!
Easy to use, very helpful tool. This is the first time when I've managed to do all the settings by myself without contact support. The plugin is really good and definitely worth the money I paid for it.
Perfect functionality
I investigated different module for such functionality. In Amasty I like that I can both manage products and categories as well as do different manipulations with the price. My store is contacting both with retailers and wholesalers - we devide the catalog to suit the needs of both customer groups.
OMG! We sell more with this extension!
Some time ago we had a problem. Customers came to a product page, spent much time on the page but didn't perform a purchase. We also have a physical store and sales managers, so we decided to make the customer call us. How? - was the next question. We removed price from the page and tested different Call-to-Actions instead of it. And one of our attempts was successfull!!!

Thanks to this extension that we could bring marketing dreams into technical reality.
Brillian support from amasty
Usefulness
5 / 5
Functions as Described
5 / 5
Developer Support
5 / 5
Had an issue with category being visible after that was disabled with this module. All the other blockings worked fine. Amasty fixed the compatability issue that was causing the issue on my custom theme.

GREAT support and a brilliant module for those that need this functionality.
Are you looking to add specific functionality for this extension or want to acquire a reliable development partner altogether? With custom development services by Amasty, you will receive high quality and cost-effective solutions developed by Magento professionals according to industry's best practices.
CE 1.4.x - 1.9.x, EE 1.8.x - 1.14.x
You can always download the recent version free of charge from your account
Installing an upgrade is easy — check now
My Downloads
Version 2.3.11
Last Update: Feb 06, 2019
Compatibility the compatibility with Amasty 'Customer Segments' extension was enhanced
Fix the issue with showing prices on a search page was fixed
Fixed an issue with the forbidden direct product links
Fixed an issue with already existing registry key
Fixed an issue with products display that assigned to different categories and one of them is restricted
Fixed an issue with excluding products from restricted categories
Fix for restriction by category
Minor improvement for restricting product in multiple categories
New setting added under the "Category Access Restriction" to specify action for selected categories: either restrict them or allow
Compatibility with Infortis theme
Major performance improvement
Compatibility improvement
New block of settings to specify CSS selectors for better support of custom themes
Version 2.2.3
Last Update: Sep 06, 2016
Better Layered Navigation compatibility
Minor admin UI improvements
Stability fixes
Compatibility fix for older PHP versions
Integration with Customer Segments extension
General workflow improvements
Version 2.1.3
Last Update: Nov 05, 2015
Minor performance improvements
Admin routing patch (SUPEE-6788) compatibility
Workflow improvements for better compatibility and usability
Improvements for add to cart restrictions
Minor code improvements
Version 2.0.17
Last Update: Jul 15, 2015
Fixed ACL for Magento security patch 1.9.2.0
Fixed issue with hiding price when no replacement block selected
Added check for all product categories instead of upper one on load category checks
Improvements for "List View" and "Compare Products" pages
Added support for CMS block variables (like {{store_url}})
Bug fix: in some cases all products in a category were hidden instead of specified one
Logic improvement for hiding unavailable products
Improvements of handling products on search results page
Improvements for "Infortis" theme
Version 1.0.2
Last Update: Oct 25, 2013
Correct support of multiple store views
Compatibility with 3-rd party top menu extensions