Manage catalog display according to your needs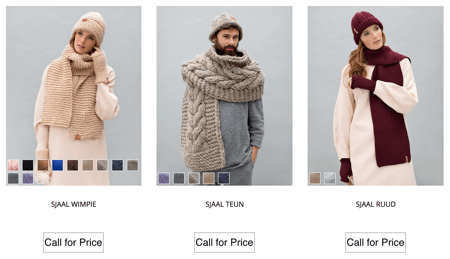 Hide categories and products from customers depending on their customer groups
It often happens that you need to show several products to certain visitors of your store and hide them from other ones. How to manage Magento private sales quickly and efficiently? The answer is in this extension. Easily restrict display of products and categories for different customer groups, specify restriction actions, like redirect to 404 page, some CMS page, replace Add to cart button with Magento Call for price message etc.
Achieve your business goals
You may need to restrict access for some customer groups to certain products or categories for business or legal reasons. Show relevant Magento customer group prices for each particular customer segment, sell more and benefit from it. Avoid legal problems. Also that is a nice way to manage wholesalers and retailers you deal with.
new!

Hide the price to boost your sales

Let's say you have a sophisticated product which really requires a live contact with customers to be sold. To hide price in Magento and stimulate customers to contact you directly you can add to Magento the call for price block. The call for price Magento feature is also efficient when you organize presales.
Redirect certain customers from product pages to a CMS-page or 404 page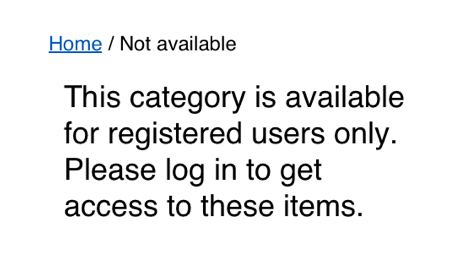 When a customer comes to the page restricted for him, you can redirect him to 404 page or CMS page. You can leave explanations on the issue on these pages, e.g. "These items are available only for registered customers. Please register to have full access to this catalog" or "This category is available only for wholesalers. Partner with us to get access to these items". By telling customers that certain categories are for certain customer groups only, you motivate them to take the actions you need (i.e. to register).
Configure the actions restricted for certain Magento customer groups
Highly adjustable actions to serve your needs:
Hide price in Magento as well as the 'Add to cart' button
Replace the price with CMS block on product view and/or category pages
Hide category and product links
Hide products from category pages with possibility to give direct product links to customers
new!

Ability to redirect customers, who have no category permissions

You can show 404 page or a special CMS page to customers who try open product or category pages restricted for their customer group.
Example of category page shown to different customer groups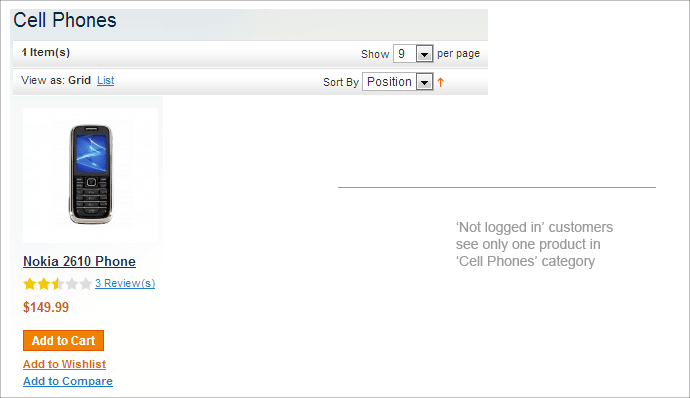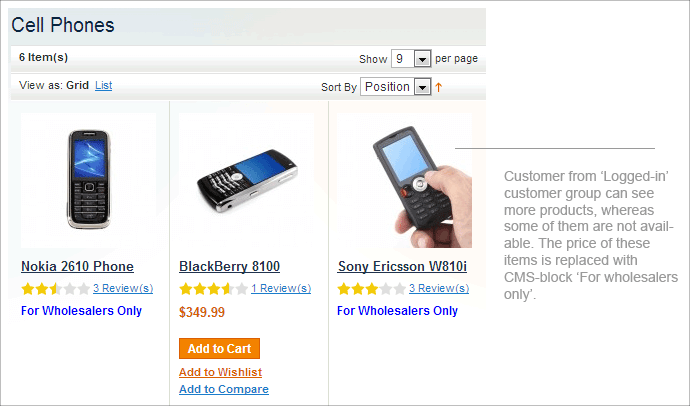 There are several solutions you may also be interested in
With Shipping & Payment by Customer Groups extension you can set access to payment and shipping methods by customer groups. Fulfill your business goals easily.

Custom options for customer groups module allows to offer individual custom options for each group and set individual prices for each group.

With Sales Reps and Dealers extension you get great chance to control your managers efficiently by assigning customers to sales reps and dealers, so they can manage only their customers and create orders for them.
7 reasons to choose
Risk-free Investment
30-day moneyback guarantee for all extensions. No questions asked.
Comprehensive Documentation
There is a detailed user guide with examples even for tiny addons. FAQ section and videos also available.
Solutions Which Work
Careful in-house testing ensures you get robust applications. Multiple stores support. Custom themes compatibility. All included.
Outstanding Support
Our support service is friendly and of high quality. And it is free. Unbelievably. Just check independent reviews at Magento Connect.
Usability and Performance
Nice and easy to use interfaces. Fast algorithms. Save your time and get things done.
Flexible and Easy Licensing
No product or store view or domain limits. No monthly fees. No hidden charges. One extension license for one Magento installation.
Long Term Strategy
We've been in the market for 5+ years. We're proud to be a Bronze partner and are planning to stick to Magento platform for years ahead. We're doing our best to build extensions which maximize effectiveness of your business. We're open to customers' suggestions and constantly update our products to match your needs.
Other Features
100% Open Source — Easy To Customize
Follows Magento Code Architecture
Separated HTML/CSS/JS
W3C Validated Code
Online Extension User Guide
Questions & Answers
Customer Reviews
Handy tool for reasonable price!

Review by

Rahid Ben

Easy to use, very helpful tool. This is the first time when I've managed to do all the settings by myself without contact support. The plugin is really good and definitely worth the money I paid for it. (Posted on 6/1/14)

Perfect functionality

Review by

Brad

I investigated different module for such functionality. In Amasty I like that I can both manage products and categories as well as do different manipulations with the price. My store is contacting both with retailers and wholesalers - we devide the catalog to suit the needs of both customer groups. (Posted on 9/5/13)

OMG! We sell more with this extension!

Review by

Hel

Some time ago we had a problem. Customers came to a product page, spent much time on the page but didn't perform a purchase. We also have a physical store and sales managers, so we decided to make the customer call us. How? - was the next question. We removed price from the page and tested different Call-to-Actions instead of it. And one of our attempts was successfull!!!

Thanks to this extension that we could bring marketing dreams into technical reality. (Posted on 9/5/13)

Brillian support from amasty

Review by

BrotherMouzone

Usefulness
5 / 5
Functions as Described
5 / 5
Developer Support
5 / 5
Had an issue with category being visible after that was disabled with this module. All the other blockings worked fine. Amasty fixed the compatability issue that was causing the issue on my custom theme.

GREAT support and a brilliant module for those that need this functionality. (Posted on 7/19/13)
Write Your Own Review
Version 2.0.12
-
Feb 12, 2015
– Bug fix: in some cases all products in a category were hidden instead of specified one
Version 2.0.11
-
Feb 11, 2015
– Logic improvement for hiding unavailable products
Version 2.0.10
-
Feb 05, 2015
– Improvements of handling products on search results page
– Improvements for "Infortis" theme
Version 1.0.2
-
June 25, 2014
– Tested with the latest Magento CE 1.9 release.
Version 1.0.2
-
Oct 25, 2013
– Correct support of multiple store views
– Compatibility with 3-rd party top menu extensions