Customer Group Catalog for Magento 2

|

v1.3.2
Screenshots:
From time to time for business or legal reasons, you may need to hide some products from certain customer groups and show them to the other ones. With the help of the Magento 2 customer group extension, you can manage private sales quickly and efficiently. For example, you can easily hide pricing for certain Magento 2 customer groups or replace it with a custom CMS-block. At the same time, it is possible to set the 'Call for price' block instead of 'Add to cart' button or redirect users from hidden pages to 404 page or CMS-pages.
Adjust products display to your business needs
Use 'Call for price' block to increase your sales
Let's say you present products, which are usually sold using visitors direct contacts. In this case, you can replace the price with a 'Call for price' CMS-block. This feature also can be useful when you organize presales.
Use custom variables in CMS-blocks
It is possible to insert any custom variable into a CMS static block such as a website address or URL, contacts of the sales department or hyperlinks to product categories and images.
Redirect customers to certain CMS-pages
You can redirect store users to a custom CMS-page or to a 404 page based on their Magento 2 customer group. For example, when an unregistered customer enters the certain product category, he/she gets a warning message like: "For registered users only. Please sign in to see full product information". This way you motivate customers to implement the actions that are essential for you - e.g. to register, fill in a retailer or a wholesaler profile etc.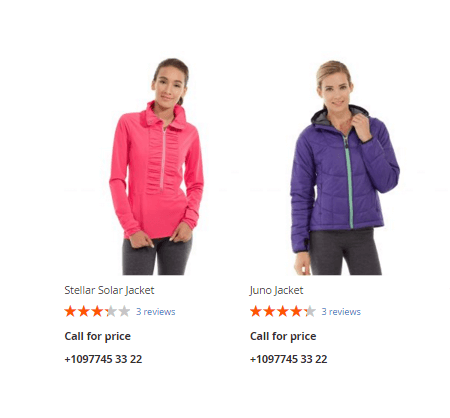 Restrict actions based on customer groups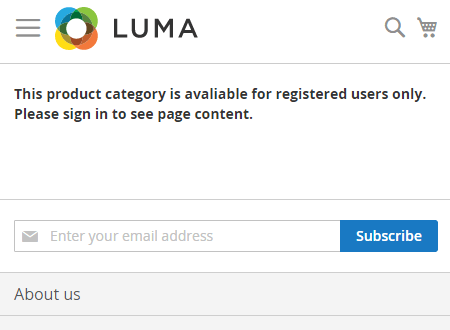 Easily configurable actions to meet your needs
new!

Hide 'Add to cart' button;
Hide product price;
Restrict access to product categories;
Disable direct links to product pages;

new!

Apply a rule to several store views at the same time;
Hide navigation attributes which have all products restricted;
Put a custom CMS-block on the product view or category page instead of the price;
Give direct links to products that are hidden from category;
Redirect the users who can't access the category
If the product category is restricted to a specific Magento 2 customer group you can redirect the users from this group to a certain CMS-page or to the 404 page.
You can combine customer attributes when you set conditions for logged in customers.
Other Features
100% Open Source — Easy To Customize
Follows Magento Code Architecture
Separated HTML/CSS/JS
W3C Validated Code
* The name "Magento" and the logo are the trademarks of Magento, Inc.
Useful extension
Extension works well. Had a few issues with my custom theme and the tech guys have fixed it for me right away. This is my third Amasty extension. They have all worked great! Thank you!
Need faster support
The mod works ok, however it took me some time to fine tune the settings. I wrote to support a few times, the managers were helpful but quite slow to reply which was a little disappointing.
Support Configuring Extensions
Ten out of Ten. The support team is very efficient, knowledgeable and above all have got tons of patience. I have bought many Amasty extensions for M1 and now moving on to M2 we still keep on buying Amasty extensions. They have got a great bunch of extensions which meet our requirements. They are innovative and do bring out some good functioning extensions. I am very happy to recommend Amasty and the whole support team wholeheartedly. Great company and great people.
very good support
Kiril Osipov is a very friendly support manager, and I was happy to work with him. He answered all my questions before and after the purchase.
There was a glitch with products visibility because my theme is free. Amasty fixed the issue and explained why my theme is not very good. I changed the theme and some other glitches are now gone.
Your help is very appreciated by small business owners that are not technical specialists.
Write Your Own Review
Version 1.3.2
-
September 26, 2017
– Fixed the issue when restrictions were not applying instantly after customer creation
Version 1.3.1
-
August 23, 2017
– Magento 2.2 compatibility introduced
Version 1.3.0
-
August 21, 2017
– Added Customer Conditions tab
– Compatible with Amasty Customer Attributes extension
– Added Customer index for the Group Catalog Rule
– Compatibility with Magento 2.1.8 improved
Version 1.2.9
-
July 31, 2017
– JS error fix in Conditions
Version 1.2.8
-
May 23, 2017
– Minor fixes
Version 1.2.7
-
March 31, 2017
– Better compatibility with custom themes
– Few observers added for better extension customization possibilities
Version 1.2.6
-
March 21, 2017
– Fix for situation when there are no CMS blocks created in Magento
– Minor improvement for handling errors
Version 1.2.5
-
March 06, 2017
– Minor fix for indexer
Version 1.2.4
-
February 23, 2017
– Minor fix for flat catalog
Version 1.2.3
-
February 20, 2017
– Improvement for flat catalog mode
Version 1.2.2
-
February 13, 2017
– Usability improvement for store select component
Version 1.2.1
-
January 13, 2017
– Minor fix for applying rules to all store views
Version 1.2.0
-
December 14, 2016
– Major refactoring of the extension code to improve performance and compatibility
– New feature to allow to hide add to cart button while showing price
– New feature to allow to set priority for the rules
– Layered navigation filters now exclude restricted products which results into correct count value
– Improvements for database architecture to improve speed
– Now rule can affect several stores
Version 1.1.5
-
November 17, 2016
– Extension workflow improvements for cached data for different customer groups
Version 1.1.4
-
November 04, 2016
– Fixed installation error on some Mysql versions
Version 1.1.3
-
November 04, 2016
– Minor fix for extension installation file
Version 1.1.1
-
July 15, 2016
– Fix for caching add to cart button
Version 1.1.0
-
June 28, 2016
– Attributes in navigation, which have all products restricted, will be removed
– Improvements for pages with layered navigation
– Tested for Magento 2.1
Version 1.0.6
-
June 17, 2016
– Improvements for single-store installations
Version 1.0.5
-
June 08, 2016
– Bugfix for processing rules on stores with a large number of customer groups
Version 1.0.4
-
June 07, 2016
– Minor improvement
Version 1.0.3
-
June 01, 2016
– Minor improvement for translation file
Version 1.0.2
-
May 30, 2016
– Fix for related block for configurable products
– Fix for "Missing array key" error
Version 1.0.1
-
May 26, 2016
– Minor improvement