Customer Group Catalog
for Magento 2
Kick-start your selling strategy. Manage price & catalog visibility for particular customer groups to meet the needs of each segment.
Provide selective access to the store catalog
Hide 'Add to cart', 'Add to wish list' and other buttons
Replace product prices with CMS blocks or images
Negotiate about prices via a quote form
Auto-assign customers to groups
Reindex from the admin panel
Challenge
The establishment of long-term relations with clients is a long way to go, but still, there are some tricks to speed up this process. Particularly, differentiated offerings are the key to show your professionalism and individual approach. Vanilla Magento has customer groups for this purpose, but it is impossible to distinguish price visibility and special catalogs based on the groups.
Solution
Magento 2 Customer Groups Catalog gets your offer accepted connecting the right offer with an "ideal" prospect. With a mere shifting of settings, you can hide or show multiple magento 2 product prices for certain groups of shoppers, create special catalogs to be visible for selected segments and gather customers' requests for discounts.
Bring your customer service to a new level
Build loyalty among regular clients: offer special deals to an individual client or all the members of a customer group
Improve reputation: build a positive brand image and raise your customer conversion by tailoring your catalog to specific needs of each group
Reduce expenses: hide prices and collect quote requests to analyze the demand and identify the needs of each group
Automatically move buyers between groups
Reduce manual tasks by switching customer groups automatically. Customer Group Auto Assign functionality is included in the extension to simplify your customer base management.
Reindex from admin panel
Timely apply the changes and keep information up-to-date. With the included Reindex from Admin, you can manage reindexation without the command line. Just click the 'Reindex All' button and check relevant statuses in the admin panel.
Establish a one-to-one approach
A personal pricing system and individual approach in a Magento 2 store is provided by Customer group pricing rules. Create multiple rules to customize your catalog view for specific needs and give your 'club members' additional possibilities. You can configure special contract price visibility per an individual user to personalize marketing campaigns and show that you care about the clients.
Replace prices with custom text
Collect quotes via a built-in form
Create special catalogs for specific groups
Hide product info and buttons
Replace prices with custom text
To check the demand and stimulate negotiations, you can grant selective access to the price information. Set the visibility restrictions based on Magento 2 customer groups and replace prices with text, phone number, etc. For example, hide the cost from guest visitors and motivate them to contact you or to register.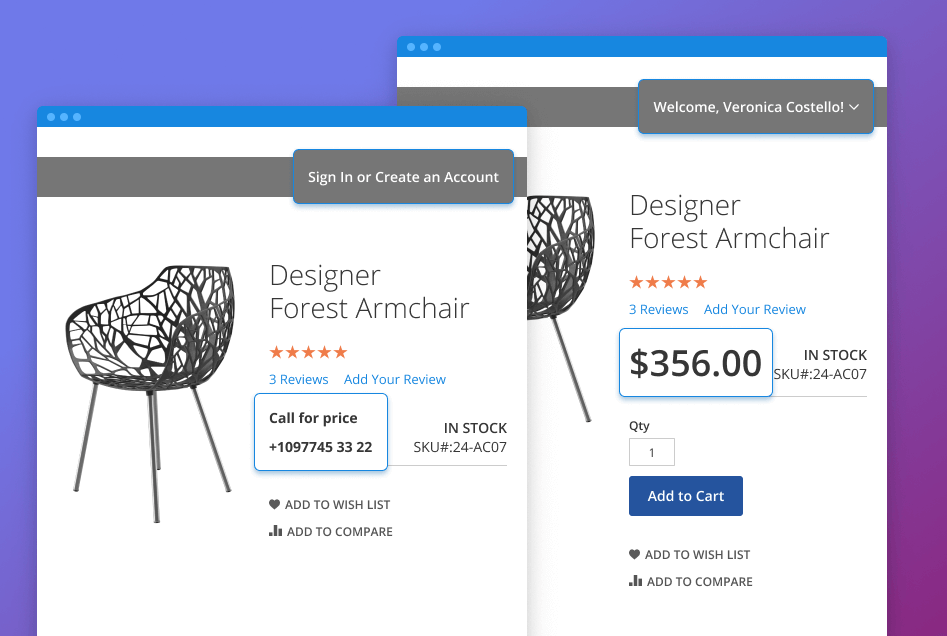 Collect quotes via a built-in form
You can replace the price with a special 'Get a Quote' button. When shoppers click this button, the next thing they see is a popup where they can enter the amount they're ready to pay for this product or leave a comment. Thus, you can build an individual and a customer-oriented pricing strategy for Magento 2 customer groups.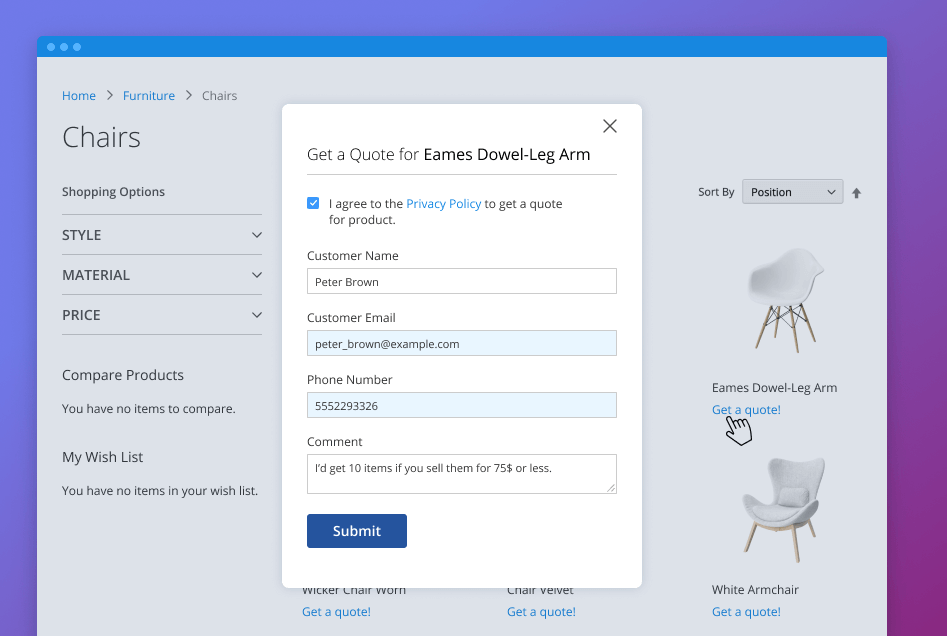 Create special catalogs for specific groups
Apply a high-level personalization: make specific Magento 2 categories and products visible to particular customer groups only. It's the way to provide special catalog offers, run magento private sales and grant extra possibilities to your 'club members'.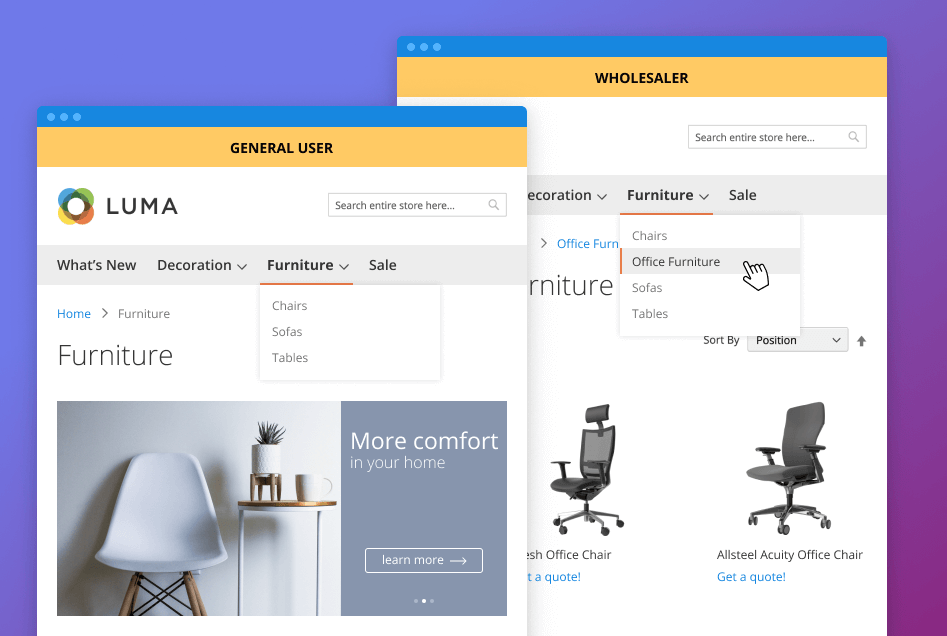 Hide product info and buttons
Apart from hiding the price from Magento 2 groups, you may also hide 'Add to Cart', 'Add to Compare' and 'Add to Wishlist' buttons. By setting the restrictions for Magento 2 customer groups, you can motivate shoppers to perform the actions you need (e.g. register, sign up for a newsletter and so on) before they get all the functionality.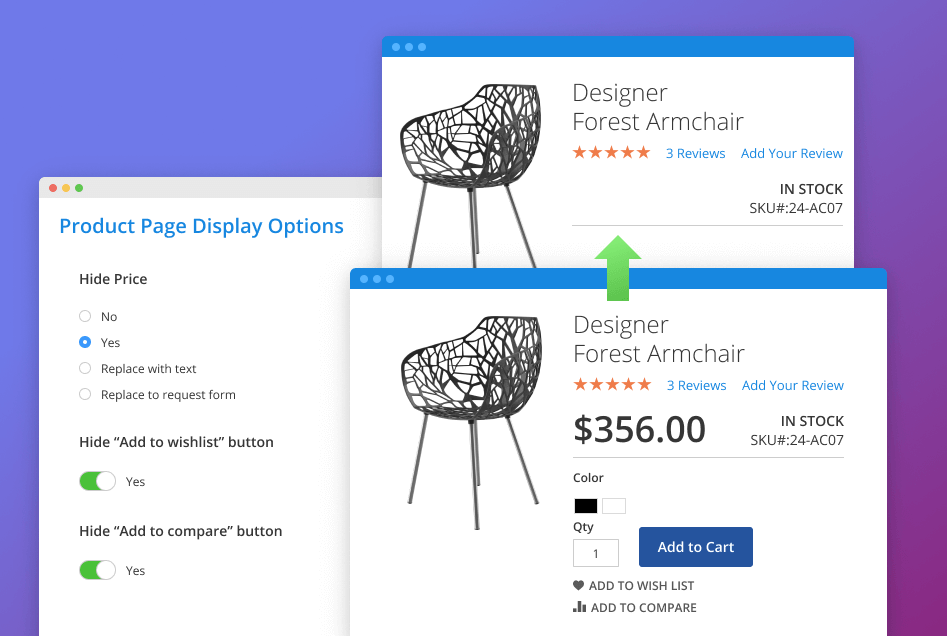 Advanced filtering and management options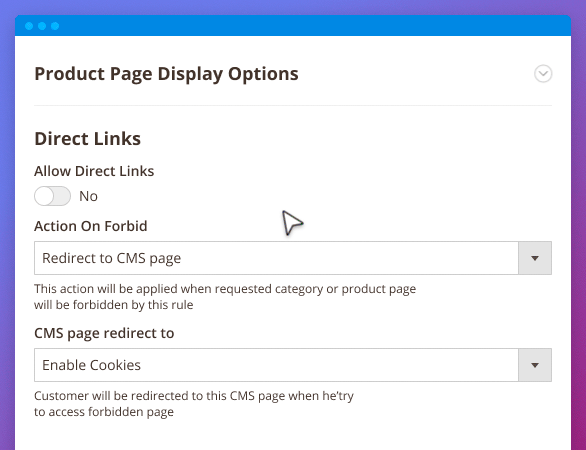 NEW: Preview product page changes during the rule configuration
Use customer, category and product condition trees to build precise limitations
Allow direct links or set redirects by customer groups for restricted Magento 2 product pages
View and manage all collected quotes in a separate grid
Replace prices with custom images to catch the attention or adjust frontend options to match a webstore design
Create Catalogs for B2B Company Accounts
Customer Group Catalog is fully compatible with Amasty Company Accounts extension for Magento 2. Specify the required companies in the conditions tree to create the most sophisticated rules for your B2B clients.
6 features for extra profit
#1. Custom themes compatibility
This extension is fully compatible with 3rd-party Magento 2 design themes. Hence, these themes will not affect the module features. You can hide prices on particular pages with any custom design you choose.
#2. Advanced events support
To achieve the desired catalog structure, you may utilize advanced customer group conditions. With this extension, you can rely on the code quality and the events support.
#3. Fast catalog search
According to stats, about 79% of visitors will leave your store and never come back if they face low site performance. Our extension is designed to save your server resources keeping the lightning-fast catalog search.
#4. Multiple indexers support
On average, a 1-second delay results in a 7% reduction in conversion to purchase. The module comes equipped with 3 indexers to ensure a high page loading speed.
#5. Force sign in
By configuring products and cost visibility to registered users only, you can motivate your visitors to create customer accounts. This, in turn, will bring your prospects closer to get the shopping done.
#6. Private sales
You can't market to everyone equally well. However, you can apply a customized price approach to multiple Magento 2 customer groups. By meeting specific group needs, you can win more sales and build more sustainable relationships.
Involve customers into negotiations
Choose the solution according to your business needs
Hide Price
Manage prices display
$169
Hide prices for particular products
Remove prices for product categories
Show prices to specific customer groups
Disable the 'Add to Cart' option
Customize the 'Add to Cart' button
Gather customer's data with a pop-up
Request a Quote Make personalizes offers $319
Enable adding to quote from any page
Allow guests to add products to quote
Let buyers suggest custom prices
Auto-approve quote requests
Create quotes from orders
Set quote expiry date
Auto-send quote expiry reminders
Apply additional discount or surcharge
Customer Group Catalog Adjust Catalog Visibility $229
Show prices to specific customer groups
Hide 'Add to cart' and other buttons
Replace price with CMS block or image
Povide selective access to site pages
Redirect customers to any store page
Create custom rules for price display
Configure price range for a new rule
What is Magento 2 customer group?
Magento 2 customer group is a tool that allows you to split your customer base into different segments based on their attributes like gender, age, address, etc. By default, you have 3 groups: General, Not Logged In, and Wholesale, but you can create custom ones. Based on these segments, you can create personalized offers and marketing activities. Moreover, a customer can be a member of multiple groups, which offers flexibility to store owner.
According to the statistics, the extension can cover each business need in synergy with the following solutions: magento 2 add customer attribute and magento 2 cookie notice extension.
Other Features
100% Open Source — Easy To Customize
Follows Magento Code Architecture
Separated HTML/CSS/JS
Simple installation via Composer
* The name "Magento" and the logo are the trademarks of Magento, Inc.
Good extensions for your Magento shop
Yourbeef, Manager
I've been using several extensions for several years, and they work. Good extensions for your Magento shop
Amasty answer
Jul 06, 2020
Natalya Chekanina / Head of Sales Team
Thanks, Stefan, for being our loyal customer and for trusting us! Happy to see that the extensions have been useful for you, and we'll be happy to see you in our store again.
I reccomend it to all our clients!
Pluma Studio, CEO
This extension is easy to use and I reccomend it to all our clients. We are iusing it for 4 month already.
Amasty answer
Mar 20, 2020
Natalya Chekanina / Head of Sales Team
Hi Andrea! Thank you for choosing Amasty Customer Group Catalog for Magento 2. We would be happy to see you in our store again!
Good and user friendly
CMITECH, BA
I've been using Customer Group Catalog for almost 1 year. I can reccomend it to all my B2B clients. This extention is good and user friendly.
Amasty answer
Jan 16, 2020
Natalya Chekanina / Head of Sales Team
Dear Dominic, thank you so much for your feedback! We would be happy to see you in our Amasty Store again!
Great extension does what it promises
BM, Owner
This is a great extension. It does what it promises and much more.
Amasty answer
Dec 12, 2019
Natalya Chekanina / Head of Sales Team
Dear Sean, thank you for your review! We would be happy to see you in our store again!
Useful extension
Extension works well. Had a few issues with my custom theme and the tech guys have fixed it for me right away. This is my third Amasty extension. They have all worked great! Thank you!
Need faster support
The mod works ok, however it took me some time to fine tune the settings. I wrote to support a few times, the managers were helpful but quite slow to reply which was a little disappointing.
Support Configuring Extensions
Ten out of Ten. The support team is very efficient, knowledgeable and above all have got tons of patience. I have bought many Amasty extensions for M1 and now moving on to M2 we still keep on buying Amasty extensions. They have got a great bunch of extensions which meet our requirements. They are innovative and do bring out some good functioning extensions. I am very happy to recommend Amasty and the whole support team wholeheartedly. Great company and great people.
very good support
Kiril Osipov is a very friendly support manager, and I was happy to work with him. He answered all my questions before and after the purchase.
There was a glitch with products visibility because my theme is free. Amasty fixed the issue and explained why my theme is not very good. I changed the theme and some other glitches are now gone.
Your help is very appreciated by small business owners that are not technical specialists.
3 modules in one pack
This module is a real catch for vendors like me. We run our store for both wholesale and retail customers, so the option to regulate prices for different customer groups was like a breath of fresh air. Apart from that the ability to hide price appeared to be very useful as well.

The support team did their best and assisted in the module configuration. We are happy with the purchase!
I'm totally satisfied
The module is ok, but the support is even better! They never hide their heads in the sand and are ready to acknowledge their slips and immediately eliminate them, unlike many other developers who seem to forget about you once you paid for their extension. So, they are very serious guys whom you can trust.
Higher than average
I was really surprised when the app stared working right out of the box. It ideally suited my custom theme and ran flawlessly without any issues. But when I updated Magento version up to 1.9.1 and changed my current theme, the app refused working properly.

Fortunately, the support appeared to be very helpful and fixed everything within a couple of hours. Anyway, you never know whether the app will work for this or that custom theme on not - it's like a lottery game. That's why I give this app only 4 stars.
Great deal
While others purchase call for price or hide price plugins, we simply enjoy using all these and other features in this plugin. I think the price is absolutely reasonable for its quality. We've been running the plugin for 3 months and it works like a charm! Keep on working guys, we do love your plugins ;)
Does what is says and more!!!
The extension is simple to configure and works as documented... When we required some tweaking due to our custom theme the developers bent over backwards to get things working just the way we wanted...
Great extension, great support!!!
gartlans
Magento Connect

Handy tool for reasonable price!
Easy to use, very helpful tool. This is the first time when I've managed to do all the settings by myself without contact support. The plugin is really good and definitely worth the money I paid for it.
Perfect functionality
I investigated different module for such functionality. In Amasty I like that I can both manage products and categories as well as do different manipulations with the price. My store is contacting both with retailers and wholesalers - we devide the catalog to suit the needs of both customer groups.
OMG! We sell more with this extension!
Some time ago we had a problem. Customers came to a product page, spent much time on the page but didn't perform a purchase. We also have a physical store and sales managers, so we decided to make the customer call us. How? - was the next question. We removed price from the page and tested different Call-to-Actions instead of it. And one of our attempts was successfull!!!

Thanks to this extension that we could bring marketing dreams into technical reality.
Brillian support from amasty
Usefulness
5 / 5
Functions as Described
5 / 5
Developer Support
5 / 5
Had an issue with category being visible after that was disabled with this module. All the other blockings worked fine. Amasty fixed the compatability issue that was causing the issue on my custom theme.

GREAT support and a brilliant module for those that need this functionality.
Are you looking to add specific functionality for this extension or want to acquire a reliable development partner altogether? With custom development services by Amasty, you will receive high quality and cost-effective solutions developed by Magento professionals according to industry's best practices.
2.3.6, 2.3.6-p1, 2.4.0-p1, 2.4.1, 2.4.1-p1, 2.4.2
You can always download the recent version free of charge from your account
Installing an upgrade is easy — check now
My Downloads
Version 1.7.6
Last Update: Jun 16, 2021
1.7.6 - Jun 16, 2021:
Improvement we corrected the tooltip image for product conditions in Customer Group Catalog rules
1.7.5 - Jun 02, 2021:
Fix we fixed the issue on frontend
1.7.4 - May 31, 2021:
Compatibility we improved compatibility with Amasty Customer Attributes
1.7.3 - Mar 18, 2021:
Fix we fixed the issue with the validation of index existence in the code
1.7.2 - Feb 25, 2021:
Improvement code was refactored according to Magento Marketplace standards
1.7.1 - Feb 19, 2021:
Improvement we implemented the performance enhancement for indexing
Fix we resolved the problem occurred when saving a rule in Admin panel with a big amount of customers
Fix we fixed the issue with API
1.7.0 - Dec 21, 2020:
Improvement we added the standard controls to the grid with rules for you to sort and filter the list, and apply actions to selected rules
Improvement now you can see how the settings for Product Page Display Options are presented on the product page
Compatibility now the extension is compatible with Magento 2.3.5+ and 2.4
Compatibility we made the extension compatible with Amasty Company Account
Version 1.6.6
Last Update: Nov 27, 2020
1.6.6 - Nov 27, 2020:
Improvement we updated the tooltip instruction for product conditions in Customer Group Catalog rules
Fix we fixed the issue with rules behavior when customer address is changed
1.6.5 - Nov 05, 2020:
Fix we fixed the issue with filtering for Action column on Customer Group Catalog Rules grid
1.6.4 - Oct 14, 2020:
Compatibility now the extension is compatible with Magento 2.3.6
1.6.3 - Sep 23, 2020:
Fix we aligned the tooltips to be displayed correctly on the configuration page for catalog rules
1.6.2 - Sep 16, 2020:
Improvement we advanced UI of a Customer Group Catalog Rule page to make your experience more convenient and pleasant. Important! The old rules configured previously should be set up again using the new interface
1.6.1 - Aug 12, 2020:
Fix we resolved the problem with indexer reducing the number of requests to the database
1.6.0 - Jul 30, 2020:
Improvement now the extensions Reindex from Admin and Customer Group Auto Assign are added to the extension package
Version 1.5.22
Last Update: Jul 28, 2020
1.5.22 - Jul 28, 2020:
Compatibility the compatibility with Magento 2.4 was added
1.5.21 - Jul 27, 2020:
Compatibility compatibility with Amasty Quick Order was enhanced
1.5.20 - Jul 09, 2020:
Compatibility now the module is compatible with Varnish Cache
Fix we fixed the error appeared when calculating minimum and maximum prices for bundle products
1.5.19 - May 29, 2020:
Improvement code was refactored according to Magento Marketplace standards
1.5.18 - May 25, 2020:
Improvement we reviewed and enhanced the code of the extension to resolve the performance issues
1.5.17 - Apr 07, 2020:
Fix we fixed email templates translations
1.5.16 - Feb 12, 2020:
Improvement now in email notifications added ability to insert a Store View variable
Fix we solved the problem with deleting conditions from rules
Fix we solved the problems with SQL queries caching
Fix we solved the problem with address conditions in rules
1.5.15 - Aug 15, 2019:
Improvement compatibility with Magento Elastic Search was enhanced
1.5.14 - Aug 12, 2019:
Compatibility with Magento Elastic Search was enhanced
1.5.13 - Jun 25, 2019:
Compatibility the compatibility with Amasty 'Advanced Permissions' extension was enhanced
Fix the issue with a hided product in the cart after logging in for Magento 2.3 was resolved
Fix the error on the home page for the newly created customer with a hidden category for his customer group was resolved
Fix the error 'Integrity constraint violation: Column 'entity_id' in where clause is ambiguous' for Magento 2.2.7 EE was resolved
Fix the issue with hiding "Add to wishlist" and "Add to compare" buttons for specific SKUs was resolved
1.5.12 - Apr 08, 2019:
Compatibility the compatibility with Magento 2.3.x was enhanced
1.5.11 - Mar 27, 2019:
Fix the issue with tables size while creating rules in the admin area was resolved
1.5.10 - Mar 20, 2019:
Improvement the extension's operation with Data Base was improved. The improvement is going to reduce the number of rows in the 'amasty_groupcat_rule_customer' table. Kindly run reindex after updating the extension.
1.5.9 - Feb 25, 2019:
Fix the issue with not correct restricting items was resolved
1.5.8 - Jan 24, 2019:
Improvement minor visual improvement for the extension settings in the admin panel
1.5.7 - Dec 17, 2018:
Improvement the extension was optimized for better database performance
1.5.6 - Nov 27, 2018:
Compatibility the compatibility with Magento Elastic Search was improved
1.5.5 - Jul 25, 2018:
Fix the misspelling issue that was leading to products not being displayed in the catalog was fixed
1.5.4 - Jul 24, 2018:
Fix the issue when the hidden price remains visible in the page's meta data was resolved
1.5.3 - Jul 18, 2018:
Improvement the stability enhancement for certain MySQL scenarios was implemented
1.5.2 - Jul 04, 2018:
Fix the issue with products display on a category page after filtering for the outdated Magento versions was resolved
1.5.1 - Jun 18, 2018:
Fix the issue with the empty array during indexing was resolved
1.5.0 - May 30, 2018:
New the functionality to comply with the latest GDPR EU changes was added
Version 1.4.9
Last Update: Apr 23, 2018
1.4.9 - Apr 23, 2018:
Fix the issue with reindex after the customer data modification was fixed
1.4.8 - Apr 04, 2018:
Fixed an issue with the multiselect validation
1.4.7 - Mar 29, 2018:
Improvement added the handle exception for deleted products during indexation
1.4.6 - Mar 27, 2018:
Fixed an issue with the reindex in the attribute gallery
1.4.5 - Mar 13, 2018:
Fixed an issue with caching
1.4.4 - Feb 07, 2018:
Fixed an issue with the empty email template for an administrator reply to a customer
1.4.2 - Dec 26, 2017:
Fixed an issue with the customer rules reindexing
Compatibility with the Amasty Full Page Cache Warmer extension was added
1.4.1 - Nov 10, 2017:
Fixed the issue with installation on Magento Commerce
New feature: now, you can use a 'Get a Quote' form instead of price and manage the incoming requests on the separate grid.
Fixed the issue with reindex in Magento Commerce (Enterprise Edition)
Fixed the issue with serialize/unserialize data after upgrade Magento from 2.1.x to 2.2 version
Version 1.3.2
Last Update: Sep 26, 2017
1.3.2 - Sep 26, 2017:
Fixed the issue when restrictions were not applying instantly after customer creation
1.3.1 - Aug 23, 2017:
Magento 2.2 compatibility introduced
1.3.0 - Aug 21, 2017:
Added Customer Conditions tab
Compatible with Amasty Customer Attributes extension
Added Customer index for the Group Catalog Rule
Compatibility with Magento 2.1.8 improved
Version 1.2.9
Last Update: Jul 31, 2017
1.2.9 - Jul 31, 2017:
JS error fix in Conditions
1.2.8 - May 23, 2017:
1.2.7 - Mar 31, 2017:
Better compatibility with custom themes
Few observers added for better extension customization possibilities
1.2.6 - Mar 21, 2017:
Fix for situation when there are no CMS blocks created in Magento
Minor improvement for handling errors
1.2.5 - Mar 06, 2017:
1.2.4 - Feb 23, 2017:
Minor fix for flat catalog
1.2.3 - Feb 20, 2017:
Improvement for flat catalog mode
1.2.2 - Feb 13, 2017:
Usability improvement for store select component
1.2.1 - Jan 13, 2017:
Minor fix for applying rules to all store views
1.2.0 - Dec 14, 2016:
Major refactoring of the extension code to improve performance and compatibility
New feature to allow to hide add to cart button while showing price
New feature to allow to set priority for the rules
Layered navigation filters now exclude restricted products which results into correct count value
Improvements for database architecture to improve speed
Now rule can affect several stores
Version 1.1.5
Last Update: Nov 17, 2016
1.1.5 - Nov 17, 2016:
Extension workflow improvements for cached data for different customer groups
1.1.4 - Nov 04, 2016:
Fixed installation error on some Mysql versions
1.1.3 - Nov 04, 2016:
Minor fix for extension installation file
1.1.1 - Jul 15, 2016:
Fix for caching add to cart button
1.1.0 - Jun 28, 2016:
Attributes in navigation, which have all products restricted, will be removed
Improvements for pages with layered navigation
Tested for Magento 2.1
Version 1.0.6
Last Update: Jun 17, 2016
1.0.6 - Jun 17, 2016:
Improvements for single-store installations
1.0.5 - Jun 08, 2016:
Bugfix for processing rules on stores with a large number of customer groups
1.0.4 - Jun 07, 2016:
1.0.3 - Jun 01, 2016:
Minor improvement for translation file
1.0.2 - May 30, 2016:
Fix for related block for configurable products
Fix for "Missing array key" error
1.0.1 - May 26, 2016: