Customer Group Catalog for Magento 2

|

v1.1.5
Screenshots:
From time to time for business or legal reasons you may need to hide some products from certain customer groups and show them to the other ones. With the help of themagento 2 customer group extension you can manage private sales quickly and efficiently. For example, you can easily hide pricing for certain Magento 2 customer groups or replace it with a custom CMS-block. At the same time it is possible to set the 'Call for price' block instead of 'Add to cart' button or redirect users from hidden pages to 404 page or CMS-pages.
Adjust products display to your business needs
Use 'Call for price' block to increase your sales
Let's say you present products, which are usually sold using visitors direct contacts. In this case you can replace the price with a 'Call for price' CMS-block. This feature also can be useful when you organize presales.
Use custom variables in CMS-blocks
It is possible to insert any custom variable into a CMS static block such as a website address or URL, contacts of the sales department or a hyperlinks to product categories and images.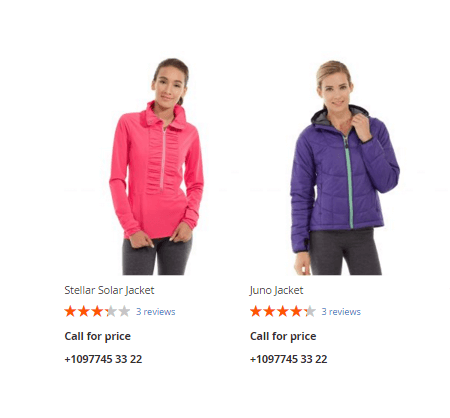 Redirect customers to certain CMS-pages
You can redirect store users to a custom CMS-page or to a 404 page based on their Magento 2 customer group. For example, when an unregistered customer enters the certain product category, he/she gets a warning message like: "For registered users only. Please sign in to see full product information". This way you motivate customers to implement the actions that are essential for you - e.g. to register, fill in a retailer or a wholesaler profile etc.
Restrict actions based on customer groups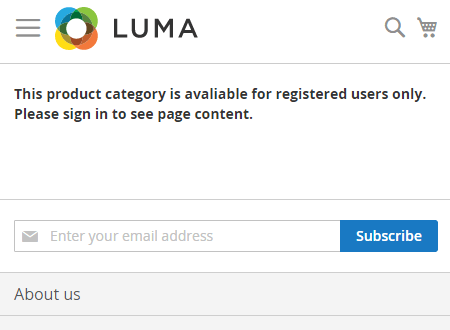 Easily configurable actions to meet your needs
Hide product price as well as 'Add to cart' button;
Restrict access to product categories;
Disable direct links to product pages;
Hide navigation attributes which have all products restricted;
Put a custom CMS-block on the product view or category page instead of the price;
Give direct links to products that are hidden from category pages;
Redirect the users who can't access the category
If the product category is restricted for a specific Magento 2 customer group you can redirect the users from this group to a certain CMS-page or to the 404 page.
7 reasons to choose
Risk-free Investment
30-day moneyback guarantee for all extensions. No questions asked.
Comprehensive Documentation
There is a detailed user guide with examples even for tiny addons. FAQ section and videos also available.
Solutions Which Work
Careful in-house testing ensures you get robust applications. Multiple stores support. Custom themes compatibility. All included.
Outstanding Support
Our support service is friendly and of high quality. And it is free. Unbelievably. Just check independent reviews at Magento Connect.
Usability and Performance
Nice and easy to use interfaces. Fast algorithms. Save your time and get things done.
Flexible and Easy Licensing
No product or store view or domain limits. No monthly fees. No hidden charges. One extension license for one Magento installation.
Long Term Strategy
We've been in the market for 5+ years. We're proud to be a Bronze partner and are planning to stick to Magento platform for years ahead. We're doing our best to build extensions which maximize effectiveness of your business. We're open to customers' suggestions and constantly update our products to match your needs.
Other Features
100% Open Source — Easy To Customize
Follows Magento Code Architecture
Separated HTML/CSS/JS
W3C Validated Code
Online Extension User Guide
* The name "Magento" and the logo are the trademarks of Magento, Inc.
General Questions

How can I pay for Amasty extensions?

What is the license policy? On how many websites can I use Amasty extensions?

How to install Magento extension by Amasty?

Can I test an Amasty extension on a staging site before transferring it to a live one?

Can I get a refund if an extension doesn't suit me?

Will I get any other benefits?
Version 1.1.5
-
November 17, 2016
– Extension workflow improvements for cached data for different customer groups
Version 1.1.4
-
November 04, 2016
– Fixed installation error on some Mysql versions
Version 1.1.3
-
November 04, 2016
– Minor fix for extension installation file
Version 1.1.1
-
July 15, 2016
– Fix for caching add to cart button
Version 1.1.0
-
June 28, 2016
– Attributes in navigation, which have all products restricted, will be removed
– Improvements for pages with layered navigation
– Tested for Magento 2.1
Version 1.0.6
-
June 17, 2016
– Improvements for single-store installations
Version 1.0.5
-
June 08, 2016
– Bugfix for processing rules on stores with a large number of customer groups
Version 1.0.4
-
June 07, 2016
– Minor improvement
Version 1.0.3
-
June 01, 2016
– Minor improvement for translation file
Version 1.0.2
-
May 30, 2016
– Fix for related block for configurable products
– Fix for "Missing array key" error
Version 1.0.1
-
May 26, 2016
– Minor improvement