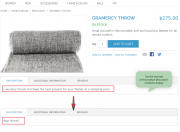 CE 1.4.x - 1.9.x, EE 1.8.x - 1.14.x
A/B Testing
for Magento 1
Easily run numerous split and multivariate tests based on different product parameters. Test page design elements and gather important statistical data to improve your product pages accordingly.
Run numerous a/b tests simultaneously
Test particular attributes for a group of products at a time
Test product page design
Get informative stats reports
Manage test duration
Display test variants to customers according to conversion rates

Available for customization
Want to buy this extension? We will customize it according to your needs as an individual solution
Increase conversions with A/B testing
A/B testing (or split testing) is one of the most effective ways to figure out the best marketing strategies that really work for your particular website. According to statistics and numerous case studies, due to a/b testing one can improve conversions rate up to 20 times if the experiment is properly set up and its results are wisely used.
With the Magento A B Testing extension you'll be able to run split and multivariate tests for particular products or product groups right from your store backend. Receive reliable real-time information about page visits, conversions and conversion rate changes in handy reports. Use experiment data to validate new design or content variations. Significantly enhance your store usability and boost conversions with minimum effort. See how successful your optimization efforts was — get the detailed reports on the store performance.
NOTE: The smart A/B testing module relies in its calculations on the strict principles of statistical estimate which allows it to get the most precise predictions and provide store administrators with highly reliable data.
The extension is not related to Google Analytics experiments. It's an advanced self-contained solution that doesn't require any additional tools or services to run.
Numerous experiments at a time
Magento ab testing tool enables you to run as many experiments as you need. All created experiments will be displayed on the informative 'Tests' grid where you can see:
Experiment name
Date of creation
Status (paused, running, setup)
Total experiment visits
Total Conversions
Rich variety of attributes to test
Due to the impressive attributes list you can easily select the product attribute to create an experiment. It's possible to run either a split test for one attribute in one experiment or launch a multivariate experiment and test a few attributes at once. Apart from that, the module doesn't require creating duplicate product pages with test variations. Simply choose all necessary attributes and the they'll be randomly displayed on your product page.
Specify which customer action will be considered as conversion. The a/b testing Magento extension offers 4 goals to set:
Product purchased
Product Added to Cart
Product Added to Wishlist
Page Visited
The Magento split testing module enables you to test not only product attributes, but custom design and page layout as well. It means that you can create a number of page variations with different custom themes and layout types to find out which of them work better for your store.
Choose custom CSS attribute from the attributes list to override default website styles. With this option you can easily test various product page elements like:
Buttons position, size and color;
Various font changes;
Custom fields and tabs position etc.
Test different variations of the original attribute to find out which one works better. While creating an experiment, specify the original attribute data (variation 1) and the variants of the attribute (up to 10 variations).
Tests for specific and multiple products
The module allows you to easily test certain changes for one specific product. In this case after the test completion the a/b testing tool will help you substitute the data on the product page with the winner variation data in one click.
If you need to test one and the same attribute for different products, there is no need to run multiple experiments. You can simply tick all necessary products when setting the experiment and select the necessary attribute.
'Smart' demonstration of attribute variations
To prevent online merchants from sagging sales during the experiment, the ab test Magento extension uses an algorithm which starts carefully analyzing gathered data once the experiment is launched. When there is enough data to estimate partial results, the module shows the winning variation more often than the variations with lower results. Therefore, it will help store owners to increase conversions even before the test completion.
Easy management of experiment duration
It's possible to stop the experiment either manually or with the Auto Complete option. In case the auto complete feature is on, you can specify the minimal conversion rate change against the original variant which should trigger the experiment completion.
Once you've run the experiment, you can see its real-time results in the Reports tab. The module displays:
Variation
Experiment visits
Conversions
Conversion Rate
In 4 days after the experiment launch it will be also possible to track the change of conversion rates against the original variant.

According to the statistics, the extension can cover each business need in synergy with the following solution: magento captcha.


4.3
See 216+ verified reviews
Are Amasty extensions compatible with all themes and extensions by other vendors?
Amasty extensions work with all plugins we issued and with most 3rd-party plugins. If you come across a compatibility issue with any third-party module, we'll definitely try to help you. If you face any technical issues, please create a ticket...
Will I get free support and updates?
To access the support service, you need to activate a support subscription in your customer account. Thus, all possible technical issues will be handled by professionals. Support subscription covers all the extensions in your account and comes with 90...
Do you have the installation service?
Yes, we provide a professional installation service. You can purchase it when ordering an extension. If you buy more than 1 extension in one order, we can install all of them! If you need to configure plugins according to your business needs, you can...
Can I request a free trial?
Amasty doesn't provide any trials of Magento extensions. But we have a 60-day money-back guarantee. There's one exception: Amasty extensions are provided for testing or demo purposes to our official Platinum Partners as a part of the "access to Amasty...
Can I test an Amasty extension on a staging site before transferring it to a live one?
Yes, you can install any Amasty extension on a test site and configure all the settings there before doing it on your live store.
Amasty provides a 60-day money-back guarantee. In case the acquired extension didn't meet your expectations, our support team is always ready to help you. To get a full or partial refund of your order, please create a ticket in our support...
How can I receive a discount?
According to the rules of Amasty's Reward Program, you get $15 back to your reward points for every $100 spent.You can spend them to buy other extensions or services from our catalog.These Points are valid for 60 days from the purchase date. You can...
How to update a Magento 2 Amasty extension?
To update a Magento 2 extension by manual upload:1. log in to the customer account;2. navigate to the Products tab, scroll to the packages section, and click the Download link next to the extension that should be updated;3. Important: If some extension...
If I need additional features to be added to an Amasty extension, how can I ask for it?
To leave your feature request, log in to your customer account and open the Products tab. Then, scroll down to the bottom of the page, and leave your feature request in the following form: As soon as you send your request, it is considered by our ...
How can I prolong support?
When you get any support subscription plan, it will be prolonged automatically. Also, you can cancel your subscription at any time. For this, go to your customer account and open the Subscriptions tab. If you cancel your subscription, the service will...
What should I do if my Reward Points have expired?
According to our reward program, the Reward Points are valid for 60 days starting from the moment they're transferred to your account. But we always try to stay supportive, so you can create a ticket, and we'll consider your case individually...
How can I use my Reward Points?
How to check your reward points balance? Step 1. Log in to your customer account or create a new one. After this, you will be redirected to your account dashboard. Step 2. In the left menu choose Reward points. Step 3. You will see your current reward...
Can I change the EE extension to CE for free?
Usually, no, you can't exchange modules. Please, contact our support managers and they'll consider your case individually. → Learn more about our special offers
How can I get a discount to re-purchase plugins?
Usually, we don't provide any discounts. But you can contact us, and we'll consider your case individually. → Learn more about our special offers
What is the license policy? On how many websites can I use Amasty extensions?
Our license allows you to use a single extension license agreement on one Magento installation.If you run several domains on the same instance of Magento, you can use one extension license. However, if you run each website on a new installation of Magento...
How can I pay for Amasty extensions?
You can pay for our extensions in any convenient for you way as a full range of payment methods are supported. The most common means are credit card or PayPal. Security and fraud protection are guaranteed. If you need to pay for the order with a non...
How to install Magento 1 Amasty extensions?
Each Amasty extension package is provided with the extension files, installation & setup guides and a license agreement. Some extensions include import file examples as well.Before installing any extension, please create a backup of the root folder...
Write your own review
Please rate

A/B Testing

from 1 to 5 stars