To properly manage an online store and wisely invest your time and funds you need to have a constant access to reliable statistic data. Magento reports help to understand what type of visitors come to your website, carefully measure your products' popularity and make correct sales predictions.
With the Magento Advanced Reports extension you'll be able to use a great variety of sales reports to get priceless statistic data in real time. Find out which products in which time periods enjoy greater popularity, easily compare different time periods and build a successful sales strategy.
Take advantage of various report types:
Advanced Sales Report
Sales by Product Report
Sales by Weekday
Sales by Hour
Sales by Coupon Code
Profit Report
Country Report
New vs. Returning Customers Report
Bestsellers Report
How to set reports
NOTE: Customize any report type according to your specific needs. Each Magento custom report contains its unique feature set and allows you to fine tune data display in the most convenient way.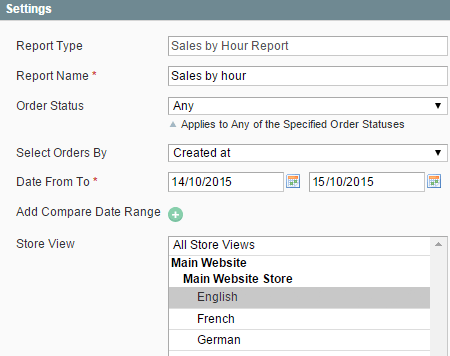 Main settings for all reports
For the majority of Magento sales reports you can specify:
Report name
Order status
Time interval
Store view
Additional date range to compare
After all the settings are specified click the 'Get Report' button to see the details on the visual graph and on the Results grid.
Set up custom formula for Magento Profit reports
Due to flexible 'Profit' report settings one can customize profit calculation depending on store specifics. For example, you can consistently take all your expenses like tax or shipping from grand total to evaluate average profit contribution per item or per order.

Compare reports data with previous periods
With the Magento reports extension you can find out which time periods were more fruitful for your store by choosing two or more time periods to compare. See specified periods data on the graph as well as on the results grid.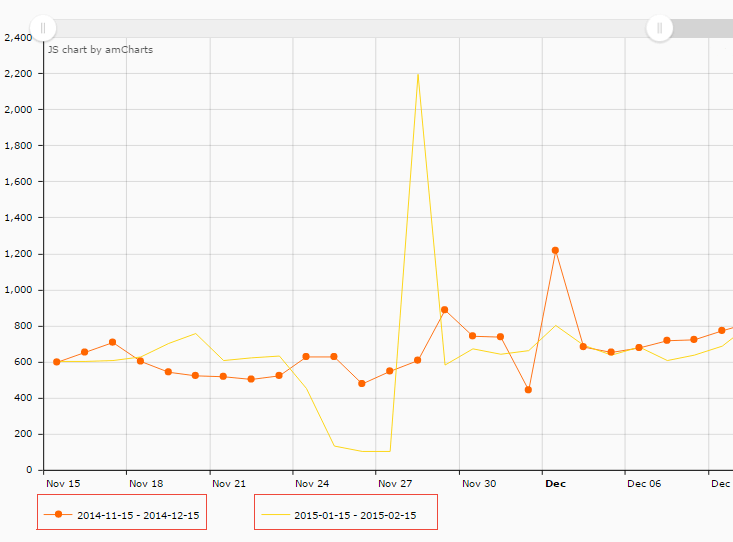 Additional features
Export reports data
With the Magento reporting extension you can export reports data into different formats for further processing.
Filter reports by store view
When configuring report settings you can choose one or multiple store views for which reports data should be displayed.
Customize graph display
Each Magento detailed report contains its own set of parameters. All these parameters are displayed on the Reports grid below the visual graph. With the flexible extension settings you can choose each report parameter separately and display it on the graph.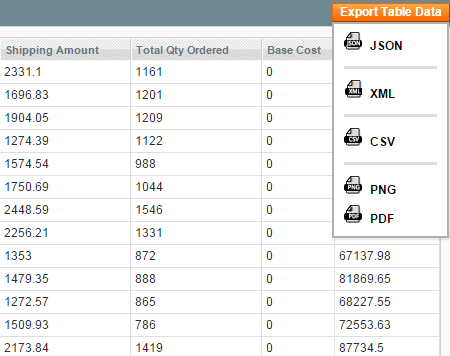 Other Features
100% Open Source — Easy To Customize
Follows Magento Code Architecture
Separated HTML/CSS/JS
Simple installation via Composer
* The name "Magento" and the logo are the trademarks of Magento, Inc.
Thaaaaaanks
This is a good addition to Google Analytics reports which have inaccuracies.
This extension provides more real figures as it uses native Magento reporting.
The app with a high potential
Well... The app works right out of the box - no additional tweaking needed. Support guys kindly answered tons of my questions and finally I generated some reports.

The interface appeared to be as plain as day and I was a bit surprised when didn't find the general dashboard. There is no such an option... however the reports themselves are clear and the graphs seem to be very informative and easy to perceive.

All in all, for this price I'd like to get more flexible settings for the report (e.g. sales by cities, but not only by countries; sales by particular product attributes). Anyway, the app is definitely worth your attention as it accurately does what it promises.
Write Your Own Review
Version 1.0.3
-
February 02, 2017
– Fix for role permissions access to the extension pages
– Fix for letter case in path to CSS
– Few minor improvements
Version 1.0.2
-
January 04, 2017
– Fix for exporting orders when selecting multiple statuses