1/11
GDPR
for Magento 1
Make sure your store is following the latest EU's GDPR legislation requirements. With the Magento 1 GDPR extension, you can store and process customer data in the most effective and transparent way that fully complies with the data protection regulation terms.
Comply with the EU's GDPR and various legislative requirements
Create and update your privacy policy, manage document versions
Manage customer consents on the gird
Allow customers to download, anonymize or request to delete personal data
Add the customizable cookie policy bar and specify the cookie policy
Starting from May 25, 2018, the General Data Protection Regulation (GDPR), took effect and changed the rules of how companies collect, store, or process users' information. This regulation affects businesses far beyond the borders of the EU. That's why the Magento GDPR extension is a must-have addition to your e-commerce store and the important tool to follow the latest legislation requirements.
What does the Magento GDPR extension provide?
Customers can utilize their right to control and delete their personal data provided by the EU's GDPR resolution, as well as modify the given consents.
Store owners are able to create and update the privacy policy and give the store visitors the ability to modify permissions for their personal data processing.
One-stop Magento GDPR 1 solution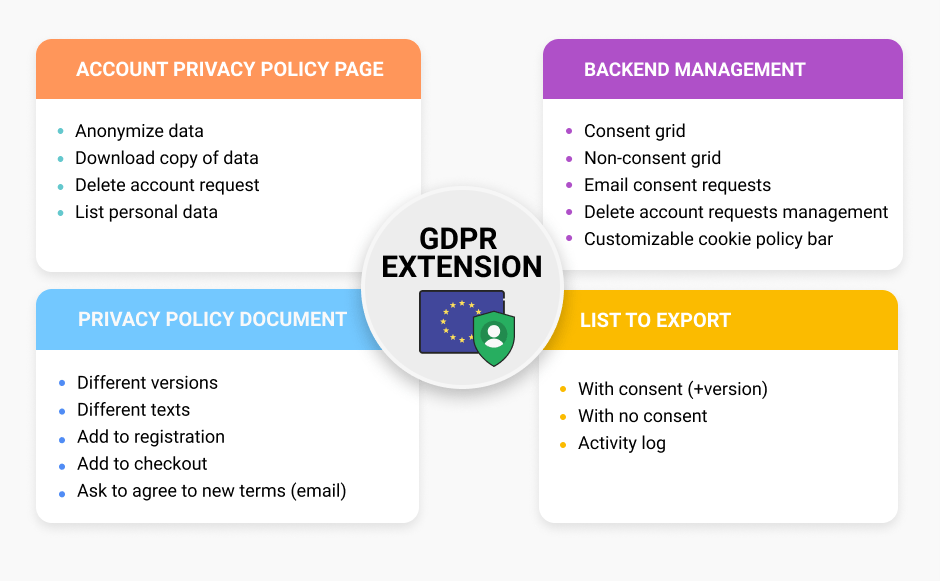 Privacy Policy consents management
Manage privacy policy documentation
Create privacy policy texts, update them, and manage versions to cover various legislation requirements and legal changes. Implement the privacy policy agreement checkbox to the registration and checkout pages to make sure that all new customers are familiar with the details on their personal data processing.
Backend grids for privacy policy consents
The Magento GDPR module adds 2 separate grids to the backend. The first is for users who agreed to the privacy policy terms, and the second is for those who not. These grids are used to quickly email the request to customers who did not accept the privacy policy.
Log actions related to privacy policy
With the Magento 1 GDPR extension, you can constantly monitor all actions, connected to the privacy policy consents and account management, performed by store visitors.
GDPR agreement for new users
Make the data protection policy consents collection an obligatory step for the new users. With the Magento GDPR module, the European Union citizens, who are willing to register during the checkout process, will need to agree with the privacy policy to proceed with their purchases. The same is actual for the registration process.
Email consent requests
With the module, a store admin can easily identify customers who didn't provide their consents and email them a request to automatically agree to the new or existing privacy policy. Customers who agreed to the new terms will be automatically transfered to the new grid.
Send new privacy terms via email
Quickly spread the new privacy policy or updates to the existing one using email. The email includes a link to accept the new policy.
NOTE:
After the customers accept the actual version of the privacy policy, they will not be asked to accept it again until the new version of the policy will be released. This significantly reduces the number of actions for registered customers to purchase products as well as decreases the number of entries stored in the database.
New account functionality to comply with GDPR requirements
Protect privacy settings with password
Any action in the privacy settings section of the cutomer account requires a password. When a customer needs to download all data, anonymize information or delete an account, than the password should be filled in to perform the further actions.
Download or anonymize customers' data
To comply with the EU's GDPR requirements, your customers should have the ability to download all personal information or anonymize it. The Magento GDPR extension adds such functionality to the users accounts. Now, shoppers can get a CSV file with private data or use the anonymization option to hide the information.
Implement privacy policy updates
Timely update your privacy policy to meet actual legislation requirements including the EU's GDPR resolution. The extension allows e-commerce store admins to insensibly collect new consents according to the latest updates using a popup window with the new data processing permissions.
NEW | Amend the list of EU countries from the admin panel in case of any legislative changes.

Delete account requests
According to EU's GDPR, each user should have the ability to delete the account and make sure the personal data has been removed. The Magento GDPR extension guarantees this right for your customers and enables them to leave a request to delete the account. You can manage these requests from the appropriate grid.
Enable or disable privacy settings sections
On the extension conifugration page you can disable any of the available privacy settings sections: download and anonymize data or request to delete account.
2 types of configurable cookie policy bars
Clearly inform store visitors about your internal cookie policy. Display the cookie policy bar to either inform your site visitors about the active cookie policy or provide them with a choice to accept or deny the cookie policy. For the second option you can adjust the list of cookies that will be excluded when a customer denies the policy.
NEW | Place the cookies consent pop-up bar at the top of the screen or at the bottom.
Export customers by privacy policy consents
The Magento GDPR extension allows you to segment the existing customers based on the provided consents. Check how effective your current privacy policy is and what permissions for personal data processing users grant by exporting them.
Important notice
The module is designed with the best of our knowledge to provide customers with the functionality to comply with the EU's GDPR and other legislative requirements. However, please, consult your lawyer to create a privacy policy document that will be compliant with your local laws.
Other Features
100% Open Source — Easy To Customize
Follows Magento Code Architecture
Separated HTML/CSS/JS
Simple installation via Composer
* The name "Magento" and the logo are the trademarks of Magento, Inc.
High-quality extension.
Complies with everything you need for E-Shop. Also Customer Attributes extension. Amasty has quality extensions. It has good and fast support. I am very happy with Amasty's products and support. I'm sure we will continue to buy Amasty's extensions. E-Shop is not yet running in operation, only Test mode. It will be soon. We believe that even with the help of Amasty, we will do it.
Full GDPR compliance
I think amasty gdpr is enough to make a store fully compliant with the new regulation. It has easy settings and all features needed: privacy policy, versions, updates, working with customer consent, notifications. Recent anonymization improvements finally made it a complete extension. Recommended.
Great. thanks!
Easy installation, works well out-of-the-box. The extension makes it easier and faster to make a store GDPR compliant.
I'd rather pay than rework a free ext
I tried a number of free extensions but they bugged so much that my developer said we would spend more time on rebuilding the app than doing the job from scratch ourselves. So I dropped the idea to get it for free and came across Amasty extension. I like how it works. Yep, there are sometimes minor issues but they are fixed within short time.
Module I asked for
I use checkout and layered navigation by Amasty and I'm very satisfied with their modules and support. So when I heard about GDPR I was one of those who attacked their support with requests for necessary updates. Sorry :) I've been using this module right since the release. It was easy to install and run. It has some cons but Amasty keeps improving it. So thanks, guys!
Compatibility problems fixed, now ok
I like the extension though I had compatibility problems in the beginning. I run an earlier version of Magento than required, so the extension bugged. Yet Amasty support was very helpful to settle my issue and as far as I know they improved in general compatibility of their module with other systems, so such things shouldn't happen any longer.

Works fine
Use this module for several months. There were minor bugs, some we fixed ourselves, some were resolved in later releases. I don't think it made sense to look for anything better. This module simplifies work with privacy policy and consents in agreement with the new law.

Does its job. Needs improvement
In general a fine module that makes a Magento 2 store in line with GDPR. However there should be several improvements, like compatibility with custom themes and not-Amasty extensions. Waiting for updates.
Works great but need development
Extension is great as it does what it says, but unless you use default magento checkout and registration form, you will need some template knowledge. There should be a manual how to add to custom checkout and registration from.
Good Extension
Extension essential to meet 100%, with current regulations. Easy to configure and above all, made by amasty, which means that the code is well done, and have a great support.
Good
A good extension to work with privacy policy. It gives all in one place, so I could just install and be sure that now I'm compliant with GDPR.
Write Your Own Review
You can always download the recent version free of charge from your account
Installing an upgrade is easy — check now
My Downloads
Version 1.5.10
Last Update: Jul 29, 2019
Compatibility compatibility with old Magento versions for pop-ap block and password field in Privacy Settings was added
Fix the possible error 'Class 'Mage_Core_Helper_Cookie' not found in ...' with the cookie confirmation bar been 'ON' was resolved
Fix the possible issue with not displaying the privacy policy popup on the checkout page was resolved
Compatibility the compatibility with the 3rd party Magento themes was enhanced
Improvement IPv6 support was added to Geo IP detection.
Improvement the possibility to upload the latest Geo IP Database was added
Improvement the privacy policy popup load process was improved reducing the total page size
Compatibility the compatibility with PayPal Express checkout was enhanced
Fix the issue with wrong geolocation detection was resolved
Compatibility the compatibility with the 3-rd party extensions was improved
Improvement Security improvements were implemented
Improvement the email on the privacy policy update was enhanced
Improvement the ability to clone the disabled privacy policy was added
New now, the cookie bar can be displayed at the top of the screen
New now, the list of EU countries can be amended from the admin panel
Fix the issue with emails on denying a customer's personal data delete request was fixed
Improvement now, when a customer accepts the actual version of the privacy policy, he will not be asked to accept it again until the new version of the policy will be released. The update reduces the number of actions for registered customers to purchase products as
Improvement the possibility to edit an active privacy policy was disabled
Fix the issue with using PayPal on checkout was resolved
Version 1.4.4
Last Update: Sep 26, 2018
Compatibility the compatibility with the Amasty Full Page Cache extension was improved
Fix the issue with the privacy policy version creating for a store view was resolved
Compatibility the compatibility with the 3rd party extensions was enhanced
Improvement the stability was enhanced
New the ability to display the privacy policy confirmation checkboxes on the 'Contact Us' and 'Newsletter Subscription' forms were added
New the ability to anonymize personal data for the order placed by a guest was added
New the ability to adjust the cookie policy bar styles was added
Compatibility the compatibility with the 'Checkout with Multiple Addresses' feature was improved
Version 1.3.1
Last Update: Aug 27, 2018
New the ability to disable certain sections in the Privacy Settings of the customer account was added. Now, you can hide any of three available sections (download data, anonymize data, or request to remove account)
Improvement now, a customer can download, anonymize or delete its personal data only after entering the password
New the ability to disallow custom cookies in the cookie policy bar was added
Improvement the request for GeoIP location was optimized for better performance
Improvement the notification when deleting the customer account was improved
Version 1.2.3
Last Update: Aug 09, 2018
Compatibility the compatibility with the 3rd party extensions was improved
Compatibility the compatibility with PayPal Express was enhanced
Compatibility the compatibility with 3rd party extensions was improved
New now, the sample policy is created during the extension installation
Compatibility the compatibility with older Magento versions was improved
Version 1.1.0
Last Update: Jun 25, 2018
New the ability to manage the cookie policy bar was added
New now, the extension notifies an admin via email when a request to delete account is created
Improvement the extension's translation file was enhanced
Compatibility the compatibility with 3rd party extensions and themes was improved
Version 1.0.3
Last Update: Jun 15, 2018
Improvement the consent request was improved
Compatibility the compatibility with the 3rd party checkout extensions was improved
Fix the issue with the popup position was resolved
Fix the problem with the GeoIP data import was resolved
Fix the issue with permissions was resolved