Customer Actions Log
Customers With Consents
Customers Without Consents
Consents Email Queue
Delete Requests Grid
Privacy Policy Grid
Customer Actions Log
Keep track of everything that happens on your website. The Magento 1 GDPR extension automatically creates a log of all customers' actions regarding their data. This way, you can analyze data access patterns better or timely notice suspicious actions and avoid huge fines as stated by GDPR laws.
Customers With Consents
The Magento GDPR extension allows you to segment the existing customers based on the provided consents. Check how effective your current privacy policy is and what permissions for personal data processing users grant by exporting them.
Customers Without Consents
With the Magento GDPR plugin, a store admin can easily identify customers who didn't provide their consent and email them a request to automatically agree to the new or existing privacy policy. Customers who agreed to the new terms will be automatically transferred to the new grid.
Consents Email Queue
Store admin can not only send consent request emails, but also track the email status in a separate grid. Thus, you can easily sort out failed emails and find the gaps in your notification system.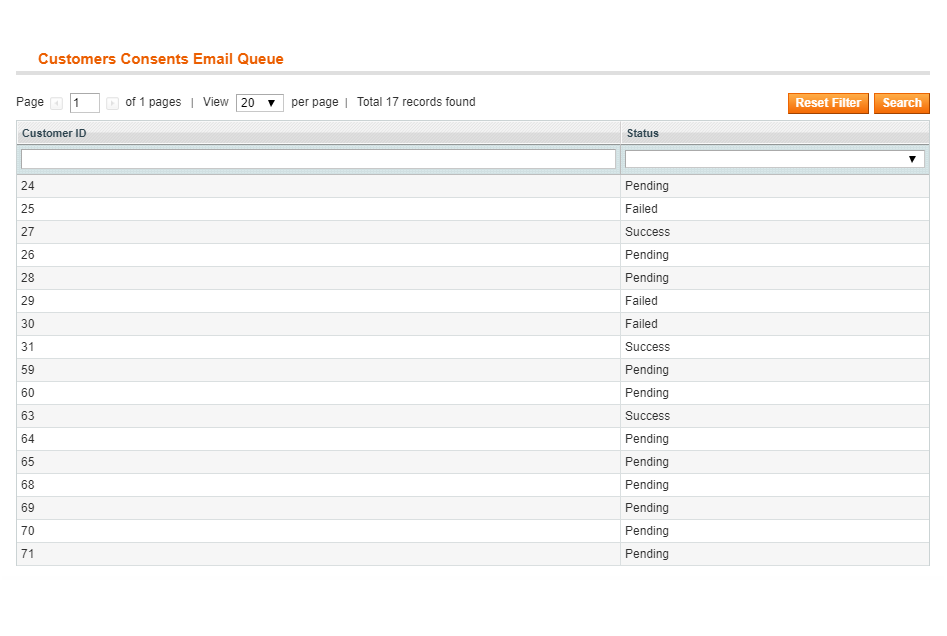 Delete Requests Grid
When a customer asks for personal data deletion, store admin will see all requests in a handy grid. Here it is possible to approve or deny each request according to your personal business needs.
Privacy Policy Grid
Quickly update privacy policy text and manage versions to cover various legislative requirements and legal changes. Admins can save drafts, enable/disable previous versions or add comments to a specific policy for better management.