GDPR
for Magento 1
Ensure your business follows all legislative requirements in the most efficient and transparent way with an all-in-one GDPR + CCPA solution. Build a powerful business that fully complies with the data protection regulation terms using the Magento 1 GDPR extension.
Comply with GDPR Cookie law and CCPA
Get clear consent on registration, checkout, subscription and contact us forms
Automatically log all users' actions
Handle multiple 'Delete' and 'Anonymize' requests
Easily create and update the Privacy Policy in Magento
Configure the display of the Cookie Policy bar
Revise users' information on convenient grids
Challenge
As many governments have introduced data processing obligations, e-commerce stores have faced multiple compliance issues. New data protection requirements affected the whole European Union (GDPR and Cookie law) and California state, US (California Consumer Privacy Act).
If stores do not follow the requirements indicated in these documents and break customer rights for secure data processing, it may lead to penalties and enormous fines.
Solution
Our complex 3-in-1 legislative solution is designed to cover all the requirements established by the GDPR, GDPR Cookie and CCPA documents. The advanced set of features covers the rights of both shoppers and business owners by making data collection transparent and secure. Apply the extension to make sure all data in your Magento 1 web store is processed in a lawful way to avoid penalization and build trust among your target audience.
Protect your business and get benefits
Prevent penalties and fines for illegal and insecure data processing
Build up customer trust and confidence by the compliance with their rights
Easily manage all documents concerning privacy policy and customer activity
Quickly get all required consents from visitors
According to the law, store owners can collect and process customer data only after they give their consent for it. Each consent should be transparent and clear for shoppers. Moreover, all consents must be collected separately. With the privacy tool for Magento stores, admins can gather all needed types of consents in a lawful way.
Display noticeable Cookie Policy bar to get users consents
Collect users privacy consents on the registration form
Ask users for privacy consents on the checkout page
Add privacy consent checkbox on contact us page
Ask users accept privacy terms on newsletter subscription
Let users read the Privacy Policy in a handy pop-up
Build loyalty by respecting customer rights
Let users disallow selling their personal data and cover all CCPA requirements
According to the CCPA document, California citizens must have the right to forbid selling of their personal info. With the extension, they can easily do it right in the customer accounts using a separate privacy section. As an admin, you can check these consents in a Customer Grid and filter shoppers whose info you are allowed or disallowed to process.
Protect private data with a password
To make any update in the privacy settings section of the customer account, a user is required to enter a password. It is designed to protect private information when a customer needs to forbid selling personal info, download all data, anonymize the information or delete an account.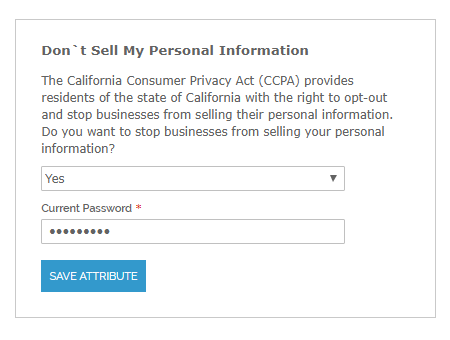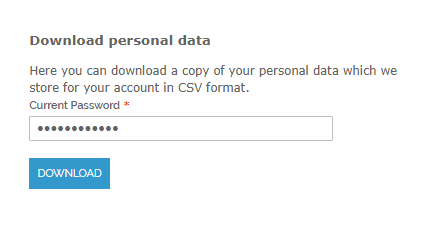 Allow shoppers to download data
To comply with the latest EU's GDPR requirements, all shoppers have the 'right to get access'. It means that your clients should have the option to download ad check all personal information collected about them.
The Magento GDPR extension lets users get a CSV file with their data right from the customer account using just one button, which helps store admins to avoid mistakes and get rid of multiple download requests processing.
Anonymise customers' data
Another normative requirement indicated that users have the 'right to stay anonymous", if they don't want their personal info to be revealed or processed.
Smart extension features allow you to add a special anonymisation tab to customer account so that site users could hide the information in a split second. All the info provided will be transformed into random symbols, which improves privacy level.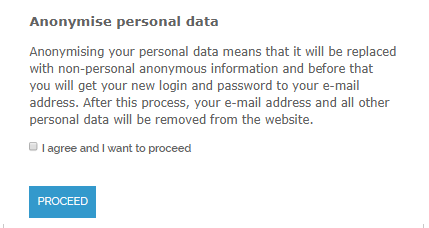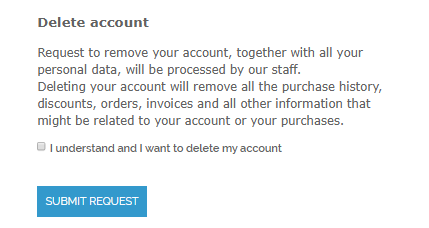 Delete account requests
Also, according to the EU's GDPR, a user should have the ability to delete the account and make sure the personal data has been removed. It falls under the 'right for erasure'.
The Magento GDPR toolkit ensures that customers can leave a request to delete the account. You can manage these requests from the appropriate grid on the backend. Thus, no info will be deleted without admin approval.
Simple and GDPR-compliant user data management
Using the GDPR extension, you can easily revise data on handy grids. The module offers convenient grids to help you manage all data as required by GDPR. See the list of customers with consent, timely send reminders for users without consent. Mass approve or deny anonymization and delete requests to save time.
Customer Actions Log
Customers With Consents
Customers Without Consents
Consents Email Queue
Delete Requests Grid
Privacy Policy Grid
Customer Actions Log
Keep track of everything that happens on your website. The Magento 1 GDPR extension automatically creates a log of all customers' actions regarding their data. This way, you can analyze data access patterns better or timely notice suspicious actions and avoid huge fines as stated by GDPR laws.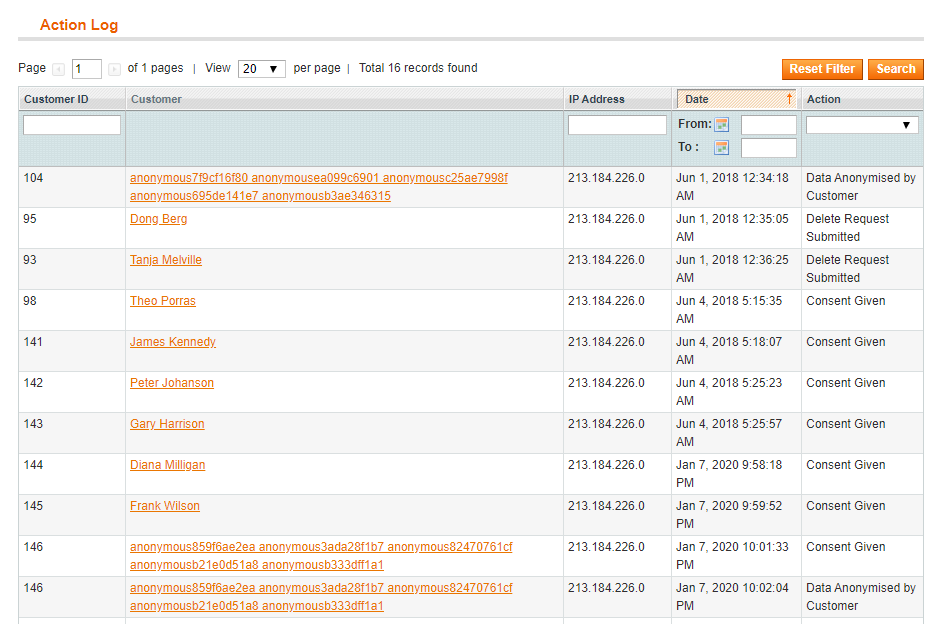 Customers With Consents
The Magento GDPR extension allows you to segment the existing customers based on the provided consents. Check how effective your current privacy policy is and what permissions for personal data processing users grant by exporting them.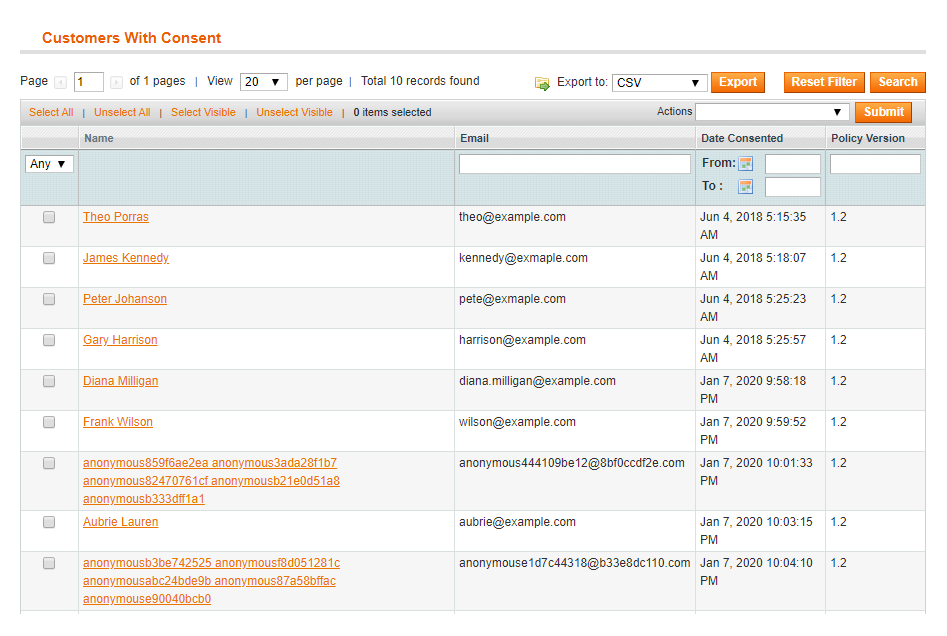 Customers Without Consents
With the Magento GDPR plugin, a store admin can easily identify customers who didn't provide their consent and email them a request to automatically agree to the new or existing privacy policy. Customers who agreed to the new terms will be automatically transferred to the new grid.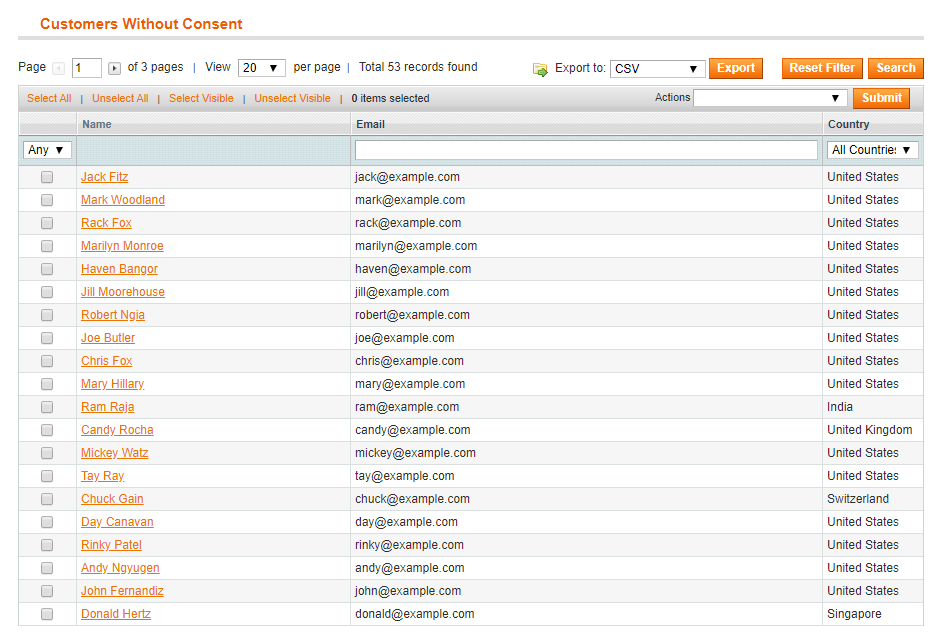 Consents Email Queue
Store admin can not only send consent request emails, but also track the email status in a separate grid. Thus, you can easily sort out failed emails and find the gaps in your notification system.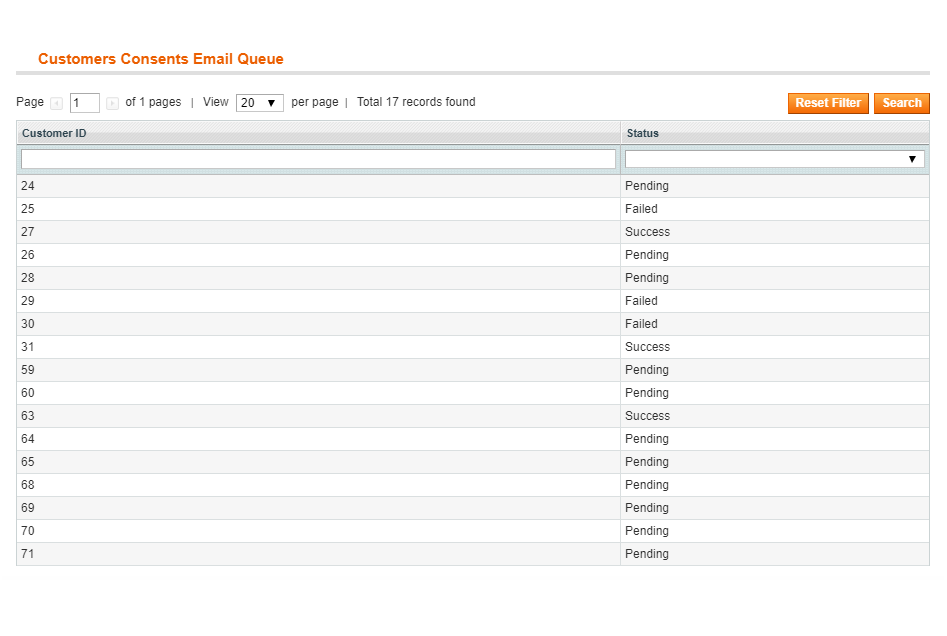 Delete Requests Grid
When a customer asks for personal data deletion, store admin will see all requests in a handy grid. Here it is possible to approve or deny each request according to your personal business needs.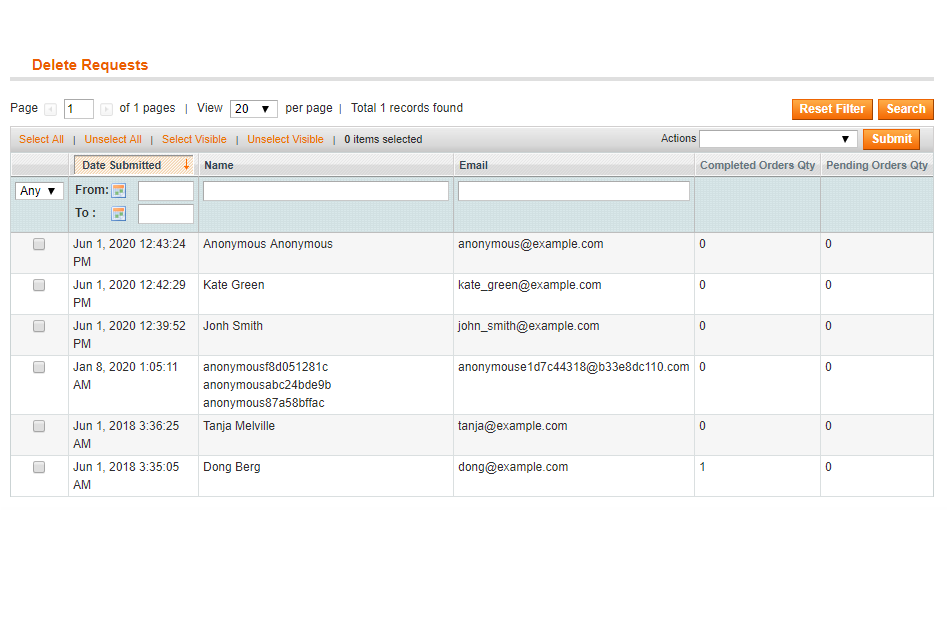 Privacy Policy Grid
Quickly update privacy policy text and manage versions to cover various legislative requirements and legal changes. Admins can save drafts, enable/disable previous versions or add comments to a specific policy for better management.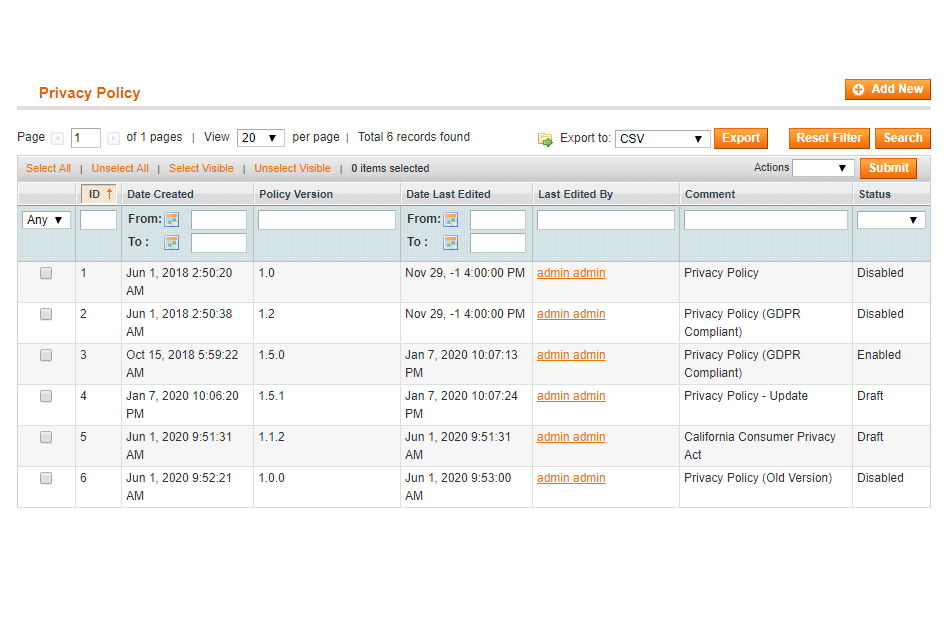 Legislative notice
The module is designed with the best of our knowledge to provide customers with the functionality to comply with the EU's GDPR and other legislative requirements. However, please consult your lawyer to create a privacy policy document that will be compliant with your local laws.
According to the statistics, Magento GDPR module can cover each business need in synergy with the following solution: magento customer groups.
Other Features
100% Open Source — Easy To Customize
Follows Magento Code Architecture
Separated HTML/CSS/JS
Simple installation via Composer
* The name "Magento" and the logo are the trademarks of Magento, Inc.
It is without any problem
Slim Center, Manager
GDPR extentions is ok. It is without any problem. Support Team is kind. Thank you!

Amasty answer
Feb 07, 2020
Natalya Chekanina
/ Head of Sales Team
Hi Salvatore! Thank you for choosing our extensions. I'm glad that you appreciate their quality. We would be happy to see you in our store again!
Cover the requirements of GDPR
Bonnypack Scot. LTD, Manager
I wanted my website to have GDPR compliance. This module cover the requirements of GDPR for 18 months. I can reccomend it to every Magento store.
Amasty answer
Jan 16, 2020
Natalya Chekanina
/ Head of Sales Team
Dear Sajid, thank you so much for your feedback! We would be happy to see you in our store again!
High-quality extension.
Complies with everything you need for E-Shop. Also Customer Attributes extension. Amasty has quality extensions. It has good and fast support. I am very happy with Amasty's products and support. I'm sure we will continue to buy Amasty's extensions. E-Shop is not yet running in operation, only Test mode. It will be soon. We believe that even with the help of Amasty, we will do it.
Great customer service
Amasty has the best installation and support service. Fast response and excellent programming.
Amasty answer
Sep 24, 2018
Natalya Chekanina
/ Head of Sales Team
Dear Sandra, thank you for your review! We would be happy to see you in our store again!
Full GDPR compliance
I think amasty gdpr is enough to make a store fully compliant with the new regulation. It has easy settings and all features needed: privacy policy, versions, updates, working with customer consent, notifications. Recent anonymization improvements finally made it a complete extension. Recommended.
Great. thanks!
Easy installation, works well out-of-the-box. The extension makes it easier and faster to make a store GDPR compliant.
I'd rather pay than rework a free ext
I tried a number of free extensions but they bugged so much that my developer said we would spend more time on rebuilding the app than doing the job from scratch ourselves. So I dropped the idea to get it for free and came across Amasty extension. I like how it works. Yep, there are sometimes minor issues but they are fixed within short time.
Module I asked for
I use checkout and layered navigation by Amasty and I'm very satisfied with their modules and support. So when I heard about GDPR I was one of those who attacked their support with requests for necessary updates. Sorry :) I've been using this module right since the release. It was easy to install and run. It has some cons but Amasty keeps improving it. So thanks, guys!
Compatibility problems fixed, now ok
I like the extension though I had compatibility problems in the beginning. I run an earlier version of Magento than required, so the extension bugged. Yet Amasty support was very helpful to settle my issue and as far as I know they improved in general compatibility of their module with other systems, so such things shouldn't happen any longer.

Works fine
Use this module for several months. There were minor bugs, some we fixed ourselves, some were resolved in later releases. I don't think it made sense to look for anything better. This module simplifies work with privacy policy and consents in agreement with the new law.

Does its job. Needs improvement
In general a fine module that makes a Magento 2 store in line with GDPR. However there should be several improvements, like compatibility with custom themes and not-Amasty extensions. Waiting for updates.
Works great but need development
Extension is great as it does what it says, but unless you use default magento checkout and registration form, you will need some template knowledge. There should be a manual how to add to custom checkout and registration from.
Good Extension
Extension essential to meet 100%, with current regulations. Easy to configure and above all, made by amasty, which means that the code is well done, and have a great support.
Good
A good extension to work with privacy policy. It gives all in one place, so I could just install and be sure that now I'm compliant with GDPR.
Are you looking to add specific functionality for this extension or want to acquire a reliable development partner altogether? With custom development services by Amasty, you will receive high quality and cost-effective solutions developed by Magento professionals according to industry's best practices.
CE 1.4.x - 1.9.x, EE 1.8.x - 1.14.x
You can always download the recent version free of charge from your account
Installing an upgrade is easy — check now
My Downloads
Version 1.6.1
Last Update: Feb 10, 2021
Compatibility the compatibility with Amasty One Step Checkout was improved
New now the extension supports California Consumer Privacy Act law. New functionality allows you to add a new section to Customer Accounts where they will be able to opt-out from selling their personal information
Version 1.5.11
Last Update: Sep 27, 2019
Fix we solved the problem with multistores compatibility for email notifications
Compatibility compatibility with old Magento versions for pop-ap block and password field in Privacy Settings was added
Fix the possible error 'Class 'Mage_Core_Helper_Cookie' not found in ...' with the cookie confirmation bar been 'ON' was resolved
Fix the possible issue with not displaying the privacy policy popup on the checkout page was resolved
Compatibility the compatibility with the 3rd party Magento themes was enhanced
Improvement IPv6 support was added to Geo IP detection.
Improvement the possibility to upload the latest Geo IP Database was added
Improvement the privacy policy popup load process was improved reducing the total page size
Compatibility the compatibility with PayPal Express checkout was enhanced
Fix the issue with wrong geolocation detection was resolved
Compatibility the compatibility with the 3-rd party extensions was improved
Improvement Security improvements were implemented
Improvement the email on the privacy policy update was enhanced
Improvement the ability to clone the disabled privacy policy was added
New now, the cookie bar can be displayed at the top of the screen
New now, the list of EU countries can be amended from the admin panel
Fix the issue with emails on denying a customer's personal data delete request was fixed
Improvement now, when a customer accepts the actual version of the privacy policy, he will not be asked to accept it again until the new version of the policy will be released. The update reduces the number of actions for registered customers to purchase products as
Improvement the possibility to edit an active privacy policy was disabled
Fix the issue with using PayPal on checkout was resolved
Version 1.4.4
Last Update: Sep 26, 2018
Compatibility the compatibility with the Amasty Full Page Cache extension was improved
Fix the issue with the privacy policy version creating for a store view was resolved
Compatibility the compatibility with the 3rd party extensions was enhanced
Improvement the stability was enhanced
New the ability to display the privacy policy confirmation checkboxes on the 'Contact Us' and 'Newsletter Subscription' forms were added
New the ability to anonymize personal data for the order placed by a guest was added
New the ability to adjust the cookie policy bar styles was added
Compatibility the compatibility with the 'Checkout with Multiple Addresses' feature was improved
Version 1.3.1
Last Update: Aug 27, 2018
New the ability to disable certain sections in the Privacy Settings of the customer account was added. Now, you can hide any of three available sections (download data, anonymize data, or request to remove account)
Improvement now, a customer can download, anonymize or delete its personal data only after entering the password
New the ability to disallow custom cookies in the cookie policy bar was added
Improvement the request for GeoIP location was optimized for better performance
Improvement the notification when deleting the customer account was improved
Version 1.2.3
Last Update: Aug 09, 2018
Compatibility the compatibility with the 3rd party extensions was improved
Compatibility the compatibility with PayPal Express was enhanced
Compatibility the compatibility with 3rd party extensions was improved
New now, the sample policy is created during the extension installation
Compatibility the compatibility with older Magento versions was improved
Version 1.1.0
Last Update: Jun 25, 2018
New the ability to manage the cookie policy bar was added
New now, the extension notifies an admin via email when a request to delete account is created
Improvement the extension's translation file was enhanced
Compatibility the compatibility with 3rd party extensions and themes was improved
Version 1.0.3
Last Update: Jun 15, 2018
Improvement the consent request was improved
Compatibility the compatibility with the 3rd party checkout extensions was improved
Fix the issue with the popup position was resolved
Fix the problem with the GeoIP data import was resolved
Fix the issue with permissions was resolved