Gift Registry
for Magento 1
Let customers easily create gift registry lists and share them with friends to get the presents they really want. Enhance customer experience and increase your sales.
Create and manage gift registries
Customize gift registry page
Share gift registries with friends
Specify all necessary event information
Keep track of all gift registries
Take customer shopping experience to the next level
Without a doubt building a positive shopping experience for customers is one of the basic goals for any business. With the Magneto Gift Registry tool you'll provide users with a great opportunity to get the gifts they really dream about, thus significantly enhancing their satisfaction. Store visitors will be able to create and manage an unlimited number of gift registries assigned to various important events. Let customers easily share gift registry details with their guests, drive massive traffic to your website and increase your sales.
Numerous options for users
Customizable gift registry page
Customers can easily create numerous Magento gift registry lists for wedding, birthday, Christmas or any other prominent dates and customize event pages according to their needs. Due to flexible extension settings registry owners will be able to upload an event image for each particular page and specify:
Event hosts;
Event title, exact address and time;
Additional information about the event.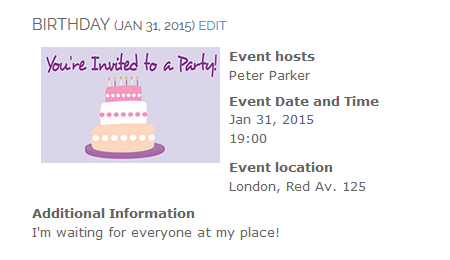 Possibility to share gift registry details
To make sure that all guests are notified about the upcoming event and know what to give as a present, customers can share all their gift registries via email or in social networks - Twitter and Facebook. The Magento Gift Registry extension enables them to send mass emails by specifying all necessary email addresses in a special window or importing them via CSV files. It's also possible to include a text message with additional info in the email.
More options
Provide customers with a bunch of advanced options to make the whole process of gift giving as easy as it can be:
Configurable and bundle products support (customers can add to registry as many products with different configurations as they want);
Add products to a gift registry from category and product pages as well as from the search results page;
Add products to cart right from the gift registry tab;
Priority for each product in the gift registry list: high, medium and low;
Write a comment for each item in the registry list to provide guests with more details about the gifts;
Display a gift registry on the store Search page;
Ability to protect Gift registries from unwanted page browsing
In order to avoid unwanted gift registry page browsing, customers can protect it with a special secret password and share it only with their guests. Therefore, to open the event page and purchase the gift all guest visitors should enter your secret password first.
Easy gift tracking
Registry owners can view all created gift registries well as all requested and received gifts in the 'My gift registries' tab on the account page. As soon as the gift is purchased and the order is marked as 'complete' by the admin user, the gift is placed in the 'Received gifts' tab.
Moreover, the gift registry Magento extension also enables customers to move any particular product from one registry to another and timely update the quantity of received gifts just in a few clicks right from the account page.
Options for store admins
The Magento Gift Registry module offers a whole range of features to admin users enabling them effectively manage gift registries.
Store administrators are able to:
Keep track of all gift registries on the website;
View and process all orders created for gift registries;
Edit the quantity of ordered gifts for a particular gift registry;

new!

Hide purchased products with selected order statuses from the registry;
Delete particular items from gift registries;
Choose and edit the template for email notifications;
Specify the name of the email sender;
Other Features
100% Open Source — Easy To Customize
Follows Magento Code Architecture
Separated HTML/CSS/JS
Simple installation via Composer
* The name "Magento" and the logo are the trademarks of Magento, Inc.