Auto Add Promo Items
for Magento 1
Automatically add free promo products to cart. Offer promo items with discounts and inform customers about promotions with catchy banners. Make little surprising presents and customers won't hesitate about returning to your store!
Optimized for mobile
Offer promo items with a discount
Display catchy banners and promo items on product pages
Clearly indicate promo items in the cart
Configurable & bundle products support
Works with coupon codes
Make customers feel loved by giving them little presents
The magic of 'FREE' is very powerful
What can be more attractive for a customer than getting a free product with purchase? Nothing! Studies show that free presents are a lot more effective than even big discounts, in other words a free five-dollar product attracts more customers than a ten-dollar discount.

Organize and manage promotional campaigns
You can start with basic ones and then create most sophisticated specials. 'Buy 1, get 1 free', also known as BOGOF, is a type of special recognized by all vendors and loved by all customers. Are you using it at your store?
Upgrade your promotional toolbox
Promotions must be updated from time to time, because customers get used to them. For example, you can start with specials like 'Get a free photo frame when purchasing 2 photo albums and a pack of photo paper' and then invent something new.
Clear stock
Very often store owners have products that are either oversupplied or not popular. How make customers click on Add product to cart button? Why wait till these items get outdated or spoilt? Make them work for your business with the extension!
Observe the solution in action
Automatically add free promo items to cart
When customers meet conditions of such promotions, our gift extension will automatically add free items to cart. Zero price will be displayed for the items. Magento auto add to cart tool also enables you specify a text label for the free items, so that customers have a clear indication that they are receiving a gift.

Offer configurable products as free gifts
Magento Auto Add Promo Items module supports configurable products as free gifts. This means customers will be able to select product attributes or needed custom options. Click Free Gift button in the cart and you'll see a user-friendly and responsive pop-up window or a page block with available options. The extension also supports bundle products.
Create classic 'Buy 1, get 1 Free' promotion
In addition to promotions like 'Get a free pen for every 10 purchased' you can have specials like 'Buy 2 shorts and 2 t-shirts, get slippers for free', 'Order a camera, SD card and a tripod, get a camera case for free', etc.
Unlimited number of rules per shopping cart
If you run several promotions with free items at your store, customers will be able to use any number of these promotions in one order. For example, if you have two discount rules like 'Buy 5 shirts, get 2 ties free' and 'Buy a phone, get a free wristlet', due to the Magento auto add to cart tool customers will be able to take advantage of both promotions in one order. The number of rules, that can be applied simultaneously, is unlimited.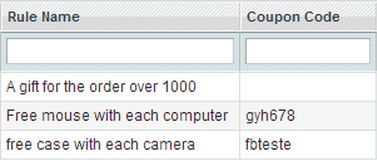 Automatically add gifts for every $X amount spent
With a new action type it's possible to automatically add free promo products to cart each time customers spend a particular sum of money. For instance, you can set a rule so that a customer will get a free T-shirt for each $500 spent. It means that if the cart subtotal equals to $1000 – the customer will get 2 T-shirts (one for each $500 spent).
Show Popup window on Checkout Page
'Show Popup on Checkout Page' option enables you to offer free gifts to your customers not only at the Shopping Cart page but also during the checkout process. With this option you get an additional opportunity to give your customers a positive shopping experience and increase loyalty.
Expand promotion functionality
With this auto add to cart extension you get three new discount rules, which let you provide free items either on per shopping cart or on per product/product group level. Also you can specify SKUs of the items which are provided as gifts to customers.
Create custom prefixes
Specify unique promo items prefixes displayed for orders in the admin panel. With the option you can create a separate prefix for each particular rule.
Manage tax calculation for promo items
It's possible to enable/disable tax calculation for promo products that are offered with discounts. Therefore, you can set tax policy according to your specific needs.
Virtual products support
Now all online merchants selling virtual products have a great chance to create tempting promotions with the Auto Add Promo Items extension. The module fully supports virtual products enabling you offer them as free gifts.
Ability to create not product-based promotions
The promotions do not have to be product-based. You can have offers based on subtotal, product quantity, other attributes. For example 'Free installation for orders over $300', 'Free bag for orders of 4 or more products'.
Avoid free gifts' doubling
Sometimes items may be used both in the free gift and promotion rules. Thus the customers may have two or more items for free with one purchase. The module has the option to apply only promo rules in such cases.
Choose whether to use free or paid shipping for promo items
You can configure which shipping to use for promo items - free or paid. This is crucial when delivering heavy-weight or dimensional products.
Specify whether to add to cart multiple promo items or only one product
In case you use these actions:
Auto add promo products for the whole cart;
Auto add promo items with products;
you can choose whether to automatically add all specified free items to cart or let customers select only one item.
Downloadable products support
Software, e-books, images, music or video – any type of content that can be packaged into files and downloaded now can be offered to the customers as a free gift.
Automatically add free downloadable items
Now it's possible to automatically add downloadable products to cart as free gifts without customers' confirmation.
Promo products with discounts
Offer promo products with discounts
Provide customers not only with free promo items, but let them choose the products with discounts as bonuses if they meet your rule conditions. You can specify either fixed or percent discount for promo products.
Show original product price in the pop-up
Use this option to let customers see that they can get bonus products with a discount. The module displays two prices – original and the discount price. A special price will be displayed instead of the original one if it is set.
Display product discount on the cart page
Inform customers about discounted products added to cart. Now you can enable product discount display right in the shopping cart, so that customers will clearly see the price difference.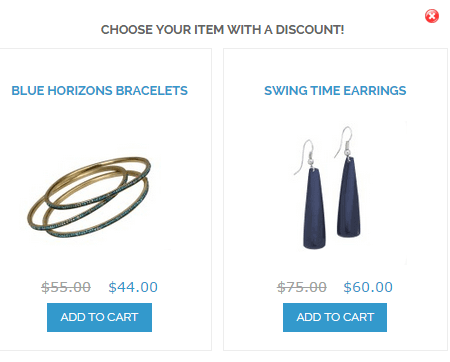 How customers will know about the free gifts
Display informative banners
Advertise your promotions with the help of catchy banners added to the product page. Let store visitors know about your promotions and redirect them to the promo items pages. You can also specify additinal promo text that can be displayed together with banners or instead of them.
Advanced promo options
With the extension, you can add promo items' images, descriptions and labels. These options will show which promo products the customer can get. Enable the display of promo items name and a short description for each promo product.
Choose where to display banners and texts
Easily specify where to display promo banners, additional texts and the list of promo items:
Top Banner - the banner and/or addtional text will be displayed above the product image;
After Product Description Banner - the banner and/or addtional text will be displayed above the 'Add to cart' button;
Fine tune special offers display
With new Promo Banners Lite, easily display banners, basing on their product SKU or their category.
Developed as a native part of Magento
Compatibility with responsive Magento themes
The extension is designed to be fully compatible with responsive Magento themes. It meets the requirements of widescreen, tablet and mobile view.
Get support of all native Magento promotion features
You can use all standard Magento conditions to define the cases, in which the rule should be applied. You can specify the number of free items provided with each rule application, also you can limit the maximum of free items per order, etc.
Tax calculation support
This Magento gift extension fully supports tax calculation and currency conversions.
Fully supports Magento stock functionality
The module will add free products to cart only if they are in stock. Out-of-stock items will be added only when admin allows orders of out-of-stock products.
Works both with and without coupon code
If you would like free items to be added to cart immediately once the rule conditions are met - please leave the coupon field blank. If you would like customers to get free items only after they enter a coupon code - please specify the coupon code for the discount rule.
One step checkout support
The module is compatible with one page checkout functionality and allows displaying gift options on the checkout page.
Try more solutions to enhance customers' loyalty
Please customers with great deals
Discover our advanced module for multiple discounts creation, called Special Promotions Pro. It provides you with a great selection of promotional tools created to leave your customers no chance to ignore your tempting offers.
Auto Add Promo Items Video Review
Product questions

Remove free items from shopping cart

Auto Add Promo Items extension allows to offer more than one free item for each rule. However, all applicable free items will be automatically removed from the cart if overall conditions do not apply anymore. Customers are able to remove free items from the cart manually.

Can a rule be applied based on what other items are in the cart?

Yes, with the extension, you can create a limitless number of rules for a shopping cart. For such promos as 'Buy 2 shorts and 2 t-shirts, get slippers for free' there is a special action 'Autoadd promo items with products'. To see more follow the link below.

Can I limit the number of free items per order?

Yes, if you want to add one free gift to cart in one order, you should apply the maximum quantity discount to 1. To see the screenshot read on.

Read the FULL answer

Can I limit the number of free items per several orders?

Yes, you can limit it making changes on the rule information tab. You should create a coupon and enter 1 in the 'user per customer' field. However, the rule will work with registered customers only and all the guest visitors will be able to get a present for each order. To see how to change it read on.

Can I use a rule "Get Free X when Y is spent"?

Yes, the extension offers 'free product with purchase for a total of X' or 'auto add promo items for every $x spent' action. You need to specify the number of free gifts and set up the 'Buy X'. You can also enable your customer to choose one out of several free gifts. To see how to make it go on reading.

Read the FULL answer

Can I add more than one free product?

Yes, in case you've set up a free gift for every $100 spent, a customer will get two free gifts automatically added to the cart or displayed in the pop-up when spending $200 or buying 2 items (for 'buy one product get another free') . Besides, you can make it by following the rule: 'get one X and one Y for each two A'. To see more details read on.

Can I give customers a few options of free products to choose from?

Yes, you can not only add free gift to cart, but provide as many options as you like. You can specify SKUs of the products that are provided as free gifts and point them out as promo items. Depending on the number of promo items you set, you need to specify the discount amount. To see the screenshots read on.

Can I include shipping cost to the free product?

Yes, you can allow or restrict free shipping for promo items. Free or paid shipping can be used applied to promo products, which is of a critical importance for heavy-weight or fragile products. To see the settings go on reading.

Сan a customer pick the size or other attributes of a free product?

Yes, with the extension you can automatically add configurable products to cart as free gifts, your customers can select product attributes. Read on to see the example.

How to use "Auto Add Promo Items with Products" Action

The 'Auto Add Promo Items with Products' action can be used to add a free product a customer will get with a purchase. You can define the number of promo items provided for a discount step, indicate a maximum discount, other settings. Read on to see all the possibilities.

Read the FULL answer

How to use "Auto Add the same product" Action

This is one of the 4 new actions added to your Magento with the module. You can offer the same product to your customers, as he/she's added to the cart at a lower price or for free. Read on to see more details.

Read the FULL answer

How to use "Auto Add Promo Items for the Whole Cart" Action

With the action, you are able to give a free gift with each purchase. Besides, you can configure the number of promo items and specify a discount amount instead of giving the products for free. See a complete answer to learn all the options.

Read the FULL answer

How to use "Auto Add Promo Items for every $X spent" Action

With the action, you can add a free gift to a cart for a specific amount of money spent by a customer making all the additional settings like specifying the discount amount, etc. Go on reading to see a full answer.

Read the FULL answer
Other Features
100% Open Source — Easy To Customize
Follows Magento Code Architecture
Separated HTML/CSS/JS
Simple installation via Composer
* The name "Magento" and the logo are the trademarks of Magento, Inc.
Good product and efficient team
Alf
We meet few problems during the installation of this plugin due to our "old" magento version. The team was really helpfull and fast to answer. So at the end i will strongly recommand the tool and the team :)
Amasty answer
Oct 25, 2019
Natalya Chekanina
/ Head of Sales Team
Dear Alfredo, thank you for your review! We would be happy to see you in our store again!
It was good
Three comp labs, CEO
I've been using the extension for one year already. The main purpose was to have better visual presentation for promotions and extra product info. As for now we have less questions from customers, clean shop. Also it is easy to use, custom options. I can recommend to anyone. Easy to use extension with a lot of different possibilities.
Amasty answer
Jul 26, 2019
Natalya Chekanina
/ Head of Sales Team
Dear Aamir, thank you for your review! We would be happy to see you in our store again!
Simple and efficient
We bought this extension to help customers add coupons right in the cart, and it has worked - our conversions are getting higher. I recommend it to every Magento e-store.
Amasty answer
Jun 14, 2019
Natalya Chekanina
/ Head of Sales Team
Dear Bruno, thank you for your review! We would be happy to see you in our store again!
Excellent extension and support
This extension is wonderful: we bought it and installed without any error. After some time we had a small issue in a very special environment but support service was excellent and fixed the issue for us. Thanks to Amasty for another powerful extension and their wonderful support service.
Good extension, excellent support!!
Although the extension didn't do exactly what we needed at first, the support was excellent and with the Support teams guidance we were able to tailor it to work exactly how we wanted. Very impressed!
Excellent extension, great support
This is an excellent extension and works out of the box. We had a little logic problem and had to reached out to Amasty. The support was very helpful and fixed the problem within 1 day.
Great Extension, Even Better Support
I have been using this extension for sometime with great success on my site. They recently added some new features to the extension which I was very keen to try out. I installed the latest version with no issues, however when I went to use the new banner feature it didn't seem to work with my theme.
I contacted support and within hours they had me up and running with no problems at all, they are a friendly & very competent group of people who really make me feel safe when purchasing their products, I know if I have problems they will have it sorted out in no time at all.
Great work guys, thanks again for the support and the great products.
I am using magento CE 1.9.2.4
Excellent extension, perfect support!
I have used this extension twice before and love it. It does exactly what it says and is easy to get promo items set up. Very configurable, and the Developer support is 2nd to none! Definitely recommend!
It could be better
Topnotch functions, prompt support - there is nothing to pick at. At the same time the plugin doesn't work out of the box and requires additional tweaking. But still it's worth the price we paid.
Works great -great support
This plugin works better than all the others (I've tested three). It was the only one I could get to add several bonus items for the same product.
In addition, support was very helpful and issued a fix within 24 hours for a small bug with secure cart.
I use Amasty's other plugins and am happy with those as well.

Must have extension, excellent support
Must have extension if you work with promotions or free gifts. The extension gives one a lot of possible options to promote sales. Excellent and fast support.
A must have for customer experience.
If you offer promo items or gifts in your Magento store, you must get this extension.
Very flexible, offers a great customer experience during checkout.
Simple to install.
Great examples of many promotions available.
I fully suggest this awesome extension for your Magento store.
EthanL
This extension works great but not compatible with our ajax cart, support help us solve the problem. Happy customer.
Brilliant quality
You definitely rock guys! I do love your extensions! This one works exactly the way it promises, nothing more and nothing less
Wise investment in good promotions
Simple, clear, useful... What else can I add? Been using it for 3 months already, and it's never let us down. I was hesitating while purchasing it, but now I'm glad I've picked up this very addon.

The manual is neat and brief, so everyone can set up the addon without any issues.
wish to have more detailed guides
I'm the owner of big online store with a great number of configurable products. I was charmed with the plugin functionality and ability of choosing custom options for configurable auto added products.

But when I bought the plugin I was unhappily surprised with the difficulty of its configuration and non-intuitive settings.

I appealed to customer care department and they set all the rules I needed. Now everything works right. I studied the rules and now I understand the logic. Maybe Amasty could provide more detailed user guides as in reality everything is not very complicated and I could have set the rules myself.

I'm satisfied
Actually I've found no difference between this application and the Free Gift (also by Amasty). So I've just picked up this one. Despite rather limited functionality for this price the app spotlessly does what it's promised in the description and the tech support is very helpful.
Very good extension
When I purchase a quality product - it usually lifts my mood. Unfortunately, in magento market quality products are rather an exception... That's why I highly appreciate companies providing perfectly polished code. Amasty is the case. Auto add works exactly the way I expected. The support is top-notch!
Awesome promo tool
The developer told us the truth pointing out that free promotions are much more effective than any other promo types. Indeed, according to our analytics, free gifts are highly appreciated by customers and lead to conversion increase. Maybe this is just because of our specific products - I don't know... but the app perfectly works for us!
reliable company
Runs perfectly for my Magento 1.9.1 - very, very sustainable workflow. Clear documentation and helpful support make this plugin stand out of the crowd. I'd tried 4 similar extensions before installing this one from amasty, so I do know what I'm talking about.
Top quality
This is my first magento module from amasty. It meets all my needs and works the way I expected. The support guys are very polite and attentive, ready to help at any time (even a picky client like me found nothing to complain about).
my love
Love this extension! Every once in a while we empty our clothing stock by offering customers free items of their choice. Allowing customers to choose size and color is very important. This module is just what we needed.
Wide variety of gifting options is impressive.
Keep up the good work, guys! You are amazing
Business booster
It is great, what's more to say. It's very easy to use and intelligent. You spend no more than a half an hour to install it and then maybe another hour to configure options. And yeah, that's it. This little cool thing brings your promo campaigns to the new quality level.
Keep it up, Amasty!
Needs some improvements
Not spotlessly perfect, but accurate and stable working. The module didn't run right out of the box, but after some code tweaking it greatly supplements store functionality and runs flawlessly without any issues.
Nice
We are selling cosmetics so promotional actions are crucial for us. We try to always offer some additional benefits to our clients. Adding free samples to cart was just a struggle for us. We almost ended up. Managing it manually was just huge work. This addon painlessly solved all our problems. To get everything together and running we contacted support team. I bet they are all geeks and never stopped until a problem is solved.
My review: great extension, amazing support!
Highly recommend
I'd been looking for something like this for quite a while. This extension gives the widest functionality for promotions, works perfectly both with & without coupon codes. This particular feature is very important for our store! Pop-up window is very useful and looks just great.
The plugin covers all my needs: it's simple, flexible, and it's reliable.

Thanks, Amasty
Smart extension and the best support
This extension meets all my needs, and I enjoy it. Professional and kind-hearted support managers helped me to go through all difficulties during the installation and setup. Hopefully our promotional activities would be with such a great tool and beautiful visualization on the frontend.
We finally found it!
I'd been looking for something like this for quite a while. This extension gives the widest functionality for promotions, works with & without coupon codes; this particular feature is very important for our store. The pop-up window is very useful and looks just great.
The plugin covers all my needs: it's simple, flexible, and it's reliable.
Thanks, Amasty!
Good functionality
I bought the module two months ago and it already started to bear fruit to my store. I'm especially satisfied with visual effects. I love the nice-looking lightbox and the responsive design that ideally matches my website.
At first I had some difficulties with promo rules setup but Amasty support manager kindly explained me what to do to get the desired results.
I feel that I've done the right choice.
Just perfect
This extension works great, and does exactly what I wanted for my shop. The support team is fantastic, so if you ever experience a problem or have difficulties in configuring the extension, they will be there for you. The answers are very fast( the best I ever experienced)
Keep up the good work!
Great extension!
Very easy to use and compatible with all other extensions! Love functionality and how much it simplify my work!
Great product, great service!
This extension is great, and they provided great support when I needed to tweak a couple things.
irideflatland
Magento Connect
Quality product indeed
The only suggestion I have for the module so that customer can choose gifts. With this extension you can add free gifts but they are fixed. You can do this with other Amasty modules but it's a suggestion so it can be available in this module.
Other features are good. The free products have the word free near them in the shopping cart, and there is an explanation of the rule for the customer in the shopping cart.
But the module is good. If you don't understand how to apply the rule support helps very fast. Good work

Nikita2014,
Magento Connect
Had a problem but support was amazing
The extension worked perfect but then i found it conflicted with one of my other extensions, after about a day the support (who were brilliant throughout the day) decied they couldnt fix ti and offered a refund or to just replace it with another product, so i did and the new product works perfectly. Support was brilliant and i have never had any trouble with this company.
Cool extension
Does exactly what I need and more, Amasty support is very helpful!
Thumbs up!
This is another excellent extension made by Amasty. I was looking for an extension for promo and fortunately found this one that met my needs. Many thanks for good job!
Great support !!
My installation went not as expected but Amasty comes to the rescue great support! The issue was solved whit in one hour.
Using Amasty software for several years now, this guys will not let you down. Highly recommended.
Excellent
Really satisfied with this module. I had a little problem, probably due to a third party extensions and Amasty support team solved it in less than 24hours. That's what I called being professional. I'll be surely buying more extensions from them.
Our customers are totally happy
We've been looking for a good tool allowing automatically add promo items to cart, and this little fellow does its best! Having a developer in our team we didn't even have to bother Amasty's support. Actually, this is one of the best third party extensions we've purchased :)
Must have module!
Wow, I'm pleasantly surprised with the module. Since I've installed it, there haven't been any problems with it at all. The support team explained me in details the way to handle it, so now I'm just enjoying with the process:)
Great extension and great customer service
Not only the extension is great (our customers love it, and it allows us to run better added value promotions) but their customer service is also awesome. We ran into some issues trying to make it work after a site redesign, and Amasty helped us fix it in record time.
We already use other Amasty extensions, and I can't recommend them enough.

Need something new
Nice tool for promotions in my Magento store. It seems that it would be better if the extension will have some more features. Or add a feature when the customer can choose one of the available gifts. That's why Amasty should add something new to the extension to make it perfect.
Thank you Amasty
Auto Add Promo Items has became our final tool. As you know each customer is glad to detect a free gift in his cart during the purchasing process. There is no matter will it be an expensive one or the cheapest product which you have in your web store. Using the extension from day to day our customer write only good reviews and their thanks to us. It seems that it is the best way to please customers.
To conclude it all I highly recommend the extension, I'm sure that it will find its applicationю And don't forget surprise customer, each of us love free gifts.

Stacey
Promo Labels and Auto Add Promo Items
It is a good addition to our Product Labels extension. Thanks to this extension our customers get a free gift with some of their purchases. It is very great to surprise customers when they are buying product they need and get a free gift. Also we are thinking about Promo Banners extension. Seems it will complete our promotion campaign.

Thank you,
James
The magic of the free is powerful
As the description says: "The magic of the free is powerful". And i tested in at my web store. Now customers have a small free gift with their purchase. Now a secret that people love free gifts and they buy more and more exactly in my shop, because they know, that they will have a free product for free.

Great,
Melory
Very great extension
Very great extension i recommend, i bought many extensions from amasty company, easy installation and fast response and experienced fix if there is Conflict with your website, many thanks!
All features to promote free items
I want to tell developers big thanks for this solution. I use it for my marketing campaign inside the shop. Now my bestsellers has good tool to be promoted. With a free promo items in a cart customers began buy more products. Especially it is a good way to promote products with some additional accessories.
And of course it is very convenient that extension has an ability to create not product-based promotions.

Regards,
Alan
Magento Connect
Workst great!
Customer get its free gift in the cart. Workst great! Easy to install.
Excelent and fast support!
Best promotional method!
The power of FREE is implemented with this extension and works perfectly! Thanks, guys!

shinks,
smartbuy.jo
Great company
Very great extension i recommend, i bought many extensions from amasty company, easy installation and fast response and experienced fix if there is Conflict with your website, many thanks!

okeshopping2012,
Magento Connect
Interesting way of promotion
Works just like it is explained. Smooth and easy install, just like a good plug-in should. Support was quick to respond to my questions before and after the sale. I will be buying more from this company.

billmill,
Magento Connect
Great for Free Product Promotions
Magento has no auto add free product prmotions feature. Customers love free products, so i purchased this module. It adds free product if rule is ok. Simply brilliant.
Simple and usable
Works perfectly, tried a couple of other extensions that claim the same thing but this one just works exactly as you need it too, great support as well.

Peter,
Shore
Great extension
Great extension - works very simply without any code required - just straight out of the box.

It's really customisable, sensibly priced and cheaper than the competition.

And their support is quick - raised and closed 2 requests with them in a few short hours all in one day.

Highly recommended.
Fantastic
Fantastic. Bought and installed within minutes. Immediately downloadable, easy to configure.
If you're in the UK they add VAT on after though, so bear that in mind if it affects you.
Are you looking to add specific functionality for this extension or want to acquire a reliable development partner altogether? With custom development services by Amasty, you will receive high quality and cost-effective solutions developed by Magento professionals according to industry's best practices.
CE 1.4.x - 1.9.x, EE 1.8.x - 1.14.x
You can always download the recent version free of charge from your account
Installing an upgrade is easy — check now
My Downloads
Version 2.7.14
Last Update: Sep 02, 2019
Improvement compatibility with 3-rd party extensions was enhanced
Fix the issue with applying several free gift rules in one cart was resolved
Fix the issue with auto adding free gift in cart was fixed
Fix the issue with banner label position at media block was resolved
Fix the issue with changing qty for second promo product was resolved
Improvement escape for SKU name was added
Fix the issue with incorrect number of free gifts in shopping cart after changing product qty was resolved
Improvement the ability to show product special price in popup was added
Fix the issue with Discount Qty Step was resolved
Fix the issue with Content Staging process on Magento was fixed
Fix the issue with free items quantity after changing rule settings was resolved
Fix the issue with tax displaying in a pop-up window was resolved
Fix the issue with labels displaying on products images was resolved
Improvement the note for settings "Add Simple Products Automatically, Without Confirmation" and "Add Downloadable Products Automatically, Without Confirmation" was added
Compatibility the compatibility with the Amasty Shipping Rules extension was added
Fix popup design was adjusted
New we introduced a new action - 'Add gift with each N-th product in the cart' which allows you to add gifts automatically based on the product quantity in the cart.
Version 2.6.5
Last Update: Feb 21, 2018
Changed default style for gifts popup. Now popup is wider so more gifts can be displayed.
Fixed some JS errors.
Other minor fixes.
Fixed rare loop situation
Magento Enterprise Edition compatibility improved
New Stock Qty and Product Weight attributes are now available to use in Conditions
Improved compatibility with Special Promotions and One Step Checkout extensions
Tax\VAT calculation improved
Number of minor fixes
Version 2.5.2
Last Update: Aug 07, 2017
Older Magento versions compatibility improved
New option: apply next based rules on gifts added with the current rule or not
Internal improvements for products with custom options
New feature: show gift on cart inside page block. Now you are able to set up show gifts in pop-up or on the cart page
Fixed bug when try to create rule with valid Promo Items Discount value
Version 2.4.5
Last Update: Jun 13, 2017
"Skip if special price" logic was fixed
Banners logic was simplified
Field renaming for better understanding of rule's setting. I.e. for some rules the setting "Discount Amount" is renamed to "Number of gift items".
New feature to enable/disable Promo Banners for each rule separately
Now ignores spaces when filling in "Promo Items" field with SKUs
Now final (discounted) price is taken into consideration, when filtering products on category pages
Fix for incorrect calculation for "Calculate Tax For Promo Items" in general settings
Fix for grand total incorrect calculation when in Promo Item Price tab the value of Promo Items Discount is bigger than the price of free gift item
Fix for error on getting gift when in Promo Item Discount field the value is set with characters other than numbers
Fix for incorrect banner activation on product page (Validate condition based on = Cart) when product does not satisfy rule conditions
Fix for automatic pop-up opening didn't work with empty value in Select Promo Block (System -> Configuration -> Promo items -> Popup)
Fix for notification on successful adding of free gift on product page after page reload
Fix for products that are "out of stock" or "disabled" could be shown on banner
Fix for Store View was no taken into account when creating order from Admin panel
Fix for Free gift was given with activated setting "Do not Offer Promos for Products with Special Price = Yes"
Show reminder if gift is "out of stock"
Fix for gift item was added automatically if this item is not free
Added extra free gifts if bundle product is added through admin panel
Fix for label "Prefix For The Promo Item Name In The Order" wasn't added when adding item by admin panel
free gift is given for bundle product with special price and activated setting "Do not Offer Promos for Products with Special Price = Yes"
Version 2.3.14
Last Update: Dec 07, 2016
Fix for banner bug, in case when first child product in configurable was out of stock
Added ability to include/exclude tax, and calculation is now based on store/base currency for rule "Auto Add Promo Items for every $X spent"
Fix for missed CSS file path
Added hints for attributes usage
Added warnings about possible wrong configuration
Now it is possible to add Store Credits as a gift, if the Amasty Store Credit extension in installed.
Allow/deny auto adding gifts for admin orders
JS minification fix
Minor fix for generating URL for cart update page
New option: Add Downloadable Products Automatically
Option to show banners from all matched rules or show one banner only.
Minor fixes
Fixed auto-adding gifts when customer removes main product from the cart multiple times.
New setting added. How to validate rules - for the current product only or for the whole shopping cart.
3-d party checkout extension compatibility
Fixed banners display when the free gift is out of stock
Option to show offers based on current product only or whole shopping cart content
Tax calculation for not free promo items
Option to set prefix for the promo items per each rule (previously it was a global setting)
Stability improvements
Version 2.2.11
Last Update: May 11, 2016
PHP 7 compatibility and minor improvements
Compatibility with Magento EE Gift Cards and stability improvements
Now it is possible to reward customer for each $X spent with conditions (previously the module took into account all products)
Small stability improvements
Fix for discount on invoice
Downloadable products support
Show "Banners tab" for 'Auto add with products' and 'Auto Add the same product' actions only
Minor improvements
Option to automatically add free items as well as items with discount
Ability to show gifts on product page
Ability to show labels and banners to highlight products with gifts
Version 2.1.0
Last Update: Aug 26, 2015
Store view selector to shopping cart rules is added
New setting "Show Popup on Checkout Page"
Better Full Page Cache compatibility
Version 2.0.9
Last Update: Jun 11, 2015
Setting to open free item popup automatically on shopping cart page
Compatibility with Full Page Cache
Popup window now works on mobile devices
Fixed reorder for orders with free gifts
New action: Auto add gifts for every $X amount spent
Option to disable error notifications when you add main products to the cart, but there is no free gift available in the stock.
Url placeholder in notification text
Add session message only for non-ajax requests
Magento 1.4.1 compatibility fix
Minor fix related to required options
Ability to add ALL items from the list or ONE item from the list;
Free shipping bug fixes;
Virtual products support and minor improvements
Configurable products support
Nice popup (responsive) for products selection
Paid shipping for free gifts (optional)
Version 1.0.9
Last Update: Aug 26, 2014
Fix for core magento bug with zero discount, free shipping and unlimited coupon usage