Configurable Preselect
for Magento 1
Select an associated item of configurable product, which you would like to show by default. Attract customers and increase offers by showing the most popular combinations!
Promote popular combinations of configurable products
Cut down time to figure out the options
Add combination to cart with one click
Simplify shopping in you online shop
Increase sales of configurable products
Shows most common attributes combination
When a customer gets to a page of any Magento configurable product, there are no options chosen and it can make him or her confused. Configurable Preselect is an appropriate tool to show some popular combination to customers at once. Of course, customers will be able to choose a different configuration when needed.
Display options of a cheapest configurable simple product by default
Instead of configurable default options, the extension can show the options of the cheapest child product on the page load.
Give direct links to options of configurable products you created
For example, you have product URL http://your_site_url.com/product.phtml. Add '?sel=' and id of the simple product after the url to get a link like http://yoururl.com/product.phtml?sel=2. Or add '?sel=' and SKU of the simple product after the url to get a link like http://yoururl.com/product.html?sel=SKU. When a customer opens such link, the Magento configurable product page will display the simple product, id or sku of which is indicated in the link.
Shopping process simplification
Minimizes the number of mouse clicks
The default combination can be added by customers to cart with just one click. It is a great way to increase web shop usability.
Take care of your customers
The real price for combination will be displayed right away, not of the base product. It won't baffle customers and they will make right decisions for combinations they need.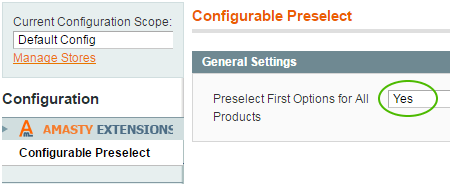 Preset all available attributes of a configurable product on page load
For instance, the configurable products in your store have 2 options: size and color. By default, Magento doesn't display the second option, while the first one is not selected. The new feature enables you to display both configurable options on page load.
Other Features
100% Open Source — Easy To Customize
Follows Magento Code Architecture
Separated HTML/CSS/JS
Simple installation via Composer
* The name "Magento" and the logo are the trademarks of Magento, Inc.
expensive
It's very convenient not to customize the shop and to use this extension. But I think that it's too expensive for this feature (=
Good little app for configurable products demonstration
We sell apparel. Therefore this app improved our product performance - with its help we finally managed to create unique selling propositions for configurable products and set them as default. Obviously, this app is not one of must-haves for any store, however for those who sell configurables and want to anticipate customer needs this is a good solution.
Unfortunately the vendor seems to forget about this app, as it hasn't been properly updated for ages. Nevertheless, it works as it's promised in the description.
Nice and interesting
It is a nice and interesting extension for those of us who sell configurable products, specially when we need to make offers on a certain configuration. It would be better if the default item could be masively chosen, which didn't seem to come as default, but even so it is a great extension. I reccommend it.
No issues to worry about
This module really motivates customers make decision to put products to their shopping cart. I've just installed this module. Have no issues with it and wait for positive selling dynamics, like it's described in previous reviews.
The results are visible almost at once
Great way out for indecisive customers. This tool really works and visibly increases conversions helping to sell more.

shop_owner,
Magento Connect
Helps to sell out all your products
When customers don't know what to choose - offer them a ready set, this is a genial solution!
Helps to create great product combinations
It works great with other Amasty modules and easily helps me sell out the products I need to sell first. It shows possible product combinations and all customer needs is to add ready combination to cart.,

Stan,
Magento Connect
One more good marketing tool to my list
This is a real treasure for marketing campaigns. I'm happy I've installed this. Actually it helps to configure any product combinations and sell out the products I need to sell faster.
It helps to sell out everything
The extension has almost doubled the sales of unpopular products when I combined them with more attractive configurable ones!
Ready Product Combinations
It has become easier than ever to create all possible product combinations and customers willingly use this handy option. I'm totally satisfied!

Noah
Magento Connect
User-friendly feature
Thank you for this small, but very useful feature. My customers really appreciate it when they don't need to endlessly click on the products to create the combination they want.

Ali Khan,
Magento Connect
Good tools to increase shop profit.
At first sight it seems that the extension has no special features, but using it i opened the whole extension's advantages. Easy one click shopping, demonstration of ready combinations, etc. In a word it is very good for marketing inside the online shop.

Jerry,
Magento Connect
Visually demonstration
When we started use configurable products, our customers don't understand how to use it and what to do on such page. With the extension we can visually demonstrate possible product combinations.
Boost sales with combinations
I assort suitable combination of product for customers and they can add full combination with a click. with such combination i boosted my profit. Customers wrote that such combinations of product is very convenient for customers and for purchase process.

Sally,
Magento Connect
A part of my marketing
With the extension sales of my most popular combination was increased. For popular combination I often use product with i need to sale fast. It is good to use the extension in addition of the marketing campaign.

William,
Magento Connect
Works perfectly
Works awesome with 1.5! We definitely need an ability to show the individual product price when a customer opens the page.

Alex,
Webmaster
Are you looking to add specific functionality for this extension or want to acquire a reliable development partner altogether? With custom development services by Amasty, you will receive high quality and cost-effective solutions developed by Magento professionals according to industry's best practices.
CE 1.4.x - 1.9.x, EE 1.8.x - 1.14.x
You can always download the recent version free of charge from your account
Installing an upgrade is easy — check now
My Downloads
Version 1.3.2
Last Update: Nov 05, 2018
Fix the security issues were resolved
New the information section was added. Now, you can see the version of installed extension, available updates, the user guide link, conflicts and other useful information right on the module configuration page
Added a function to auto-select the simple product with the lowest price i.e. the cheapest option to be selected by default
Version 1.2.2
Last Update: Sep 19, 2017
Fixed the issue with image loading
Preload Image Block from Simple Product on Product Page
Version 1.1.6
Last Update: Oct 18, 2016
Compatibility fix for Magento swatches
Possibility to automatically select first option and display all attributes of configurable product on page load (with a setting)
Compatibility with Magento Swatches (since Magento 1.9.1)
Ability to give direct links to options of configurable products.