Out of Stock Notification
for Magento 1
Be aware of what products customers subscribe to - get more sales and improve customer service.
Improve inventory turnaround and get more profit
Build customer loyalty and increase customer satisfaction
Subscribe to out-of stock options of configurable items
Customers see and manage their product subscriptions
Track out-of-stock and price subscriptions
GDPR compliant
More profit through more efficient Magento inventory management and pricing
Know what products your customers subscribe to
Magento inventory management functionality allows customers to subscribe to stock and price alerts for products in compliance with the GDPR requirements. It also sends Magento back in stock notifications to customers, which is nice. However, there's no way for admin to see to which products customers subscribe. So it is difficult for you to make informed decisions about stock renewals and price updates. This leads to money wasted on unwanted products and unnecessary price modifications. With this Magento stock alert module, you will know which products' stock or price need to be updated.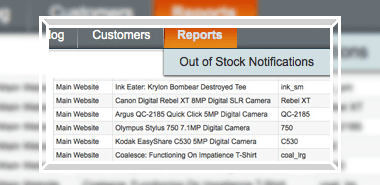 Refill the products, which customers want to buy
With the module you will see to which magento 1 out-of-stock products customers subscribed. This way you will load your stock with the products which you can sell right away.
Return your investment faster
By keeping in stock the products which customers want to buy, you will sell products a lot quicker and save on inventory.
Optimize prices
It is very difficult to set the 'right' prices for products – your business needs to be both profitable and competitive. Getting out-of-stock and price alerts, you can increase prices for popular products and decrease the ones which customers would like to buy, but don't due to high price. Very often even minor price changes will help you to get more revenue.
Build long-term relationships with your customers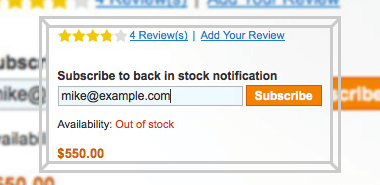 Interact with guest customers
By default only registered clients can receive out of stock or back in stock notification or other alerts. Nowadays many customers prefer not to sign up, however this should not stop your interaction with such people. The module enables guest customers to subscribe to stock and price alerts and get notified about back in stock products, which will considerably increase the base of potential product buyers.
Make customers more loyal
With timely price changes and stock renewals you will demonstrate to your customers that you respect their opinion and they will return to your store more often. Everybody wins in such situation – customers get the desired products and you get more orders.
Improve customer satisfaction
The faster customers get the desired products – the more satisfied they are. With the module you will quickly see which out-of-stock products they are waiting for.
Get accurate subscription data to make right inventory decisions.
Let customers subscribe to Magento out of stock PRO options of configurable products
By default Magento does not allow to subscribe to out of stock options of configurable products. So if large size of red shirt is not available and a customer wants to buy it, you will never know this. This is a major flaw if you sell configurable products, as you may lose a lot of sales just because you don't know which products customers would like but can't get at your store.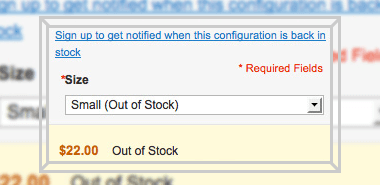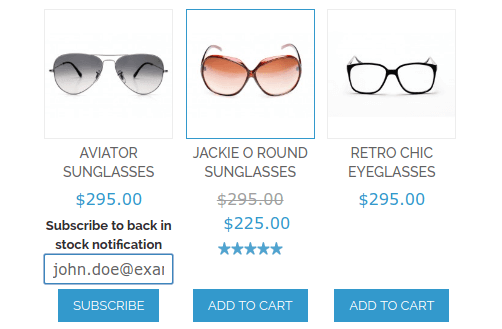 Let your customers subscribe right from the category page
The extension allows customers to subscribe for the out of stock notifications right from the Magento category pages. Two options are available: you can either display the field for the e-mail input below the product, or in the flexible responsive pop-up.
Collect consents for email collecting to meet GDPR requirements
This module is EU's GDPR compliant. Configure the consent text and enable the GDPR compliance functionality to collect users' agreements when asking for their emails.
Let customers manage their product subscriptions
Customers can see to what products they are subscribed to and change their subscriptions. So the subscription data you see in admin panel will be actual and you will update the right products.
Export stock alerts data
Export information about stock alerts subscriptions to CSV or XML files for further analysing and processing in one click.
Hide the 'subscribe to' functionality from certain product pages
If you want to restrict customers from subscribing to certain products in your store, you can easily turn off the subscription window for specific products in your catalog.
Ability to subscribe to configurable price notifications
Now extension supports price subscription for configurable products. Therefore, customers and guest visitors will receive price notifications on any configurable item they subscribe to.
Customers can subscribe to the grouped products
With this functionality you can see the subscriptions to the grouped products, too.
Receive email reports for new subscriptions
Stay updated on the latest information on what exactly your buyers want. Receive daily emails with a list of all product alerts to which the customers have subscribed.
NOTE:
For proper extension operation, you should configure a cron job.
More features:
Custom greeting text for out of stock emails;
Set min stock quanitity to trigger emails dispatch;
Customize notification emails template;
Limit the number of emails based on stock products quantity;
Manage subscriptions based on customer groups;
Disable price subscriptions for specific customer groups;
Add a handy subscriptions tab to a customer account;
Use a parent product image for simple product subscriptions in a customer account.
Other solution to make your store even more user-friendly
Custom Stock Status extension is great addition to Out of Stock Notification PRO. Create unlimited number of product stock statuses and assign stock statuses to products automatically or manually.
Product questions

Are out of stock notifications available for guest users?

Yes, this feature is available out of the box. There is no need to configure anything - the extension will display e-mail box for guest users instead of the subscribe link.

Does this extension work with multiple options in one product?

Yes, sure. Users can subscribe to a combination of options like color and size.

Does this extension work with Color Swathes modules?

Our Out of Stock Notifications plugin is compatible with the overwhelming majority of 3d party extensions. But in case any issues occur - our support team will instantly help you to solve them. The module is 100% compatible with our Color Swatches Pro extension.

Can alerts subscription be disabled for certain products?

Yes, with this extension you can enable the stock alerts block for all products by default and disable the display for particular items. If you need the out of stock disable, you should make some changes in the general product imformation. Follow the link below to see all the details.

Read the FULL answer

Can you only enable/disable stock alerts on a store-view level?

No, it's possible only on a website level due to native Magento Stock Alerts configuration.

Are there any ready-to-use email templates for out-of-stock notifications?

The Out of Stock Notification extension offers a set of ready-made templates like 'out of stock email' or 'stock notification email', which can be customized if needed. If you want develop your own notifications read on.

Read the FULL answer
Other Features
100% Open Source — Easy To Customize
Follows Magento Code Architecture
Separated HTML/CSS/JS
Simple installation via Composer
* The name "Magento" and the logo are the trademarks of Magento, Inc.
Excellent Support
I have installed this extension on my website and it works seamlessly.<br>We ran into minor issues during the configuration and the support was fantastic and we had it resolved in no time. Very happy with the support.
Perfect!
Thanks to Amasty:
Extension:
The extension works as described on my CE 1.9 and helpes to get in touch with customers/guests which doesn't want to create an account at there first visit. And you have always an overview about out of stock products which are really intrested for customers and you can restock without wasting money.
Support: I had a small issue but the support helped me in this case perfectly. They also gave me advice and a clearly described information about a small issue with an other extension which comes in conflict with an other Amasty extension
I'm a fan of Amasty now and recommend the products and service!
Thank you
Ilias

Excellent extension and support
As many other Amasty extension this one is very useful and powerful! Moreover Amasty support service is excellent and they helped me customizing some templates. I absolutely recommend this extension.
Great as usual
We have lots of configurable products in our store and the demand for product variations is not equal. It means that some variations get out of stock and we should know whether people need them or not. For example, we had an orange cap that had only 2 people subscribed for it and a black cap that had over 30 subscriptions. Of course, we put our efforts in producing black caps and had them sold quickly.
This is a priceless tool for those stores which don't have large warehouses and produce goods according to customers demand.
We had no problems with this mod so far.
Vadimo77
Magento Connect
Thanks for great tool
We use this extension for our spare parts category. Basically we never decide to order them by ourselves; we just look at the subscriptions and make our orders based on them.
The big advantage of the module is admin can see subscriptions and how they send, you can regulate the module so it do not sp am customers.
We had issues installing this and something with cron settings, thank you to support for help, now it's working good.
We have suggestions:
- Please let us import subscriptions, it is long to go for all products and see the list.
- Please add some notifications for the manager like email notifications when we get subscriptions
Thanks you.

krecmc,
Magento Connect
good extension with fast support
I like the extension though I had some problems with alerts for configurable products. Amasty support solved that problem quickly and now everything is great.
best waiting list
this extension save my day
good extensio and fast support
I had some problems with installation though I followed all the steps carefully. But Amasty support helped me out.
The extension works properly and seems indispensable for me now.
This extension is great for any store with a large catalog!
I have thousands of products in my store and that makes it difficult to know which products to restock and which to delete. With this extension I can see which products are the most wanted by my customers and then quickly restock to my customers content.

I encountered a few bugs after purchase but the Amasty support fixed and handled everything extremely fast without any fuss.

Thank you.
Works for my restaurant.
In my restaurant there is an opportunity for customers to order dishes from site with delivery. It's important to inform about delivery time. Also usually there are some comments like "delivered with cream souce".
The module is absolutely impossible to replace. Highly appreciate.
Great extension to inform about delivery time
The extension has great features and easy to understand. Highly appreciate it! We use it to sell dishes, where it's essencial to inform about delivery time.
Just essential for configurables!
I especially needed this module for configurables to know which color is in demand. Easy to use! Thanks, Amasty!
increased sales
With this extension I managed to increase sales by 13%!!! Now I see that I was wrong choosing the popular products. The customers want another ones and subscribe to them! I refill mz stock and increase sales!
Competitive advantage
I've chosen this module among others cause it allows guest customers to subscribe for alerts. It's rather important cause usually not all customers are eager to register in the store.
Works for large catalogs great!
This extension is great for any store with a large catalog!
I have thousands of products in my store and that makes it difficult to know which products to restock and which to delete. With this extension I can see which products are the most wanted by my customers and then quickly restock to my customers content.
I encountered a few bugs after purchase but the Amasty support fixed and handled everything extremely fast without any fuss.
Thank you.
Extremely useful!
This is extremely useful extension for a website that has registration disabled. With help of the Out Of Stock Notification guest customers have possibility to subscribe to stock alerts, and we started getting more sales from such kind of visitors.
Are you looking to add specific functionality for this extension or want to acquire a reliable development partner altogether? With custom development services by Amasty, you will receive high quality and cost-effective solutions developed by Magento professionals according to industry's best practices.
CE 1.4.x - 1.9.x, EE 1.8.x - 1.14.x
You can always download the recent version free of charge from your account
Installing an upgrade is easy — check now
My Downloads
Version 1.8.10
Last Update: Mar 18, 2019
Improvement an ability to generate link to simple product from notification email was added
Fix an issue with configurable product with one attribute was resolved
Compatibility the compatibility with Magento Swatches functionality was improved
Fix the issue with export alert items was fixed
Fix the issue with the subscription incorrect work with https was resolved
Fix the issue with the daily notifications was resolved
Fix the issue with the daily notifications was resolved
Improvement now, all alerts about several products back in stock sent in one email for the guests
Fix the issue with the notifications for configurable products was resolved
Improvement page load time was enhanced
New the functionality to comply with the latest GDPR EU changes was added
Version 1.7.10
Last Update: Jun 05, 2018
Fix the issue with My Stock Subscriptions tab in customer account not used HTTPS was resolved
Fix the issue with alert order was resolved
Fix fixed stock status for composite products
Improvement an information section is added. Now you can see the version of installed extension, available updates, User Guide link, conflicts and other useful data right on the module Configuration page
Fixed the issue with a price subscription feature
New added the notification message in case the Magento module's output is disabled
Fixed the issue with the email validation
Fixed the issue with an incorrect simple product URL for the configurable products
Compatibility with older Magento versions
Fixed the issue with the not logged in user redirect during the subscription
New allows to subscribe for the out of stock notification right from the category page
Version 1.6.1
Last Update: Jul 31, 2017
Knowledgebase link changed
Guests can now unsubscribe from all notifications
List of subscriptions can be exported in CSV
Subscription can be disabled for particular customer groups
Version 1.5.5
Last Update: Dec 01, 2016
Compatibility with older Magento versions improved
Compatibility with Magento 1.9.3.1
Show alerts tab in customer account only when product alerts are enabled
Minor fix for grouped products
Option to subscribe by guest or customer to the product by email from the admin interface
Version 1.4.0
Last Update: Jun 28, 2016
Possibility to limit number of e-mails sent by quantity of products back in stock
Version 1.3.0
Last Update: Jun 21, 2016
Possibility for store owner to receive e-mail report (once per day) for notification subscriptions by customers
Version 1.2.14
Last Update: Jan 05, 2016
Admin routing patch (SUPEE-6788) compatibility
Compatibility with Magento 1.9.2 security patch
Translations file improved
Support for grouped products improved
New column to display the number of customers awaiting notification is added to the grid with colouring statuses
Possibility to remove individual subscriptions from the product edit page
Out Of Stock Notifications: bug fix for ACL
Support for configurable price subscriptions
Possibility to send notifications as soon as product quantity changed by admin
Tested with the latest Magento CE 1.9 release.
When a guest user gets registered, the subscription with his/her e-mail address is automatically added to the account
When a guest user enters the e-mail of an existing customer, the subscription is being added to the customer account
Version 1.1.9
Last Update: Jan 31, 2014
Better compatibility with Custom Stock Status extension
Template files re-based
Minor bugfix
Setting to enable/disable subscription for guest customers.
New feature - support of subscriptions for grouped products.
New feature - each product now has a yes/no attribute to hide "subscribe" functionality.
Improved installation script
Version 1.0.9
Last Update: May 23, 2013
E-mail field length increased to 50 characters.
Bug fix of sorting issues on report page in the backend.
Translation file added.
Link goes to configurable page instead of simple.
Possibility to remove customer from list after notification sent.
Bug fix for removing correct database index.
Fix for installation script.
Minor bug fix (installation script).