Call For Price
for Magento 1
Take prices visibility over control. Manage your price blocks by hiding them from certain customer groups or replacing with appropriate content.
Replace product prices with custom messages
Select customer groups to show prices to
Specify pages where prices won't be displayed
Show product prices for particular products
Encourage customers to call for pricing
Establish live contact with your customers
Some products in your store require specific approach to be sold? Simply replace their prices and "Add to Cart" button with the "Call for Price" message to make visitors contact your call-center team for more details. There are hundreds of reasons why you may need to remove the prices from your pages: some products are out of stock at the moment or their prices vary depending on different aspects etc. Therefore, it's better to make shoppers call your managers to find out the most up-to-date product info.
With the Call for Price Magento extension you can easily manage prices visibility for particular customer groups by replacing them with a custom content or redirecting to any page you need. Moreover, with the extension you can easily generate a rich customer contacts database to effectively use it for your marketing needs.
Replace price blocks with custom messages;
Redirect customers to any page you need;
Select customer groups to show prices to;
Show prices from particular customers;
Display price for particular store views;
Replace price blocks for single products;
Replace price blocks for product groups;
Replace price blocks for the entire store;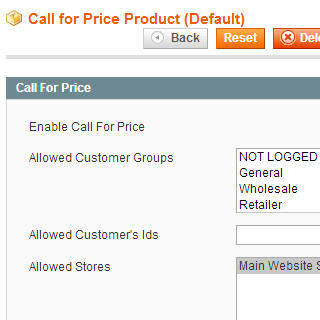 Price visibility for customers
Due to flexible Magento Call for price module settings you can maximally personalize your pricing policy by selecting customers to show prices to. This option enables you effectively manage price visibility and encourage particular clients to contact you.
Select customer groups;
Select particular customers;
Select store views;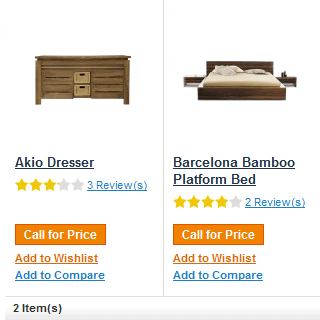 Price visibility on different pages
Magento ask for price tool also gives you the opportunity to select pages with products where the prices should be replaced. Easily mark particular items which prices won't be displayed to customers. If you want to hide the whole group of products or the entire items list, just tick it in a special check box and none of the group item prices will be available. This handy option will significantly save your time as there is no more need to mark each single product in a group.
You can replace the price blocks:
On product view pages;
On product category/ subcategory pages;
In the whole store;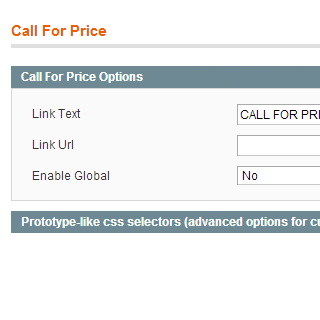 Customize message text
Having equipped your store with the call for price Magento extension you can easily change the message text, carefully adjusting it to your specific needs. The tool also provides you with the redirect option, it means you can make your message clickable by specifying the link for it and direct visitors to any page you need (e.g. Contact Us page, Subscription page etc.)
Customize message text;
Set the link to redirect customers to any page you need;
Encourage customers to preform the desired action;
Product questions

How can I change the color of 'call for price' button?

Read the full answer to see the settings.
Other Features
100% Open Source — Easy To Customize
Follows Magento Code Architecture
Separated HTML/CSS/JS
Simple installation via Composer
* The name "Magento" and the logo are the trademarks of Magento, Inc.
cool basic features
Awesome module! No bugs or anything like that occurred on installation and while using it. Only basic features which are important, no anything unnecessary which would be waste of money.
Great tool for its price
As soon as Magento lacks such options like price management, we had to look for a third-party tool to mask prices for some customer groups.

This addon is a real catch, as it's clear navigation helped us quickly set price display exactly the way we needed. We are fully satisfied with this price hider and already think of purchasing some more Amasty extensions.
Simple price display management
We've chosen this magento call for price app among tons of similar ones, just because we previously bought two Amasty mods and they worked like a charm. We didn't expect much, we just needed a reliable bug free tool enabling us to separately display prices for whole sellers and other customers.

No problems with installation, no conflicts with other mods, no bugs - one more wise investment in Amasty products. We are fully satisfied with it.
Works great
This extension works great, instructions are accurate and support is just fantastic. Thank you very much for your kindness!
Backend
you'll be logged in automatically
Are you looking to add specific functionality for this extension or want to acquire a reliable development partner altogether? With custom development services by Amasty, you will receive high quality and cost-effective solutions developed by Magento professionals according to industry's best practices.
CE 1.4.x - 1.9.x, EE 1.8.x - 1.14.x
You can always download the recent version free of charge from your account
Installing an upgrade is easy — check now
My Downloads
Version 1.7.19
Last Update: Jul 24, 2019
Improvement compatibility with 3rd party extensions was improved
Fix issue with customer groups condition was resolved
Fixed an issue with 'add to cart' button visibility on the category pages
Better compatibility with custom themes from Ultimo
Added support of large number of customer groups
Fix for category settings now being applied to product page correctly
Compatibility with review block
Minor improvement for hiding add to card button
Minor compatibility improvements
Version 0.1.0
Last Update: Dec 01, 2014
Tested with the latest Magento CE 1.9.0.1 release