Call for Price
for Magento 2
Replace the price with flexible options. Place a link with redirection or an image instead of the button. Select the group of customers and particular categories to display the 'Call for price' button to. Easily engage customers into more activity, asking to sign up and provide more feedback.
Replace the price info with various flexible options
Hide prices from particular customer groups
Display special price only on particular category pages
Use popup to collect the customers' data
Use redirection links for your marketing purposes
Challenge
Price formation may become a rather complicated and troublesome procedure. You need to constantly keep track of price increases, adaptate it according to your business needs, current financial situation of your target audience and, as a result, timely change prices on the site. Obviously, your shoppers may not be satisfied with such price changes. Thus, in particular cases, it would be useful to hide actual product cost and provide custom prices for Magento 2 items. But what to do if the default Magento price functionality does not allow you to initiate negotiations?
Solution
Magento 2 Call for Price is the extension that leads store owners and customers to a pricing consensus. Get the most out of the purchase by productive interaction with buyers. Moreover, in many cases, the price has to be hidden: when the price changes frequently, when the goods are out of stock, when the items are free, etc. With the settings, manage all the nuances in no time and offer special Magento 2 prices per customer within the store.
Interact with customers
Replace the 'Add to cart' button
Since you decide to hide the price, the Add to cart button can be replaced with a Call for price button or Request for sign up or any other engaging call to action button.
'Get a quote' popup
Offer a custom Magento 2 price per customer by replacing the Add to cart button with a popup. The popup contains fields, that request necessary information. An easy way to know your customers better and gather additional information about them into your database or use in analytics tools.

Manage Visibility
'Call for Price' for Selected Categories
Place the Call for price button on the separate categories to offer your customers specific pricing for particular Magento 2 inventory and make your selling policy more flexible.
'Call for Price' for Selected Groups
Systematize and arrange your special pricing policy in Magento 2 according to group attachment.
'Call for Price' for Selected Custom Stock Statuses
Select the alternative
Provide a link and redirect
You can use redirection to the landing pages, contacts, or provide any other link. Encourage your customers to sign up, directing them to the registration page. Offer them Learn more page, blog articles or provide the information on the coupons and sales to engage in more activity.
Upload images instead of a price
Have an additional advertising tool - use banners instead of the fixed price. Upload any image to catch the customer's attention.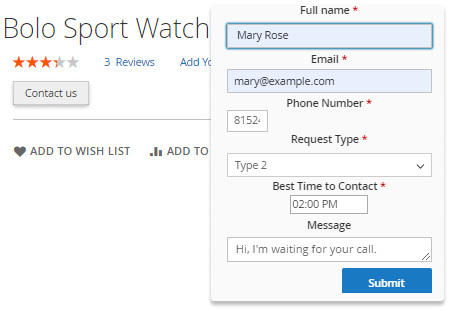 Create custom quote request forms of any types
Collect additional customer request info by adjusting Custom Form extension.

This option will help you to create quote request forms of various types.
For example, you can add the zip code, company name or any other field, adjust Google Maps element or use fields dependency for the 'Call for price' pop-up.

Therefore, you'll enrich your client database and obtain more information to create personalized offerings and custom prices for your Magento 2 visitors.You can also use our magento 2 customer groups plugin to provide selective access to the store catalog.
Process customer requests
Enable notifications on quote requests
Let admin automatically receive notifications when customers ask for price via Magento 2 email. Speed up the response time of the store and make your service more convenient and friendly to customers.
Easily check 'Call for price' requests
There is a separate page with a grid, where you can check and arrange all the price requests to your store. Call your customers or reply via email right away from the page.
As a result, you will:
Gain more sales and profit by flexibly adjusting your Magento 2 customer specific pricing policy
Keep your customers from leaving and reduce the shopping cart abandonment
Turn occasional visitors into regular customers due to smart price negotiations
Advanced Options
Hide price from competitors: using the extension you can limit your selling information visibility for particular competitors
Collect customers' emails: get extra leads and replenish your customers base with one button
Hide the Add to compare, Add to wishlist buttons with one click: stimulate more purchases by disabling additional buttons
Use auto reply and email templates: automatically reply all the requests not to miss any deal and avoid manual operations at the same time
Give discount to specific customer groups: improve loyalty level by providing specific Magento 2 customers with exclusive pricing and offerings
Easily redirect your shoppers to any page: promote your special offers or new collections with smart redirects
Hide product prices for particular products & particular customers individually: disable price display for your featured or most cheap/expensive products
Customize Magento 2 Ask for Price link style:
adjust link layout to perfectly match your webstore design
Offer individualized pricing to your customers
Let your customers negotiate over the prices with
Magento 2 Request a Quote
exension. Get clear understanding of industry demands and timely adjust product prices.
Add Custom Form for Magento 2 to get more customer request data
Employ Custom Form for Magento 2 to create custom quote request forms of various types, specifying additional information you need to generate a special price offering.
How to enable customer-specific pricing in Magento 2?
Go to Stores > Configuration > Hide Price and open the General Settings tab.
Enable the extension and choose categories where you want to offer customer-specific pricing.
Then, go to the Hide Price Options section and set Hide "Add to Cart" to Replace with custom button.
Configure the button title and choose the target link, popup, or custom form.
Set up other configurations as needed and save the changes.
Other Features
100% Open Source — Easy To Customize
Follows Magento Code Architecture
Separated HTML/CSS/JS
Simple installation via Composer
* The name "Magento" and the logo are the trademarks of Magento, Inc.
good extension and support
This is not the my first Amasty extension i have tried so far. I got all the described features working out of the box. Minor design tweaks were made by support team very quickly. Thank you!
Handy and preforms well
I sell handmade things and with too many changing factors I can't give an exact price for every item. I was looking for such functionality. Though I discovered a small bug with metadata after a while it was fixed fast. Other vendors with who I worked were far less responsive.
Do you have any questions?
Schedule a demo and get all the answers you're looking for!
book a live demo
Are you looking to add specific functionality for this extension or want to acquire a reliable development partner altogether? With custom development services by Amasty, you will receive high quality and cost-effective solutions developed by Magento professionals according to industry's best practices.
2.4.2-p1, 2.3.7, 2.4.2, 2.4.1-p1, 2.3.6-p1
You can always download the recent version free of charge from your account
Installing an upgrade is easy — check now
My Downloads
Version 1.5.20
Last Update: Jan 13, 2021
Improvement we adjusted the extension functioning regarding Configurable Products
Fix we resolved the issue with hiding of tier prices for Bundle Product options
Fix we synchronized the displayed time of Get a Quote Requests creation on the grid and on the view page
Fix we resolved the issue occurred upon item moving to Wishlist from Shopping Cart
Compatibility сompatibility with Magento 2.4 was added
Improvement now hiding of Add to Cart button is not only visual, but also restricts adding to cart from Wishlist page, Amasty Quick Order page, etc.
Compatibility compatibility with Amasty Quick Order and Amasty Elastic Search was improved
Improvement now the extension use Laminas library instead of deprecated Zend to hide product prices
Improvement we rechecked and established correct dependency on jQuery UI library
Improvement we slightly improved email notification templates
Improvement we enhanced the security level of the plugin regarding prevention of XSS injections
Fix we resolved the issue with hardcoded words in email templates - now they are available for translation
Compatibility we enhanced compatibility with Request a Quote plugin even more. If the price is configured to be hidden, the customer will not see this price in quote cart as well
Improvements minor improvements were implemented
Fix minor issues were resolved
Compatibility we improved compatibility with Custom Form extension
Fix we solved the issue with adding hided products from My Wish List page
Fix issue with mass delete action was resolved
Compatibility the compatibility with Amasty Request a Quote extension was improved
Fix the issue with Zend_Dom_Query package was resolved
Improvement now it allows sending admin notifications for several users
Improvement ability to close 'Call for price' popup by click on the top-right cross button was added
Compatibility compatibility with Amasty Request a Quote extension was added
Fix an issue with Hide Price Text field XSS vulnerability was resolved
Compatibility the compatibility with Magento 2.3.0 was added
Fix the issue with configuration section was fixed
Improvement minor improvements were made
New ability to create custom 'Quote Request' form of various types to effectively collect customer info, e.g. to add the zip code or any other field, adjust Google Maps element or use fields dependency for the 'Call for price' pop-up was added. Amasty Custom Form extension is required for this feature
Version 1.4.1
Last Update: Nov 29, 2018
Fix the issue with module config settings was fixed
New allows hiding the product price for the specified custom stock status only. Amasty Custom Stock Status extension is required for this feature
Version 1.3.4
Last Update: Oct 31, 2018
Fix the issue with hiding tier prices was fixed
Fix an issue with a flat table for products was resolved
Improvement the ability to hide the 'Add to Cart' button was enhanced
Fix the problem with hiding the 'Add to Cart' button was resolved
New the ability to replace the 'Add to Cart' button in the 'Request a Quote' popup was added
Compatibility the compatibility with the Amasty Color Swatches Pro extension was enhanced
Fix the problem with the wishlist and compare pages was resolved
Version 1.2.3
Last Update: Jul 19, 2018
Fix minor issue was resolved
Improvement minor code improvement was made
Improvement minor enhancement in module configuration was made
New the functionality to comply with the latest GDPR EU changes was added
Version 1.1.3
Last Update: May 21, 2018
Improvement Information section is added. Now you can see the version of the installed extension, available updates, User Guide link, conflicts, and other useful data right on the module Configuration page
Fix an issue with encoding was resolved
Improved the 'add to cart' selector form functionality
Fixed an issue with conflict when using several fancyboxes on Magento store
Added the 'Hide Price' settings to the 'Update attributes' on the product grid in backend
Version 1.0.6
Last Update: Jan 23, 2018
Allows to show the price and hide the 'Add to cart' button
Compatibility with Amasty Quick View extension is added
The fancybox library is upgraded
Fixed an issue with the Add to cart price button visible during the page load
added an ability to select an empty value of category ID or customer group ID in the extension settings
Fix for price in metadata
Fix for Hide Price settings display in Admin area
Fixes for email templates
Magento 2.2 compatibility introduced
Export issue was fixed.
Amasty Invisible Captcha compatibility improved.