Obtain additional customer info by creating various custom forms
It is not possible to create a custom form in the default Magento; up to this time the best you could do was to alter the registration form. Magento Custom Form fills up the gap.
This module is designed to help you adjust Magento to your specific needs. Optimize your Magento form and vary the fields so that the customer won't get tired or annoyed filling them in. For example, apply psychological trick: ask questions and provide a choice of answers. If you put it in a visually small form, users will fill it in on the run with just a click. Keep in mind that most of your clients are likely ready to share some of their personal info, like hobbies or profession, if it won't take much time. Optimum selection of fields serves this exact purpose.
Magento web forms input types:
Text field
Text area
Static Text
Date
Yes/No
Checkboxes
Radio Buttons
Dropdown
Multiple Select
Single File Upload
Edit or remove fields and forms at any time
Sometimes creating a custom form for Magento can seem a bit tricky. Now you don't have to worry if you forgot to include a field or don't need a certain field anymore. This form builder for Magento allows editing a form. You can add, remove or edit fields in no time. You can also mark the field as required for collecting e-mail addresses, for example. Also, now it's easier to assign IDs for forms' lines and configure their CSS style the way you wish.

Display several Magento custom forms on one page
Use every opportunity when your clients feel like leaving some feedback, share personal info or take part in a survey. Place several web forms on one of your webstore pages, or even create a separate page for webforms. Allow clients to conveniently communicate with you in full.
Captcha spam protection
On top of that, this Magento form builder extension includes two integrated Captcha functionalities to protect your webshop against spammers and abuse. Choose between Google Invisible reCaptcha and Zend ReCaptcha that will assure that you get only real data.
Choose what page to show after form submission
When a client submits a Magento form, the extension directs him to a certain page on your webstore. You can set the destination page manually, depending on what the form was about. For example, if a survey is on mostly desired stock for next shopping season, lead customer to the newest collection of the present time after form submission. Thus you obtain two goals at a time: you collect feedback and increase conversion rate.
Collect and analyze information
When creating custom forms in your Magento, aim to learn more information about your customers. This module accumulates all the submitted forms in the admin panel. You can refer to this data at any time, analyze it and improve your marketing strategy and customer segmentation.
Setting up Magento web forms with this extension is quick and easy. Try a DEMO and see for yourself.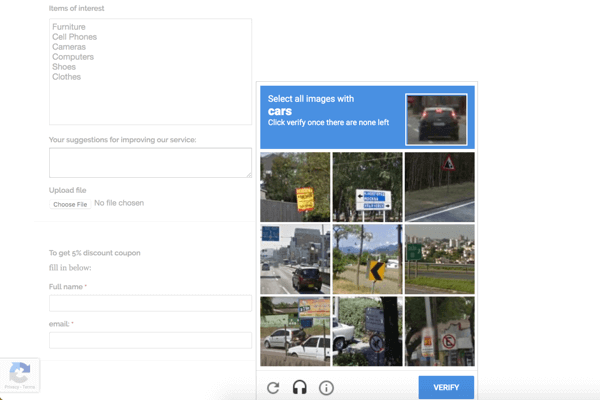 Built-in spam and fraud protection with Google Invisible reCaptcha
The Magento Custom Form extension comes with the built-in Google Invisible reCaptcha module that protects your custom forms from spam and frauds. Benefit from the most advanced security tool and boost your store security.
Other Features
100% Open Source — Easy To Customize
Follows Magento Code Architecture
Separated HTML/CSS/JS
Simple installation via Composer
* The name "Magento" and the logo are the trademarks of Magento, Inc.
Outstanding Support
This is a great product and the support for customizing it is just outstanding. I am very impressed and happy with these forms.
Great solution & Customer Service
I can't say enough about the support we receive with every extension we purchase from Amasty! The extensions install easily and when support is needed they respond fast.
Great forms and great service from Amasty
We needed a form that would stop all the spam from getting our system overloaded. Looked at many different extensions and chose Amasty. We have several Amsty extensions and as the rest they work great. Customer service is excellent answering all questions and taking care of small issues. A+ for this developer.
Useful Mod - Great Support
You do have to pay quite a lot for this Mod however it is a nice simple solution for an annoying issue of magento.
We had issues receiving the email notifications when the forms are filled out however Amasty fixed that very quickly for us.
Bit disappointed that it didn't tell us the content of the form via the notification email HOWEVER Amasty have informed us that this will be added soon, which is excellent.
We use Magento 1.9.2.
Good extension, not perfect
The extension was installed, tested, and did not function at first. After working with Amasty support, it now functions as described. Amasty has very reliable extensions, I expect that this module will continue to server our needs
Good multipurpose tool
Worthy extension, really helpful for handling forms with exactly the fields you need. Captcha is good for antispam, but our clients complained that it's irritating. We ended up rethinking the forms and use captcha only with forms with important information for business.

What we like about custom forms:
1. Easy to create forms (once you figure how to do it. At first it's tricky though).
2. Any type of field we could possibly need is available
3. Emails with submitted forms are sent to admins; moreover, module keeps statists. We've just included forms into the site but later on it would be useful to review the stats and see what types of fields the clients are willing to fulfill.
4. CMS integration of forms is really easy, and it's possible to preselect to which page customers should be redirected after submitting forms.

Some thoughts for future improvements:
1. Try implementing another captcha, add some contrast to it and make it easier to read
2. There should be an option to read captcha symbols out loud
3. Please work on the frontend part of the forms, add some design elements to make the forms more attractive
4. Please provide email or phone number form validation for registered customers.

Overall the ext is a bit pricey but does the job!

Write Your Own Review
Version 1.5.2
-
March 13, 2018
– New: added process of deleting files, which were attached to reply on deleting this reply
Version 1.5.1
-
March 05, 2018
– Fixed an issue with field type 'file' usage in a sending emails process
Version 1.5.0
-
February 28, 2018
– New: added the java script field validation
– Fixed an issue with the vulnerability
– Fixed an issue with the required checkbox
Version 1.4.0
-
January 25, 2018
– New: now, the module comes with the Google Invisible reCaptcha extension built-in to protect custom forms from spam and fraud
Version 1.3.0
-
October 04, 2017
– New: Added the checkbox and radio button input types
Version 1.2.2
-
September 20, 2017
– Minor fixes
Version 1.2.1
-
July 31, 2017
– Fixed pagination issues on Custom Forms grids
Version 1.2.0
-
June 29, 2017
– Added new type of field "Single File Upload"
– Minor improvements
Version 1.1.5
-
May 03, 2017
– Added the focus - possibility to make the form on the page active or inactive
Version 1.1.4
-
March 29, 2017
– Permissions for block will be automatically created on Magento 1.9+
Version 1.1.3
-
December 01, 2016
– Possibility to specify CSS element IDs for specific form field-sets
Version 1.1.2
-
November 09, 2016
– Fix for 404 error on submitted data view page
Version 1.1.1
-
September 08, 2016
– Default values for form fields and form title
– Emails improvements (option to include submitted values in the emails)
– Notifications to custom email addresses per each form (and default recipient)
– New code structure