Image Optimization
for Magento 1
Improve your online store performance for Google and your clients by optimizing the size of the images. With the help of the Magento image optimization extension, you will not lose the quality of your product images and will increase your ratings in Google PageSpeed Insights.
Boost your online store effectiveness
Significantly compress images in Magento 1
Preserve image quality after compression
Make your product images SEO-friendly
For those who run a Magento online store is not a secret that product images play a very important role to attract clients' attention. The big picture sizes can make a store slow and potential customers impatient. The Kissmetrics research shows that a slow page load will leave you without about 40% of clients. Therefore, Magento image compression modules not only help boost your store but also keep your customers in a better mood.
How to figure out when images need optimization? For improving your online store score start with the Google reports tool to see what should be enhanced. The Magento image compression extension will certainly make your images load as fast as possible and you will notice that these changes have a positive effect on your store.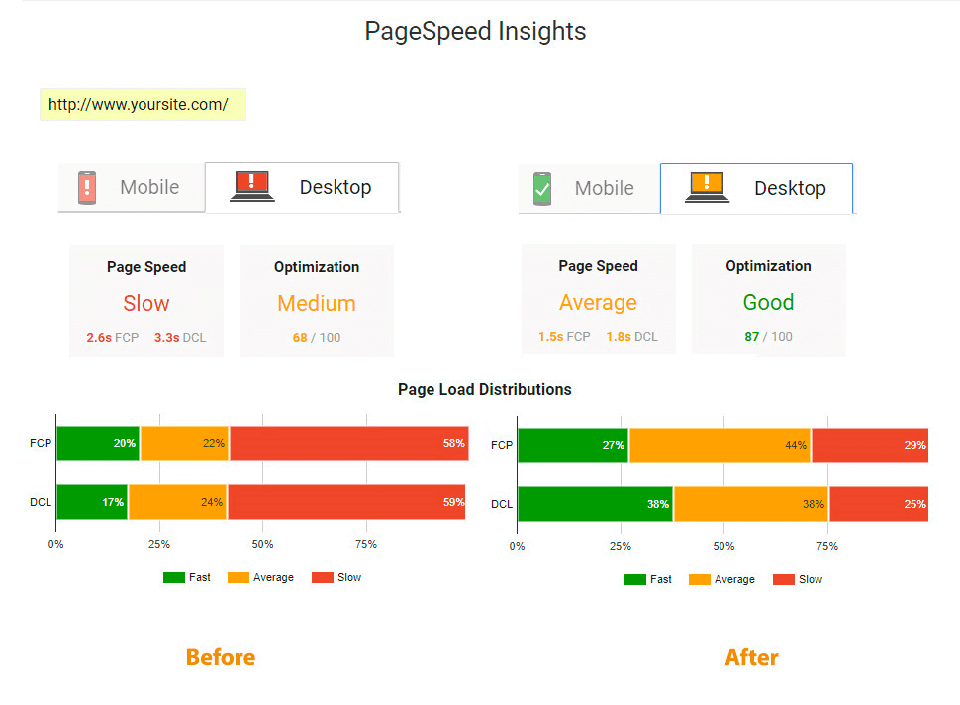 Advanced options for page speed optimization
Compress images in Magento
If you want to enable image compression, you should adjust settings according to the image formats you need to optimize in the extension configurations.
The Magento image compression module will automatically compress jpeg, png, gif product images used in Magento without quality loss.
If there are pictures placed in skin and media directories, you can use CLI (command line interface) to compress them.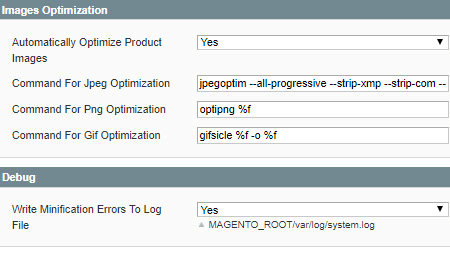 Additional settings to make your page optimized
Minify your CSS and JavaScript
Remove all irrelevant new lines, comments, white spaces and other characters without affecting your source code. Make your JavaScript code cleaner by enabling the CSS and JavaScript minification settings. If there are any minification errors appear, the enabled debug setting will let you add minification errors to log file.
CSS/JS files URLs with a timestamp
This feature helps clear page cache automatically after changes in CSS or JavaScript files. This will allow clients to see only updated content. As well, URLs can be specified as a source for minification to avoid possible issues with the file content encoding.
Move JavaScript to the page footer
To increase content loading speed, the Magento 1 image compression extension moves JavaScript to footer so that the pages can load in faster.
Make your store performance even better with Full Page Cache
In addition to Magento Image Compression extension, you can use
Full Page Cache Crawler
tool that knows what pages should be cached first to provide your customers only with the positive shopping experience.
And if you need more optimization tools you can try our Magento 2 speed optimization extension.
Other Features
100% Open Source — Easy To Customize
Follows Magento Code Architecture
Separated HTML/CSS/JS
Simple installation via Composer
* The name "Magento" and the logo are the trademarks of Magento, Inc.
Works anew
It works well anew. Also the vendor updates it fixing minor glitches and adding features what pleases.
Makes my pages faster
The support is not very fast but friendly! If you have some problems with the module or questions they'll help you. The module is good enough, now my product pages speed seems better, so I recommend it. p.s. I was surprised by the stack of extra features like code minification.
Does more than I expected
Initially I bought it for image optimization. But this extension can do a lot more. I also use other features for minification and to clear page cache. Looking at the results I can say that it is a nice buy.
Fairly good
In general that's a good module. However, I had a problem with file queues and had to ask for support. Supporters helped me fix it and now everything works ok.
Visible results
Though it seemed to me overpriced at first, now I see that it is worth every penny. This module does more than image compression. It also includes a whole toolkit for speed optimization. After some time my positions in SERP started to improve steadily.
Increases ratings
I had problems with installation, the package lacked some necessary files and I still don't know how could it be, therefore, give only 4. Otherwise, the entire functional useful and resultative.
Good and easy extn for web stores full of media
This is a nice extension for web stores with much media. I could quickly comprehend the settings and start using it. Recommended.
No manual work. Great.
I used to do lots of work manually till bought this extension. Now one less problem. Besides, code minification does work too. I'm happy to have clicked on it on the marketplace.
Good package
It's really rich in features. However, I suppose their support is too busy to give timely answers, anyway, I got help and everything works fine now. Also, they promised to add functionality that allows for leaving javascript untouched without moving it to footer on some pges, great. Though, I wish support was a little faster.

Constantly updated
I bought it for images compression and this august guys added new html minification feature and planning to do more, if believe the support. The extension works smoothly results surprise and don't make to wait long.
Are you looking to add specific functionality for this extension or want to acquire a reliable development partner altogether? With custom development services by Amasty, you will receive high quality and cost-effective solutions developed by Magento professionals according to industry's best practices.
CE 1.4.x - 1.9.x, EE 1.8.x - 1.14.x
You can always download the recent version free of charge from your account
Installing an upgrade is easy — check now
My Downloads
Version 1.2.13
Last Update: May 15, 2019
New we have added the option to set the level of JPG image optimization. Now it is possible to make the right choice between image quality and image weight
Improvement we have changed the image optimization text fields in the extension's settings to dropdown-type settings. Thus the security of the extension was enhanced.
Fix an issue with large CSS files was resolved
Fix the issue with minifying css with svg images was resolved
Fix the issue with minification css files was fixed
Improvement the option to move JavaScript to footer for proper page rendering was enhanced
Improvement the image optimization was enhanced
Fix the issue with jpeg file type optimization was fixed
Fix the issue with broken image urls in the css files was resolved
Fix the issue with the fingerprint assigned to CSS changes each time the page refreshes was resolved
Improvement the functionality to minify custom javascript was added
Improvement code refactoring was made
Fix the issue with permissions for button was resolved
Fix the issue with file in queue does not exist was resolved
Fix the issue with the undefined jscomp was fixed
New Allows to minify Java Script from the Debug tab right on the module Configuration page
Added compatibility with CDN
Information tab is added. Now you can see the version of installed extension, available updates, User Guide link, conflicts and other useful info in backend
Fixed an issue when selector in two lines
Version 1.1.7
Last Update: Mar 19, 2018
Fixed an issue with the minification
Fixed an issue for multiple stores with URLs, which were included in CSS
Fixed an issue with the closure compiler cannot convert ES5 into ES6
Minor improvement: removed the outdated dependency
Allows to select the source (file Url or the Js code) to be sent to the Google for the Javascript Minification
Fixed the configuration settings visibility issue for the website scope
Fixed the problem with the file encoding
Issue with double slashes in URL was fixed
Allows to add regular expressions to the ignore list
Added the setting to disable the javascript movement to the footer on certain pages
Version 1.0.5
Last Update: Dec 13, 2016
Compatibility with older Magento versions
Ignore list for feature "Move Javascript to Footer"
New feature: HTML minification
Skip minification of already minified scripts
Possibility to optimise GIF images
General performance improved
JPEG compression set to higher level by default