Lazy Load
for Magento 2
Speed up the loading time of your site pages with Magento 2 Lazy Load. Improve your site performance by loading product images by demand!
Apply preload images to the first screen of the page
Lazy load Magento products when customers scroll down the page
Allow offloading for a server to save internet bandwidth
Optimize images by WebP format, mobile or tablet resolutions
Reduce the size of product images without affecting their quality
Challenge
Using images with a huge size leads to reducing the download speed of pages. Your customers may wait too long and leave the page before making a purchase. They can opt for pages with a higher performance score and make a purchase there.
Solution
With Magento 2 Lazy Load Images fill product information only when a user scrolling down the pages. Reduce the size of product pages automatically by converting them to WebP format and adapting them to resolutions.
What benefits do you get for your store
Increase revenue by timely preventing a long loading of your site pages
Improve your site ranking with an advanced image optimization tool
Enhance customers' loyalty by providing quick access to a desirable product
SAVE YOUR WEB SERVER RESOURCES ON LOAD
WITH ADVANCED OPTIMIZATION TOOL
Prevent store pages from lagging
Provide off-screen images load only when a customer scrolls to them. You can defer offscreen images, magento 2 lazy load also protect your store pages full of images from lagging to save your customers.
Regulate the amount of preload images
You can set the number of images to turn off from lazy loading. It's recommended to preload images on the first page of the screen to maximize their quality.
Act with a suitable loading strategy
Magento 2 Lazy Load extension allows you to use your own loading strategy basing on two lazy load scripts: jQuerry Lazy Script or Native JS Lazy Script. We recommend trying both of them to choose one that fits your site best.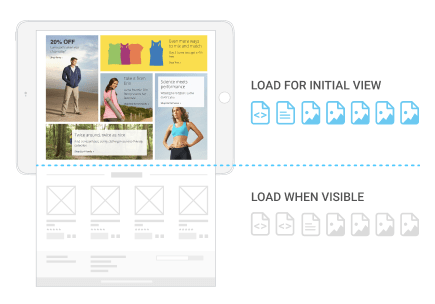 Use lazy loading for a certain page
Lazy Load extension for Magento 2 provides an advanced opportunity for lazy loading. You can adjust this feature for specific store pages: General, Home, Category, Product and CMS pages.
Benefit from suitable image resolution
The extension creates copies of images suitable for mobile and tablet devices. Using smaller resolutions makes loading process faster.
BOOST REVENUE BY PROVIDING VISITORS WITH
QUICK ACCESS TO YOUR SITE PAGES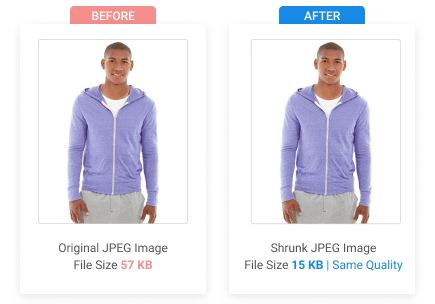 Compress images with no quality loss
Lazy Load for Magento 2 images helps to optimize JPEG, PNG, GIF automatically without losing their quality. Make your site perform better to enhance customers' loyalty.
Make images smaller and richer with WebP format
When the option is activated the extension creates a copy of every image in WebP format. Converting your images into WebP format helps to raise your site ranking.
Optimize images in a bulk
When you add new images to the Catalog or Wysiwyg folder, they will be optimized automatically. As soon as a site page is loaded, these new images will be processed, optimized and saved to the cache. At the same time, you can select other folders to create a queue and optimize images manually.
Minify HTML, CSS and JS
Magento 2 Lazy Load allows reducing the code size from 10%
to 20% by removing excess parts of the code. The less code
you have, the faster your store pages are loaded.
Use asynchronous indexing
Distinguish traffic patterns on the database level to avoid conflicts between reading and writing operations. It's a safe way to make your site perform better.
Merge CSS and JS files
Reduce the number of queries by merging several JS and CSS files into one. Let customers see a necessary page faster and motivate them to complete a purchase.
Shorten flat tables
Use flat tables that allow storing all the information about a category or a product. The shorter the query is, the better your store performs.
More options for your Magento 2 Lazy Load
Sign static files
Move JS to footer
Enable JS bundling
Defer fonts loading
Dump original images
Easily clear images folder
Generate images queues
Exclude images from lazy loading
Check how our Magento 2 extension improves your store performance
Prevent losing potential customers by making your site perform better. See the results of optimization with help of Google PageSpeed Insights tool for
Home page
,
Category page
, and
Product page
. Use our
Google Page Speed Optimizer
extension and you will definitely improve your store score.
According to the statistics, the extension can cover each business need in synergy with the following solution: magento 2 meta keywords.
Other Features
100% Open Source — Easy To Customize
Follows Magento Code Architecture
Separated HTML/CSS/JS
Simple installation via Composer
* The name "Magento" and the logo are the trademarks of Magento, Inc.
Be the first to review this product
Lazy Load for Magento 2
Are you looking to add specific functionality for this extension or want to acquire a reliable development partner altogether? With custom development services by Amasty, you will receive high quality and cost-effective solutions developed by Magento professionals according to industry's best practices.
Magento 2.2, 2.3, 2.4
You can always download the recent version free of charge from your account
Installing an upgrade is easy — check now
My Downloads
Version 1.8.5
Last Update: Nov 19, 2020
Fix we fixed optimization of WebP images when the uppercase format is indicated
Fix we fixed the issue with automatic optimization of images added via pagebuilder
Compatibility compatibility with Amasty AMP extension was enhanced
Fix we resolved the problem with incorrect store view URL used for diagnostic
Fix we resolved the problem with lazy loading when the setting 'Use User Agent for Loading Images' is enabled
Fix we fixed the error appeared when images had spaces in the names
Fix we added validation in image files existence before processing
Fix we fixed the issue with base64 images on Magento 2.3.5
Improvement we improved the behaviour with Varnish cache that was incorrect with some browsers not supporting WebP image format.
Fix we fixed the issue with the error "A technical problem ..." when a file without extension appears in the optimization queue
Fix we fixed the issue with incorrect verifying of the image optimization tool
Fix we fixed the issue with the conversion to WebP format of files with the same name but different extensions
Fix we fixed the issue with image optimization from Admin Panel in Magento 2.1.x
Fix we fixed the issue with not enough memory for JavaScript optimization on low memory instances
Fix we fixed the issue with the error during the process of Magento installation with extension inside
Fix we fixed the issue with extra-large HTML regex backtracking
Version 1.7.4
Last Update: Feb 25, 2020
Improvement we improved code constructions for Magento Marketplace standards
Fix we solved the problem with using special chars in name of pictures
Fix we resolved the problem with incorrect getting some config settings: ignores, move js
Improvement an ability to add compatibility with 3-rd party extensions which use AJAX was added
Improvement now the srcset in images lazy load will be deleted
Compatibility now the module is compatibly with Varnish
Compatibility now the module is compatible with Amasty AMP extension
Compatibility now the module is compatible with img tag which includes empty src
Fix we solved the problem with empty rows in module configuration (ignore sheets)
Fix we solved the problem after Amasty JS Optimization running
Improvement we corrected the work of Amasty JS Optimization
Fix we resolved the problem with incorrect displaying of top menu on mobile view
Improvement we corrected the work of the automatic optimization feature: now you can optimize only one of non optimized URL from all your site, also extension will give you choice which of Store Views pages you want to optimize
Fix we solved the problem with image optimization configuration for a large numbers of image folders
Fix we solved the problem with incorrect caching
Fix we resolved the problem with error while events.xml is empty
Fix we solved the problem with automatic images optimization on front end
Version 1.6.2
Last Update: Oct 25, 2019
Fix we solved the problem with invalid XML after extension install
Improvement minor visual improvements in the extension main settings
New we added an information block that allows you to check results of optimization and show Google recommendations from admin side
Improvement now category and product pages are added to bundling js feature
Improvement we implemented a speed enhancement that lets you run multiple threads to minimize the time required for optimizing media on your site
Version 1.5.2
Last Update: Sep 27, 2019
Fix we solved the problem with extension updating
Fix the issue with generating queue on Magento 2.3.2 was resolved
New we added a new feature for image optimization - 'User Agent'. If enabled it allows to set separate 'preload' feature for Mobile, Tablet and Desktop devices and to use WebP+Resize+LazyLoad features for the same one image at once as well
New images optimization was moved to separate grid - now you can choose optimization options for particular folders on your server. Please, navigate to the 'Content>Google Page Speed Optimizer>Image Folder Optimization Settings'
Improvement we improved the 'Image Optimization' tab on the extension's general settings page making it more clear and comfortable to use
Version 1.4.0
Last Update: Aug 19, 2019
New Javascrtipt and CSS sections was greatly improved - now you can specify excludes for admin pages, custom store pages by url, part of JS on pages, and move merged JS and CSS files by custom URL pages
Improvement Javascript section for Magento Cloud instances was refactored; please, do not forget to specify the appropriate setting in the configuration if you use the Cloud instance
Version 1.3.0
Last Update: Jun 04, 2019
New now it is possible to exclude specific fonts from deferring when using 'Defer Fonts Loading' feature
Improvement we enhanced the code
Improvement we improved the 'Amasty JS Optimization' feature for better performance
Compatibility we enhanced the compatibility with Magento versions elder than 2.2.0
Version 1.2.4
Last Update: May 10, 2019
Fix we resolved the possible issue with JS bundling on a multi-domain website
Fix we resolved the issue with the js error `Fieldset is not defined` during the 'JavaScript Bundling' process
Fix we resolved the issue with generating the queue when using 'Use Webp image format'
Fix we resolved the multiple select folders in 'Folders For Optimization`
New we developed the Amasty Advanced JS Bundling. Now it is possible to create an advanced bundle of JS Google
Version 1.1.0
Last Update: Apr 03, 2019
New Advanced settings for the Lazy Load feature was added. Now it is possible to set optimization for different page types individually
New Now you can choose folders with images for optimization
New Now it is possible to choose the compression level for the JPEG optimization.
New Introducing the image resize feature. The extension creates several copies of an image in different sizes
New WebP image format was added. The extension can create a copy of an image in WebP format. Browsers that support WebP will receive images in the format
Improvement the image optimization process was improved. Now it is executed by creating the queue and processing it. It can be launched via CLI as well
Version 1.0.6
Last Update: Mar 07, 2019
Improvement we have improved the 'Move JavaScript To Page Bottom' process. Now it works more stable with custom themes
Improvement we have added a setting for excluding certain images from Lazy Load processing
Fix the operation of the 'Run Optimization Now' button was fixed
Fix : the possible problem with displaying images wile enabled Lazy Load option was resolved
Fix the issue with adding the lazy load script to robots.txt was resolved
Improvement minor visual improvement in the admin area (extension settings)