CMS Page Builder by MageSolution
for Magento 2
Partner Product
Create custom pages and content blocks without writing a line of code with Magento CMS Page Builder extension.
Create and edit CMS, category, and product pages
Use 30+ building elements to create unique page designs
Import/export, delete or restore any page version
Provide mobile-responsive design
Compatible with Magento 2 themes
Challenge
To stay competitive, any growing business needs to constantly improve its website and keep the structure and content updated. The main problem is that merchants usually need to hire designers and developers for that purpose due to the limited functionality of Magento. It also entails additional time and money costs.
Solution
Adding new pages to your store has never been so easy! This Magento Page Builder extension is designed to meet the needs of merchants with no coding skills to allow them to create and manage any type of pages. With this solution, you can quickly add and edit CMS, category, and product pages manually right on the frontend.
What benefits you get for your store
Save time and money on hiring a developer
Maintain stable site speed
Drive revenue with eye-catching store pages
Why should you choose Magento 2 CMS Page Builder extension?
Intuitive interface
30+ building elements
Quick result
Responsive design
SEO-friendly
Boost revenue
Improve your store using a flexible page builder
Create product descriptions that sell
Create an attractive product presentation right on the product page and increase conversion rate using the Product Description Builder feature. With this extension, you can expand the default Magento functionality using a large number of building blocks and turn the product page into a full-fledged landing page. Use these content elements to enhance your product description: Image Block, Heading BlockText/Image, Block, List Block. Moreover, you can use any other building blocks to create a beautiful product page.
Make unique CMS page designs
Stand out from the competitors by creating unique combinations of content blocks using over 30 page-building elements. This extension allows you to create engaging CMS pages in your Magento 2 store using an unlimited number of building blocks with animation effects such as: Promo Banner, Video, Divider, OWL Carousel Slider, Masonry Gallery, Table, Tabs, Modal Popup, Form, and any others!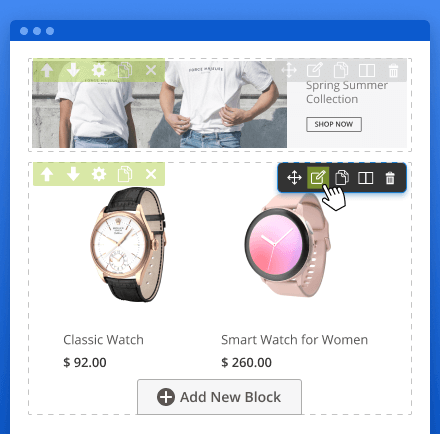 Upgrade category landing pages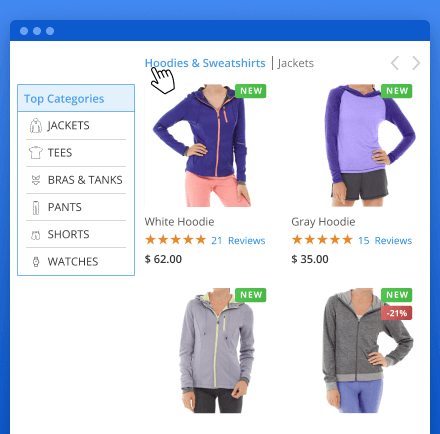 Create perfect Category Landing pages
Show the full diversity of your Magento store with the Category Landing builder feature. With this extension, you can highlight your bestsellers, add a single product in the block, update the list of categories with icons, show new items in your store, and etc. Also, adding extra content to Category pages provides the ability to push your store up in Google's search rankings. Use these builder elements to improve your category pages: Category Products, Products by Attribute, List, Button. Moreover, you can use any other building blocks to create a beautiful Category page.
Highlight great deals
Don't lose a single customer with special tools to increase customer interest in your products. Inform your customers about valuable deals and encourage them to buy more with a top rated product list. Provide the best offers and underline new products in your store using special product labels. Use these special content blocks to boost sales: Sale Products, Deals Product Tabs, Countdown Box, Category List, New Products, Top Rate Products, Single Product.
What other benefits you can get from CMS Page Builder
Showcase your business in the best way
Magento 2 Landing Page Builder extension can help you create a high-quality presentation of your store and increase customer loyalty. With this extension, you can display top scores, introduce your team, share infographics with customer-value data, set up a counter box with your milestones and much more! Use a full arsenal of page building elements to make an eye-catching business presentation. Add these blocks: Profile, Counter Box, Chart Progress Bar, Progress Circle, Google Map, Content Box, and any others. You can also set edit rights for different users via the Builder Accounts' Page Editing Permission settings.
Easily manage CMS pages layouts
Get the latest layout of the CMS page with full information and design in one click using export settings. With the import settings, you can effortlessly import any layout and add it to any CMS page in your store. The extension also allows you to restore any of old page versions If needed. Moreover, you can quickly delete useless page layouts from backend settings.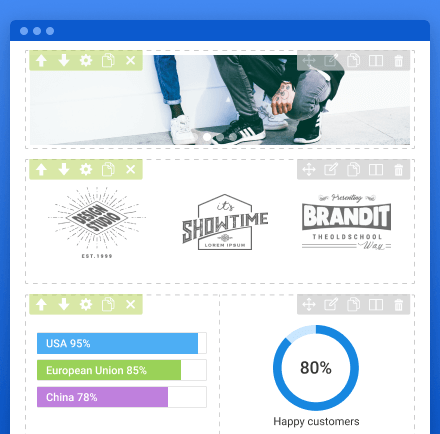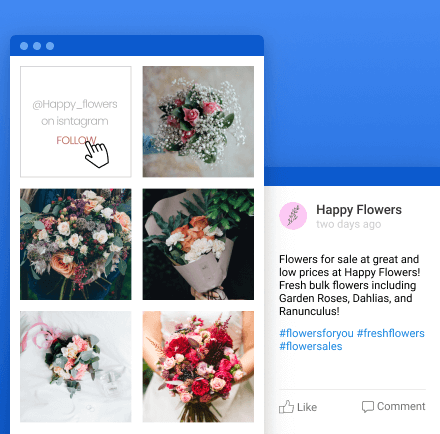 Get new followers and increase brand awareness
Page Builder extension is a perfect solution for store owners who are interested in increasing followers on wide-popular social media. The extension allows you to add blocks with your profile on social networks to the site and encourage customers to follow you. Just install one or several blocks with your profiles from Instagram, Twitter, or Facebook and easily display newest posts and images right on the site. Keep customers informed with your latest news with these blocks: Instagram, Instagram Shop, Facebook Fanbox, Twitter Timeline.
Provide responsive design for any device
Nowadays more than half of all e-commerce traffic comes from mobile devices, so it is extremely important to make sure your site is primed for mobile viewing. CMS Page Builder extension has three editing modes: desktop, mobile, and tablet. Also, you can show/hide display of any building element for any type of device in the block's settings.
Enjoy the intuitive building block manager
It should be easy to create and manage pages in your store - this is the main idea of CMS Page Builder extension. Quickly create any type of page from building blocks and solve business issues without involving developers. Just add and drag building elements as you like, watching all the changes right on the frontend. Experiment with page designs and get insights which page is selling better.
Other Features
100% Open Source — Easy To Customize
Follows Magento Code Architecture
Separated HTML/CSS/JS
Simple installation via Composer
* The name "Magento" and the logo are the trademarks of Magento, Inc.
Be the first to review this product
CMS Page Builder by MageSolution for Magento 2
Are you looking to add specific functionality for this extension or want to acquire a reliable development partner altogether? With custom development services by Amasty, you will receive high quality and cost-effective solutions developed by Magento professionals according to industry's best practices.
2.3.6, 2.3.6-p1, 2.4.0-p1, 2.4.1, 2.4.1-p1, 2.4.2
You can always download the recent version free of charge from your account
Installing an upgrade is easy — check now
My Downloads
Version 1.2.2
Last Update: Jul 07, 2021
Fix issue category thumbnail image not showing
Fix the errors by code sniffer of Magento Marketplace
Move the pub folder into the module
Added theme check function for third-party themes
Version 1.1.1
Last Update: Aug 12, 2020
Fix Instagram API
Update Lottie file block
Update feature:
builder for category description
copy product description template
copy product description template
Version 1.0.7
Last Update: Sep 25, 2019
Update feature: builder for product description
Update feature: support re-applying recovered cms page builder versions
Update feature: Set editing pages rule for each front-end builder account
Compatible with some Mageplaza extensions
Fix editor issue on magento 2.3.x
Fix min css issue, Fix save config issue
New options for hide element and section on desktop, tablet, mobile
Update new elements: button, modal popup, form