Product Option Templates
for Magento 2
Attract more customers to your store by providing multiple product variations with Magento 2 Custom Option. Create an unlimited number of custom option templates, and promptly assign them to your products in bulk.
Easily create product option templates
Quickly assign option templates to multiple products
Add free and paid accompanying items to products
Flexibly edit any existing template
Conveniently manage your templates on a grid
Challenge
Today's customers expect to see all possible product options (available colors, size, material, design, consumables, etc.) before making a purchasing decision. The best way to meet their demands is to add various options to your goods. But with the default Magento functionality, it can be quite challenging since requires adding options separately for each product. It takes extra time. And as you know, nobody likes waiting.
Solution
Magento 2 Custom option extension is designed to maximally simplify and harmonize the process. Provide buyers with a wide choice of product options: add materials info, related items and services, price variations, additional warranty, etc. Use a convenient editor to add an unlimited number of product options. Save your time by creating custom option templates and assigning one template to various products via mass action.
What benefits do you get for your store
Boost your revenue by providing buyers with multiple product variations
Save your time by easily mass-assigning custom options to products
Enhance customer shopping experience by providing more freedom of choice
GROW SALES GIVING MORE CHOICE TO YOUR CUSTOMERS
Easily create product option templates
With Magento 2 Product Custom option extension, you can create multiple custom option templates and accurately arrange options for any product in a couple of clicks. Thus you can easily add such product variations as size, color, print, material, brand, related items or services, etc.
Assign option templates to multiple products
Once a template is created, you may easily assign it to a particular product or to thousands of items. There are 3 ways to assign options for goods: in each product settings, via mass action in a product grid or through product attributes update. Any template changes will be automatically applied to all assigned products.
Add related products and services
Don't waste time creating separate pages for multiple small accompanying items to your products (e. g. shoelaces, insoles, gift wrap, extended warranty). With Magento 2 Custom Option extension you can easily add various related items and services to products as custom options.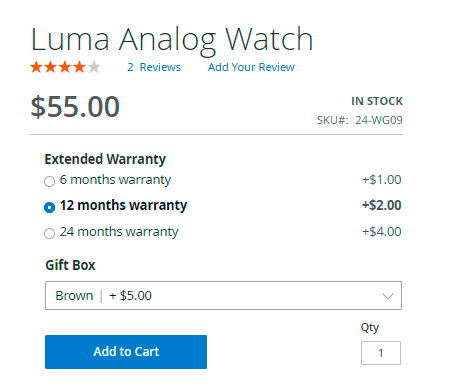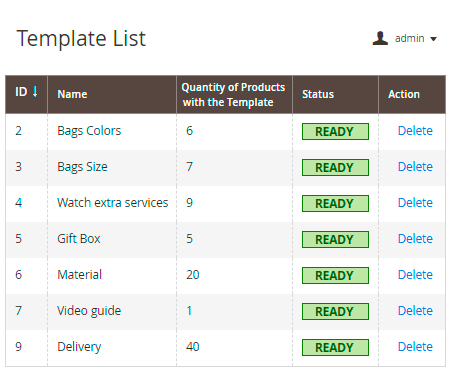 Conveniently manage templates
With Magento 2 Advanced Custom Option extension, you can monitor all the existing product option templates in a handy grid. View each template status and the quantity of products for which it is applied. Delete any of the templates if needed, and it will be automatically removed from all the products.
Flexibly edit any existing template
Store admin can easily edit any template, even after it was already applied to multiple products in your store. Add or remove options, change their names, input types, and etc. All
the updated options will be immediately available for the products, for which the template was applied.
Use any input type
Magento 2 Custom Option provides you with the capability to smoothly create custom product options using various input types. You may choose such field types as text area, drop-down, multi-select, checkboxes, radio buttons, images, etc.
Grow sales proposing additional incentives to customers
With Free Gift extension for Magento 2 you can automatically add free and discounted products to the cart. Show catchy banners to inform customers about special offers and let visitors select a gift among available promo items.
Other Features
100% Open Source — Easy To Customize
Follows Magento Code Architecture
Separated HTML/CSS/JS
Simple installation via Composer
* The name "Magento" and the logo are the trademarks of Magento, Inc.
Be the first to review this product
Product Option Templates for Magento 2
Magento 2.1, 2.2, 2.3
You can always download the recent version free of charge from your account
Installing an upgrade is easy — check now
My Downloads
This extension has no updates yet