1/15
Landing Pages
for Magento 2
Encourage shoppers to explore your goods using landing pages; make custom subselection of products for each page to boost conversion rates. Unique content, Google friendly URLs and custom meta tags will significantly improve your site ranking in search engines.
Improve your store SEO with unique URLs and metadata
Use flexible conditions to specify the list of products for each landing page
Display custom CMS blocks at the top and in the bottom the page
Add landing pages to the sitemap to improve their visibility for search engines
Create as many landing pages as you need
A landing page defines the first impression about your Magento 2 store for all new clients that turned to your webshop from a search result page. It's a very powerful tool to target visitors to a product page and gently push to make purchases.
It's well-known that combining SEO optimization with user friendliness is a very tough task. The module enables you to create landing pages based on different parameters to avoid duplicating content; it's possible to include meta information and create SEO-friendly URLs. This way you get more unique pages indexed by Google and take care of site usability at the same time!
Foremost SEO options
Unique meta data for each website page
Search engines use meta title, descriptions and keywords to provide more advanced and accurate search. You only need to come up with a couple of sentences, to show what the page is about.
Canonical URLs
The plugin includes canonical URLs functionality; the feature prevents duplicating content on the site. Category URL suffixes are also supported and can be included in the canonical URL too.
Dynamic categories
Now you can create dynamic categories based on different conditions. The products displayed in the virtual category are refreshed automatically according to the landing pages conditions. No need to re-assign these products manually. At the same time, the landing page is not accessible by a direct link or seen on the sitemap.
Make URLs SEO-friendly
Landing pages can be a powerful promotional tool for your Magento 2 webstore. Highlight special deals and sales by creating a separate page for each event of such sort. In this case customers will be a lot more likely to find what they need and follow your offers. URLs like yoursite/sale or company/hot-deals will surely attract buyers' attention!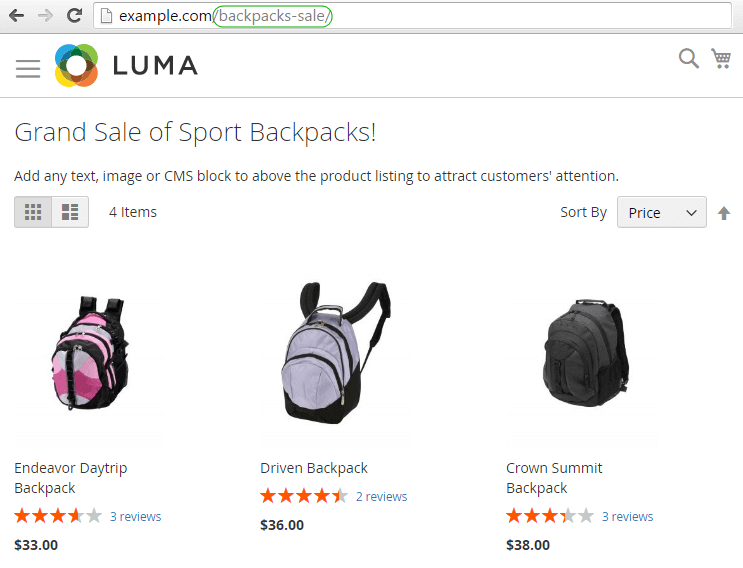 Multi-Store support When you create a landing page, it is possible to set different meta title, description, and keywords for each of your store views specifically.
Duplicate pages Easily duplicate a landing page right from the pages' grid. Significantly save your time, when creating compositionally similar pages.
Export all landing pages of your store in no time! As a result of export you will get a convenient .csv file. It can be modified and imported back to the webstore.
Compatibility with XML Sitemap for Magento 2. Include landing page URLs in a sitemap to give search engine robots new ground for crawling!

SEO-friendly URL structure
Specify short URLs for the pages, using a proper URL structure: the sub pages aliases with more precise keywords are devided with the slashes.
Model your landing pages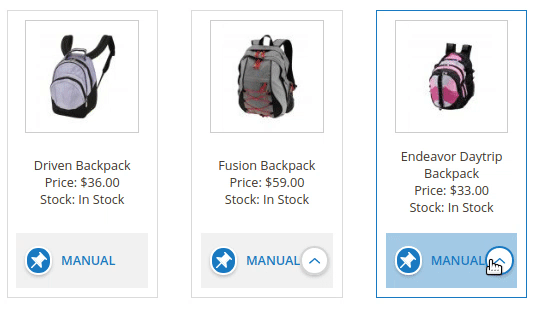 Manual sorting
Want to sort the page products in a special order? On the page products preview, enable the Manual Sorting mode for the product you want to move. Then, drag it to any position in the product listing.
Move to top
The top products should be on top! Click the Move to top link on the product you want to be the first in the product listing.
Enhance admin users experience
Save up the admin users' time and boost their productivity. With the visual sorting, it's much faster and easier to make changes in products lists.
Advanced admin options
Use Magento 2 product conditions to create pages
Create Magento 2 landing page templates based on conditions like category, SKU, min. and max. price, etc. You can display only products from bags category of Eco brand. The feature is extremely useful to create sets of items for special occasions. E.g. you can start a sale of green goods for St. Patrick's day.
Show Landing Pages instead of the search results page
For example, if a customer searches for "sport watch", you can design a page of content you want this customer to see and replace the standard search results page.
Unique design for your site
Make your Magento 2 store stand out among competitors! Landing page design is now highly customizable! Add images, promo texts and static CMS blocks with footer links, home page or login info blocks; encourage customers to get in touch displaying Contact Us info.
Quick links to frontend preview
When new Magento 2 landing page is created, use quick link to frontend on the Pages grid to ensure that the page is configured correctly.
Other Features
100% Open Source — Easy To Customize
Follows Magento Code Architecture
Separated HTML/CSS/JS
Simple installation via Composer
* The name "Magento" and the logo are the trademarks of Magento, Inc.
Great app and customer support!
Great app and great customer support. Amasty team has helped us to better use the new features it gives us. Recommend.
Simple and powerful tool
This is very simple and powerful tool to engage the customers as well as to get the higher positions in the search result.
The best support service
If you care about your positions in Google, this is must have extension. Support service has answered all my questions in a very patient and polite manner.

Great extension and support!
A great extension to run promo to engage customers to purchase more. Worked as described. The support team was amazing and very quick to reply and solve any issue.
I fully recommend Amasty!
They have the best Magento extensions. When we need help or custom changes the support has been excellent and fast so I could not ask for more. Thank you!
Good promo and SEO tool
I have created several landing pages. Added different products to get the pages content unique. I have specified the meta data for each page. And of course made the SEO-friendly URLs. As a result i've got more unique pages indexed by Google. Great!
Easy to run flexible promos
We looked for a simple and reliable module to run promo campaigns for our web shop. With the extension, we already ran dozens flexible campaigns and could engage people in new purchases. It is easy to add new landing pages when there are holidays or season discounts on agenda.
Write Your Own Review
Settings
you'll be logged in automatically
You can always download the recent version free of charge from your account
Installing an upgrade is easy — check now
My Downloads
Version 1.5.22
Last Update: Aug 20, 2019
Improvements minor improvements were implemented
Fix issue with text attribute indexation was fixed
Compatibility compatibility with Magento 2.3.2 was improved
Fix issues with install script were resolved
Improvement minor code improvements were implemented
Improvement the plugin's indexing was reviewed and enhanced
Compatibility the compatibility with ElasticSearch coming with Magento 2.3.1 was added
Compatibility the compatibility with the Magento v2.3.1 was enhacned
Compatibility the compatibility with 3rd party extensions was enhanced
Fix an issue with category sorting was resolved
Improvement filtering indexer was added. The landing pages performance for big catalog was enhanced.
Compatibility the compatibility with Magento/module-staging was added
Fix an issue with slow first load of discount landing page was resolved
Fix an indexer with applying category filter was resolved
Compatibility the compatibility with Magento 2.3.0 was added
Improvement compatibility with Magento 2.3.0 / PHP 7.1 was added
Compatibility compatibility with Magento 2.3.0 was improved
Compatibility compatibility with Amasty Visual Merchandiser extension was added
Compatibility compatibility with Amasty Elastic Search extension was improved
Fix an issue with sorting options setting was resolved
Fix an issue with unknown column message during indexation on Magento EE was resolved
Fix issue related to missed composite products in results has been fixed
Fix an issue with 'Is On Sale' condition was resolved
Fix an issue with missing products when category is selected in the condition was resolved
Improvement the Page Products ui and ux was updated
Compatibility compatibility with Amasty Improved Layered Navigation extension was enhanced
Compatibility the compatibility with Magento 2.2.6 was enhanced
Fix an issue with design on mobile for 'Layout=empty' was resolved
Fix an issue with 'Is on Sale' condition not working for simple product of configurable was resolved
Fix the Page Products last row design issue was resolved
Fix an issue with the Page Products not updated after removing the condition was resolved
Compatibility the compatibility with the Amasty Elastic Search extension was improved
Fix the issue with the order cancelling was resolved
Fix the issue with the 'On Sale' condition and configurable products was resolved
New the ability to push a product directly to the first position in the product listing using the 'move to top' link was added
New the manual product sorting via the drag-and-drop editor was added
New the indexer to improve the catalog products listing performance was added
New the ability to preview products assigned to the landing page was added
Version 1.4.1
Last Update: Aug 15, 2018
Compatibility the compatibility with Magento B2B was added
Compatibility the compatibility with custom themes was improved
New now, you can set virtual (dynamic) categories based on the landing pages and their conditions. Also, you can avoid manual products re-assignments as they are refreshed automatically.
Version 1.3.4
Last Update: Jul 24, 2018
Compatibility compatibility with Amasty Improved Layered Navigation was enhanced
Fix the issue with a configurable product with simple on sale is not displayed on the landing page was resolved
Fix the issue with webapi was resolved
Fix the issue with update install was resolved
New Information section was added. Now you can see the version of installed extension, available updates, User Guide link, conflicts and other useful data right on the module Configuration page
New the feature was added to specify meta title, description, and keywords for multiple store views, when creating a single page
New the ability to duplicate the existing landing pages from the paged grid was added
Version 1.2.8
Last Update: Apr 18, 2018
New Information section is added. Now you can see the version of installed extension, available updates, User Guide link, conflicts and other useful data right on the module Configuration page
Fixed the issue with the category conditions 'is one of'
Performance improvement. Slow Data Base queries were optimized
The functionality that adds the Landing Pages to the Amasty XML Sitemap has been moved to the Amasty Landing Pages extension starting from this version
Fixed an issue with date conditions not returning expected products on landing page
Magento 2.1.8+ compatibility improvement
Fixed the bug when the 'yes/no' condition, e.g. 'New' is used
New Added the 'Rating' condition
Magento 2.2 compatibility tested and confirmed
Version 1.1.9
Last Update: Aug 24, 2017
Fix disabled pages logic
Compatibility with 3-rd party search engines
Improvements for "Is New" validation
Minor compatibility improvements for Magento EE
Compatibility with the Mirasvit_Seo by disabling their meta replacement on the landing pages
Fixed an issue with the "in stock", "contains" and attributes conditions
Allow non-unique URL key for different stores
A number of minor improvements
Better compatibility with 3-rd party search extensions
Fix for correct display of landing page store in the backend
A number of compatibility improvements
Possibility to import/export landing pages