A landing page defines the first impression about your Magento 2 store for all new clients that turned to your webshop from a search result page. It's a very powerful tool to target visitors to a product page and gently push to make purchases.
It's well-known that combining SEO optimization with user friendliness is a very tough task. The module enables you to create landing pages based on different parameters to avoid duplicating content; it's possible to include meta information and create SEO-friendly URLs. This way you get more unique pages indexed by Google and take care of site usability at the same time!
Foremost SEO options
Unique meta data for each website page
Search engines use meta title, descriptions and keywords to provide more advanced and accurate search. Meta description also provides a brief summary of the contents of web pages. You only need to come up with a couple of sentences, to show what the page is about.
Canonical URLs
The plugin includes canonical URLs functionality; the feature prevents duplicating content on the site. Category URL suffixes are also supported, so when you define URL suffix .html for your store product and category pages the extension will include .html suffix in the canonical URL too.
Make URLs SEO-friendly
Landing pages can be a powerful promotional tool for your Magento 2 webstore. Highlight special deals and sales by creating a separate page for each event of such sort. In this case customers will be a lot more likely to find what they need and follow your offers. URLs like yoursite/sale or company/hot-deals will surely attract buyers' attention!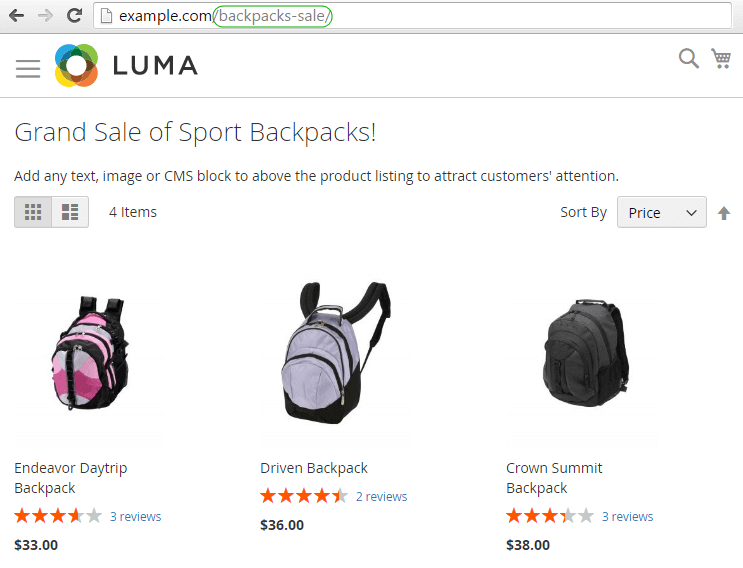 Advanced admin options
Use Magento 2 product conditions to create landing pages
Create Magento 2 landing page templates based on conditions like category, SKU, min. and max. price, etc. You can display only products from bags category of Eco brand. The feature is extremely useful to create sets of items for special occasions. E.g. you can start a sale of green goods for St. Patrick's day.
Include landing page URLs in a sitemap
Remember to modify Magento 2 sitemap every time you add a landing page to the webstore to give search engine robots new ground for crawling!
Unique design for your site
Make your Magento 2 store stand out among competitors! Landing page design is now highly customizable! Add images, promo texts and static CMS blocks with footer links, home page or login info blocks; encourage customers to get in touch displaying Contact Us info.
Quick links to frontend preview
When new Magento 2 landing page is created, use quick link to frontend on the Pages grid to ensure that the page is configured correctly.
Rapidly Export/Import the landing pages
Export all landing pages of your store in no time! As a result of export you will get a convenient .csv file. It can be modified and imported back to the webstore.
Other Features
100% Open Source — Easy To Customize
Follows Magento Code Architecture
Separated HTML/CSS/JS
Simple installation via Composer
* The name "Magento" and the logo are the trademarks of Magento, Inc.
Simple and powerful tool
This is very simple and powerful tool to engage the customers as well as to get the higher positions in the search result.
The best support service
If you care about your positions in Google, this is must have extension. Support service has answered all my questions in a very patient and polite manner.

Great extension and support!
A great extension to run promo to engage customers to purchase more. Worked as described. The support team was amazing and very quick to reply and solve any issue.
I fully recommend Amasty!
They have the best Magento extensions. When we need help or custom changes the support has been excellent and fast so I could not ask for more. Thank you!
Good promo and SEO tool
I have created several landing pages. Added different products to get the pages content unique. I have specified the meta data for each page. And of course made the SEO-friendly URLs. As a result i've got more unique pages indexed by Google. Great!
Easy to run flexible promos
We looked for a simple and reliable module to run promo campaigns for our web shop. With the extension, we already ran dozens flexible campaigns and could engage people in new purchases. It is easy to add new landing pages when there are holidays or season discounts on agenda.
Write Your Own Review
Version 1.2.5
-
February 13, 2018
– Fixed an issue with date conditions not returning expected products on landing page
Version 1.2.4
-
January 05, 2018
– Magento 2.1.8+ compatibility improvement
Version 1.2.3
-
December 05, 2017
– Fixed the bug when the 'yes/no' condition, e.g. 'New' is used
Version 1.2.2
-
November 03, 2017
– Minor fixes
Version 1.2.1
-
November 02, 2017
– Minor fixes
Version 1.2.0
-
October 30, 2017
– New: Added the 'Rating' condition
– Magento 2.2 compatibility tested and confirmed
Version 1.1.9
-
August 24, 2017
– Fix disabled pages logic
– Compatibility with 3-rd party search engines
Version 1.1.7
-
April 12, 2017
– Minor compatibility improvements for Magento EE
– Improvements for "Is New" validation
Version 1.1.6
-
March 14, 2017
– Fixed an issue with the "in stock", "contains" and attributes conditions
– Compatibility with the Mirasvit_Seo by disabling their meta replacement on the landing pages
Version 1.1.5
-
February 16, 2017
– Allow non-unique URL key for different stores
– A number of minor improvements
Version 1.1.4
-
January 19, 2017
– Better compatibility with 3-rd party search extensions
Version 1.1.3
-
December 07, 2016
– Fix for correct display of landing page store in the backend
Version 1.1.2
-
August 19, 2016
– A number of compatibility improvements
Version 1.1.0
-
June 16, 2016
– Possibility to import/export landing pages