Landing Pages
for Magento 2
Let customers explore your store goods goods via multiple landing pages. Boost sales with custom selection of products for each page. Improve your site search engine ranking building SEO-optimized unique content.
Improve your store SEO with unique URLs and metadata
Use flexible conditions for adding products to each page
Display custom CMS blocks at any place of the page
Add landing pages to the sitemap for better visibility
Create as many landing pages as you need
Enjoy full compatibility with the Jet Theme

Challenge
A landing page builds the first impression of your Magento 2 store for all potential customers that came to your website from a search results page. If a landing page doesn't meet customers' expectations, they leave the store without a purchase. As a result, you lose potential revenue and have an increased bounce rate.
Solution
Give customers exactly what they are searching for by creating multiple Landing Pages. It's a powerful tool to target visitors to a product page and gently motivate them to make purchases in your store. Moreover, the extension helps to grow organic traffic by enlarging the presence in search results.
What benefits do you get for your store
Boost conversions by creating highly-targeted landing pages
Improve SEO and drive more organic traffic to your store
Promote particular products and special offers on extra pages
Easily create engaging pages
Usually customers are searching for particular products, but they can form their search requests in different ways. With the Magento 2 Landing Pages extension, you can create various pages with the same items to satisfy visitors' needs and deliver requested products faster. Modify product category pages to acquire new shoppers and promote offers in multiple ways.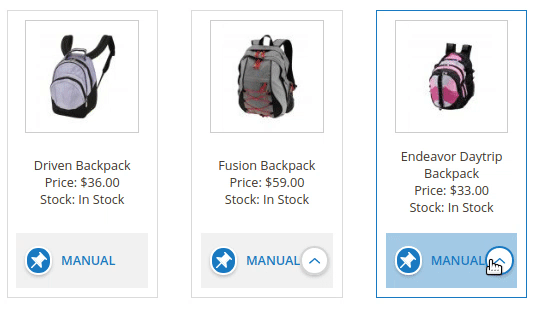 Manual sorting
Want to sort the page products in a special order? On the page products preview, enable the Manual Sorting mode for the product you want to move. Then, drag it to any position in the product listing.
Move to top
The top products should be on top! Click the Move to top link on the product you want to be the first in the product listing.
Enhance admin users experience
Save up the admin users' time and boost their productivity. With visual sorting, it's much faster and easier to make changes in product lists.
Multi-Store support. When you create a landing page, it is possible to set different meta title, description, and keywords for each of your store views specifically.
Duplicate pages. Easily duplicate a landing page right from the pages' grid. Significantly save your time, when creating compositionally similar pages.
Export all landing pages of your store in no time! As a result of export, you will get a convenient .csv file. It can be modified and imported back to the website.
Compatibility with XML Sitemap for Magento 2. Include landing page URLs in a sitemap to give search engine robots new ground for crawling!
Create separate pages to highlight special deals
Landing pages can be a powerful promotional tool for your Magento 2 website. Highlight special deals and sales by creating a separate page for each event of such sort. In this case, customers will be a lot more likely to find what they need and follow your offers. Easily adjust such the pages URLs to make them more SEO-friendly to increase your Google rating and drive more organic traffic to your website.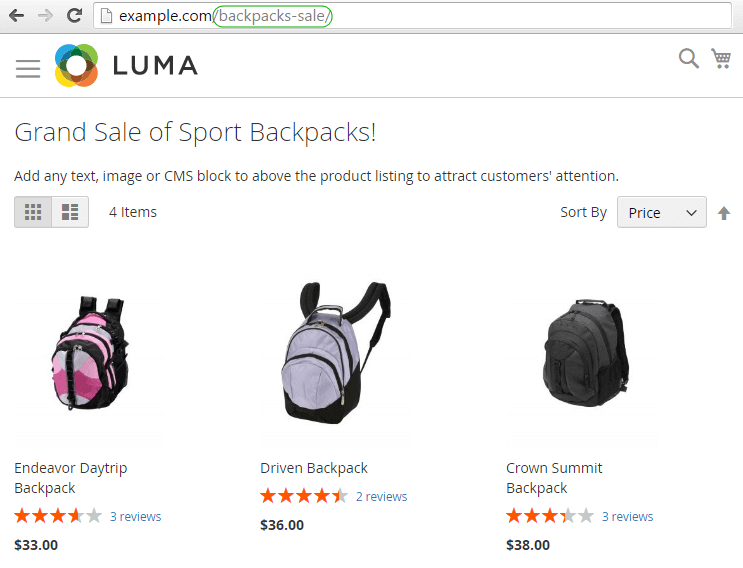 Advanced options for a complete SEO optimization
Metadata, meta robots and canonical URLs
Add meta title, description, and keywords to each page to reach higher rankings in the search engines. The module includes canonical URLs functionality which prevents duplicating content on the site. Specify Meta Robot tags to help search engine bots to better understand your indexing preferences.
Dynamic categories based on flexible conditions
Our extension allows you to use the Magento Landing page builder to create dynamic categories based on different conditions. The products displayed in the virtual category refresh automatically according to the landing pages conditions, so there's no need to re-assign these products manually.
Efficiently manage your landing pages
Use Magento 2 product conditions to create pages
Create Magento 2 landing page templates based on conditions like category, SKU, price, etc. You can display only products from a specific category or brand. The feature is extremely useful to create sets of items for special occasions. E.g. you can start a sale of green products for St. Patrick's Day.
Show Landing Pages instead of the search results page
For example, if a customer searches for "sport watch", you can design a page with the content you want to show in such cases and replace the standard search results page.
Unique design for your site
Make your Magento 2 store stand out among competitors! The landing page design is now highly customizable! Add images, promo texts and static CMS blocks with footer links, the home page, or login info blocks; encourage customers to get in touch displaying Contact Us info.
Quick links to frontend preview
When a new Magento 2 landing page is created, use a quick link to frontend on the Pages grid to ensure that the page is configured correctly.
According to the statistics, the extension can cover each business need in synergy with the following solutions: magento 2 loyalty extension and magento 2 configurable product extension.
Other Features
100% Open Source — Easy To Customize
Follows Magento Code Architecture
Separated HTML/CSS/JS
Simple installation via Composer
* The name "Magento" and the logo are the trademarks of Magento, Inc.
Great app and customer support!
Great app and great customer support. Amasty team has helped us to better use the new features it gives us. Recommend.
Simple and powerful tool
This is very simple and powerful tool to engage the customers as well as to get the higher positions in the search result.
The best support service
If you care about your positions in Google, this is must have extension. Support service has answered all my questions in a very patient and polite manner.

Great extension and support!
A great extension to run promo to engage customers to purchase more. Worked as described. The support team was amazing and very quick to reply and solve any issue.
I fully recommend Amasty!
They have the best Magento extensions. When we need help or custom changes the support has been excellent and fast so I could not ask for more. Thank you!
Good promo and SEO tool
I have created several landing pages. Added different products to get the pages content unique. I have specified the meta data for each page. And of course made the SEO-friendly URLs. As a result i've got more unique pages indexed by Google. Great!
Easy to run flexible promos
We looked for a simple and reliable module to run promo campaigns for our web shop. With the extension, we already ran dozens flexible campaigns and could engage people in new purchases. It is easy to add new landing pages when there are holidays or season discounts on agenda.
Do you have any questions?
Schedule a demo and get all the answers you're looking for!
book a live demo
Settings
you'll be logged in automatically
Are you looking to add specific functionality for this extension or want to acquire a reliable development partner altogether? With custom development services by Amasty, you will receive high quality and cost-effective solutions developed by Magento professionals according to industry's best practices.
2.3.6, 2.3.6-p1, 2.4.0-p1, 2.4.1, 2.4.1-p1, 2.4.2
You can always download the recent version free of charge from your account
Installing an upgrade is easy — check now
My Downloads
Version 1.8.8
Last Update: Jul 06, 2021
Compatibility now you can create separate pages with preorder items from Amasty Pre Order extension by using the appropriate condition
Compatibility we improved the compatibility with Amasty Improved Layered Navigation extension
Fix we corrected the issue with products in case indexes are updated on save
Fix we corrected GraphQl landing filter queries
Fix we corrected the delete confirmation popup title
Compatibility now the extension is compatible with Magento 2.4.2
Improvement we updated and refactored GraphQl queries
Improvement now an explanatory message and instructions are displayed upon setup:upgrade process if the required Visual Merchandiser Core system package is not installed
Improvement we moved indexing to a separate submodule to optimize performance and improve working with eav attributes
Fix we resolved the issue with pagination on Landing Pages grid
New we added an option to use Product Type as condition
New we added robots meta tags to the landing pages. Now you can give instructions to crawlers on how to crawl/index content on your pages: index/noindex, follow/nofollow
Compatibility now the extension is compatible with Magento 2.4
Compatibility we improved the compatibility with Jet Theme
Fix we resolved the issue of incorrect sorting with Elasticsearch enabled
Version 1.7.2
Last Update: Jul 29, 2020
Compatibility compatibility with ElasticSearch 7 was improved
Compatibility compatibility with Magento Staging was improved
Improvement we reviewed and optimized plugin's indexation
Fix we resolved the issue with missing products in Dynamic Category mode
Fix we corrected the qty condition application regarding not Simple products
Version 1.6.5
Last Update: Mar 11, 2020
Fix we resolved minor issue with creating new landing page
Improvement we reviewed and enhanced plugin's behavior in case of 'empty' conditions
Fix we corrected QTY conditions implementation on Magento 2.3.4
Fix we slightly corrected the extension's code in order to match Magento Marketplace guidelines
Improvement compatibility with read compatible GraphQL was enhanced
Improvement we implemented minor performance improvement
Fix we resolved the issue which occured during Magento integration tests running
Compatibility now the module is read compatible with GraphQL
Fix minor issues were resolved
Version 1.5.24
Last Update: Sep 23, 2019
Compatibility Improved compatibility with Magento 2.2.x
Improvement Landing Pages indexation was improved
Compatibility enhanced compatibility with Magento 2.3.2
Fix the issue related to search of landing pages by part of word was fixed
Fix the problem related to changing columns count in layout was resolved
Fix the problem related to product displaying by condition "is one of" was resolved
Improvements minor improvements were implemented
Fix issue with text attribute indexation was fixed
Compatibility compatibility with Magento 2.3.2 was improved
Fix issues with install script were resolved
Improvement minor code improvements were implemented
Improvement the plugin's indexing was reviewed and enhanced
Compatibility the compatibility with ElasticSearch coming with Magento 2.3.1 was added
Compatibility the compatibility with the Magento v2.3.1 was enhacned
Compatibility the compatibility with 3rd party extensions was enhanced
Fix an issue with category sorting was resolved
Improvement filtering indexer was added. The landing pages performance for big catalog was enhanced.
Compatibility the compatibility with Magento/module-staging was added
Fix an issue with slow first load of discount landing page was resolved
Fix an indexer with applying category filter was resolved
Compatibility the compatibility with Magento 2.3.0 was added
Improvement compatibility with Magento 2.3.0 / PHP 7.1 was added
Compatibility compatibility with Magento 2.3.0 was improved
Compatibility compatibility with Amasty Visual Merchandiser extension was added
Compatibility compatibility with Amasty Elastic Search extension was improved
Fix an issue with sorting options setting was resolved
Fix an issue with unknown column message during indexation on Magento EE was resolved
Fix issue related to missed composite products in results has been fixed
Fix an issue with 'Is On Sale' condition was resolved
Fix an issue with missing products when category is selected in the condition was resolved
Improvement the Page Products ui and ux was updated
Compatibility the compatibility with Magento 2.2.6 was enhanced
Compatibility compatibility with Amasty Improved Layered Navigation extension was enhanced
Fix an issue with 'Is on Sale' condition not working for simple product of configurable was resolved
Fix an issue with the Page Products not updated after removing the condition was resolved
Fix the Page Products last row design issue was resolved
Fix an issue with design on mobile for 'Layout=empty' was resolved
Compatibility the compatibility with the Amasty Elastic Search extension was improved
Fix the issue with the 'On Sale' condition and configurable products was resolved
Fix the issue with the order cancelling was resolved
New the ability to preview products assigned to the landing page was added
New the manual product sorting via the drag-and-drop editor was added
New the ability to push a product directly to the first position in the product listing using the 'move to top' link was added
New the indexer to improve the catalog products listing performance was added
Version 1.4.1
Last Update: Aug 15, 2018
Compatibility the compatibility with Magento B2B was added
Compatibility the compatibility with custom themes was improved
New now, you can set virtual (dynamic) categories based on the landing pages and their conditions. Also, you can avoid manual products re-assignments as they are refreshed automatically.
Version 1.3.4
Last Update: Jul 24, 2018
Compatibility compatibility with Amasty Improved Layered Navigation was enhanced
Fix the issue with a configurable product with simple on sale is not displayed on the landing page was resolved
Fix the issue with webapi was resolved
Fix the issue with update install was resolved
New the ability to duplicate the existing landing pages from the paged grid was added
New the feature was added to specify meta title, description, and keywords for multiple store views, when creating a single page
New Information section was added. Now you can see the version of installed extension, available updates, User Guide link, conflicts and other useful data right on the module Configuration page
Version 1.2.8
Last Update: Apr 18, 2018
New Information section is added. Now you can see the version of installed extension, available updates, User Guide link, conflicts and other useful data right on the module Configuration page
Fixed the issue with the category conditions 'is one of'
Performance improvement. Slow Data Base queries were optimized
The functionality that adds the Landing Pages to the Amasty XML Sitemap has been moved to the Amasty Landing Pages extension starting from this version
Fixed an issue with date conditions not returning expected products on landing page
Magento 2.1.8+ compatibility improvement
Fixed the bug when the 'yes/no' condition, e.g. 'New' is used
New Added the 'Rating' condition
Magento 2.2 compatibility tested and confirmed
Version 1.1.9
Last Update: Aug 24, 2017
Fix disabled pages logic
Compatibility with 3-rd party search engines
Minor compatibility improvements for Magento EE
Improvements for "Is New" validation
Fixed an issue with the "in stock", "contains" and attributes conditions
Compatibility with the Mirasvit_Seo by disabling their meta replacement on the landing pages
Allow non-unique URL key for different stores
A number of minor improvements
Better compatibility with 3-rd party search extensions
Fix for correct display of landing page store in the backend
A number of compatibility improvements
Possibility to import/export landing pages