Landing Pages for Magento 2

|

v1.1.2
Screenshots:
A landing page defines the first impression about your Magento 2 store for all new clients that turned to your webshop from a search result page. It's a very powerful tool to target visitors to a product page and gently push to make purchases.
It's well-known that combining SEO optimization with user friendliness is a very tough task. The module enables you to create landing pages based on different parameters to avoid duplicating content; it's possible to include meta information and create SEO-friendly URLs. This way you get more unique pages indexed by Google and take care of site usability at the same time!
Foremost SEO options
Unique meta data for each website page
Search engines use meta title, descriptions and keywords to provide more advanced and accurate search. Meta description also provides a brief summary of the contents of web pages. You only need to come up with a couple of sentences, to show what the page is about.
Canonical URLs
The plugin includes canonical URLs functionality; the feature prevents duplicating content on the site. Category URL suffixes are also supported, so when you define URL suffix .html for your store product and category pages the extension will include .html suffix in the canonical URL too.
Make URLs SEO-friendly
Landing pages can be a powerful promotional tool for your Magento 2 webstore. Highlight special deals and sales by creating a separate page for each event of such sort. In this case customers will be a lot more likely to find what they need and follow your offers. URLs like yoursite/sale or company/hot-deals will surely attract buyers' attention!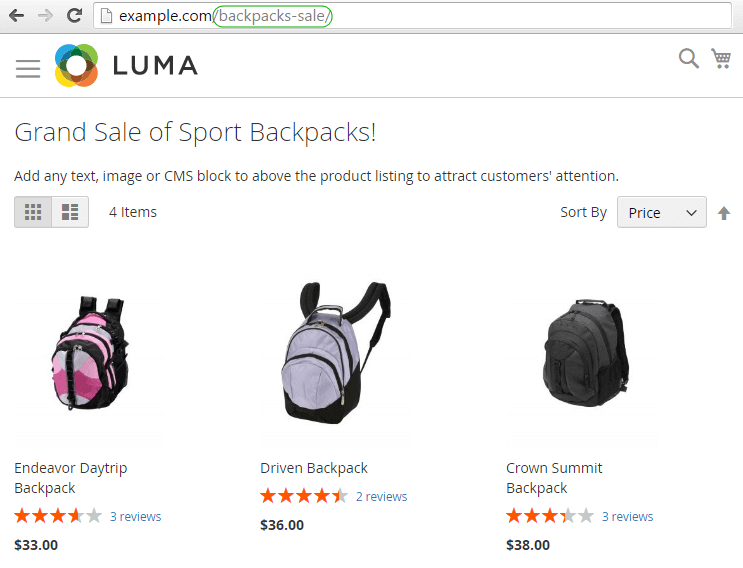 Advanced admin options
Use Magento 2 product conditions to create landing pages
Create Magento 2 landing page templates based on conditions like category, SKU, min. and max. price, etc. You can display only products from bags category of Eco brand. The feature is extremely useful to create sets of items for special occasions. E.g. you can start a sale of green goods for St. Patrick's day.
Include landing page URLs in a sitemap
Remember to modify Magento 2 sitemap every time you add a landing page to the webstore to give search engine robots new ground for crawling!
Unique design for your site
Make your Magento 2 store stand out among competitors! Landing page design is now highly customizable! Add images, promo texts and static CMS blocks with footer links, home page or login info blocks; encourage customers to get in touch displaying Contact Us info.
Quick links to frontend preview
When new Magento 2 landing page is created, use quick link to frontend on the Pages grid to ensure that the page is configured correctly.
Rapidly Export/Import the landing pages
Export all landing pages of your store in no time! As a result of export you will get a convenient .csv file. It can be modified and imported back to the webstore.
7 reasons to choose
Risk-free Investment
30-day moneyback guarantee for all extensions. No questions asked.
Comprehensive Documentation
There is a detailed user guide with examples even for tiny addons. FAQ section and videos also available.
Solutions Which Work
Careful in-house testing ensures you get robust applications. Multiple stores support. Custom themes compatibility. All included.
Outstanding Support
Our support service is friendly and of high quality. And it is free. Unbelievably. Just check independent reviews at Magento Connect.
Usability and Performance
Nice and easy to use interfaces. Fast algorithms. Save your time and get things done.
Flexible and Easy Licensing
No product or store view or domain limits. No monthly fees. No hidden charges. One extension license for one Magento installation.
Long Term Strategy
We've been in the market for 5+ years. We're proud to be a Bronze partner and are planning to stick to Magento platform for years ahead. We're doing our best to build extensions which maximize effectiveness of your business. We're open to customers' suggestions and constantly update our products to match your needs.
Other Features
100% Open Source — Easy To Customize
Follows Magento Code Architecture
Separated HTML/CSS/JS
W3C Validated Code
* The name "Magento" and the logo are the trademarks of Magento, Inc.
General Questions

How can I pay for Amasty extensions?

What is the license policy? On how many websites can I use Amasty extensions?

How to install Magento extension by Amasty?

Can I test an Amasty extension on a staging site before transferring it to a live one?

Can I get a refund if an extension doesn't suit me?

Will I get any other benefits?
Version 1.1.2
-
August 19, 2016
– A number of compatibility improvements
Version 1.1.0
-
June 16, 2016
– Possibility to import/export landing pages