Amazon Payment for Subscriptions & Recurring Payments (Add-On)
for Magento 2
Build customers' loyalty and engagement by providing them with a convenient payment method to quickly subscribe to products via their Amazon Pay accounts.
Accept subscription payments via Amazon Pay
Let buyers quickly check out using Amazon credentials
Configure smart Amazon payment limits
Care about your customers requesting consent on each subscription
Works only as an add-on for Subscriptions & Recurring Payments extension
Challenge
More often than not, shoppers don't complete their purchases because they can't find a familiar payment method. Avoiding long registration forms to use new ones, they are more likely to abandon the store. Still, users are concerned about the security of their accounts. That's why merchants are seeking new ways to make the checkout process more convenient and secure for customers.
Solution
Magento 2 Amazon Payment add-on provides your customers with an additional habitual payment method. It enables them to pay for subscription products using their Amazon Pay account credentials. With this plugin, there is no need to fill in new registration forms and keep multiple credentials in mind. Shoppers can just choose this payment method on product or checkout pages.
What benefits do you get for your store
Grow sales by providing buyers with a quick and familiar payment method
Attract more customers with a simplified checkout for their subscriptions
Equip your store with an easy-to-implement solution with no additional coding
Gain more complete orders with Magento 2 Amazon Pay
Accept recurring payments via Amazon Pay
Add Amazon Pay add-on to your Magento 2 Subscriptions extension and provide your customers with an additional convenient and familiar payment method. Don't offer shoppers leave your website to pay, instead, let them pay using credentials of their Amazon Pay account.
Configure smart Amazon payments limits
For most accounts, Amazon imposes a monthly limit of $1000 on the amount of funds you can spend on recurring payments. Our Magento Amazon Payment add-on allows you to timely inform customers of this limitation and make this method unavailable after they reach it.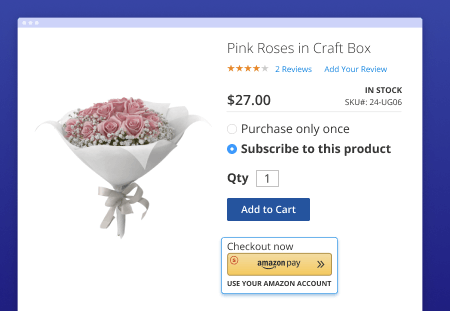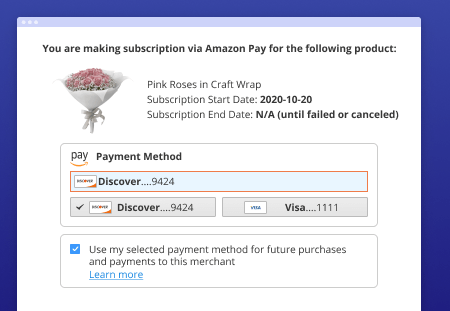 Ensure advanced security and simplified checkout
Shoppers don't need to fill in new forms with personal data on your website. After this method is chosen, customers will see the embedded Amazon widget at the checkout. Here they can pick out the shipping address and the payment method they already have stored in their Amazon Pay user accounts - everything in one widget.
Ask consent confirmation on each subscription
The plugin is fully compliant with the Amazon requirement to get customer's consent on each subscription. Every time a buyer subscribes to a new product or service with Amazon Pay, they'll be shown a window with a consent confirmation request asking for permission to use this Amazon Pay account for future purchases at your store.
Grow profits turning one-time sales into recurring ones
This add-on works only as a part of the
Subscriptions and Recurring Payments
extension for Magento 2. Grow sales letting users buy subscriptions alongside regular products.
Other Features
100% Open Source — Easy To Customize
Follows Magento Code Architecture
Separated HTML/CSS/JS
Simple installation via Composer
* The name "Magento" and the logo are the trademarks of Magento, Inc.
Recommend!
Purchased Amasty products several times and doubted whether to buy this one. I didn't want to buy an add-on to the module for such a lot of money, but I didn't regret that I paid. works great.
Nice!
A good solution to implement payments via Amazon Pay accounts.
Are you looking to add specific functionality for this extension or want to acquire a reliable development partner altogether? With custom development services by Amasty, you will receive high quality and cost-effective solutions developed by Magento professionals according to industry's best practices.
2.4.2-p1, 2.3.7, 2.4.2, 2.4.1-p1, 2.3.6-p1
You can always download the recent version free of charge from your account
Installing an upgrade is easy — check now
My Downloads
Version 1.6.6
Last Update: Jun 18, 2021
Fix we solved the problem with displaying incorrect taxes and discount amount in Customer Account page
Fix we solved the problem with displaying shipping and payments methods while Amazon payment using
Fix we solved the problem with displaying subscription orders in Customer Account
Fix we solved the problem with displaying stripe payments in transactions log