Subscriptions & Recurring Payments
for Magento 2
Grow revenue by selling products on the subscription basis and getting sustainable recurring payments with Magento 2 Subscription extension.
Sell subscriptions alongside regular products
Charge initial fees and offer free trials
Get recurring payments via PayPal, Stripe and Cash on Delivery
Automatically notify customers on subscription events
Easily track and manage all subscriptions on a handy grid
Challenge
According to statistics, acquiring new customers costs five times more than retaining current ones. But most businesses fail to provide customers with effective tools which contribute to building long-term relations. This causes great profit losses.
Solution
Benefit from building stable long-term relations with customers and get more sales with Magento 2 Recurring Payments. Sell subscriptions alongside regular products and thus contribute to sustainable recurring revenue growth.
What benefits do you get for your store
Increase profits by turning one-time sales into recurring ones
Stay cost-effective by lowering customer acquisition costs
Build brand loyalty by ensuring a high-quality user experience
TURN ONE-TIME PURCHASES INTO RECURRING SALES WITH SUBSCRIPTIONS
Get stable sales with Magento 2 Subscription
Offer subscriptions alongside regular products to trigger long-term repeat sales. Let customers simultaneously purchase both regular products and subscriptions. They will receive a single charge for the initial order, and then - separate magento recurring billings & payments within each subscription.
Save time with automatic recurring invoicing
When a customer subscribes to a product, the module automatically creates a billing cycle. New invoices are automatically generated in the admin area and in the customer account section. You can set tough billing terms or let customers choose the appropriate frequency of payments.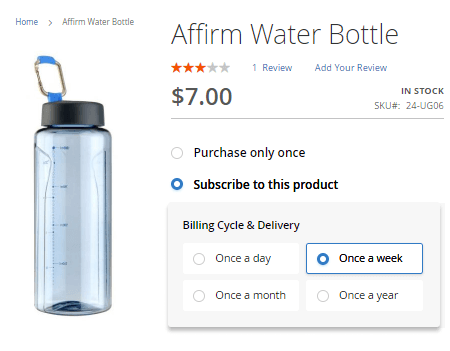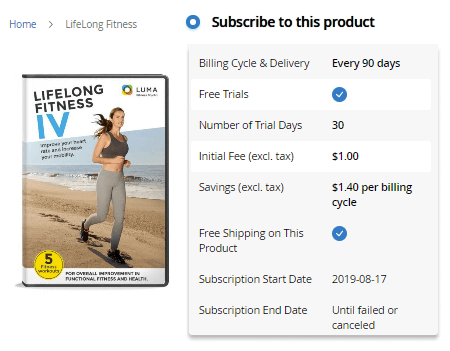 Build up trust with free trials
Contribute to customer loyalty by offering free trials. With Magento 2 Recurring Payments extension, you can set up the duration of the trial period. After its ending customers will be charged a normal subscription price.
Charge initial fees
The extension lets you charge an initial subscription fee. It can be especially useful when you run free trials. Simply specify the initial fee type (fixed amount or percent of product price) and its amount. The fee will be charged once and automatically removed from the recurring invoices.
Cover the whole world with PayPal Intergation
PayPal is available in over 200 countries and provides a variety of payment plans, which is ideal for international merchants. Stay competitive being in touch with your customers globally.
Provide easy payments with Cash on Delivery
Get more sales by allowing customers pay with cash for upon a subscription items arrival. This might help you promptly acquire new customers and strengthen trust with the existing ones. If you are seeking for more advanced options for this payment method, feel free to check the Cash on Delivery extension.
Enjoy integration with the Stripe payment gateway
Keep your store payments secure with the payment gateway and 3D Secure support by Stripe. Besides, Stripe supports 135+ different currencies via international or local payment methods.
Full control on Cash on Delivery payments
The module automatically creates all subscriptions for Cash on Delivery payment method via Cron jobs. This way, a store admin always gets the most up-to-date information on the number of subscription orders and products on the backend. It is a very convenient method to timely manage the subscriptions.
Retain subscribers with discounts
Make appealing subscription deals by offering discounted prices to those who subscribe. You can define the discount type and its amount as well as limit the number of discounted cycles. Also, you're able to adjust subscription prices to each particular product.
Flexible subscriptions management
Let customers efficiently operate subscriptions in their accounts. A customer can easily cancel a subscription at any time. As for admin users, they can track all subscriptions with their details on a special grid.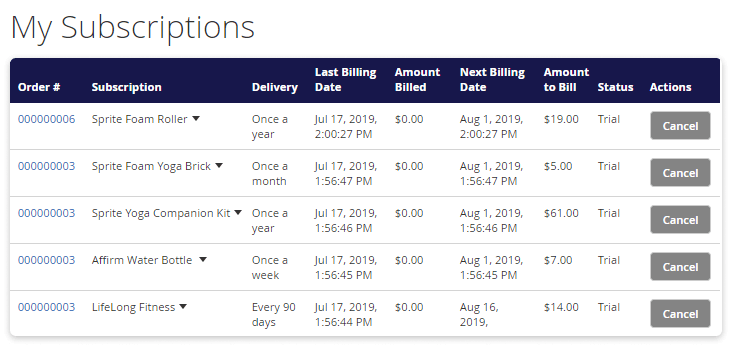 Instantly change sales strategy
With Magento 2 Subscription, you can choose to make particular products available only for subscription or only for a regular purchase. You can also make them available for both these options and change your decision at any time. Moreover, you can set trial periods, initial fees and special discounts per each product separately.
Send automatic email notifications
Notify customers upon important events concerning their subscriptions:
When a subscription is purchased;
When the trial period ends;
When a subscription is canceled.
FULLY COMPLIANT WITH THE PSD2 EU LEGISLATION
Effective since September 14, 2019, all merchants that are located in the European Economic Area and/or accept payments from a resident of EEA, must provide a Strong Customer Authentication for all transactions initiated by a customer. It is designed to prevent fraud and enhance the shoppers' security, yet for merchants, the PSD2 requirements for SCA might be tricky.
Learn more
about Stripe and PCI compliance requirements.
Provide users with a safe way to pay online
Anyone involved with the processing of card data must comply with the Payment Card Industry Data Security Standards (PCI DSS). The Subscription and Recurring Payments module for Magento 2 transmits all sensitive data directly to the payment processor provider without passing through your servers. This way, you can be sure that customers' card information is fully protected.
Fight fraud with the help of 3D Secure
Significantly lower the amount of fraud and chargebacks by using the 3D Secure card verification process. 3D Secure adds an extra layer of fraud protection and helps to prevent malicious actions, aimed to steal users' sensitive information. You can make the 3D Secure verification mandatary for all cards that support it with magento subscription plugin. Guarantee a safe payment process and let users prove their identity to the bank.
How to set up subscriptions and recurring payments in Magento 2?
Install and enable the Subscriptions & Recurring Payments module.
Go to Admin Panel > Catalog > Products.
Choose what products you want to offer by subscription, select Make Selected Products Available via Subscription in the Actions dropdown.
To customize the subscription rule for specific products, click on the Edit button and go to the Subscriptions Settings tab.
Save the changes when you are ready.
Speed up shopping process with advanced checkout page
Increase conversions and reduce abandoned cart rate by providing customers with improved checkout page. See
Magento 2 One Step Checkout
extension to make your page easy to handle.
Other Features
100% Open Source — Easy To Customize
Follows Magento Code Architecture
Separated HTML/CSS/JS
Simple installation via Composer
* The name "Magento" and the logo are the trademarks of Magento, Inc.
Free trials rule
This is the best feature. My shoppers waited for it. I'm using it 2 weeks and number of purchases increased. Just people sometimes return after trial. But I also use store credit for refunding to convert them into regulars.
Support is great
Yeap, stripe is cool but I couldn't set it up. Luckily the supporter Alexey helped me out, just thumbs up for your assistance.
Saved me
The integration with stripe for payments is cool, tnx.
Are you looking to add specific functionality for this extension or want to acquire a reliable development partner altogether? With custom development services by Amasty, you will receive high quality and cost-effective solutions developed by Magento professionals according to industry's best practices.
Magento 2.1, 2.2, 2.3 (including 2.3.4)
You can always download the recent version free of charge from your account
Installing an upgrade is easy — check now
My Downloads
Version 1.4.1
Last Update: Mar 12, 2020
Fix we solved the problem with adding subscription product to shopping cart
New we added an integration with Cash on Delivery to the list of payment methods supported by our extension. Now it works with both default magento Cash on Delivery payment method and Amasty Cash on Delivery extension
New ability to manage all existing cron tasks on a Cron Tasks List grid in backend was added. Run cron tasks and generate their schedule by clicking the 'Run Cron' button. Also, delete tasks in bulk, apply filtering and sorting options when it is needed
Version 1.3.0
Last Update: Dec 05, 2019
Improvement load speed of the pages containing customer subscriptions data was improved. Now it takes less time to render My Subscriptions grid.
Fix some known issues with Stripe integration were fixed.
Fix email issue related to customers not receiving notification emails on some occasions was resolved.
Fix Transaction Log records duplication issue was fixed.
Version 1.2.0
Last Update: Nov 27, 2019
New more payment gateways are now available! We added a new integration to the list of payment methods supported by our Subscriptions & Recurring Payments extension. From now on, your customers will be able to pay for their subscriptions via PayPal.
Version 1.1.0
Last Update: Oct 24, 2019
New modular architecture is here! We made some changes to the core of the module to allow for better expandability, so that more payment gateway integrations will be available to you in the upcoming future. Please note that in order to update to this version you may need to install additional packages as well as get rid of obsolete module's files (it's completely safe).
Improvement support of the 3D Secure v2 was added. Now the module is completely compliant with Strong Customer Authentication (PSD2).
Compatibility compatibility with Stripe v3.0.0 by Amasty was improved - feel free to update the extension to the latest version.
Fix issues with subscription products discount displayed incorrectly were resolved.
Version 1.0.1
Last Update: Sep 26, 2019
Fix we solved the problem with secret webhook selector in extension configuration
Fix we resolved the problem with exception on shopping cart "Array to string conversion"