1/8
Subscriptions & Recurring Payments
for Magento 2
Grow revenue by selling products on the subscription basis and getting sustainable recurring payments with Magento 2 Subscription extension.
Sell subscriptions alongside regular products
Charge initial fees and offer free trials
Get recurring payments via Stripe with automatic invoicing
Automatically notify customers on subscription events
Easily track and manage all subscriptions on a handy grid
Challenge
According to statistics, acquiring new customers costs five times more than retaining current ones. But most businesses fail to provide customers with effective tools which contribute to building long-term relations. This causes great profit losses.
Solution
Benefit from building stable long-term relations with customers and get more sales with Magento 2 Recurring Payments. Sell subscriptions alongside regular products and thus contribute to sustainable recurring revenue growth.
WHAT BENEFITS DO YOU GET FOR YOUR STORE
Increase profits by turning one-time sales into recurring ones
Stay cost-effective thanks to lowering customer acquisition costs
Build brand loyalty by ensuring a high-quality user experience
TURN ONE-TIME PURCHASES INTO RECURRING SALES WITH SUBSCRIPTIONS
Get stable sales with Magento 2 Subscription
Offer subscriptions alongside regular products to trigger long-term repeat sales. Let customers simultaneously purchase both regular products and subscriptions. They will receive a single charge for the initial order, and then - separate recurring payments within each subscription.
Save time with automatic recurring invoicing
When a customer subscribes to a product, the module automatically creates a billing cycle. New invoices are automatically generated in the admin area and in the customer account section. You can set tough billing terms or let customers choose the appropriate frequency of payments.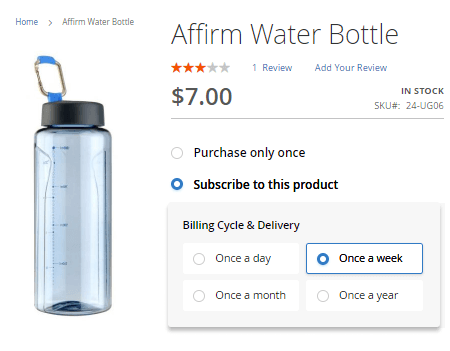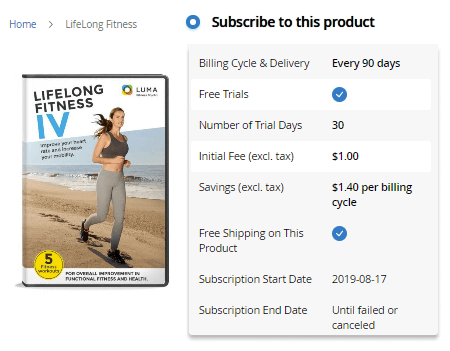 Build up trust with free trials
Contribute to customer loyalty by offering free trials. With Magento 2 Recurring Payments extension, you can set up the duration of the trial period. After its ending customers will be charged a normal subscription price.
Charge initial fees
The extension lets you charge an initial subscription fee. It can be especially useful when you run free trials. Simply specify the initial fee type (fixed amount or percent of product price) and its amount. The fee will be charged once and automatically removed from the recurring invoices.
Retain subscribers with discounts
Make appealing subscription deals by offering discounted prices to those who subscribe. You can define the discount type and its amount as well as limit the number of discounted cycles. Also, you're able to adjust subscription prices to each particular product.
Flexible subscriptions management
Let customers efficiently operate subscriptions in their accounts. A customer can easily cancel a subscription at any time. As for admin users, they can track all subscriptions with their details on a special grid.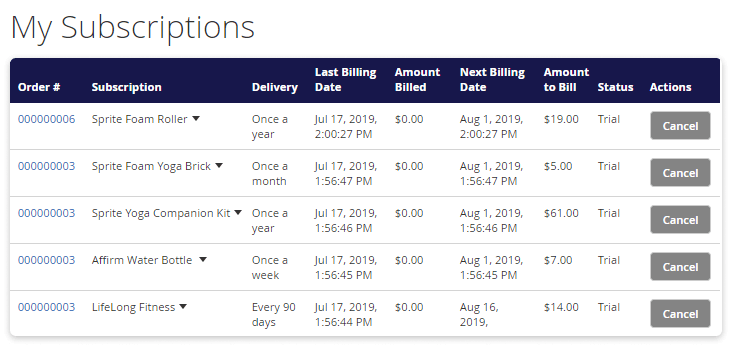 Instantly change sales strategy
With Magento 2 Subscription, you can choose to make particular products available only for subscription or only for a regular purchase. You can also make them available for both these options and change your decision at any time. Moreover, you can set trial periods, initial fees and special discounts per each product separately.
Send automatic email notifications
Notify customers upon important events concerning their subscriptions:
When a subscription is purchased;
When the trial period ends;
When a subscription is canceled.
Speed up shopping process with advanced checkout page
Increase conversions and reduce abandoned cart rate by providing customers with improved checkout page. See
Magento 2 One Step Checkout
extension to make your page easy to handle.
Other Features
100% Open Source — Easy To Customize
Follows Magento Code Architecture
Separated HTML/CSS/JS
Simple installation via Composer
* The name "Magento" and the logo are the trademarks of Magento, Inc.
Free trials rule
This is the best feature. My shoppers waited for it. I'm using it 2 weeks and number of purchases increased. Just people sometimes return after trial. But I also use store credit for refunding to convert them into regulars.
Support is great
Yeap, stripe is cool but I couldn't set it up. Luckily the supporter Alexey helped me out, just thumbs up for your assistance.
Saved me
The integration with stripe for payments is cool, tnx.
Write Your Own Review
You can always download the recent version free of charge from your account
Installing an upgrade is easy — check now
My Downloads
This extension has no updates yet