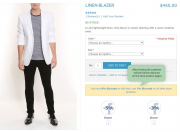 CE 1.4.x - 1.9.x, EE 1.8.x - 1.14.x
Use viral advertising to increase sales. Give your customers a reward for performing actions in your store using their Facebook profiles.
Put sharing buttons on the product page or in the cart
Give your customers immediate discount after sharing
Set automated admin notifications about customer actions
Let customers increase their discount for sharing more products from your store

Available for customization
Want to buy this extension? We will customize it according to your needs as an individual solution
Please beware of the Facebook policy update. According to the update offering users to Like a Page in order to get the access to content or any kind of rewards is no longer allowed.
Even an excellent e-Commerce store needs social media to attract attention it deserves. Using Magento Social Share extension - Share Me! you'll be able to add powerful social buttons to your storefront and increase engagement and click-to-sale on product pages with the help of aggregated social data.
Reward your customers for sharing
Each customer gets a special Magento Facebook discount for sharing a product page or the Facebook store page.
Note! A customer should be logged in to his/her Facebook account.
Immediate discounting after sharing
Discounts are given for sharing a product and sharing the store page on Facebook. If a customer clicks the "Share Us" button, he/she will receive a discount on the whole range of products in the store.
Constant traffic of potential customers
On an average each Facebook user has about 350 friends, and when he shares a product some of them will definitely take interest in your store and go to your site. It's a perfect chance to get viral advertising in use and increase your sales.
Admin notifications of customers activities
You don't need to constantly check whether a customer has shared a Magento product and send discount coupons manually. The extension will do it itself, besides it will notify you about all the customers actions and shares of Magento products.
Efficient tools for you store growth
Customer email notification of a discount
Sometimes a customer can leave a store without purchasing the shared product. An automatic email notification will not only remind him/her of the discount, but will also serve as an additional incitement to complete the purchase.
The share buttons are displayed in a convenient place on a page, and easy to be seen and clicked. At the same time, they don't distract customer's attention from the product.
Ability to display the share counter for each Facebook activity
After Magento Facebook sharing a customer will see gained Magento Facebook like discount on the store product pages.
There is a possibility to insert Magento sharing buttons in the cart.
Share Me! is a fully automated extension. It means that a customer will receive a Magento Facebook like discount immediately after sharing, and will see it right on the product page. No need to wait for your approve or a Magento Facebook discount coupon on email.
One time/multiple discount
You can decide whether to give a customer one time Magento Facebook like discount for a purchase or a multiple discount, so he could use it as many times as he'd like. Multiple discount is a great way to encourage clients to come back to your store.
Fully customizable extension
With the the Share Me! Magento extension you can flexibly manage a sharing process in your online store:
Customizable discount percent
Ability to insert the Share Me block into a custom place on the product page
Ability to choose if to share the store url or the Facebook's store page
Ability to disable sharing block on the product page or in the cart
Customizable customer notification background
Customizable buttons and text colors
Get more social leads by using additional information channels such as Twitter, Pinterest and Google Plus with Facebook & Twitter Promo Amasty extension.
Speak out about your brand and products on various CSEs with our Magento Product Feed extension.
4.3
See 202+ verified reviews
Can I test an Amasty extension on a staging site before transferring it to a live one?
Yes, you can install any Amasty extension on a test site and configure all the settings there before doing it on your live store.
Amasty provides a 60-day money-back guarantee. In case the acquired extension didn't meet your expectations, our support team is always ready to help you. To get a full or partial refund of your order, please create a ticket in our support...
How can I receive a discount?
According to the rules of Amasty's Reward Program, you get $15 back to your reward points for every $100 spent. You can spend them to buy other extensions or services from our catalog. These Points are valid for 60 days from the purchase date. You ...
What is the license policy? On how many websites can I use Amasty extensions?
Our license allows you to use a single extension license agreement on one Magento installation. If you run several domains on the same instance of Magento, you can use one extension license. However, if you run each website on a new installation...
How can I pay for Amasty extensions?
You can pay for our extensions in any convenient for you way as a full range of payment methods are supported. The most common means are credit card or PayPal. Security and fraud protection are guaranteed. If you need to pay for the order with a non...
How to configure Share Me in Magento?
Share Me is a simple tool which helps sellers increase sales and find new customers using Facebook. Please follow the full answer to see a step-by-step guide on utilizing this extension.
Write your own review
Please rate

Share Me!

from 1 to 5 stars