Instagram Feed
for Magento 2
Attract target audience to your website and boost revenue with Magento 2 Instagram Feed extension. Integrate eye-catching Instagram pictures to effortlessly create a trendy look for a website.
Grow revenue by automatically adding high-demand content
Display Instagram widget at any page on your webstore
Link products to images to navigate users to a purchase
Easily sort pictures based on specific criteria
Select a flexible layout for Instagram image block
Show the number of likes and comments on each image
MAKE YOUR MAGENTO WEBSITE INTERACTIVE WITH
INSTAGRAM PHOTO GALLERY

Challenge
Retaining customers is hard, as it demands to constantly create powerful and flashy content to attract visitors and convert them into buyers. Merchants use social media platforms such as Instagram to enhance the audience reach, promote their products and grow sales revenue. But default functionality isn't adapted for effortless Magento 2 Instagram integration, so generating trendy content might become tricky and time-consuming.
Solution
Use Instagram Feed for Magento 2 to conveniently integrate vibrant images to a website to reach more users and modernize store look. Win from embedding highly-effective visual content that will bring you tons of visits and grow the conversion rate. Install a safe and user-friendly solution to showcase products in the most appealing way to boost sales and build long-term relationships with customers.
What benefits do you get for your store
Attract new customers and grow revenue by adding highly-demand pictures of Instagram shopping to your Magento products
Save time and money by automatically generating engaging content for your audience
Build customers' trust by sharing brand satisfaction via social media posts
TURN VISITORS INTO CUSTOMERS BY SHOWING A TARGET CONTENT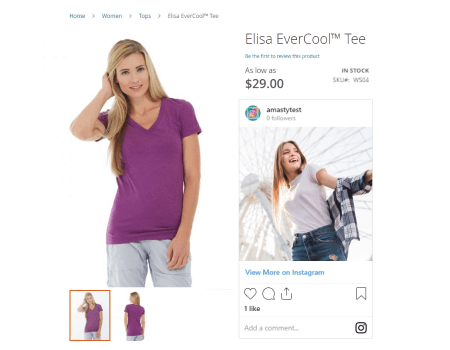 Embed Instagram pictures at any page and any position
Add a modern look to your store with trendy Magento 2 Instagram Shop widget. Display images block at Home Page, Catalog Page, Product pages or any CMS page. Easily place as many widgets as you need to any position on your website pages.
Lead users to sale with colorful pictures
Let customers go to the product page to make the purchasing decision faster. Connect Magento 2 Product Page to the Instagram post. This way, a user can buy the goods immediatelly, which boosts sales.
Enhance customer experience with magento 2 instagram extension pop-up
By using the Magento 2 module for Instagram integration, store owners can specify widget response to clicks and mouse hovers. By click on the image, open a pop-up window or redirect to an original post on Instagram. On mouse hovers, zoom in the picture or display the number of likes and comments.
Make website interactive with likes and comments
74% of users reach out to social media platforms before making a purchasing decision. Use Instagram as a shopping tool and convince potential buyers to make a purchase in your webstore instantly by showing the number of likes and comments on each image. Many customers often share their positive experience on social media, and you can take advantage of that. Share Instagram pictures with positive feedback on your product pages and build long-term relationships with your customers.
Regulate the number of pictures to display
Motivate users to spend more time on your web-store pages with our Magento 2 Instagram widget. Specify the maximum number of pictures to show in the widget. Easily promote your products and increase the number of purchases by showing highly-demand images.
ATTRACT MORE VISITORS WITH STYLISH STORE LOOK
Stand out from the competitors with a flexible layout
Magento 2 Instagram Feed extension is a handy tool that helps create a unique style for your website with various options of the layout. Select the way widget will be arranged with flexible layouts to match your business needs. Place pictures in a traditional grid to display them in rows of tiles or select Magento Instagram slider to allow scrolling through the gallery. Display images in a collage or put up one single picture to emphasize a certain product.
Define image resolution for display
Choose from 3 pre-defined resolutions to display on the website. Simply select the dimensions you need in pixels, and the module will do the rest. With this feature, you can design very specific-sized widgets that will take the required space on a webpage without spreading too much. Combine with the layouts settings and you'll get a truly customized widget.
Easily sort pictures based on specific criteria
According to the scientists, it takes only 0.05 seconds to make the first impression on your website visitors. That's why it's important to sort images for displaying in the gallery. By default, photos are pulled from an Instagram account in chronological order but you can sort them according to business strategy. Connect your Magento 2 to Instagram and quickly sort pictures by specific criteria: the most recent, liked, commented images or apply the random selection.
Automatically generate highly-demand content
Effortlessly generate relevant content to retain customers on your website. Create as many widgets as you need and specify the settings for Instagram images display to keep customers up-to-date with recent industry trends and raise your brand awareness. Don't spend extra time to make your store look modern and unique with Magento Instagram Widget block.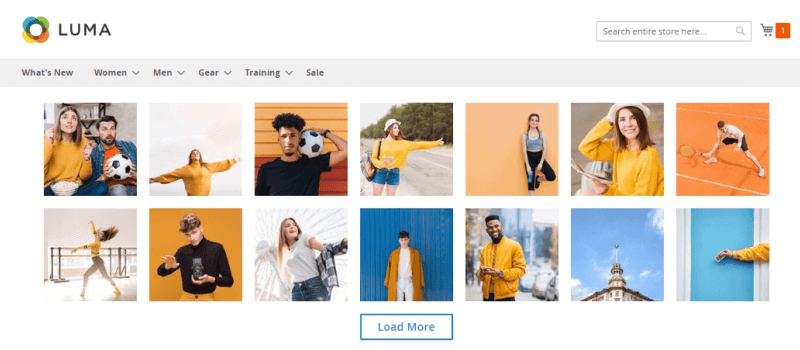 Extra features for a better experience
Enable the 'Load more' button
To impress and engage shoppers even more, you can add the 'Load more' button to the Instagram widgets. If a customer presses the button, extra images will be loaded immediately, without any redirects. By limiting the initial number of images and hiding additional media files, you won't distract users from purchasing and give them an opportunity to find out more at the same time.
Generate Access Token Automatically
To configure the extension properly, you need an access token. To simplify this process, you can just click on the Generate Access Token button, and a pop-up window from Facebook will appear. Make some simple steps on the Facebook side and get the token automatically. Additionally, a valid redirect URL will be also generated by the extension.
Configure post paddings
Apart from the standard widget layout settings, you can do a bit more to match it with your webstore design: adjust the space between images in widgets. On one hand, felicitous padding configuration can make posts more catchy and visually emphasized. On the other hand, zero-padding can create an impression of a unique collage. Don't forget to take store design into account.
Adapt accounts to store views
You can connect different accounts to different store views to make the content relevant to multiple target audiences. For example, you can add the @brand_example_de Instagram account to a German store view, and attach the @brand_example_us account to the Worldwide and US store views.
Magento social integration | How to connect your store with Instagram?
Install and enable the Amasty Instagram Feed.
Go to Stores > Configuration > Amasty Extensions > Instagram Feed and open the Instagram Settings section.
Click on the Generate Access Token button.
In the pop-up window, choose the needed Instagram account.
Then, set up permissions for this widget.
Choose the account that represents your store's business account. Then, proceed to set up what Facebook Page you want to be connected to.
Then, give the needed permissions to this widget.
When completed, you'll see a filled-in Access Token field in Magento 2 admin panel.
Save the changes.
Speed up shopping process to sell more
Make it easier for customers to navigate your store and find out the needed products with
Magento 2 Mega Menu
. Integrate
Social Login for Magento 2
to facilitate the purchase with one click-login and therefore get more completed orders.
Other Features
100% Open Source — Easy To Customize
Follows Magento Code Architecture
Separated HTML/CSS/JS
Simple installation via Composer
* The name "Magento" and the logo are the trademarks of Magento, Inc.
Had probs but support is great
Had trouble paying for module. It worked from 3 time. Then couldn't download package. So I called support and they fixed it all. They are great, but I lost time - 2 business days.
Value for sales
I like that it's possible to add the widget to shopping cart. That's what I did. This week out of 18 customers 8 bought extra prods showcased in shopping cart widget. That's cool.
Good widget design
I had such an extension before and it was bad. Resizing was not available so different pic layouts in widget looked scruffy. Here resizing is available in 3 options. All looks good. Just would be good to have a widget preview.
Are you looking to add specific functionality for this extension or want to acquire a reliable development partner altogether? With custom development services by Amasty, you will receive high quality and cost-effective solutions developed by Magento professionals according to industry's best practices.
Magento 2.2, 2.3, 2.4
You can always download the recent version free of charge from your account
Installing an upgrade is easy — check now
My Downloads
Version 2.1.4
Last Update: Nov 20, 2020
Compatibility we implemented required modifications in order to comply with the new Instagram oEmbed endpoint for posts displaying
Improvement we added Name and SKU columns to Post&Product Linking grid for greater convenience
Improvement we updated the Facebook Graph API version to v8.0
Improvement we added Generate Image button in configuration settings to use module without cron schedule
Fix we resolved issue related to wrong media image path
New we added the possibility to establish relationship between the post and the product. If any of your posts demonstrate a catalog product you can easily link them and direct customers to product page
Version 2.0.0
Last Update: Feb 18, 2020
New we built integration with new Instagram API. Please kindly note: previous connection won't work, so please re-generate the token after update. Refer to the user guide for further information
Version 1.0.2
Last Update: Oct 17, 2019
Improvement minor performance improvement was implemented
Improvement we implemented several styling improvements