Show lookup results predictively
Support multiple results sources
Provide many ways of how to search
Shorten customers' way to a purchase
Show recent and popular searches
Display results in a user-friendly way
Show Browsing History
Promote Bestsellers
Display desired results to shoppers before they end typing
Showing a perfect match even before the keyword is fully typed in, well, it's aerobatics of store usability. It significantly shortens a user path to an item and thus to a purchase. Flexibly adjust this feature from the backend by specifying the minimal number of characters that customers need to type for some results to be displayed.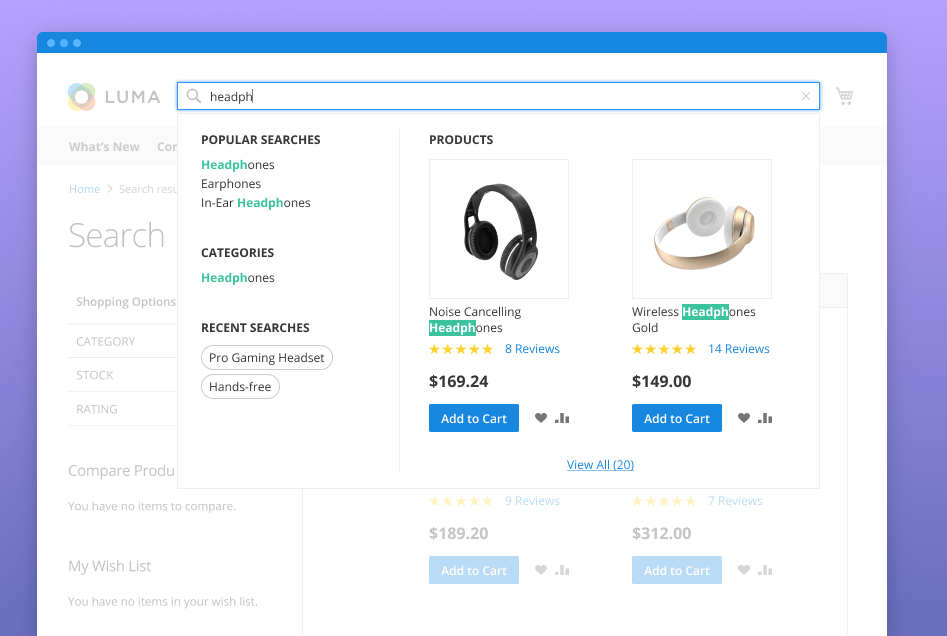 Allow searching through the whole store
Add lookup results based on CMS pages and categories to provide site visitors with more comprehensive lookup results. Specify maximal page name and content length not to overload the popup with excessive characters. Besides, you can extend the basic search sources with four extra ones.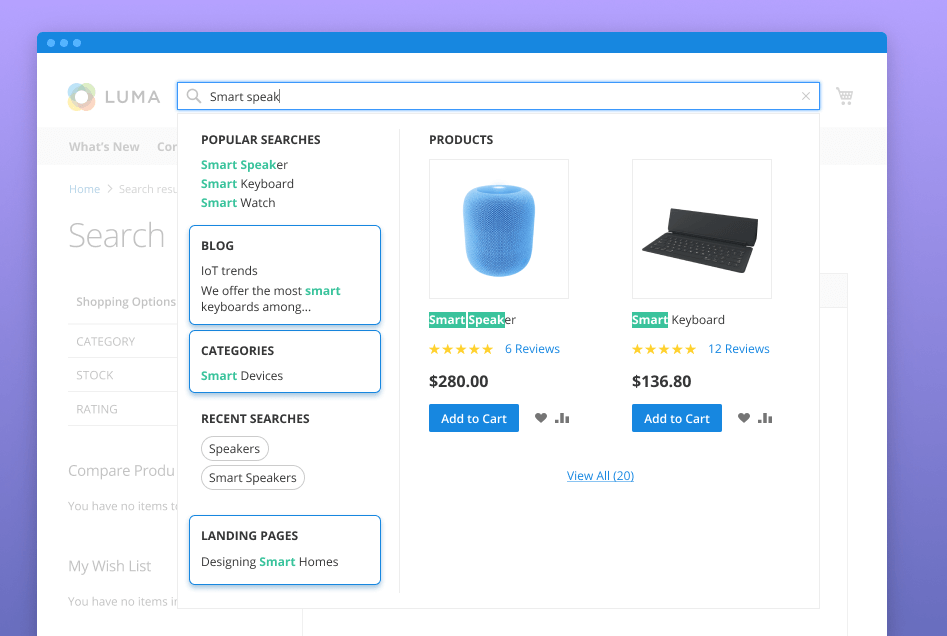 Offer searching by product name, SKU, color and other attributes
Magento Product Search extension allows you to include any available product attribute in the lookup algorithm. In addition, there's an option to set an attribute weight so that the lookup results could be more specific. For example, the algorithm may choose color attributes prior to the words in description or a manufacturer.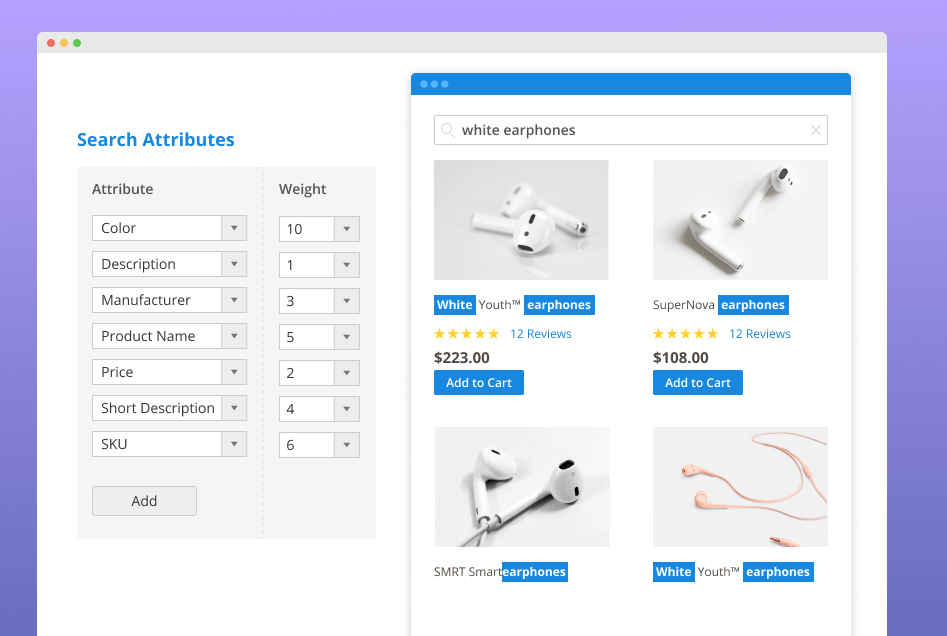 Engage users with call-to-actions in the popup
While customers are feeling relaxed and satisfied by a smart and flexible search you offer to them, there's an opportunity for you to catch their spontaneous intentions to buy. Display the 'Add to cart' button next to the product right in the Magento 2 search autocomplete popup to let users purchase necessary products right away.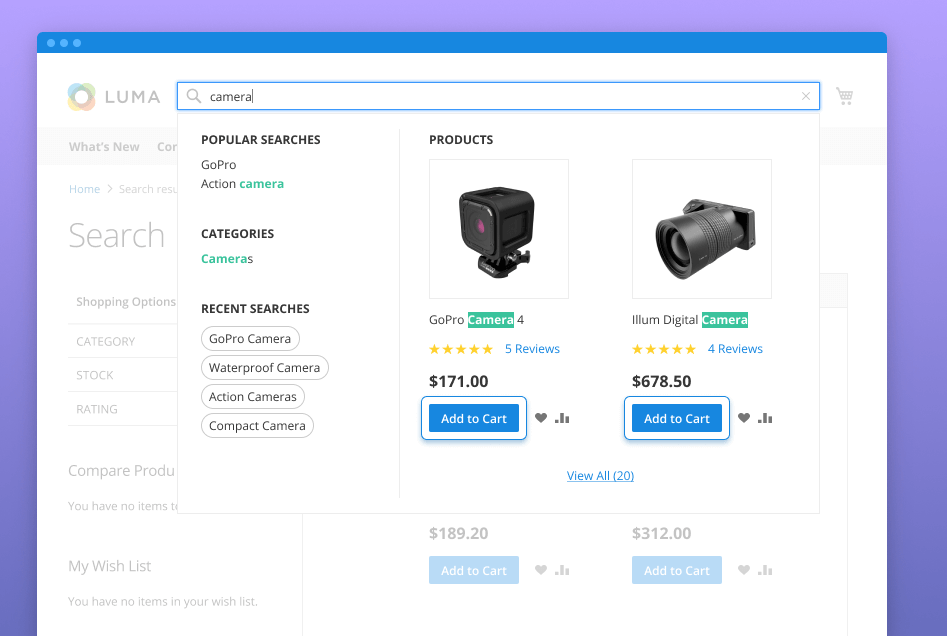 Stimulate shoppers for more active engagement with your website
Offer shoppers navigating through the store and exploring your bestsellers by showing the most popular keywords. Create a satisfying search experience by displaying recent search inquiries made by all customers so they are more likely to discover new things together within the store community.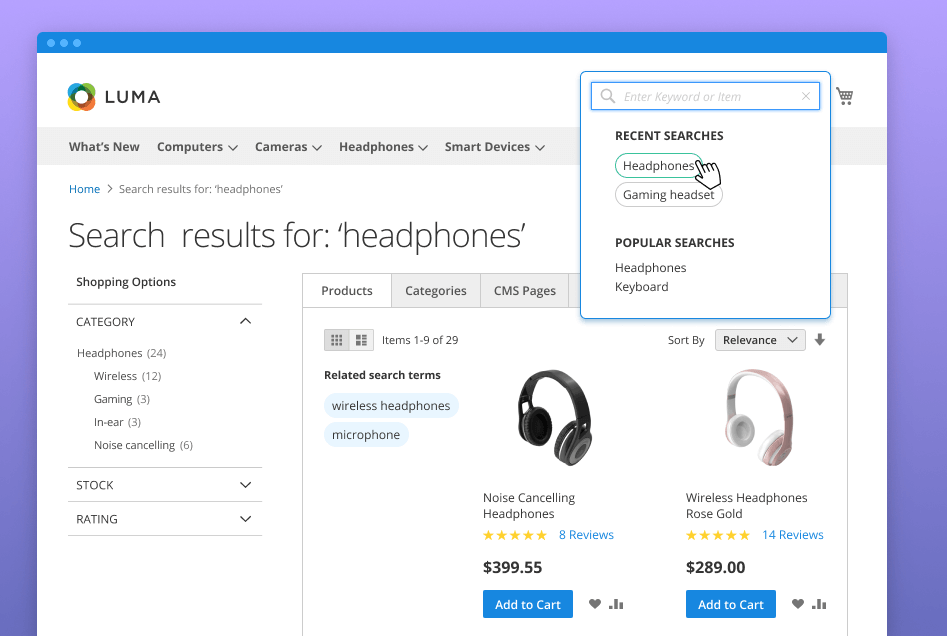 Show results from the different store sections in separate tabs
When a user presses 'Enter' to see the lookup results, they'll be displayed in a user-friendly box with several tabs available. The tabs help buyers to quickly understand a source from where the result is coming, e.g. product page or a CMS page.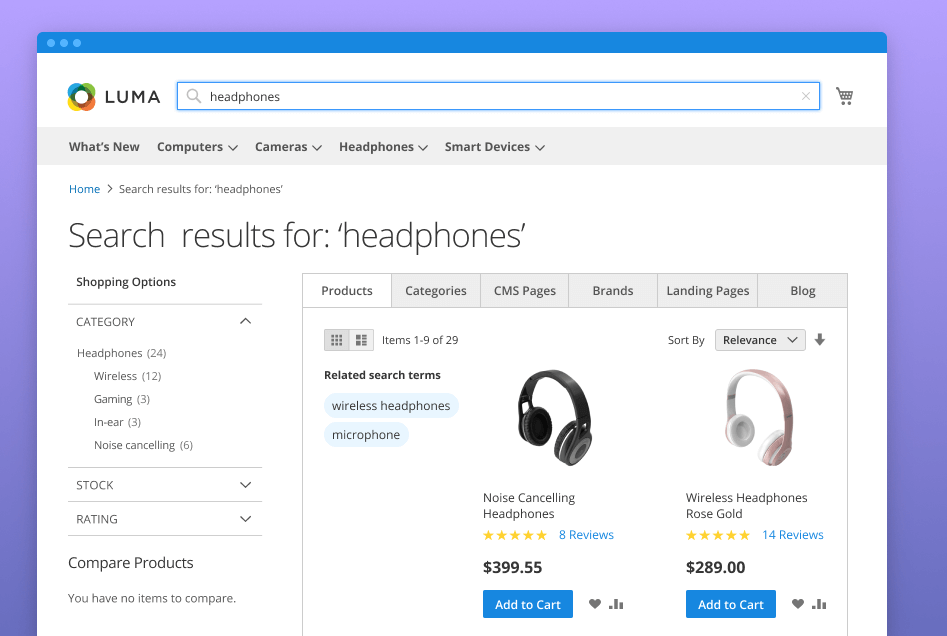 Provide access to browsing history
Help site visitors take their site browsing flow under control by allowing them to get back to their recent lookup results anytime. Enable the 'Browsing History' block to make it possible for users to get back to the exact search results page they've been earlier.
Promote your best selling products right in the popup
Use this feature to boost sales of your bestsellers and increase the value of the average check per customer. You can also enable the display of the recently viewed products in the popup to increase the probability that your customer will finally get this item to the checkout.