1/17
Advanced Search
for Magento 2
Help customers to instantly find necessary products with an informative quick search window. Customize autocomplete popup display according to users' needs and make product search process as easy as it can be.
Use advanced autocomplete window
Display recent and popular searches
Enable search in categories, products and on CMS pages
Customize search window layout
Display 'Add to cart' button in the autocomplete popup
Streamline product search process
Need a tool to help customers quickly find necessary products? Due to the Search Autocomplete extension you will expand Magento 2 search functionality with new features developed to improve your store usability. Provide visitors with detailed search information based on products, categories and CMS pages. Show recent and most popular search data and let shoppers add products to cart right from the autocomplete suggestion window.
NOTE | Due to a feature-rich Magento 2 search module you can extend the autocomplete popup with a number of new search blocks. Along with product search results, the plugin displays accurate results based on recent and popular searches. It also adds search data for categories and CMS pages. Furthermore, it is compatible with the built-in Magento EE Solr and Elasticsearch.
Add filtering by attributes with priority
Display an advanced autocomplete popup window
Display Add to cart button and product reviews
Redirect from 404 pages to the search results
Specify search window size and custom layout
Add search results for CMS and landing pages content
Set nice looking short URL for results' page
Display out-of-stock items last in the results
Include product attributes in search algorithm
Show recent and popular searches on the first click
NEW | Search results Tabs
NEW | Sections for categories, blog, CMS, brand, landing pages
Display Add to cart, View All and Reviews buttons
Customize autocomplete window layout
One result redirect to product page
Instead of directing customers to a half-empty result page with only one item, apply a feature to direct them straight to the requested product page. NEW | Redirect customers from broken URLs to the search results.
Better search with attributes included
Include product attributes in search algorithm. Specify their weight in search results. Your customers can apply Magento 2 search filter to find products by any available attributes like color, manufacturer, material, etc and have more relevant results.
Stay ahead of competitors by understanding the demand
Maximize profits by analyzing visitors' recent activity and the data gained on the Search Analytics dashboard, including the next values: total searches, unique searches, the number of users and users' engagement. The Engagement statistics includes the page jumps to Brands, Categories, Blog, CMS & Landing pages. Also, you have the ability to monitor customers' recent activity and the most wanted search terms via special grids in the backend.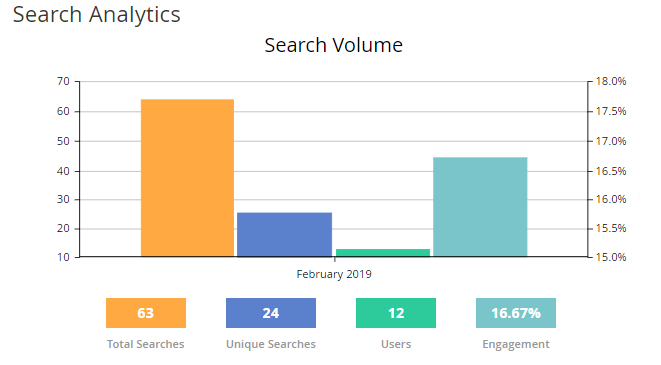 Display various search info blocks
Recent searches
With the Magento 2 search autocomplete extension you can display recent search results once a customer clicks on the quick search window.
Popular searches
Let customers see popular searches data right in the dropdown window. Specify the maximal number of products you want to show and set the sort order position to display the block according to your needs.
Display product reviews
To help customers make the purchase decision much faster you can show product reviews and ratings in the search autocomplete window.
Show Add to cart button
Display Add to cart button next to the product in the search autocomplete popup to let customers purchase necessary products right away. Additionally, there are Add to wishlist, Add to Compare icons, to bookmark products on the fly.
Search results based on CMS pages content
Add search results based on CMS pages to the autocomplete window to provide customers with detailed search results. Specify maximal page name and content length not to overload the search window with excessive characters.
Results based on Landing pages
With Landing Pages for Magento 2, it is possible to additionally have a Landing section in the search pop with clickable results.
Results based on Brands
Having installed Shop by Brands for Magento 2, you can display Brands section in the search pop.
Category based search results
Enable categories block to show search results based on category attributes. Determine maximal length for category names and descriptions to make your search autocomplete window look informative and clear.
Search results for blog pages
The Advanced Search module fully supports the Amasty Blog Pro extension to help store visitors find the required content throughout your corporate blog.
Customize search autocomplete window display
Select colors for popup elements
Choose the color for each search window elementaccording to your needs. Use color picker to select the necessary tint in seconds. You can also indicate the window width in pixels to make it fit in with other page elements.
Set autocomplete parameters
With the advanced search in Magento 2 feature customers won't have to insert the entire word to start searching. You can specify the minimal number of characters which customers need to type in to trigger the search process.
Significantly enhance search options with Improved Navigation
Besides the advanced search with autocomplete, provide your customers with various
Magento 2 search filters
on the category pages of your web store.
Extend your search functionality greatly, employing Elasticsearch engine
In case you need even more flexible search query settings, that allow you to specify search logic and types for each particular product attribute, try out the new Amasty extension
Elastic Search for Magento 2
.
Significantly enhance customer shopping experience with AJAX Shopping Cart
Add
Magento 2 AJAX Shopping Cart
extension and let your customers enjoy the shopping process, making it simple and flawless. Customize a dialog window, enriching it with options benefiting you and your customers.
Do you want to use advanced filter for products in the backend?
Apply the Magento 2 filter products by category functionality with our Extended Product Grid with Editor extension. Create an unlimited number of product attributes and manage your catalog more effectively.
Product questions

What is the difference between Elastic Search and Advanced Search extensions for Magento 2?

If compared we can say that Advanced Search extension is a part of Elastic Search that deals mainly with modifying the autocomplete popup by adding various product attributes to it and making it more user friendly. It also modified the search result page by adding separate tabs for products, categories, CMS and other entities. Read the full answer to learn more details.
Other Features
100% Open Source — Easy To Customize
Follows Magento Code Architecture
Separated HTML/CSS/JS
Simple installation via Composer
* The name "Magento" and the logo are the trademarks of Magento, Inc.
Totally satidfied
Excellent support team, very fast and helpful. They resolved my problem in a few hours. The plugin in itself is also great. Amasty is awesome and always delivers swift and efficient service.
Intuitive, valuable functionality, responsive support
A good extension. The design is easily customized, the UI for setting up attributes is convenient and intuitive. Some time ago I had an issue with caching, turned to amasty support, they answered very quickly and helped to solve the problem. Since March, module can redirect customers from a broken URL to search results page. I see that this makes my store more user-friendly. Thanks!
Good quality
This is very good extension to enhance the search process. Users rely on search coming to my store. The quick response of the support team make me fully satisfied.
Improves the search process
Easy to install, easy to use, improves the search process, works as described, one more great extension by Amasty!
Great extension and support!
I'd like to say "Thank you" to Amasty team for this handy search solution. It works exactly like described. The best customer service as usual. All questions have been answered within couple of hours. Great job!
I gave what I expected
I bought this extension a month ago and it works great. At the start, I had some specific issues, but Amasty support replied in an hour or two and fixed my problems very fast.

Write Your Own Review
You can always download the recent version free of charge from your account
Installing an upgrade is easy — check now
My Downloads
Version 1.12.9
Last Update: Aug 23, 2019
Improvement we removed an overlay for autocomplete pop-up for better user experience
Fix we fixed the problem with 'Add to compare' functionality in the search pop-up
Fix we resolved an issue with sku with special characters missing in results on the search page
Fix we resolved minor issue with 'Most Wanted Search Terms' grid pagination
Compatibility compatibility with Magento 2.3.2 was enhanced
Fix issue with popup styles was resolved
Fix issue with special characters was fixed
Compatibility the compatibility with Amasty FAQ and Product Questions extension was added
Fix an issue with closing pop-up on iOS was resolved
Fix an issue with url indexation was resolved
Improvement the autocomplete popup indexation was enhanced. It covers the products indexation now. This feature comes with Amasty Elastic Search extension only
Fix an issue with searching for product SKU that includes dots was resolved
Fix an issue with autocomplete pop-up in IE11 was resolved
Compatibility compatibility with Magento 2.3.1 was added
New the Most Wanted Search Terms and Recent Activity (Search Volume) grids data were added in backend
Improvement ability to enable indexation for autocomplete popup via backend setting was added. This feature comes with Amasty Elastic Search extension only.
Improvement the Engagement statistics now includes the page jumps to Brands, Categories, Blog, CMS & Landing pages
Compatibility the compatibility with Magento 2.3.0 was enhanced
Compatibility the compatibility with Amasty Ajax Shopping Cart extension was added
Compatibility the compatibility with php 5.6 was added
Fix an issue with search popup incorrect behavior was resolved
Fix the issue with database field type was fixed
New the Analytics Dashboard was added to provide admin with the report about the search volume based on users recent activity. Also admin is able to track the most popular search terms in the store
New new search autocomplete pop-up design was introduced
Improvement the Popular and Recent search results in the autocomplete pop-up was enhanced
Compatibility compatibility with Amasty Elastic Search was enhanced
Compatibility compatibility with Magento Commerce was enhanced
Fix an issue with category index for multiple stores was resolved
Version 1.11.2
Last Update: Jan 09, 2019
Fix the issue with indexing pop-up window's results was resolved
Improvement extension's installation was improved
Compatibility compatibility with Magento Cloud was added
Improvement the search popup performance was enhanced
Compatibility compatibility with Amasty Elastic Search extension was improved
Version 1.10.5
Last Update: Nov 23, 2018
Improvement the configuration settings were revised and enhanced
Compatibility compatibility with Magento 2.3.0-alpha was added
Compatibility compatibility with Amasty Improved Layered Navigation was enhanced
Compatibility Custom URL Key for Default Search Results Page is compatible with Varnish Cache but need to be added to the exceptions.
Fix design issue on the tablet was resolved
Improvement now, you can see the full category path in the search results popup
Fix the issue when the 'Recent and Popular' search hadn't been displayed for the search result with one product was resolved
Improvement the 'Recent' and 'Popular' searches were enhanced
Compatibility the compatibility with the custom themes without LESS was improved
Fix the minor issues were resolved
Fix the issue with the CSS style in the search popup page description was resolved
New now, you can search by blog pages and blog categories created with the Amasty Blog Pro extension
Version 1.9.2
Last Update: Jul 26, 2018
Fix the issue on magento commerce cloud with required writing permissions for the file system was resolved.
New a separate tab on the Search result page for Brand pages was added
Improvement the total results count added to the search popup
Fix a design issue with ILN slider elements over search popup was resolved
New separate tabs on the Search result page for Category, CMS and Landing pages were added
New the search by brand pages created with Amasty Shop by Brand extension was added
Improvement set FOLLOW for catalog search result page and advanced search result page
Improvement if one product has been found in autocomplete popup it redirects to the product page by 'Enter' button click only
Fix the issue with Recent search and Popular search are not clickable on search popup in IE 11 was resolved
Version 1.8.1
Last Update: Jun 25, 2018
Fix the issue with compilation process was resolved
New allows to configure SEO URL Key for the default search results page
Improvement ability to include CSS style when the standard LESS functionality is missing was added
Fix the issue with the products block position on mobile was resolved
Version 1.7.0
Last Update: Jun 01, 2018
New move 'out of stock' items to the end of the search result and show products which are available for purchase first
Improvement enhanced the full text results within CMS pages and blocks
Improvement now the full category path is visible on mouse over the category search result
Fix the issue with caching Recent and Popular search results on M2.1.9 was resolved
Version 1.6.2
Last Update: May 28, 2018
Improvement added reindexing to install data script
Improvement search result based on attributes weights was enhanced
Improvement search by Amasty Landing Pages was enhanced
Fix the HTML errors were fixed
Fix the issue with the sort order on the configuration page in backend was resolved
New the autocomplete popup window design was updated. Now it is available in horizontal view for the desktop and vertical view on mobile
Version 1.5.0
Last Update: May 02, 2018
New the search by landing pages created with Amasty Landing Pages extension was added
Improvement minor improvements were made
Fix fixes were implemented
Version 1.4.0
Last Update: Mar 19, 2018
New added a feature, which allows to redirect customers to a store search results page (or to a product page directly when there is the only one product in result) from a broken URL instead of a '404 Not Found' page
New added NOINDEX to the app/design/frontend/YOUR_PACKAGE/YOUR_THEME/layout/local.xml to prevent search engines (Google, Bing, Yahoo, etc.) from needlessly indexing Magento catalog search results page(s) and advanced search results page(s)
Version 1.3.2
Last Update: Mar 07, 2018
Fixed an issue with W3 validation errors and notices
Fixed an issue with the wrong cms page URL
Compatibility with the Built-in Magento EE Solr & ElasticSearch
Version 1.2.4
Last Update: Jan 14, 2018
Code refactoring
CSS 2 LESS
New Redirect to the product page if only one product has been found
Fixed an issue with the popup products qty for M2.2
Fixed an issue with the attribute options
Fixed an issue with the cache
New option to show popular search terms on first click
Fixed an issue with multi store configuration
Fixed an issue with 'undefined' in search results
Version 1.1.1
Last Update: Jun 09, 2017
Fixed an issue with attributes configuration
Minor improvements for ACL (Access Control List)
Added attribute relevancy weight configuration
Version 1.0.3
Last Update: Jan 23, 2017
Fix for indexing on Enterprise edition
Fixed `Add To Compare` function