Advanced Search
for Magento 2
Help customers smoothly navigate through the website and quickly find desired products with Magento 2 Advanced Search. Show related, recent, and popular search terms to upsell via flexibly customizable autocomplete popup.
Show results from the product, category and CMS pages
Get insights about your customers from search analytics
Engage users by displaying recent and popular searches
Flexibly customize the layout of the search pop-up
Convert users into purchases right from the search
Benefit from compatibility with the Jet Theme by Amasty
Challenge
According to the research you have only 50 milliseconds for creating a pleasant first impression. Today having intuitive search is a global standard for a user-friendly website. Build customer loyalty starting from the very first steps of your visitors. Provide buyers with seamless product search in your Magento 2 store. Let anyone find what they need. The first impression and store usability, in general, remain crucial as they directly influence on a bounce rate.
Solution
We know a secret of how to smoothly navigate customers to a purchase: empower your store with a user-friendly search. Expand default Magento 2 search functionality with advanced features specially developed to improve store usability. Allow users search all over the website providing the results from one place. Let shoppers add products to the cart right from the magento ajax search autocomplete suggestion popup.
How can Advanced Search help your store?
Boost sales with the accelerated product search process
Stay ahead of competitors timely analyzing buyers' demands
Optimize search quality with additional search info blocks
How does Magento 2 Advanced Search work?
The module makes searching process intuitive which significantly increases the chances for a customer to find the desired product and make a purchase. Have a look at the three examples of how the extension makes searching more user-friendly:


When users click on the search box they see the most popular and latest search requests.
The magento 2 custom search module shows a popup with the most relevant search results coming from all store pages, including categories, blog, landing pages or even FAQ.
Customers can search by brands or by any product attribute, for example, by color, which significantly increases the chance they'll quickly find what they want.
Provide customers with a seamless path to a purchase
Show search results predictively
Support multiple search results sources
Provide many ways of how to search
Shorten customers' way to a purchase
Show recent and popular searches
Display results in a user-friendly way
Show Browsing History
Promote Bestsellers
Display desired results to customers before they end typing
Showing a perfect product search match in Magento 2 store even before the search term is fully typed in, well, it's aerobatics of store usability. It significantly shortens a user path to a product and thus to a purchase. Flexibly adjust this feature from the backend by specifying the minimal number of characters that customers need to type for some results to be displayed.
Allow searching through the whole store
Add search results based on CMS pages and categories to provide customers with more comprehensive search results. Specify maximal page name and content length not to overload the search window with excessive characters. Besides, you can
extend the basic search sources
with four extra ones.
Offer searching by product name, SKU, color and other attributes
The extension allows you to include any available product attribute in the search algorithm. In addition, there's an option to set an attribute weight so that the search results could be more specific. For example, the algorithm may choose color attribute prior to the words in description or a manufacturer.
Engage users with call-to-actions in search
While customers are feeling relaxed and satisfied by a smart and flexible search you offer to them, there's an opportunity for you to catch their spontaneous intentions to buy. Display the 'Add to cart' button next to the product right in the Magento 2 search autocomplete popup to let users purchase necessary products right away.
Stimulate customers for more active engagement with your website
Offer shoppers navigating through the store and exploring your bestsellers by showing the most popular searches. Create a satisfying search experience by displaying recent searches made by all customers so they are more likely to discover new things together within the store community.
Show results from the different store sections in separate tabs
When a user presses 'Enter' to see the search results, they'll be displayed in a user-friendly box with several tabs available. The tabs help buyers to quickly understand a source from where the search result is coming, e.g. product page or a CMS page.
Provide access to browsing history
Help customers take their search flow under control by allowing them to get back to their recent search results anytime. Enable the 'Browsing History' block to make it possible for users to get back to the exact search results page they've been earlier.
Promote your best selling products right in the popup
Use this feature to boost sales of your bestsellers and increase the value of the average check per customer. You can also enable the display of the recently viewed products in the popup to increase the probability that your customer will finally get this product to the checkout.
Redirect from broken URLs to the search results
Avoid chaotic user flow and decrease customer churn with automatic redirection of the URLs leading to 404 page to the page with search results.
Decrease the number of steps to a purchase
If this feature is enabled, a customer will be instantly redirected to the target page if the search engine defines there's only one relevant result.
Know your customers better and get more ways to customize search
Receive insights from search analytics
Integrate the search bar anywhere you need
Customize the layout of a search pop-up
Cross-sell with related search terms
Show the most actual offers first
Create SEO-friendly URLs for the results
Customize no-results page
Adjust marketing strategy using valuable insights from analytics
Use search analytics to know more about what customers look for more often. Get a better understanding of users' engagement, see the number of unique and total searches. Make your strategic decisions more data-based using the insights gained.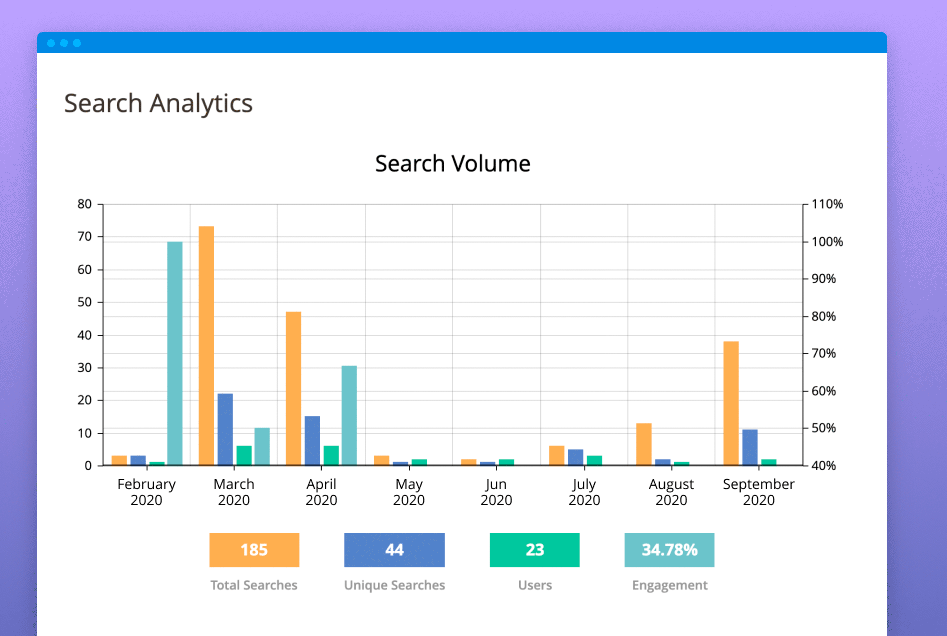 Locate the search bar in unusual places of your store if necessary
The extension allows integrating the advanced search line via widgets anywhere you need it, for example, on a sidebar, on footer or even in the mini-cart. Equip CMS pages with the search bar to reach higher user engagement and encourage shoppers exploring your store even more.
Adjust the search popup's layout so it will fit to your store's style
The extension allows you to customize colors for each search window element according to your needs. Use a color picker to select the necessary tint in seconds. Indicate the window width in pixels to make it fit in with other page elements.
Help customers exploring your store with Magento 2 search suggestions
Show related search terms on the search results page in order to introduce more products to your buyers. Sometimes people don't even know what they want before they see an offer, right? The module shows only the most relevant search terms, which highly increases the chance of a customer liking the items offered.
Make a good impression on your visitors showing the most fresh content first
Avoid postponed purchasing decisions by hiding the out-of-stock products at the end of search results. Display more relevant products first instead thus offering more engaging user experience.
Specify SEO URL key for the default search results
Simplify user experience by setting up SEO-friendly short URLs for the default search results. E.g. an Advanced Search URL in Magento 2 will look 'search/yellow' instead of 'catalogsearch/results/q=yellow'.
Decrease churn rate from your website with custom info blocks
Shoppers are used to leave the website if they get disappointed because of the unsuccessful search attempts. To avoid that, you can simply redirect them somewhere else or offer contacting you directly (i.e. by email). Thus, you make sure shoppers will get satisfied with this or that way and not get lost over your website.
Compatibility: Results based on Landing pages
With Landing Pages for Magento 2, it is possible to additionally have a Landing section in the search popup with clickable results.
Compatibility: Results based on Brands
Having installed Shop by Brands for Magento 2, you can display the Brands section in the search popup.
Compatibility: Search results for blog pages
Magento 2 instant search functionality supports the Amasty Blog Pro extension to help store visitors find the required content on your corporate blog.
Compatibility: Search in the FAQ section
Help users find anything they have in mind! With this extension, the search will also return results from the FAQ and Product Questions pages, created with the Amasty extension.
How to enable search by category attributes in Magento 2?
Install and enable the Advanced Search extension.
Go to Stores → Configuration → Amasty Extensions → Advanced Search and open the Categories section.
Set Enabled to Yes.
Then enter Title, Position, and the maximal number of displayed Results.
Set up the Name and Description Length for a popup window.
If you want to show a full path to the category, choose Yes from the Display Full Category Path dropdown.
Save the changes.

Enhance store usability
with an advanced search solution
pick up one that suits your business needs
Predictive search results display
Search analytics dashboard for getting strategic insights
Recent and popular searches display to reach higher engagement
Ability to embed the search bar in any page at any place
Related search terms display to stimulate more cross-sells
Out-of-stock items are shown in the end
Сustomizable layout of the autocomplete search popup
'Add to Cart' and 'View All' [results] buttons are displayed in search
Redirect from broken URLs to the search results page
Full-text and full-website multilingual search
Autocomplete suggestions and typo corrections
Long-tail search and Asian languages support
Ability to set up custom dictionaries of synonyms and stop words
Promoted products are displayed first in search results
Match modes and extensible search query
Alternative variants display if there are 0 found items
An extended range of the search result sources support
Product questions

What is the difference between Elastic Search and Advanced Search extensions for Magento 2?

If compared we can say that Advanced Search extension is a part of Elastic Search that deals mainly with modifying the autocomplete popup by adding various product attributes to it and making it more user friendly. It also modified the search result page by adding separate tabs for products, categories, CMS and other entities. Read the full answer to learn more details.

Read the FULL answer
Other Features
100% Open Source — Easy To Customize
Follows Magento Code Architecture
Separated HTML/CSS/JS
Simple installation via Composer
* The name "Magento" and the logo are the trademarks of Magento, Inc.
Useful and Good to have for store
This extension works very well. It does not cause any issue to my store Magento 2.3.5. Support team will be always with you if it has any issue.
Amasty answer
Feb 24, 2021
Kira Pomaleyko / Lead Support Manager
Hi Kimlieng, thank you for sharing your feedback, we're so glad to hear that the Advanced Search extension meets your needs and works smoothly with your Magento version. Our support specialists are always at your service, and we're happy to help!
Helped us to improve end-user functionality
Syncrony Digital , Magento Team Lead
We needed a tool for our store allowing customers to find the products they are looking for faster. The extension fully addressed our needs, it helped us to improve end-user functionality. In 3 months we have increased sales by 3%. We were impressed with its ability to learn. For example, if you know customers misspell certain products or categories, you are able to teach the search that certain misspellings are meant to be the correct thing. I would recommend the Advanced Search module to every store with a mid-range to large catalog. It will easily help your customers find what they are looking for. Especially if you pair it with the Amasty Brands extension.
Amasty answer
Nov 25, 2020
Natalya Chekanina / Head of Sales Team
Hi Guy, thank you very much for your detailed feedback! We are happy to know that our extension helped you to enhance customers' experience and hence increase conversions. Please contact us anytime you need additional functionality or if you have any questions, we'll be happy to help!
Totally satidfied
Excellent support team, very fast and helpful. They resolved my problem in a few hours. The plugin in itself is also great. Amasty is awesome and always delivers swift and efficient service.
Intuitive, valuable functionality, responsive support
A good extension. The design is easily customized, the UI for setting up attributes is convenient and intuitive. Some time ago I had an issue with caching, turned to amasty support, they answered very quickly and helped to solve the problem. Since March, module can redirect customers from a broken URL to search results page. I see that this makes my store more user-friendly. Thanks!
Good quality
This is very good extension to enhance the search process. Users rely on search coming to my store. The quick response of the support team make me fully satisfied.
Improves the search process
Easy to install, easy to use, improves the search process, works as described, one more great extension by Amasty!
Great extension and support!
I'd like to say "Thank you" to Amasty team for this handy search solution. It works exactly like described. The best customer service as usual. All questions have been answered within couple of hours. Great job!
I gave what I expected
I bought this extension a month ago and it works great. At the start, I had some specific issues, but Amasty support replied in an hour or two and fixed my problems very fast.

Do you have any questions?
Schedule a demo and get all the answers you're looking for!
book a live demo
Are you looking to add specific functionality for this extension or want to acquire a reliable development partner altogether? With custom development services by Amasty, you will receive high quality and cost-effective solutions developed by Magento professionals according to industry's best practices.
2.3.6, 2.3.6-p1, 2.4.0-p1, 2.4.1, 2.4.1-p1, 2.4.2
You can always download the recent version free of charge from your account
Installing an upgrade is easy — check now
My Downloads
Version 1.17.3
Last Update: Apr 13, 2021
1.17.3 - Apr 13, 2021:
New now Relevance Rules can be applied to autocomplete search popup
Compatibility we enhanced compatibility with Magento Shared Catalog feature
Fix we corrected the filtration on Most Wanted Search Terms and Recent Activity grids
Fix we fixed the exclusion of CMS Pages
1.17.2 - Mar 23, 2021:
Compatibility we improved compatibility with other Amasty extensions that are using the jQuery Slick library
1.17.1 - Mar 03, 2021:
Fix we fixed the console error occurred upon using custom Magento themes
Fix we corrected the autocomplete popup display in case Products block is disabled
1.17.0 - Feb 23, 2021:
New we implemented the Elastic Search indexing for Categories, CMS, Amasty Blog, Landing, Brand and FAQ pages
Version 1.16.0
Last Update: Jan 27, 2021
1.16.0 - Jan 27, 2021:
New now you can modify an empty search results page by inserting any CMS block with a custom content instead of the default message
New we designed an option to show latest search queries for logged in customers for more convenient and less time-consuming repeat searches
New we added a new block to an autocomplete popup to show customer's recently visited products
New we designed an integration with Amasty Improved Sorting extension: now you can display Bestsellers block right in the search popup to acquaint visitors with the most popular products of your store before they start searching
Compatibility now customers can choose a wishlist for adding products from an autocomplete popup if multiple wishlist functionality is enabled on Magento Commerce
Version 1.15.5
Last Update: Dec 04, 2020
1.15.5 - Dec 04, 2020:
Improvement we added an option to exclude separate CMS pages from search - you can use it to limit the display of some pages (404 page, home, etc.) in search results
Fix we corrected the config importing via command line
1.15.4 - Nov 02, 2020:
Fix we resolved the issue with missing images in the autocomplete popup
1.15.3 - Oct 26, 2020:
Fix we resolved the issue with products missing upon catalog search indexation
1.15.2 - Oct 13, 2020:
Improvement MFTF tests were moved to additional packages particular for Magento 2.3.5+ and Magento 2.4.0+
1.15.1 - Oct 01, 2020:
Improvement we improved search with non-latin alphabet
Fix we resolved issue with caching search query and 403 error in console
1.15.0 - Sep 23, 2020:
New we created a search widget which allows you to place additional search field with full searching functionality at any place on the store pages
Fix we corrected the issue with searching by category if the search query is present in several category attributes
Fix we corrected the functioning of 'Show "Out of Stock" Products Last' feature in case items are searched by the same search query
Version 1.14.10
Last Update: Aug 31, 2020
1.14.10 - Aug 31, 2020:
Compatibility we enhanced compatibility with Amasty FAQ and Product Questions
1.14.9 - Aug 25, 2020:
Improvement we improved the design of autocomplete window
Improvement we enhanced the usability of extension configuration by adding dependencies and comments
Fix we resolved the issue occurred on the storefront if any of the custom layout fields is empty
1.14.8 - Jul 29, 2020:
Compatibility compatibility with Magento 2.4 was added
Compatibility now the extension is compatible with Amasty Jet Theme
Fix we implemented corrections to the process of adding products to cart from autocomplete popup
Fix we fixed the issue of browser non-responding if ESC key is clicked several times for autocomplete popup
1.14.7 - Jun 09, 2020:
Fix now the title of Blog Pro tab is displayed correctly on search results pages
1.14.6 - May 29, 2020:
Improvement we improved code constructions for Magento Marketplace standards
1.14.5 - May 08, 2020:
Compatibility we improved compatibility with Amasty Blog Pro and Shop by Brand extensions by performing enhancements in plugin's indexation
Fix we corrected the filtration on Analytics grid
Fix we resolved the issue with excess query calling with Recent and Popular Searches functionality disabled in autocomplete popup
Fix we fixed files matching in case of enabled redirect from 404 to search results page
1.14.4 - May 06, 2020:
Fix we corrected product link URL in multistore case for search popup
1.14.3 - Mar 10, 2020:
Fix we rechecked and established correct dependency on jQuery UI library
1.14.2 - Mar 03, 2020:
Compatibility compatibility with Amasty Blog Was improved
1.14.1 - Feb 29, 2020:
Fix we resolved issue with missing products in search popup with Elastic Search enabled
1.14.0 - Feb 17, 2020:
New now the plugin's package contains MFTF tests aimed at quality and stability enhancement
Improvement we optimized the quantity of queries required for autocomplete pop-up display
Fix we resolved the issue with incorrect category URL in pop-up
Version 1.13.5
Last Update: Feb 12, 2020
1.13.5 - Feb 12, 2020:
Improvement we implemented enhancement of Autocomplete Popup indexation to avoid memory issues in case of large catalogs
Compatibility compatibility with Magento 2.3.4 was improved
1.13.4 - Dec 26, 2019:
Improvement minor improvement was implemented
1.13.3 - Dec 10, 2019:
Improvement we implemented design enhancement of related search terms dislaying on storefront
Improvement we added a new option that allows you to control search field width - now you the field can keep the same width during searching process and doesn't get resized according to the width of autocomplete window
Fix we corrected the malfunctioning of search with special characters in search query
1.13.2 - Nov 13, 2019:
Fix we resolved issue with customer groups and cache
Fix we fixed error with indexation
1.13.1 - Oct 24, 2019:
Improvement we reviewed and enhanced the logic of Popular Searches block in autocomplete popup
Fix we resolved the incorrect behavior of search popup on mobile devices
Fix we fixed the issue with incorrect URLs in autocomplete popup in case of 'Add Store Code to Urls' setting enabled
Fix minor fixes were implemented
1.13.0 - Sep 27, 2019:
New we introduced a new functionality which adds related search queries to search result page
Improvement we improved the redirect from 404 to search result page
Improvement we improved search popup first byte time, which speeded up search and autocomplete window displaying
Compatibility we added compatibility with Amasty FAQ and Product Questions plugin. If search terms are included into existing FAQ categories and questions, corresponding findings will be shown in search autocomplete window and under separate tab on search results page
Version 1.12.10
Last Update: Sep 17, 2019
1.12.10 - Sep 17, 2019:
Improvement plugin's SEO was enhanced
Compatibility due to resolving of several styling issues we improved the compatibility of extension's elements with Porto theme
1.12.9 - Aug 23, 2019:
Improvement we removed an overlay for autocomplete pop-up for better user experience
Fix we fixed the problem with 'Add to compare' functionality in the search pop-up
Fix we resolved an issue with sku with special characters missing in results on the search page
Fix we resolved minor issue with 'Most Wanted Search Terms' grid pagination
1.12.8 - Jul 24, 2019:
Compatibility compatibility with Magento 2.3.2 was enhanced
Fix issue with popup styles was resolved
Fix issue with special characters was fixed
1.12.7 - May 14, 2019:
Compatibility the compatibility with Amasty FAQ and Product Questions extension was added
Fix an issue with closing pop-up on iOS was resolved
1.12.6 - Apr 22, 2019:
Fix an issue with url indexation was resolved
1.12.5 - Apr 22, 2019:
Improvement the autocomplete popup indexation was enhanced. It covers the products indexation now. This feature comes with Amasty Elastic Search extension only
Fix an issue with autocomplete pop-up in IE11 was resolved
Fix an issue with searching for product SKU that includes dots was resolved
1.12.4 - Apr 04, 2019:
Compatibility compatibility with Magento 2.3.1 was added
1.12.3 - Mar 27, 2019:
New the Most Wanted Search Terms and Recent Activity (Search Volume) grids data were added in backend
Improvement ability to enable indexation for autocomplete popup via backend setting was added. This feature comes with Amasty Elastic Search extension only.
Improvement the Engagement statistics now includes the page jumps to Brands, Categories, Blog, CMS & Landing pages
Compatibility the compatibility with Magento 2.3.0 was enhanced
Compatibility the compatibility with Amasty Ajax Shopping Cart extension was added
1.12.2 - Mar 08, 2019:
Compatibility the compatibility with php 5.6 was added
Fix an issue with search popup incorrect behavior was resolved
1.12.1 - Feb 13, 2019:
Fix the issue with database field type was fixed
1.12.0 - Feb 04, 2019:
New new search autocomplete pop-up design was introduced
New the Analytics Dashboard was added to provide admin with the report about the search volume based on users recent activity. Also admin is able to track the most popular search terms in the store
Improvement the Popular and Recent search results in the autocomplete pop-up was enhanced
Compatibility compatibility with Amasty Elastic Search was enhanced
Compatibility compatibility with Magento Commerce was enhanced
Fix an issue with category index for multiple stores was resolved
Version 1.11.2
Last Update: Jan 09, 2019
1.11.2 - Jan 09, 2019:
Fix the issue with indexing pop-up window's results was resolved
1.11.1 - Jan 08, 2019:
Improvement extension's installation was improved
Compatibility compatibility with Magento Cloud was added
1.11.0 - Dec 21, 2018:
Improvement the search popup performance was enhanced
Compatibility compatibility with Amasty Elastic Search extension was improved
Version 1.10.5
Last Update: Nov 23, 2018
1.10.5 - Nov 23, 2018:
Improvement the configuration settings were revised and enhanced
Compatibility compatibility with Amasty Improved Layered Navigation was enhanced
Compatibility compatibility with Magento 2.3.0-alpha was added
1.10.4 - Oct 02, 2018:
Compatibility Custom URL Key for Default Search Results Page is compatible with Varnish Cache but need to be added to the exceptions.
Fix design issue on the tablet was resolved
1.10.3 - Sep 13, 2018:
Improvement now, you can see the full category path in the search results popup
Fix the issue when the 'Recent and Popular' search hadn't been displayed for the search result with one product was resolved
1.10.2 - Sep 03, 2018:
Improvement the 'Recent' and 'Popular' searches were enhanced
Compatibility the compatibility with the custom themes without LESS was improved
Fix the minor issues were resolved
1.10.1 - Aug 21, 2018:
Fix the issue with the CSS style in the search popup page description was resolved
1.10.0 - Aug 08, 2018:
New now, you can search by blog pages and blog categories created with the Amasty Blog Pro extension
Version 1.9.2
Last Update: Jul 26, 2018
1.9.2 - Jul 26, 2018:
Fix the issue on magento commerce cloud with required writing permissions for the file system was resolved.
1.9.1 - Jul 23, 2018:
New a separate tab on the Search result page for Brand pages was added
Improvement the total results count added to the search popup
Fix a design issue with ILN slider elements over search popup was resolved
1.9.0 - Jul 06, 2018:
New separate tabs on the Search result page for Category, CMS and Landing pages were added
New the search by brand pages created with Amasty Shop by Brand extension was added
Improvement set FOLLOW for catalog search result page and advanced search result page
Improvement if one product has been found in autocomplete popup it redirects to the product page by 'Enter' button click only
Fix the issue with Recent search and Popular search are not clickable on search popup in IE 11 was resolved
Version 1.8.1
Last Update: Jun 25, 2018
1.8.1 - Jun 25, 2018:
Fix the issue with compilation process was resolved
1.8.0 - Jun 13, 2018:
New allows to configure SEO URL Key for the default search results page
Improvement ability to include CSS style when the standard LESS functionality is missing was added
Fix the issue with the products block position on mobile was resolved
Version 1.7.0
Last Update: Jun 01, 2018
1.7.0 - Jun 01, 2018:
New move 'out of stock' items to the end of the search result and show products which are available for purchase first
Improvement enhanced the full text results within CMS pages and blocks
Improvement now the full category path is visible on mouse over the category search result
Fix the issue with caching Recent and Popular search results on M2.1.9 was resolved
Version 1.6.2
Last Update: May 28, 2018
1.6.2 - May 28, 2018:
Improvement added reindexing to install data script
Improvement search by Amasty Landing Pages was enhanced
Improvement search result based on attributes weights was enhanced
Fix the HTML errors were fixed
1.6.1 - May 14, 2018:
Fix the issue with the sort order on the configuration page in backend was resolved
1.6.0 - May 14, 2018:
New the autocomplete popup window design was updated. Now it is available in horizontal view for the desktop and vertical view on mobile
Version 1.5.0
Last Update: May 02, 2018
1.5.0 - May 02, 2018:
New the search by landing pages created with Amasty Landing Pages extension was added
Improvement minor improvements were made
Fix fixes were implemented
Version 1.4.0
Last Update: Mar 19, 2018
1.4.0 - Mar 19, 2018:
New added NOINDEX to the app/design/frontend/YOUR_PACKAGE/YOUR_THEME/layout/local.xml to prevent search engines (Google, Bing, Yahoo, etc.) from needlessly indexing Magento catalog search results page(s) and advanced search results page(s)
New added a feature, which allows to redirect customers to a store search results page (or to a product page directly when there is the only one product in result) from a broken URL instead of a '404 Not Found' page
Version 1.3.2
Last Update: Mar 07, 2018
1.3.2 - Mar 07, 2018:
Fixed an issue with W3 validation errors and notices
1.3.1 - Mar 01, 2018:
Fixed an issue with the wrong cms page URL
1.3.0 - Feb 02, 2018:
Compatibility with the Built-in Magento EE Solr & ElasticSearch
Version 1.2.4
Last Update: Jan 14, 2018
1.2.4 - Jan 14, 2018:
Code refactoring
CSS 2 LESS
1.2.3 - Dec 21, 2017:
New Redirect to the product page if only one product has been found
Fixed an issue with the popup products qty for M2.2
1.2.2 - Oct 12, 2017:
1.2.1 - Sep 27, 2017:
Fixed an issue with the attribute options
Fixed an issue with the cache
1.2.0 - Sep 20, 2017:
New option to show popular search terms on first click
Fixed an issue with multi store configuration
Fixed an issue with 'undefined' in search results
Version 1.1.1
Last Update: Jun 09, 2017
1.1.1 - Jun 09, 2017:
Fixed an issue with attributes configuration
1.1.0 - Apr 17, 2017:
Minor improvements for ACL (Access Control List)
Added attribute relevancy weight configuration
Version 1.0.3
Last Update: Jan 23, 2017
1.0.3 - Jan 23, 2017:
Fix for indexing on Enterprise edition
1.0.2 - Nov 08, 2016:
Fixed `Add To Compare` function