AJAX Scroll
for Magento 1
Meet an original way of catalog browsing! Such bonuses as easy shopping process, improved usability and customer loyalty as a result are attached!
Draw customers' attention to products in catalog
Much more usable catalog pages
Auto loading & Up-Scroll of the pages
Loading of pages on request
'Back to top' button
Let the customers dive into shopping without page reloads
Improve your store usability with modern tool
Imagine a situation when you go to the supermarket and in order to move through the departments you have to open a door each time. It sounds ridiculous, doesn't it? Your online store is the same, when customers have to click all the time. Customers should pay attention to products, not to the interface. Making a purchase for them has to be as easy as breathing. Magento 1 AJAX Scroll module is one of the tools which can do this.
Great usability features:
Place navigation bar in any location at the page.
Select between two autoload options. Choose the "Button" loading type to allow page loading after the user clicks the "Load more" button or enable "Automatic" infinite loading on a page scroll.
Save your customers time by implementing AJAX technology in your web store
The client is able to see more goods in less time without the need of searching for the 'next page' link and looking around the page.
Increase the conversion rate at your store
As you know, user's attention decreases after clicking 2-3 pages. If the client doesn't find what he needs and escapes from your web site it is bad for SEO. Magento 1 infinite scroll is a great way to reduce the bounce rate by displaying all the goods at 1 page. The customers will be a lot more likely to find the desired products at your store and place orders.
Draw customers' attention to products in catalog
Imagine that now you have a possibility to draw the attention of your potential clients to all the goods you offer. Chances are high that the client will be absorbed with shopping, eventually will find the right product and buy it. You don't have to worry whether the customer will see the items on the last page, now it is the job of AJAX Scroll.
Infinite usability improvements at your Magento store
'Back to top' button
Contribute to the smooth shopping experience to motivate customers to browse your store for a longer time. Instead of scrolling back tens of pages to navigate to another category or search, customers now can simply click on the "Back to top" arrow. The Ajax Scroll extension will automatically get straight back to the top of the product list.
Auto loading of the next pages and previous pages
No need to seek the 'next page' button, scroll down the mouse wheel and the next page will appear. It is very convenient to return to previous pages - just scroll up without clicking the 'previous page' button.
Ability to view product details without losing your current position in the product list
Want to check product details? Feel free to do so: Ajax Scroll will remember your position and bring you back directly to the same place in the catalog. Full support of browser 'back' button. This helps to ensure seamless user-experience.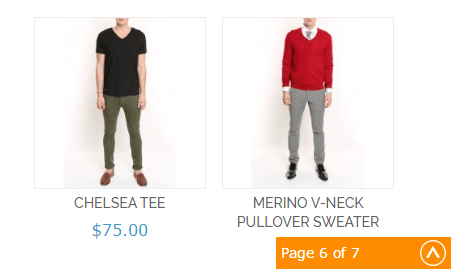 Much more usable catalog pages
Forget about pagination: with Magento AJAX catalog customers can easily scroll between pages, up and down. They can also see what page of the catalog they're on, total amount of pages scrolled. This helps to increase time on page and the number of products views.
This Magento AJAX catalog module greatly complements Improved Layered Navigation extension.
Your clients are lost in the abundance of goods? Help them to find the way! Improved Layered Navigation extension guides the clients to the products they need. Now the customers can have enormous fun by conveniently viewing the products they want to buy.
More Amasty extensions powered by AJAX
AJAX Image Uploader enables you upload multiple images fast and easy with drag-and-drop functionality. There's a lot of boring work in Magento, make that one enjoyable.
AJAX Shopping Cart lets customers rapidly add products to cart with no useless page reloads. After adding a product to cart, users will get two options: Continue Shopping and View Cart.
Quick Ajax Login provides your customers with best sign in experience ever. They will be able to login and register from any store page. Moreover, they can do that using their social networks which increases registration rate.
Product questions

Is AJAX scroll compatible with custom themes?

Usually, the extension is compatible with the majority of custom themes right out of the box and doesn't require any additional tweaking.But in case there are any issues, our support specialists will eliminate them for free.

Is this infinite scroll SEO-friendly?

Absolutely yes since each product still has its own separate URL that can be crawled and indexed by Google bots. With the AJAX Scroll extension, you can load more products with no compromise in SEO.

Does this extension work with Layered Navigation results?

Yes, Ajax Scroll extension works with Layered Navigation results.
Other Features
100% Open Source — Easy To Customize
Follows Magento Code Architecture
Separated HTML/CSS/JS
Simple installation via Composer
* The name "Magento" and the logo are the trademarks of Magento, Inc.
Bounce rate reduced, SEO improved
Indian Attires, Founder
Conversion improved. I can't imagine the website without the Amasty extensions. Support has been excellent whenever needed. Amasty extensions are simply the best for Magento. Never faced any challenge in implementation. The extensions are very well designed considering tonnes of scenarios. The improved layered navigation is my favorite, I still keep learning on the various features it provides.
Amasty answer
Jan 10, 2019
Natalya Chekanina
/ Head of Sales Team
Dear Ashish, thank you for your review! We would be happy to see you in our store again!
Good support. Well written.
The code is well written and Amasty are very helpful in adressing any issues. I would thoroughly recommend this extension.
Quality of support is unheard of...
Great product. they fixed the bugs related to my custom theme with kindness and promptness. we did a back and forth about 4-5 times. normally other companies just stop answering from my experience leaving you dead in the water but not amasty!
Thank you!

Great Support
till date, best support ever I have interact with any team, any developer for any cause.
thanks for the great support.
Now I am a permanent customer of yours.
good job buddy.

Great support
The support team has solved a bug in a different extension which was conflicting with Ajax scroll. We were very satisfied.
Very nice extension with an excellent support
I had over 200 products, and the ajax scroll works excellent and smoothly all the way trough. They also helped mee implemente my other extensions I had to the Ajac Scroll so my webshop worked as planned
Great for my store
The extension worked fine right out of the box. According to some articles I read ajax catalog ensures that customers will look through more pages as opposed to standard pagination. I haven't checked t his yet but this seems logical.
Ajax scroll is great for my store as I have about 5-10 pages in each category (I sell exclusive products). I think having 100+ pages with ajax scroll would be problematic.
There's also one suggestion on the extension functionality: it's great to have a "Back to Top" button but it would also be useful to have a kind of "Back to Page" link which will let a customer get back to the page he was looking at before going to the top.
walerius,
Magento Connect
Great extension from a very good company
I bought this extension to use on a Magneto 1.9 site and it's great. Amasty helped me out when it there was a compatibility issue with the theme I was using. Great company, I definitely recommend using Amasty's extensions.
5*****
Great feature for our webshop!
The support is outstanding. Thanks Amasty!
Great solution for pagination
Everything simple is genius. It's also about the ajax scroll. The extension works like a well oiled machine. I hope other Amasty mods work like this one.
Dramatically improves site usability
Must have for those who wants to improve their store usability. The scroll feature works pretty well.
I was pleasantly surprised
I've just launched my e-shop and decided to load it with some user-friendly stuff. This extension is one of the modules I've purchased from different companies. And you know - this is the only place where support helped me withing an hour since my ticket was sent. Thanks, Amasty! I'll definitely come back for more extensions.
Makes users' life easier
Scroll it up and down - no more flipping through pages - that's great!
Small tool - great effect
AJAX search works perfectly, it enhances store usability and helps customers find products faster.

squizzy_29,
Magento Connect
Great AJAX search
Product search is better in its niche. And I do like its customization possibilities that help to to make my site fast and attractive.

Clark,
Magento Connect
Very helpful tool
I've really appreciated new features you've recently added. Scrolling down the page is much better than flipping through pages, and the customozable tab that shows pages numbers is great!

Pake,
Facebook
Convenient tool
Installed this extension very quickly. Everything is clear and all the features work the way they should. Well done!

Amy,
Magento Connect
Search by Ajax
It has very good feature of Product Search by Ajax. I really like this extension.
Backend
you'll be logged in automatically
Are you looking to add specific functionality for this extension or want to acquire a reliable development partner altogether? With custom development services by Amasty, you will receive high quality and cost-effective solutions developed by Magento professionals according to industry's best practices.
CE 1.4.x - 1.9.x, EE 1.8.x - 1.14.x
You can always download the recent version free of charge from your account
Installing an upgrade is easy — check now
My Downloads
Version 1.0.29
Last Update: May 13, 2019
Fix a compatibility with IE was improved
Compatibility the compatibility with IE11 was improved
Compatibility compatibility with Amasty Improved Layered Navigation and Landing Pages extensions was enhanced
Fix an issue with back button was resolved
Compatibility compatibility with Amasty Improved Layered Navigation extension was enhanced
Fix the issue with category page without products was resolved
Improvement performance enhancement was made
Fix the issue with an incorrect page number in the counter was resolved
Fix the issue with the back to category action was resolved
Improvement the performance of the categories with a large number of pages was improved
New the information section was added. Now, you can see the version of the installed extension, available updates, User Guide link, conflicts and other useful info right on the module configuration page
Improvement a check if the local storage is supported was added
Minor improvement was added
Improvement the performance was enhanced
Improved the compatibility with Amasty Zoom Pro
Compatibility with Amasty Shop by Brand
Better compatibility with mobile devices
Performance optimization: load our block and scripts only on pages with products.
Improvement for Edge browser
Fix for adding hash to an URL
Improved module internationalization
Compatibility fix for Product Parts Finder extension
Minor fix for slow connections
Better 3-d party themes compatibility
Option to include|exclude position hash in category URL (clean URLs)
duplicating loading bar issue fixed
Internet Explorer regular expression issue fixed
Design files are in amasty base directory
Better compatibility with Ajax Cart