Infinite Scroll
for Magento 2
Infinite scroll for Magento 2 automatically loads product catalog without reloading the page. Your customers will be pleasantly surprised with supportive navigation and high performance of your web store.
Smart navigation
SEO-friendly functionality
Customized navigation bars
Auto loading of the pages
'Back to top' button
Fully optimized for mobile
Full support for Jet Theme
Challenge
E-commerce catalogs are huge galleries of images and data. And when you are looking for something specific, you want as much information as possible at hand right here right now. If your customers won't see their needed items on the page instantly, they will become irritated and abandon the store.
Solution
This Infinite Scroll for Magento 2 extension provides users with clear navigation and new opportunities in the presentation of goods. With this extension, catalog browsing becomes a pleasant journey. Our module saves time and nerves to your users by adding options for smooth scroll automation.
Improve catalog browsing experience
How does the endless scroll work?
With endless scroll, the previous and next pages are loaded progressively. Instead of staring at loading wheels, offer your customers a much smoother browsing - convenient navigation through the catalog pages with customized buttons.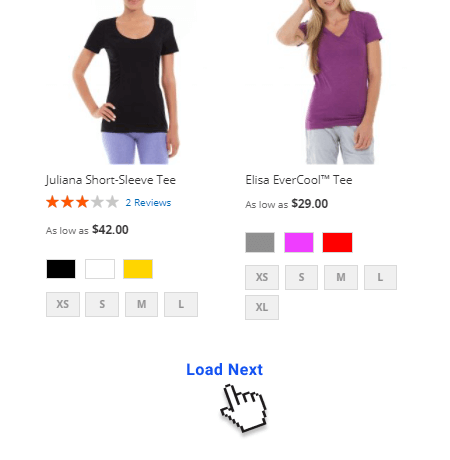 Where the AJAX Scroll is available?
The AJAX functionality is available for this extension out-of-the-box. Your shoppers will enjoy infinite scrolling on the search results and advanced results pages, when the number of results exceeds the one-page limit.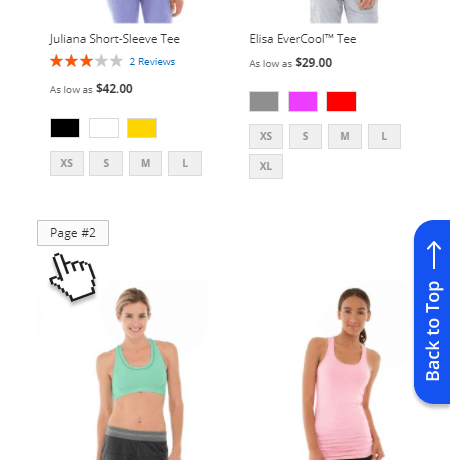 Engage your customers with high performance
Customers don't like to wait. Once they decided to buy something and they got this image in their mind, it's in your interest not to stand on their way. That's why web store performance should be flawless. It is really annoying when you have to click the 'next page' again and again, waiting for another page to get loaded. With this extension, a smooth scroll of the product list will please customers with its high speed.
SEO-friendly functionality
Search engines always track how long it takes for users to find the desired content and how much time they spend on your site. The more reachable content is, the better it is for the SEO of your site. With AJAX plugin, your site will read and load the next and previous pages automatically, as soon as the visitor reaches the end of the page.
User-friendly scroll navigation
While browsing through the site, shoppers always go back and forth from the catalog to the product pages. But if returning from the product page back to scrolling, users expect to get exactly to the place from where they have stopped browsing the catalog. With the continuous scroll extension, you can simply get back to that point without starting the same browsing over again.
Share links to certain positions in the items list
Allow users to get and share direct links to any place of your catalog. No matter how long you've scrolled on the page, the AJAX infinite scrolling plugin will define the location accurately. Send a link to your friend, so he or she can surf exactly from the necessary point. This is a nice addition to your website usability and promotion of products.
Refresh your Magento store with outstanding usability
'Back to Top' button
Back-to-top button is an essential navigating tool. After fruitful browsing, shoppers usually want to easily get back to the top of the product list. Pick up one of the pre-made 'Back to Top' button styles that fits in with your store design the most.
Customize button styles
Design is vital for a good usability. With the Infinite Scroll extension for Magento 2, you are free to choose colors and labels of the navigation elements. Pick up one of the available styles for the page numbers display. Specify the text label of the loading button, e.g. 'Load next' or 'See more products' to engage users into browsing over your website even more.

→ Learn about more ways to customize button styles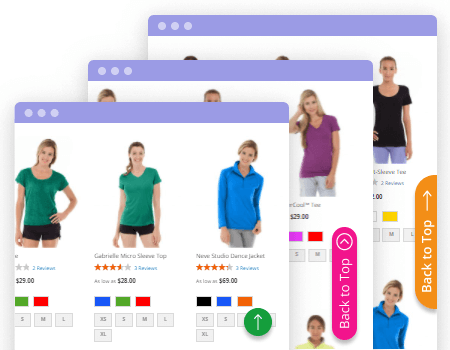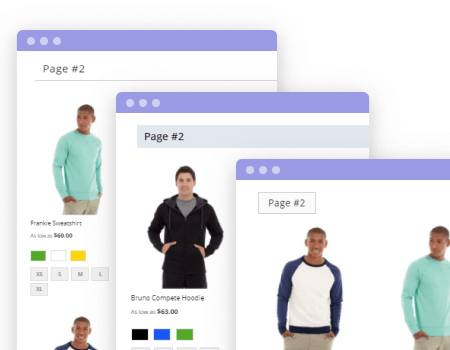 Display page numbers to simplify navigation
The extension allows you to configure the page number display. Thus customers will be able to quickly understand where they are in your catalog. It significantly enhances shopping experience and helps to navigate through the category pages.
Automate next page loading or make it manual
The more goods you have, the more actions clients need to make for loading pages and site browsing. You can enable the Auto loading of the next pages or beautify your web store design with the neat RWD buttons Load next. Easily configure styles of the Magento 2 AJAX pagination buttons: customize their text, color and other specifics. Alternatively, you can let users auto load first X pages, then load next Y pages by button click.

→ Learn how to set up this case in our User Guide
Why to 'marry' this Magento 2 Infinite Scroll with Improved Layered Navigation
The Infinite Scroll extension is fully compatible with
AJAX Layered Navigation
for Magento 2. Alongside with more comfortable products browsing provided by the Infinite Scroll, the Layered Navigation extension adds more transparency in navigation and speeds up the site browsing in general. Display multiple filters and handy widgets to help visitors instantly find the products they need.
More opportunities for your store
Our customers recommend trying out this
powerful trio of bestsellers
:
Other Features
100% Open Source — Easy To Customize
Follows Magento Code Architecture
Separated HTML/CSS/JS
Simple installation via Composer
* The name "Magento" and the logo are the trademarks of Magento, Inc.
It gives better UI for users
i-Synergy Hosting Ltd, Director
For 2+ years we use Amasty Infinite Scroll for Magento 2. It gives better UI for users. They are easy to setup / upgrade. Support answered not so quick but better. I recommend my customers to use Amasty extensions and they do purchase those via me :)
Amasty answer
Apr 20, 2020
Natalya Chekanina
/ Head of Sales Team
Hi Steve! Thank you for choosing Amasty Infinite Scroll for Magento 2. We are glad that you appreciate it's quality. We would be happy to see you in our store again!
All product are very good
Brand Developpement, CMO
All product are very good. I've noticed measurable changes on my website after Amasty product implementation. Support is fast and clear, Alexandra was very helpfull.
Amasty answer
Apr 02, 2019
Natalya Chekanina
/ Head of Sales Team
Dear Nelson, thank you for your review! We would be happy to see you in our store again!
Free updates ever and best support I met
What I liked most is the tech service. The support managers are very responsive; to make it clear I can say they helped me with the mod after their working hours; it's almost 24/7 :) I had a conflict with other module, but the dev team helped me to solve this out and now everything works flying. I was also pleased to see it's constantly updated and all the new options are free for me.
A good buy
First, I thought to write it myself, but its price convinced me to give up the idea. Reviewing the code I found a great job over the review. Besides, the settings are flexible to meet all my needs. I didn't even adopted it to my store.
Good as it should
AJAX scrolling is a must for a webstore. This one is pretty easy and transparent, works as it should. Sometimes minor issues happen but they fix them quickly, often even before I call support.
Works as described
Simple, easy-to-use and install. The backend configs are as easy as I did it myself. So, I put the money to good use.
It makes the choice easier
The module is fine. I tried to use lazy auto loading but it didn't worked with my clients so switched to the click on button. It's very of use they gave the alternative.

More pages are observed now
Visitors look through more pages if compare with my old pagination. I have many pages in categories the solution is just for the case. But it'd be greater if there were more useful crosslinking options like users can get back to the previous page or so. Anyway, thanks.
Recommend
My stock inventory counts more that 2k items and all of them are presented under separate categories. The problem was that other modules I tried slowed browsing down to 0, as a result I got increase in bounce rate up to 78,5%. After my store was cleared of the mod, thanks to admins, not without apprehension, I switched to Amasty's and can say no data loading delays or lags were logged.
Nice working tool
The extension does exactly what it says in the description. A few improvements could be made, however. Overall, this is a great extension, can't remind any difficulties while the installation or any conflicts with other extensions.
Not bad though needs improvements
I bought it as released and found no issues until some categories missed pager. Reported to their support, hope to see the fix soon.

Simple and working
No endless switching between pages which is cool. You want to the top you just get it in a click.
Do you have any questions?
Schedule a demo and get all the answers you're looking for!
book a live demo
Settings
you'll be logged in automatically
Are you looking to add specific functionality for this extension or want to acquire a reliable development partner altogether? With custom development services by Amasty, you will receive high quality and cost-effective solutions developed by Magento professionals according to industry's best practices.
2.4.2-p1, 2.3.7, 2.4.2, 2.4.1-p1, 2.3.6-p1
You can always download the recent version free of charge from your account
Installing an upgrade is easy — check now
My Downloads
Version 1.4.4
Last Update: Mar 04, 2021
Fix we resolved js error with automatic scroll type enabled
Fix we resolved the issue with infinite load of 'Previous' button in case it was clicked several times
Compatibility we improved the extension's functioning in case it is used in combination with lazy load enabled
New the extension is now covered with Jasmine JS tests
New we implemented UI enhancements to extension frontend elements to meet modern trends and added alternatives for particular components in order for them to better fit the overall storefront styling
New we added the setting for specifying of footer selector
Version 1.3.1
Last Update: Aug 31, 2020
Compatibility we enhanced compatibility with IE browser
New we added new option to Loading Type: a customer will click 'Load More' button only once on specified page, all previous and next pages will get loaded automatically
Compatibility compatibility with Varnish was improved
Compatibility compatibility with Amasty Social Login was enhanced
Version 1.2.4
Last Update: Jun 12, 2020
Compatibility we improved compatibility with Amasty Improved Layered Navigation
Fix now category page displays the correct page number and list of products upon returning from PDP in Safari browser
Improvement we slightly improved the way rel="next" и rel="prev" links are added
Fix now returning from PDP to category page is performed correctly on Apple devices
Compatibility compatibility with Amasty Google Page Speed Optimizer was enhanced
Fix we corrected plugin's interaction with Multiple Wishlists functionality
Fix we resolved the issue with Load Previous button rendering upon return from PDP
New we introduced a new option which allows you to limit the amount of pages for Automatic loading type. After reaching of specified page number automatic scrolling is getting replaced by products' loading on button click
Fix minor issues were resolved
Version 1.1.18
Last Update: Apr 30, 2019
Compatibility a compatibility with custom themes was improved
Fix an issue with the sorting on the search page was resolved
Compatibility a compatibility with custom themes was improved
Fix an issue with browser history and browser back button was resolved
Compatibility compatibility with 3rd party custom themes was enhanced
Compatibility compatibility with 3rd party extensions was improved
Compatibility the compatibility with custom themes was improved
Improvement the rel=next/prev tag functionality was improved
Compatibility compatibility with Amasty Improved Layered Navigation was enhanced
Improvement code refactoring update was implemented
Compatibility the compatibility with the Amasty Shop by Brand extension was enhanced
Compatibility compatibility with Amasty Quick View extension was enhanced
Fix the issue with scroll not working on the advanced search page was resolved
Compatibility the compatibility with Amasty Quick View was improved
Fix the stability improvement was implemented
New the information section was added. Now, you can see the version of the installed extension, available updates, User Guide link, conflicts and other useful info right on the module configuration page
Compatibility the compatibility with the Amasty Out of Stock Notifications extension was enhanced
Fix security issue was resolved
Fix the issue in the Safari and IE browsers was resolved
Fix the issue with returning back from the product page to the product listing was resolved
New now when scrolled down the 'load more' button is shown without loading icon. When user clicks on 'view more' button, it loads the next set of products showing the loading icon if needed
Version 1.0.13
Last Update: Mar 19, 2018
Better compatibility with 3rd party custom themes
Better compatibility with the custom themes
Code improvements
Fixed an issue with a search page for logged-in customers
Fixed an issue with the multiple adding to cart
Compatibility with Amasty Improved Navigation and Promo Banners improved
Fix issue with Magento Ajax Cart on the ajax loaded pages
Compatibility with Shop by Brands on a search page
Fix issue for loading page until scroll has started in some cases
Fix for issue with missing pager on category in some cases
Better compatibility with Improved Layered Navigation